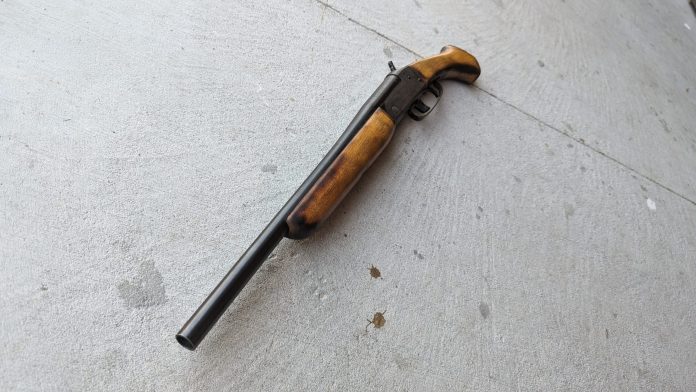 I have this weird compunction about dumb guns. I have to give them a home. Especially if they are cheap and seemingly safe to fire. That's how I walked away with this oddball Stevens 9478. As you can guess, this is not a factory configuration. I stumbled across it at an auction, and no one wanted it…well, I mean, I did. One hundred fifty bucks later, it was mine and now has a great home amongst all my other dumb guns.
I have so many silly guns I might make this a monthly feature. But for now, let's focus on the pirate gun, which is the affectionate nickname I've given to this very special Stevens 9478.
The Stevens 9478 – A Basic Blaster
The Stevens 9478 started life as one of the most basic shotguns out there. It's a simple, hammer-fired, single-shot shotgun. It's well suited for shotgun tasks, like trap, small and medium game hunting, and similar common tasks. The Stevens 9478 exemplifies a bare-bones shotgun, and it was made to be affordable. This variant is in 20 gauge, but Stevens made them in various calibers.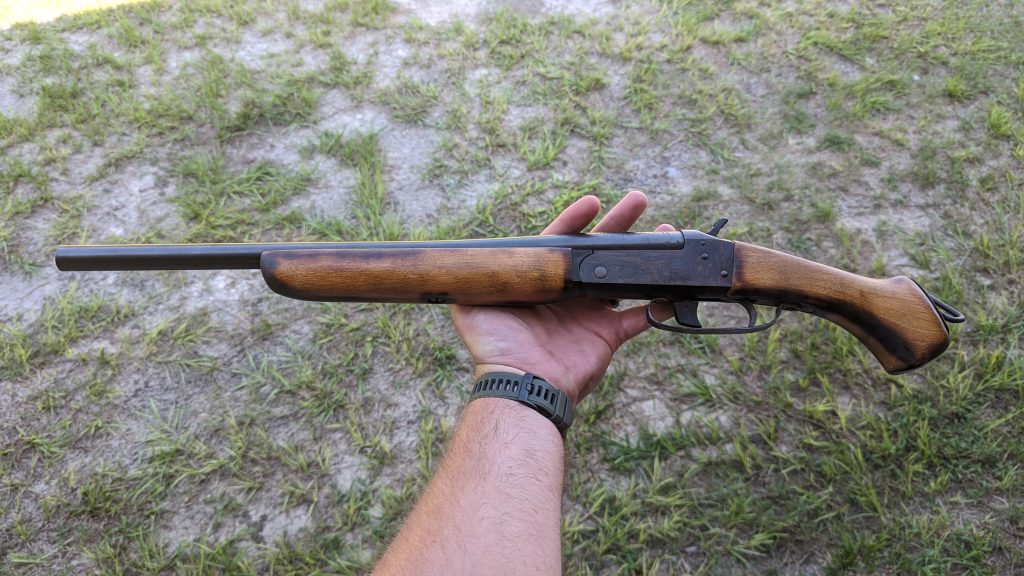 The Stevens 9478 shotgun is fairly unremarkable. To me, the best feature is the barrel release. It sits in front of the trigger guard and is really easy to access and open the gun. The quasi-case hardened finish isn't exactly bad to look at, either. It's plain but functional.
After an Appointment at Bubba's Trailer
Bubba took the Stevens 9478 to the cleaners here. Honestly, he didn't do a terrible job. The barrel has been chopped to 18.25 inches and looks fairly nice No burs or telltale signs of a crappy cut. It's not perfect, but it works. There is no choke, and if Bubba threaded it for chokes, I'd be blown away.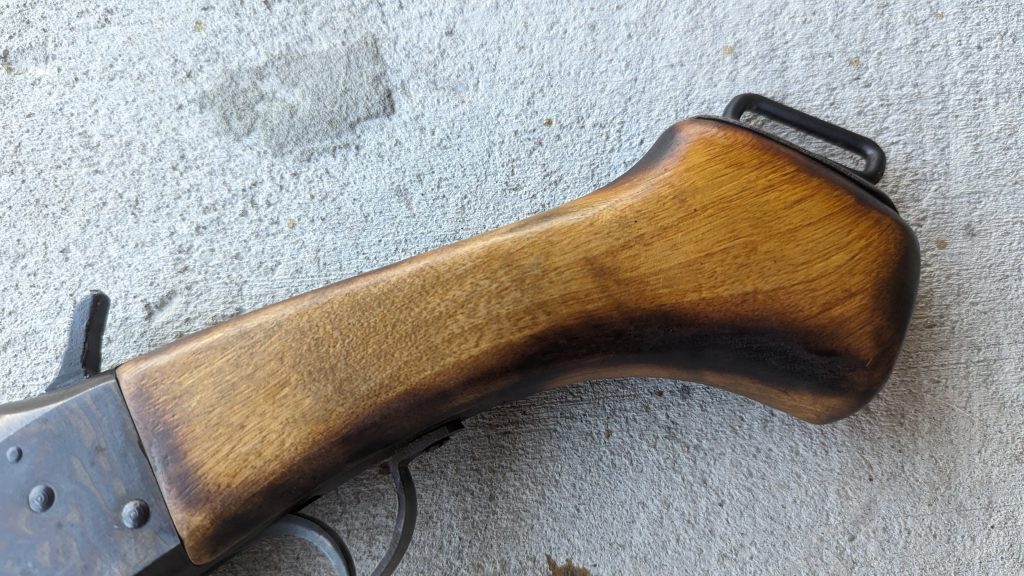 The stock has been chopped too. It's a bird's head-style pistol grip that's all wood and reminiscent of the Shockwave grip. It's fairly long and quite comfortable. I'll give the guy credit. It's a good chop that's been finished over. The guy added a metal plate to the grip and tossed it on a sling swivel.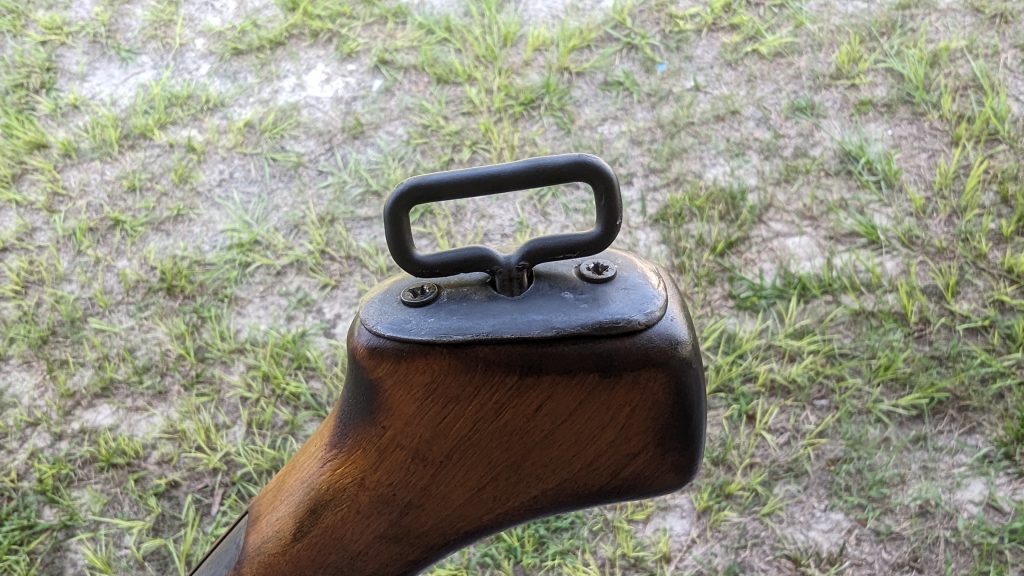 To top it all off, Bubba removed the factory trigger guard and put on some giant custom trigger guard on the gun that encapsulates not only the trigger but the barrel unlocking device. This makes it surprisingly easy to press inward and to open the action with a single hand. It's wisely thought out and honestly impressive. It looks like he tried to add a bead to the barrel, but it's since fallen off.
At the Range
The Bubba Blaster (which might replace the name Pirate Gun) is fun to shoot. A short little 20 gauge isn't exactly tough to handle, and the recoil is fairly mild, depending on the load you utilize. Some full-powered buckshot loads might feel a bit much, but not by much. Birdshot is a ton of fun to shoot, and it can even be done with one hand. Turning clay pigeons into dust is a literal and figurative blast.
Aiming the gun down the barrel is pretty easy at close range, and the spread is quite wide. The lack of a choke and sawn-off barrel doesn't exactly make it a tight patterning shotgun.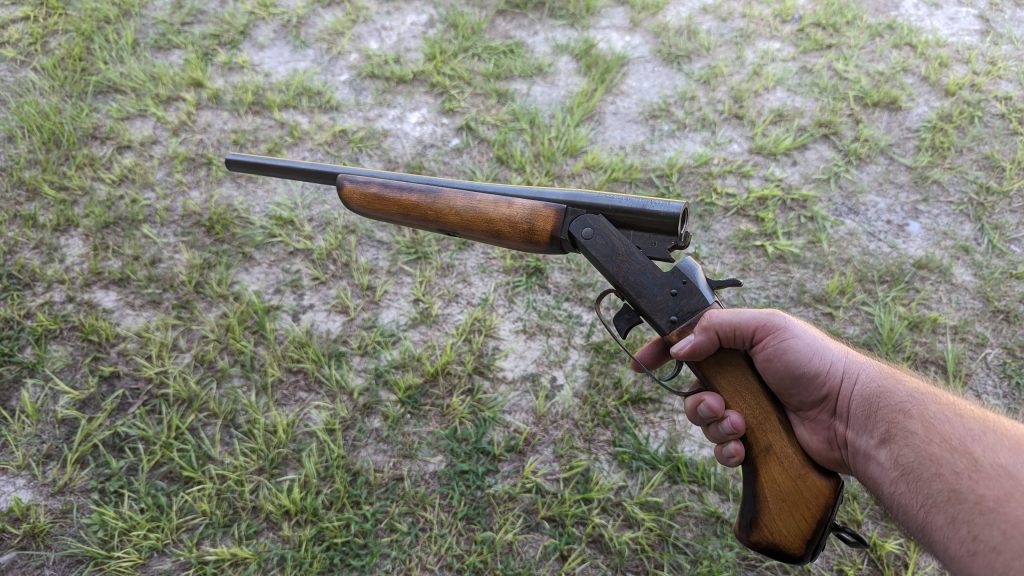 What's the purpose? Well, it certainly has less purpose than it did in its original configuration. It's short and light, which might make it great as a pest gun when riding an ATV. Other than that, it's not particularly great for anything else. I could certainly remove most Florida predators with ease.
The Bubba Balster (name officially changed) is a fun gun that's largely useless. That's okay. It joins a veritable army of useless and dumb firearms that sit in my gun safe. Watch this space for more of Bubba's hot takes, weird guns, and other obscure weirdos that occupy my interest.