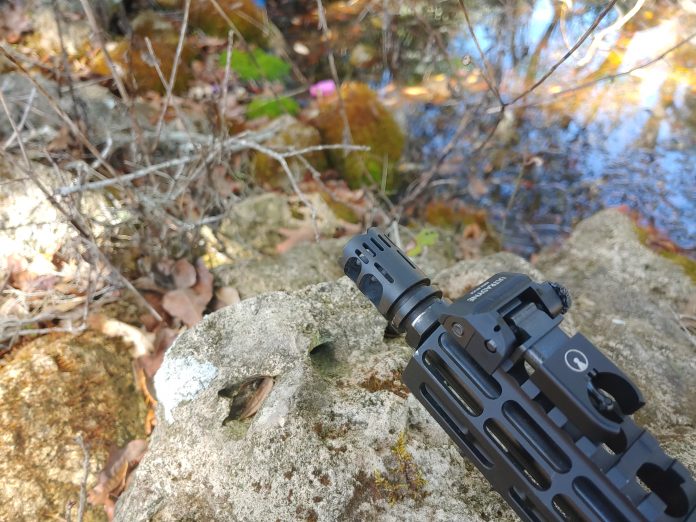 I'm not sure if I'm a handgun/shotgun/PCC guy because I enjoy shooting them or if it's because access to any range beyond 100 yards is tough in my neck of the woods. Either way, the majority of my shooting involves either 9mm or 12 gauge. Recently that's been a little time with my Aero EPC and the VG6 Gamma AR9 muzzle device.
VG6 Precision makes a number of muzzle devices that have focused on the AR 15 and AR 10 series as well as the AK series of firearms. Compared to the rest of their lineup, the VG6 Gamma AR9 muzzle device is rather new. It's also seemingly one of the more practical choices on the market.
The VG6 Gamma and PCC Muzzle Devices
PCCs are interesting, especially when it comes to PCC muzzle devices. Commercial PCCs aren't necessarily seen as the tactical choice for home defense. At least not so much as the AR 15. In terms of muzzle devices, the most efficient for a PCC or subgun is suppressors. PCCs can be ultra-small and very easily suppressed. Subsonic pistol ammo is super easy to find, and the extra length of a suppressor doesn't make a big difference on a subgun or PCC with a 5-inch barrel.
Suppressors aren't for everyone, so what other options do PCCs offer? Pistol caliber carbines are popular in the competitive market, and a lot of the PCC muzzle devices out there are designed for competition. That means muzzle devices like the JP Enterprises JPTC-9mm dominate. They're great muzzle devices but not perfect for the tactical application of PCCs.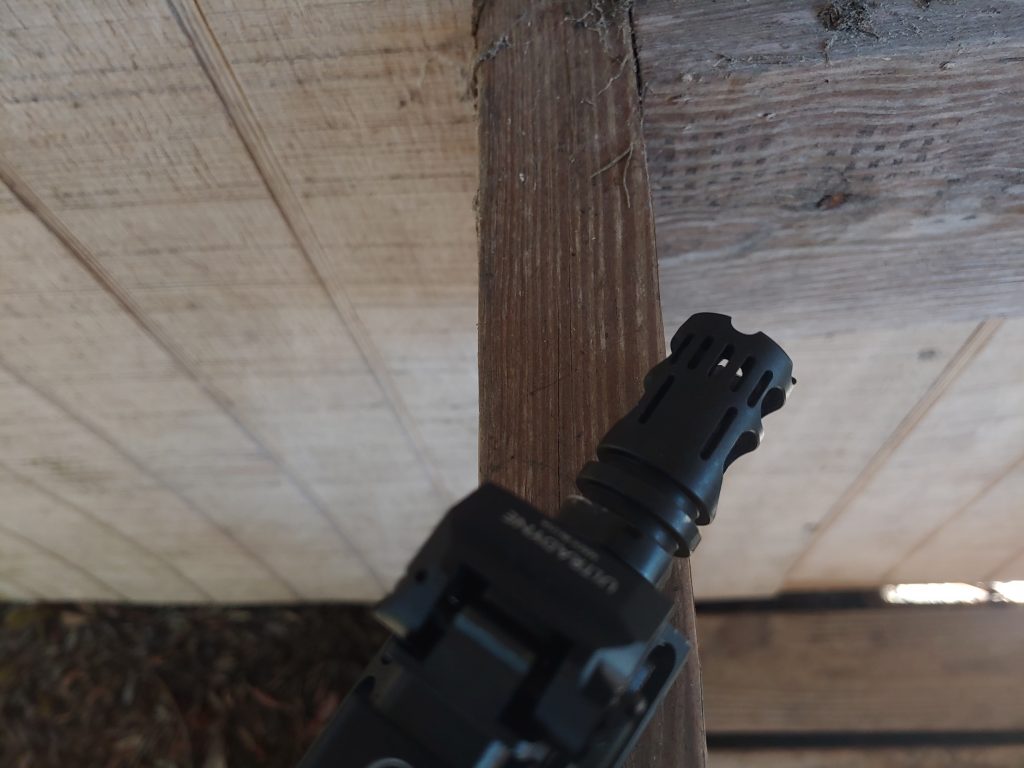 If you can't or don't want to go the suppressor route, what are you left with? Well, that's where the VG6 Gamma AR9 comes in. Unlike other muzzle devices, it's not several inches long, it's not super wide, and it doesn't weigh 4 or 5 ounces.
In fact, it's only 1.75 inches long, which is the exact same length as the A2 style AR 15 flash suppressor. Weight wise it's not exactly tipping the scales at 2.1 ounces. The VG6 Gamma delivers a small, short, and brutally efficient muzzle device.
Keep It Simple
With only 1.75 inches to work with, VG6 Precision went wild. They fit it in as many ports as possible in this little thing. It's a combination device that blends both a compensator and muzzle device into one small, lightweight package.
The VG6 Gamma AR9 features two big side ports for recoil reduction. Across the top, we have seven small ports that act as a compensator to drive the muzzle rise down. The top ports are interesting. Lots of compensators aren't shy about muzzle flash, but VG6 Precision seemed to acknowledge that a muzzle device for tactical applications needs to limit muzzle flash.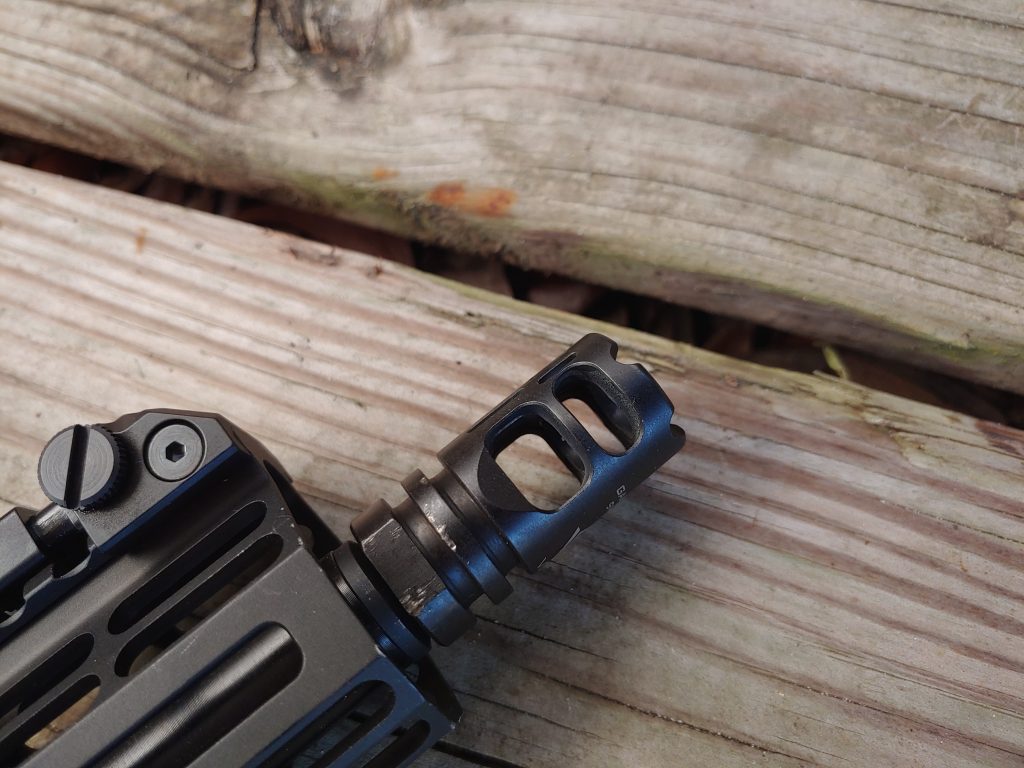 The ports at the top are very long and oblong and very much like the ports from an A2 flash hider. It's extremely well thought out, and if you want to toss one on a defensive PCC, it would be right at home.
If you wanted to use it for competition, well, you wouldn't be too far off either.
Throwing Lead
With my Aero EPC equipped with a VG6 Gamma AR9, I hit the range with a load of 115-grain rounds, some 124 +P NATO loads, and some 147-grain subsonic loads. Attaching the VG6 Gamma doesn't take much time, and it attaches against a crush washer just like any other muzzle device for AR 15s.
I hit the range running and paid special attention to the way my dot moved between shots. With the 115 grain stuff, there wasn't a lot of difference between the recoil and muzzle rise from a bare barrel. However, once we jumped into the 124-grain +P loads and the 147-grain loads, we saw a significant difference in recoil and muzzle rise.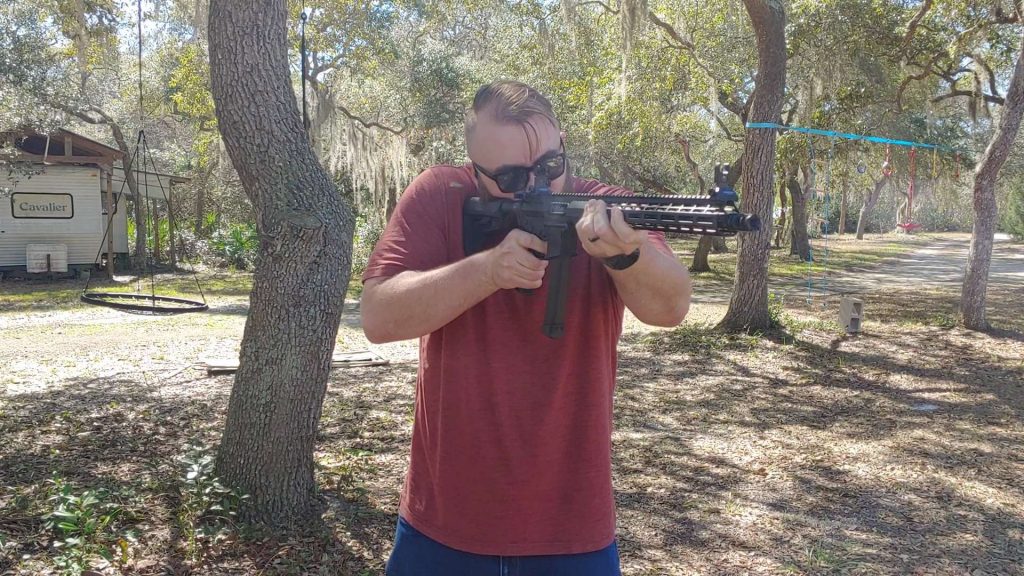 The VG6 Gamma AR9 took a lot of sting out of these rounds. The 124 +P loads were tamed like pussy cats, and I'd say they are par with standard 115-grain FMJs. The muzzle rise, in particular, is cut significantly, and the red dot barely moves between shots. Less muzzle rise and less recoil mean faster follow-up shots and easier target transitions.
Triple and double taps are an absolute breeze. I can land three of them side by side in the A zone of an IPSC headshot box in less than 2 seconds from the low ready. The little device makes a huge difference. Do you know how direct blowback 9mm PCCs recoil almost like a 5.56 round?
Say No To Sting
Well, with the VG6 Gamma AR9, this isn't true anymore. It feels like a9mm rifle should. This means it's flat shooting, soft recoiling, and a breeze to handle. I'm moving my son from a rimfire round to centerfire, and the EPC equipped with the VG6 Gamma has been the go-to platform for doing that. It makes the transition from rimfire to centerfire safe and easy. Plus, he feels like the AR-style EPC is a little more Fortnite than the wood-stocked Ruger 10/22.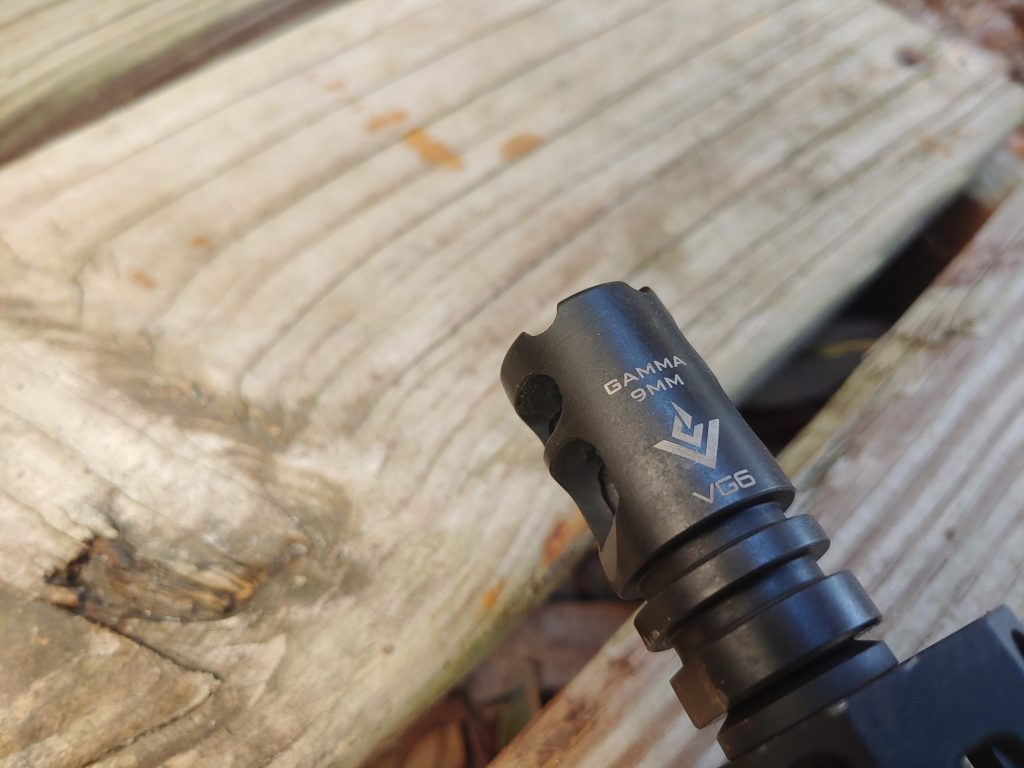 The VG6 Gamma takes some serious sting out of your PCC. Sure it's made for an AR-type 9mm rifle, but if you have a 1/2×28 threaded PCC, then the VG6 will fit perfectly on your weapon. Check it out, and it's small, short, and quite capable. VG6 Precision did a fantastic job of providing a modern, compact, lightweight muzzle device that works and works well.