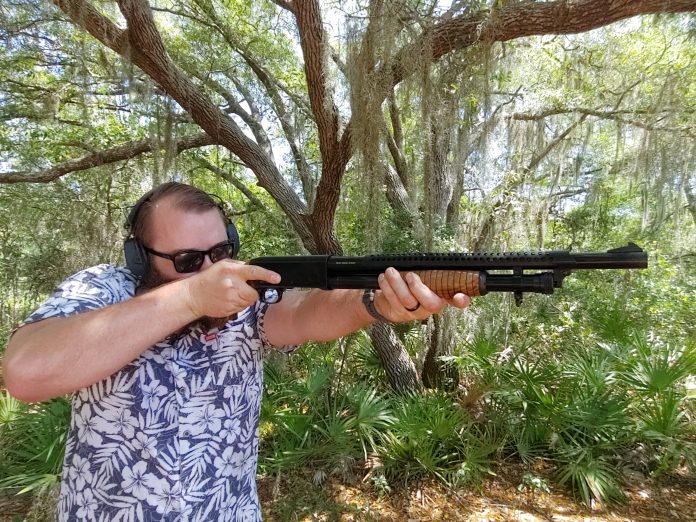 Rock Island Armory thought they could sneak out the TPAS without me noticing. I'd have been a giddy little school girl about the idea if I had known. I've become a big fan of this new trend of Retro shotguns coming out. Mossberg started it, and lots of companies have followed suit. Rock Island Armory is the latest to do so with the TPAS.
So what's the TPAS? As far as I can tell, it stands for Trench Pump Action Shotgun. In reality, it's a Turkish clone of the Ithaca 37 in a riot gun configuration. Ithaca 37s are a classic shotgun configuration that's been around for decades, and while they've fallen out of favor, they are still made in small numbers for high prices. The TPAS provides an Ithaca 37 clone at an affordable price for all your nostalgia needs.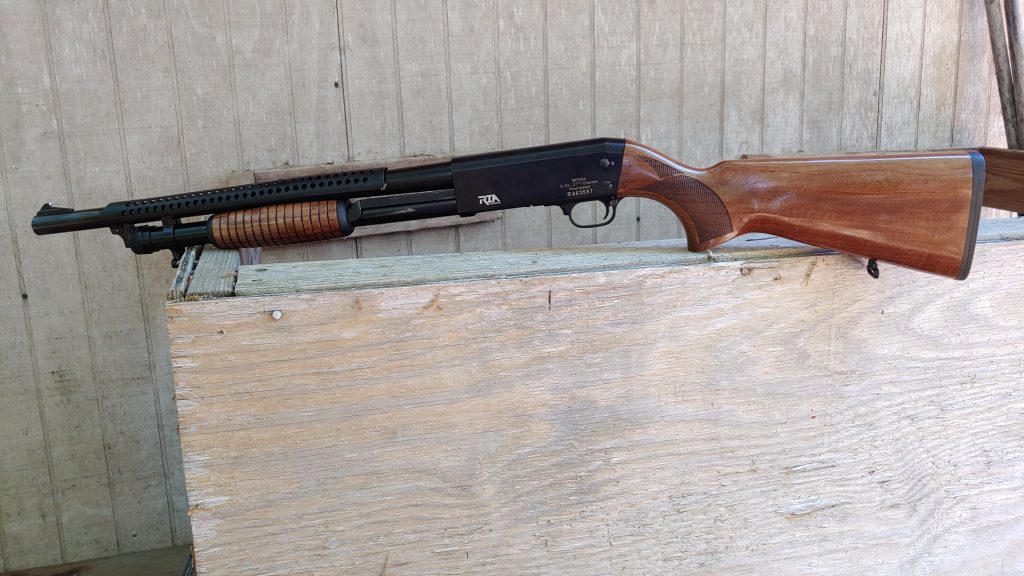 Plus, it comes with the wood furniture and old-school appeal you want from a Trench Gun-style weapon. Rock Island Armory rocks and rolls with a heat shield, five-round tube, sling swivels, and an Ithaca-style front rifle sight. It's not fancy, but it's set up to replicate that old cool school that nerds like me love.
The TPAS And Ergos
Yep, welcome to the complaint department! Well, not really. I understand this is a clone of a gun designed in 1933, and it's replicated almost perfectly here. This means 1933 ergonomics. The pump is textured like a corncob and very small. Calling it a corncob pump is accurate for its texture and size. It's small but grippable.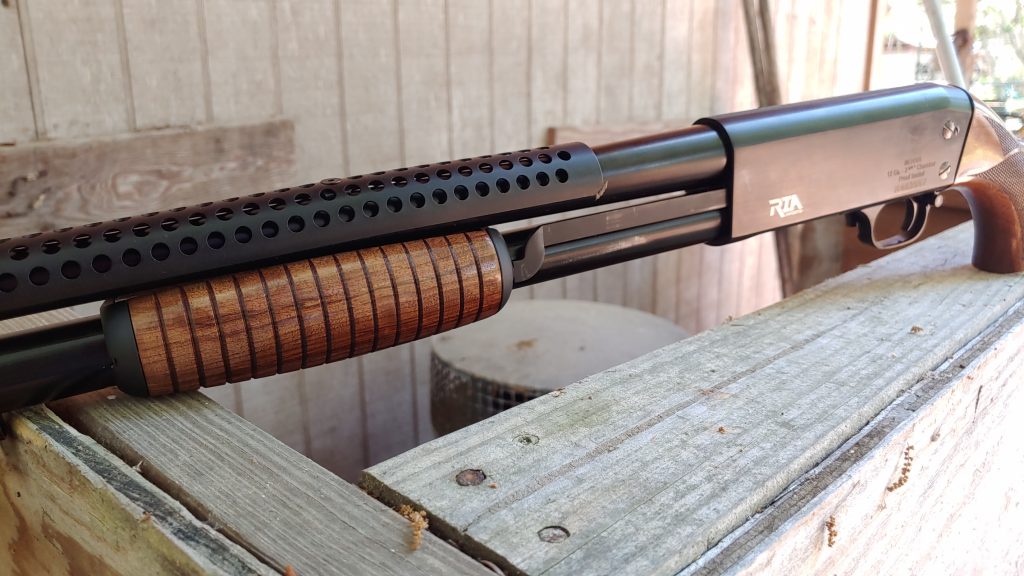 The stock is all wood with a great texture over its pistol grip. That texture is aggressive, and you can feel it. The length of pull is about 14 inches, so it's not a short stock for any reason. Don't expect much of a recoil pad either. There is a little black piece of rubber, but I don't think it soaks up much recoil.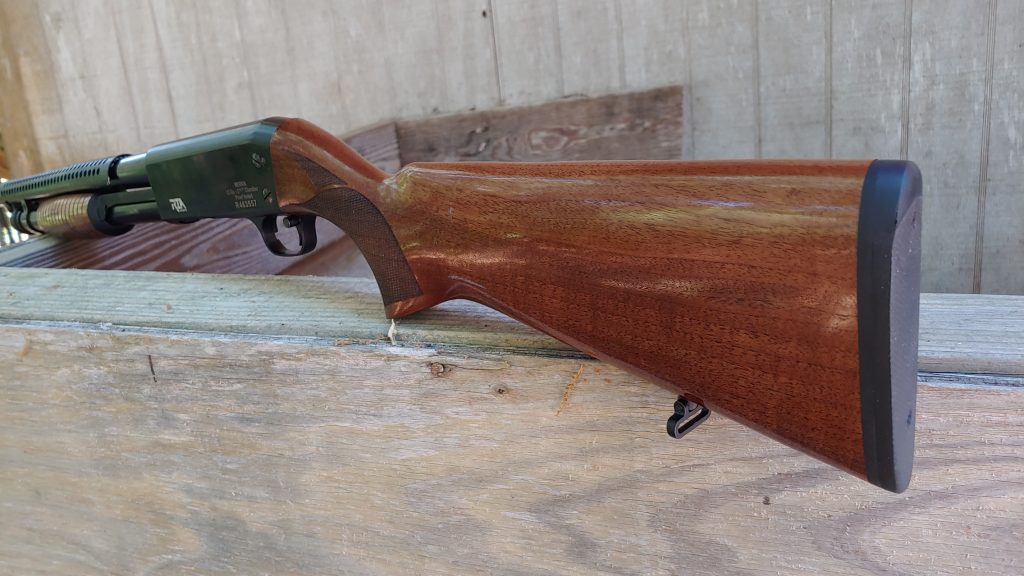 The TPAS lacks a side ejection port. The gun loads from the bottom and ejects from the bottom. This is great in a duck blind, so you don't throw hulls into your buddy's face, but it's not the best for the fighting gun. You can't do a port load, and a slug select drill isn't exactly easy.
Control It
Control-wise we have a cross-bolt safety behind the trigger and a huge pump release that I adore. It's seriously nice and very easy to reach when necessary. When you unlock the pump, the action nearly opens itself.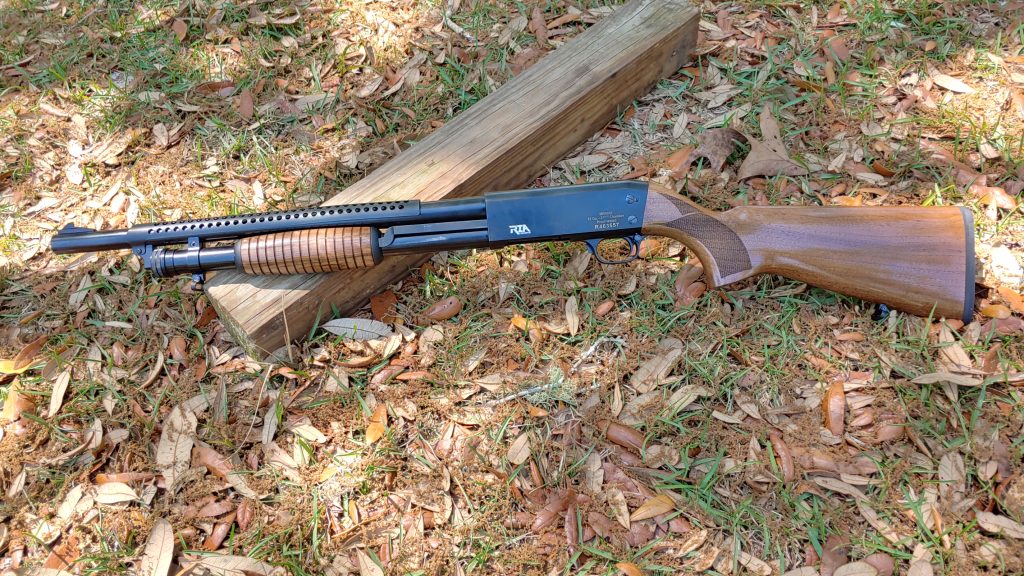 That brings us to the action. The TPAS is an Ithaca clone, so you only have a single action bar. That could create binding, but I haven't experienced that just yet. What shocked me was the smoothness of the TPAS. Holy crap, that action cycles brilliantly. It's super clean and smooth.
The TPAS At the Range
I was excited to shoot this beast, so I brought a range bag full of goodness. I brought some hard-hitting, high-powered Fioochi birdshot, stock standard Federal Buckshot, and a little Federal Flitecontrol. Slug wise I brought a single box of Winchester Defender segmenting slugs. The TPAS is beefy at a little over 8 pounds, but the gun is well balanced. The rear grip and front pump provide enough texture to dig in tight for a little push/pull.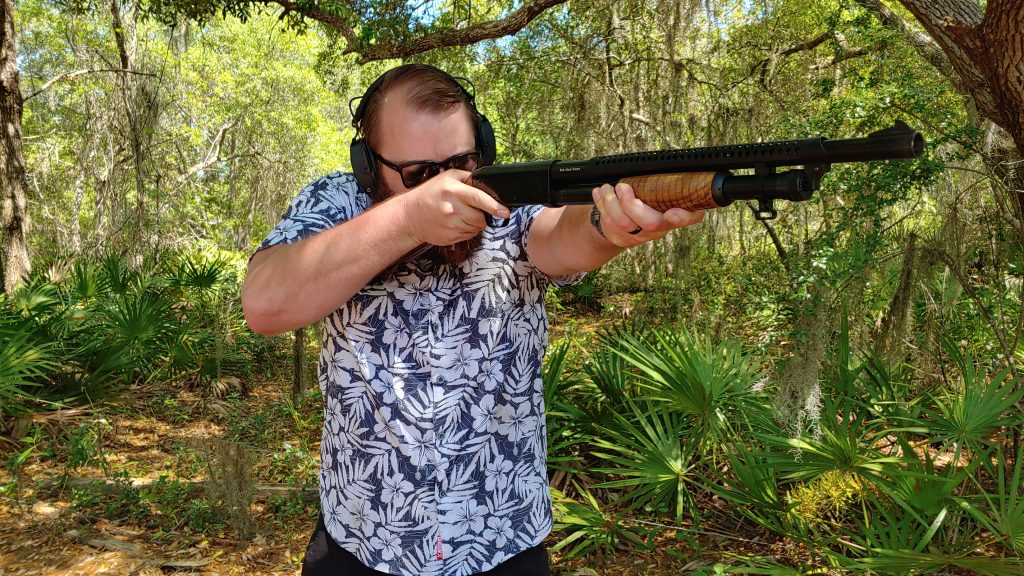 Launching that full-powered buckshot didn't provide much of a challenge. The super-smooth action makes it fast cycling and fast-firing if you know how to control a shotgun. I could deliver two rounds of buckshot from a cruiser ready, low ready setup in less than 1.5 seconds.
The TPAS front sight is easy enough to see and stand up and off the barrel far enough to deliver a perfect point of aim and point of impact action. I could use the white-colored front sight to dial in and ring steel gongs at 50 to 75 yards easy enough with the slugs. By the time I got to 100 yards, the ammo was low, and I went 2 out of 3 on an IPSC target.
The gun fights you a bit, as any pump shotgun will do, but it's controllable. Surprisingly so. I bought this for the historical experience, but I ended up being quite surprised by the potential and action of this gun. The action's slick, and the gun cycled and ejected everything without complaint.
Retro Forever
The Rock Island Armory TPAS surprised me the hell out of me. I wanted the Ithaca 37 experience without the Ithaca price, and I got it. I dumped 300 rounds of bird, buck, and some slugs without any complaints. The gun is a beast. My complaints are minimal, and my only true complaint is the text all over the receiver. It's highlighted and illuminated, and I don't care for it.
Other than that, the TPAS is an awesome gun. It's easy to use, cycles so cleanly and goes bang when I need it to. Sure, it's not perfect or even modern, but for a fun perspective, it rocks.