I did an entire article on experimenting with magnified optics on pistol-caliber carbines. I experimented with 1-4X LPVOs, Prism sights, red dot, and magnifier combos and found that minimal magnification can be useful with a PCC, including taking a 9mm round out to 100 yards with greater hit probability. Apparently, Primary Arms read my mind and produced the GLx 2X prism sight with the ACSS Gemini 9mm reticle.
The GLx 2X prism is built and designed with your average PCC in mind. It's built to maintain the close-range nature of the PCC while adding in a little extra magnification and ACSS reticle for those longer range shots. Primary Arms was polite enough to end me a GLx, and I've been running and gunning with it on my Aero Precision EPC.
Breaking down the GLx
The GLx comes with a box full of goodies beyond just the optic. In fact, it's not an optic you are stuck with using AR-type rifles with in-line stocks. Primary Arms include three different spacers to raise the optic's height to 1.64 or 1.535, or 1.41. Or heck, run it without the spacers to position it low on your gun.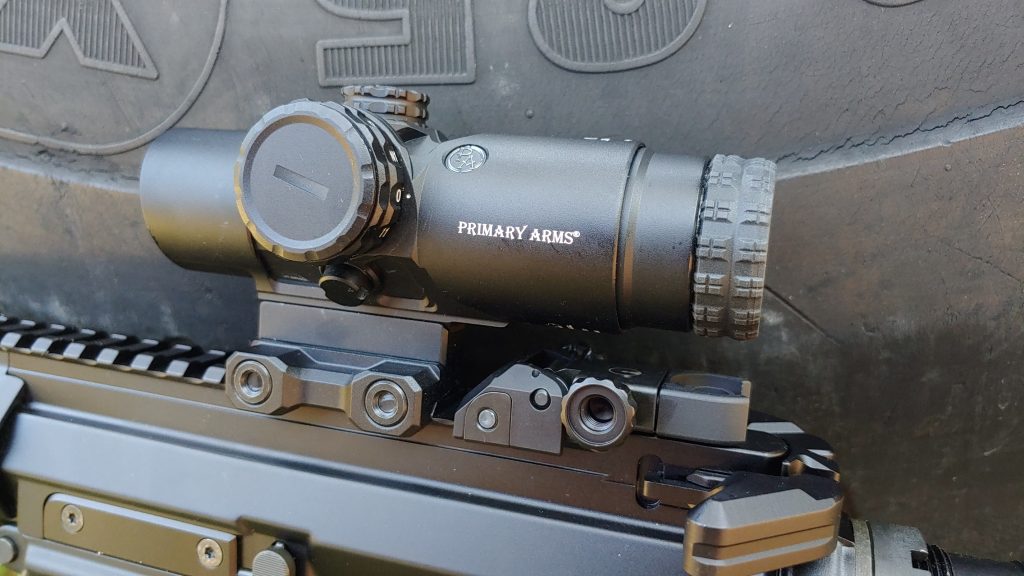 PCCs like the Scorpion work best with low-mounted optics. Customizing the GLx's height for your specific weapon allows it to function with a multitude of PCC options. Primary Arms also uses the mini ACOG tyle mounting interface, which opens up the mount marketplace for your optic.
Most prism optics have the worst eye relief, but GLx comes equipped with an eye relief of 3.5 inches. That's fairly far and a wise idea. If you are working a PCC, it's likely within 25 yards. Inside of 25 yards, the longer eye relief makes it easier to get the gun to your shoulder and on target. You don't have to fight scope shadow as much.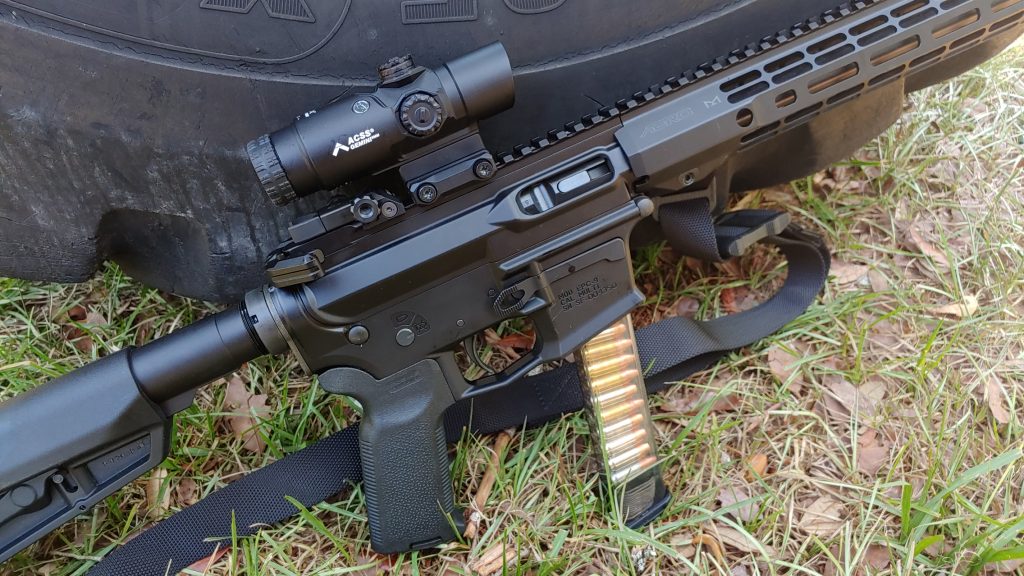 Inside the ACSS Gemini reticle is backed by 11 illumination settings. The first two are night vision modes, and beyond that, you get daylight bright capability. That reticles positivity glows and is easy to see in the brightest of sunlight.
The GLx goes beyond daylight bright. That illumination will automatically shut off if the optic remains stationary for three minutes but spring right back to life when it detects movement.
The Reticle
ACSS reticles rock, right? Primary Arms makes a lot of great optics, but the best thing they've ever done is create the ACSS reticle. Also, their ability to ship orders at lightning speed is nice. Anywho, the ACSS Gemini reticle gives a big three-quarter donut of death. That big donut captures the eye and makes close-range shots on target quick and easy. It also acts as an 8.6 MPH lead for hitting moving targets.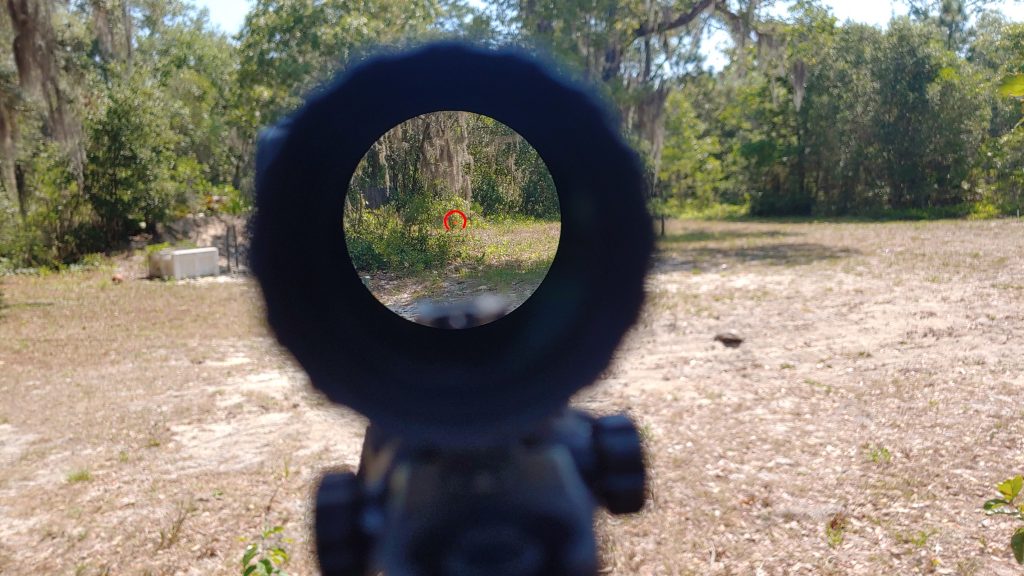 Inside that big donut sits a chevron for your precise aiming. If you need to hit a small target with precision, put that chevron's tip on it and pull the trigger. Below that sits a couple of dots that act as your ballistic drop points.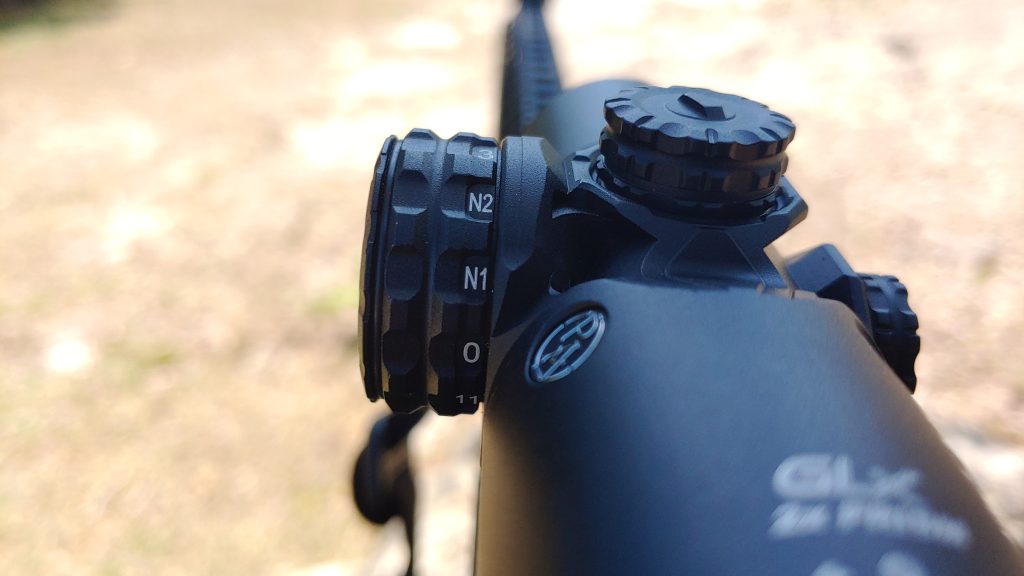 Primary Arms provides scales for both 7.5-inch barreled PCCs and the standard 16-inch PCCs. Zero the tip at 50 yards, and the drop zones will go to an optimistic 200 yards. The bottom of the chevron can take you out to 100 yards with ease. A ranging scale sits beneath that to give you a down and dirty way to measure range out to 200 yards.
Putting In Work
I installed the medium mount on the GLx, and it sits at the perfect height for me to shoulder and snap-on target. The eye box is huge, fairly generous, and allows you to peep in on targets quickly. For close-range snapshots, you shoulder the rifle and unleash hell. Getting on target quickly and at typical PCC ranges isn't much of a challenge.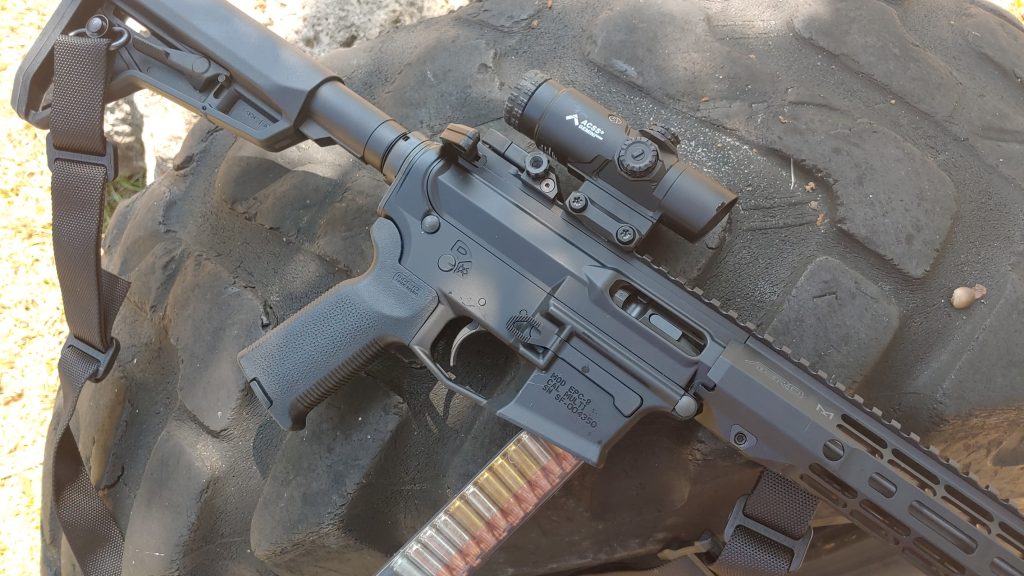 The GLx might not be as fast as a red dot at super close ranges, but it's so close we'd measure the difference in fractions of a second. Two power magnification isn't much, and at ranges as close as 5 to 15-yard ranges, you can use occluded shooting.
Beyond 15 yards and the 2X gets you a little closer, but it's not so much power that you can't see the target and make those shots. At 25 yards, you're up close with small targets and can instantly deal some damage. It's not quite as good as a red dot, but GLx is pretty dang close.
Stepping Back
Up close, it works just fine. It's not perfect for CQB, but it's versatile. Move back to 35 yards, 50 yards, 75 yards, and out to 100 yards the optic makes a lot of sense. That little 2X magnification the GLx offers does give a little bit of a boost without adding the size of a red dot and magnifier combo or an LPVO.
At 50 yards, I'm not just hitting the bad guy target. I'm punching it in the A-zone repeatedly because I can see the A-zone. Aim small, miss small, and all that jazz. At 100 yards, it's surprisingly easy to ring gongs over and over. Put the bottom of the chevron where I want the rounds to land, and they magically do.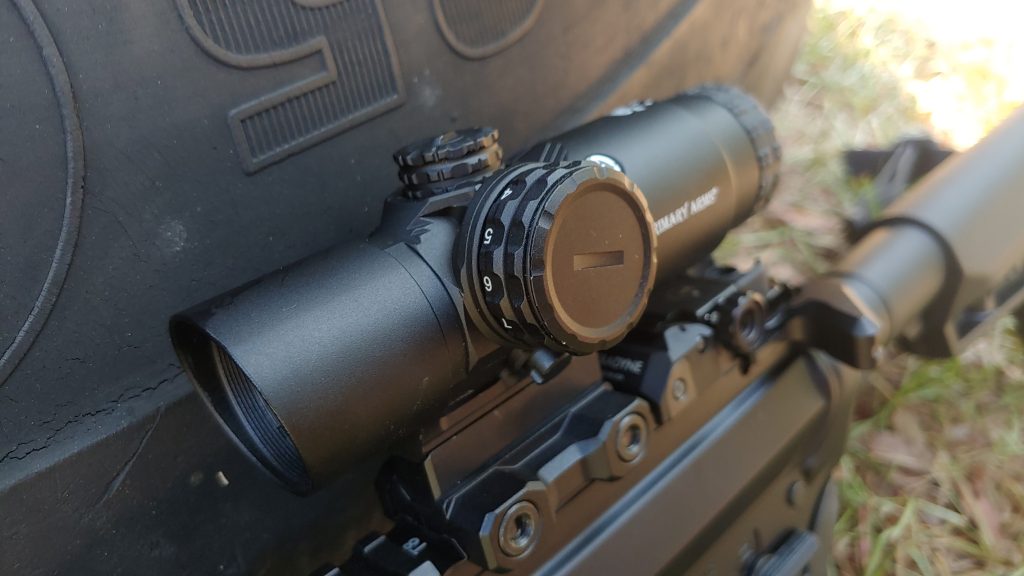 I have a series of gongs ranging from 4 to 10 inches in size, and I 'ran the gongs' with the GLx and EPC and was able to ring all four in under 8 seconds at 100 yards. That being said, it might have taken more than one shot for the 4-inch gong.
Primary Arms installed some seriously clear glass in the GLx. It's brilliant, and I can see the colors of the various gongs and the shape and size well. The finely tuned chevron is glass etched and leaves plenty of room to see the targets.
The Ultimate PCC Optic
If your PCC serves as more than just an inside-the-house gun, this little 2x Prism is an awesome addition. The GLx 2X prism with the 9mm Gemini reticle is an outstanding way to pull out every little bit of your PCC's potential and range. I'd love to see Primary Arms take out calibers like 5.7 or 10mm, which are both better rounds for longer ranges. Even so, if you're a 9mm PCC fan, the Primary Arms GLx is a great way to go.