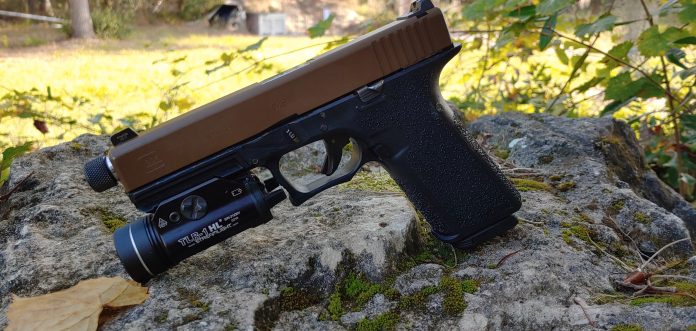 Building a AR 15 at home is pretty stock standard these days. You can do it with a finished lower or mill out your own 80 percent lower. You can build PCCs, AR pistols, and more. AR 15s aren't the only weapon popular enough to allow you to build your own. The Glock, which is arguably the most popular handgun in the United States, can also be built from nearly nothing. Using a Polymer 80 kit you can mill your Glock at home without the requirement for an FFL.
That being said Polymer 80 does produce pre-milled frames that are serialized and require an FFL. The majority of their frames are unserialized 80% designs. This is the route I took. I milled a Polymer 80 frame and built my Glock from the ground up. I used a lot of Glock components to help ensure the weapon ran reliably, but technically this is hardly a Glock.
The Build
Finishing a Polymer 80 Glock frame isn't difficult. It really surprised me how quickly I was able to finish this kit with just a Dremel and a power drill. It took a few hours but a lot of that time was me being ultra-careful not to overmill anything. In reality, it's tough to overmill anything on this.
The frame comes with all the bits and end mills you need to finish the build as well as a polymer jig that's ultra-easy to use. Following the written directions is easy and everything is simple to do.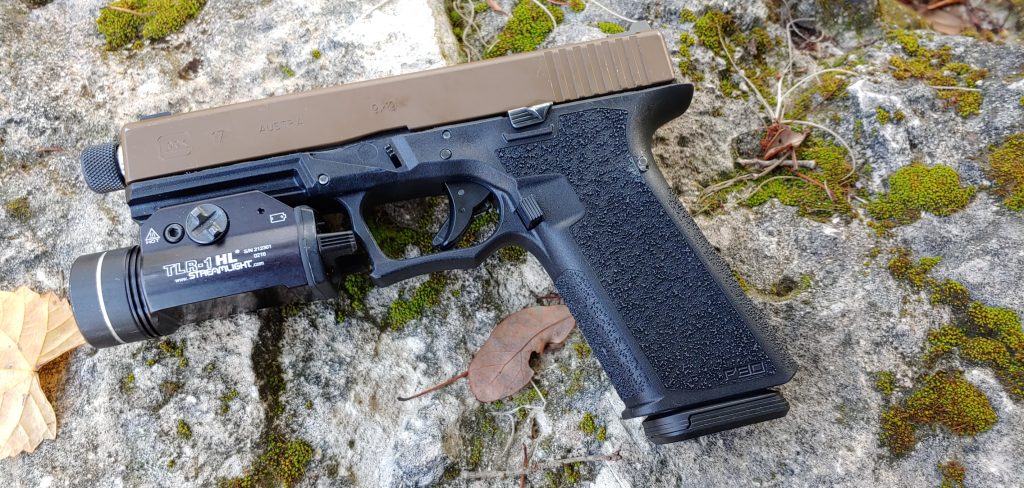 Getting everything milled off is easy, getting the gun to run is the tough part. It takes time and effort and a lot of racking the slide, hand filing, and patience. Installing the lower parts is very easy as well. It's a Glock so simplicity is key. The Polymer 80 frames use Gen 3 parts to complete.
Once I installed the lower parts and the Polymer 80 parts I slapped the slide on. It felt stuff and I could tell it was grinding against the slide. I committed to hand filing a bit then slide filing.
Slide Filing
Slide filing is the act of working the slide backward and forwards hundreds and hundreds of times to smooth out it's fit. I'd rack it a hundred times, shoot it and if it failed I'd do it again. I got in hundreds of racks before the gun started functioning correctly. Once it was running I ran into a few problems here and there.
It wasn't really 100% reliable until a few hundred rounds were downrange. It needed a hefty break-in period for sure.
Let's Talk Polymer 80 Ergonomics
The Polymer 80 frame improves upon the Glock platform's ergonomics. It reduces the grip angle to 18 degrees. This makes it identical to the 1911 grip angle and much more comfortable. The gun lacks finger grooves as well and comes with a built-in beavertail that really protects the hand. Glock slides bite my hand and I hate the slip-on grip attachments.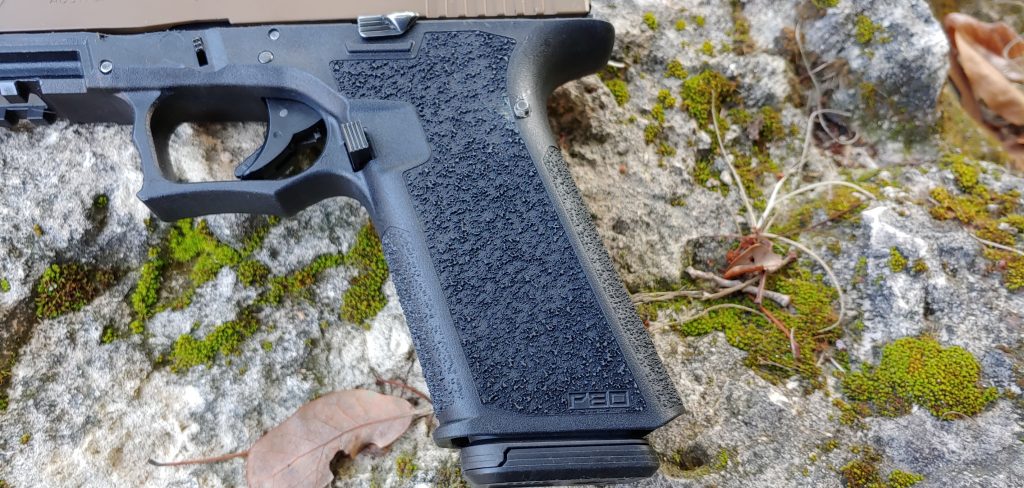 The Polymer 80 frame is more aggressively textured, has a higher undercut under the trigger and a built-in flared magazine well. The Polymer 80 takes a lot of the work custom grip shops can do and applies it to the grip frame as a stock option.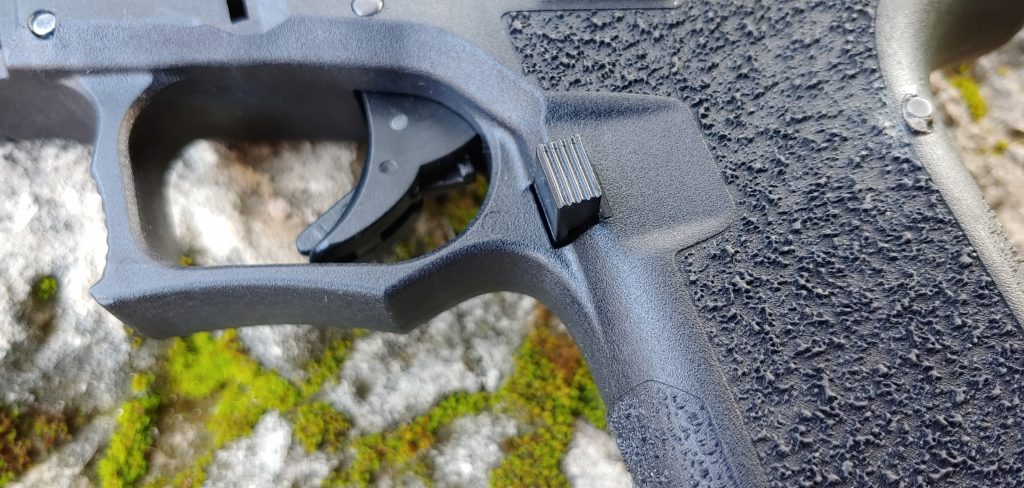 I find the grip to be vastly superior to a stock Glock grip. It's more comfortable, relieves slide bite, and allows you to assume a higher grip for more control. Polymer 80 did an excellent job at what Glock should have done decades ago.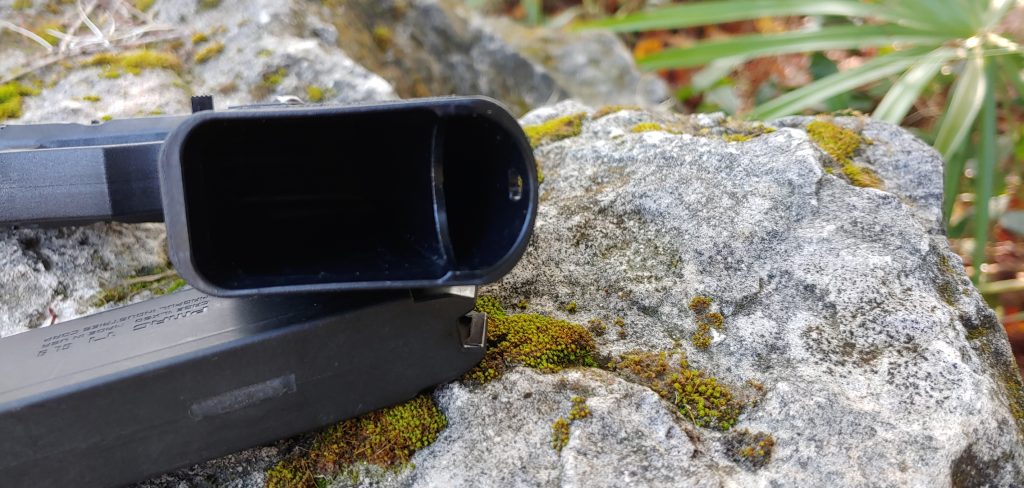 On top of that, they include a Picatinny rail that's standard and not Glock rail-like. It's nice and perfect for all your accessorizing.
The Polymer 80 at the Range
As I mentioned the ergonomics are vastly improved and I prefer this gun over the stock Glock 17. It feels much better in the hand and I feel less recoil and more control over the muzzle. Mine is a full-sized Glock 17 sized handgun. I slapped on a Vickers edition slide that's FDE with an Ameriglo front sight and Wilson Combat rear.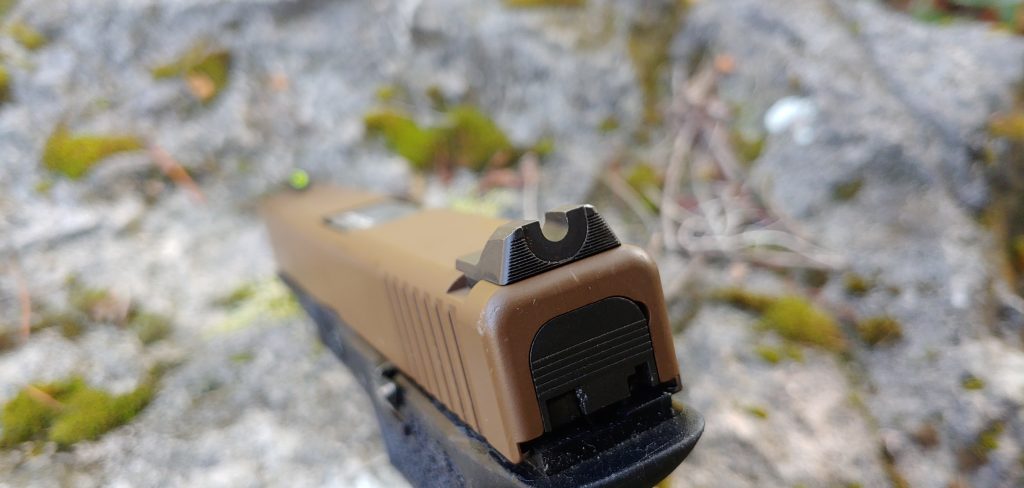 I completed the slide with a barrel from Bear Creek Arsenal and for a cheapo barrel, it works perfectly fine. The gun runs like a clock these days. It works with ETS, OEM, Magpul, KCI, and 2nd Amendment magazines including the KCI 50 round drum. I'm using Glock OEM lower parts and it functions perfectly with the extended magazine release and extended slide release.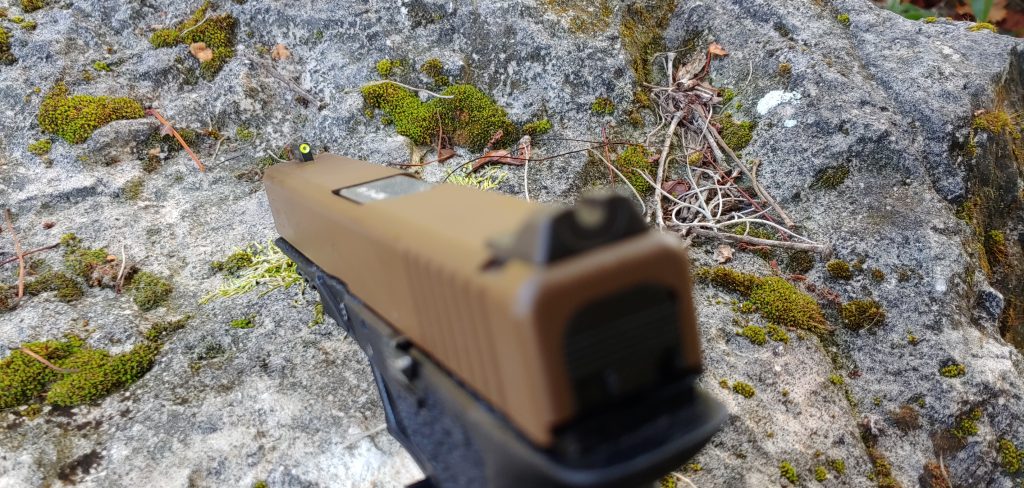 The gun seems to run reliably now, but I can't say I'd choose it for self-defense. That seems like a task that is best left for professionals who build guns for a living. As a project, it's a blast and while you won't save much money the experience is worth the effort.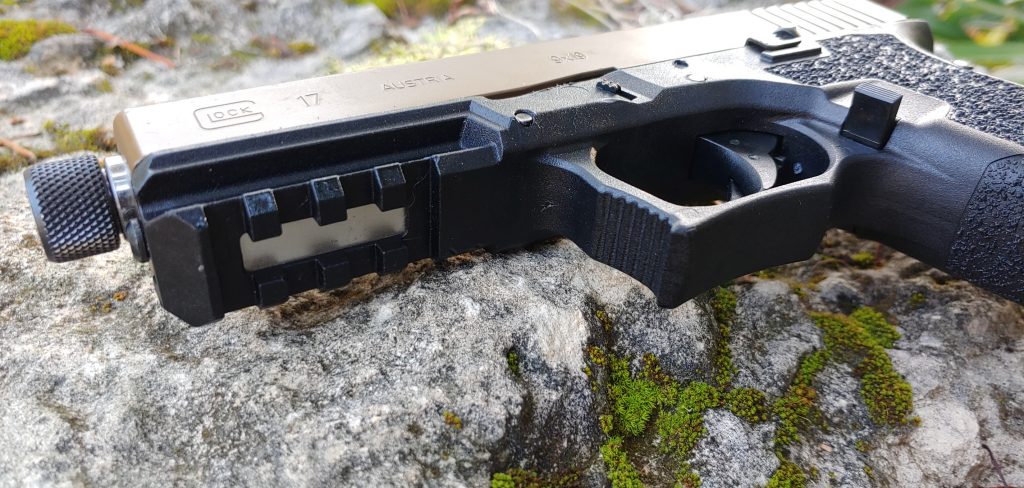 I greatly enjoyed the building aspect and I'm betting most gun owners would enjoy the challenge as well. The Polymer 80 build was a ton of fun and I plan on building a compact model as well as one of the new hybrid models very soon. A ton of companies have some great deals going on for these kits so shop around a bit and you'll find the perfect setup for you.