By Dave Bahde
---
Your weaponlight/suppressor-equipped-pistol holster solution

Pistol suppressors have become quite popular over the last few years. Centerfire suppressors are starting to really catch on. Great for home defense, they really quiet things down. They can also be used for small varmint hunting, or even hog hunts. Most are hearing safe with standard ammunition. Suppressors are even seeing some interest in the tactical market where spark or flash is dangerous, or simply to keep things quieter. The problem has always been holstering them, and SureFire has provided an excellent solution.

Made from strong, durable, and light weight polymer the MasterFire secures the handgun using the light, leaving the entire upper portion open. You can use threaded barrels, compensators, red-dot sights, even suppressors without interference. Using a primary and secondary locking system, it's considered Level 3 retention, required by some law enforcement agencies. Positioned for a fast and consistent draw stroke, it rides like most any duty holster. Using one of four MasterFire capable weapons lights, including red or green lasers insures a solid interface. An adjustable belt loop accommodates on and off duty belts. The thumb lever release is intuitive and conforms to most accepted methods. A side-mounted switch activates the light when removed from the holster. There is even a lock that secures the weapon if needed.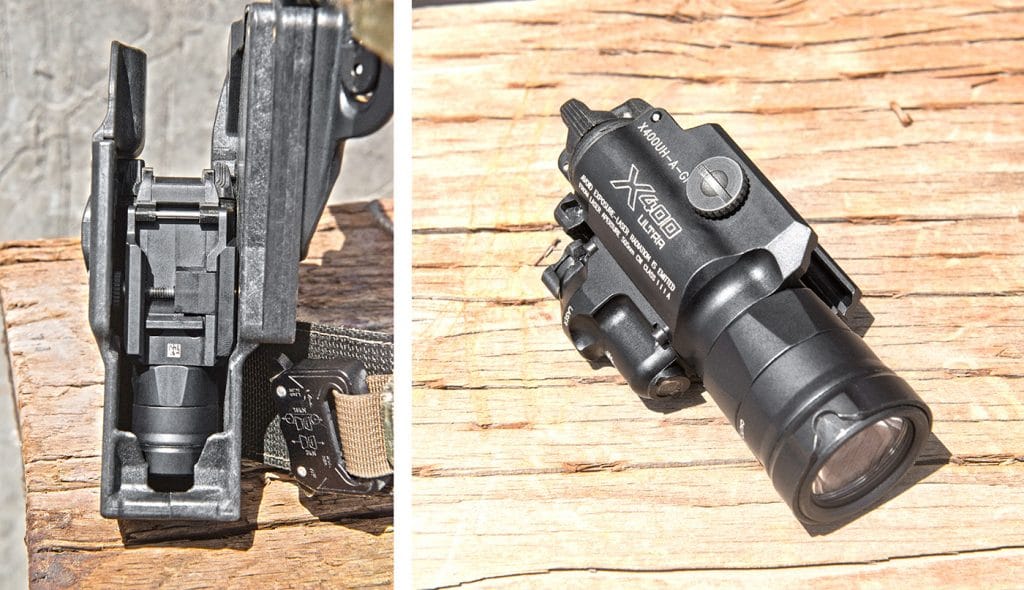 Testing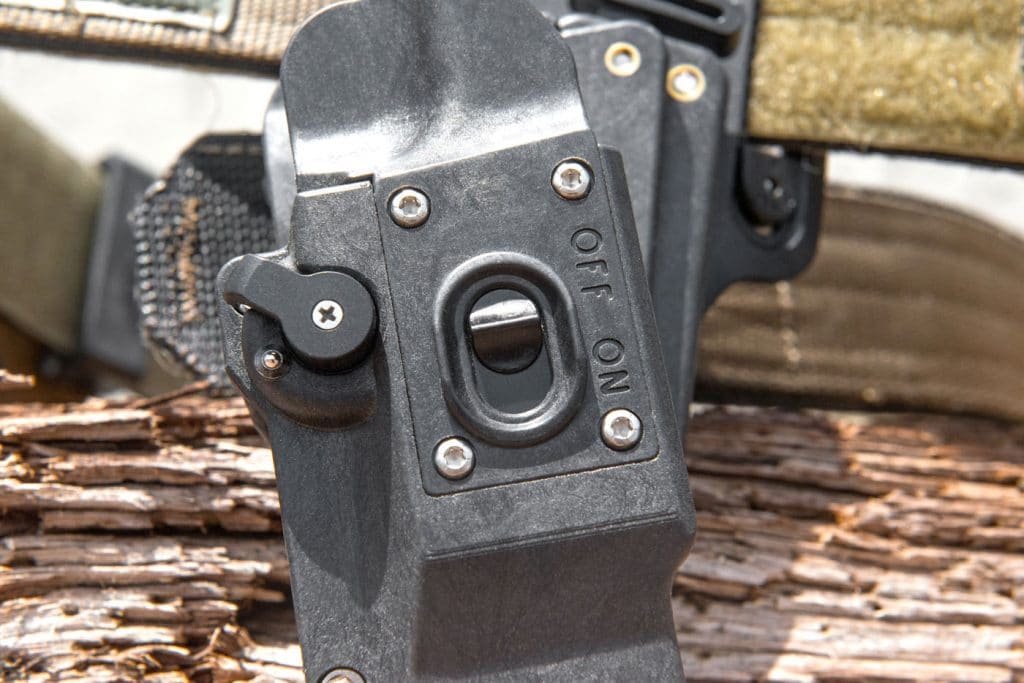 Several pistols were used including my RMR equipped HK VP9 with a couple of suppressors. SureFire provided an X400UH with a green laser for testing. It securely locked to a Beretta APX, FN 509, HK VP9, and a custom 1911 10mm long slide from Republic Forge.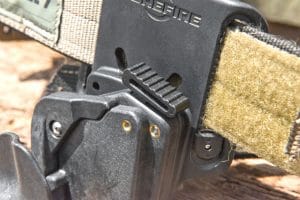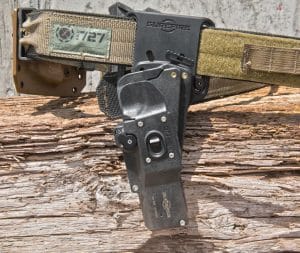 Every pistol released easily, even when suppressed. The MasterFire holds the pistol at an angle that releases slightly forward and up. Accessing the thumb release was pretty natural with room for gloves. My all steel 6-inch 1911 has a rail and RMR and weighs a bunch, but it was held securely with no movement.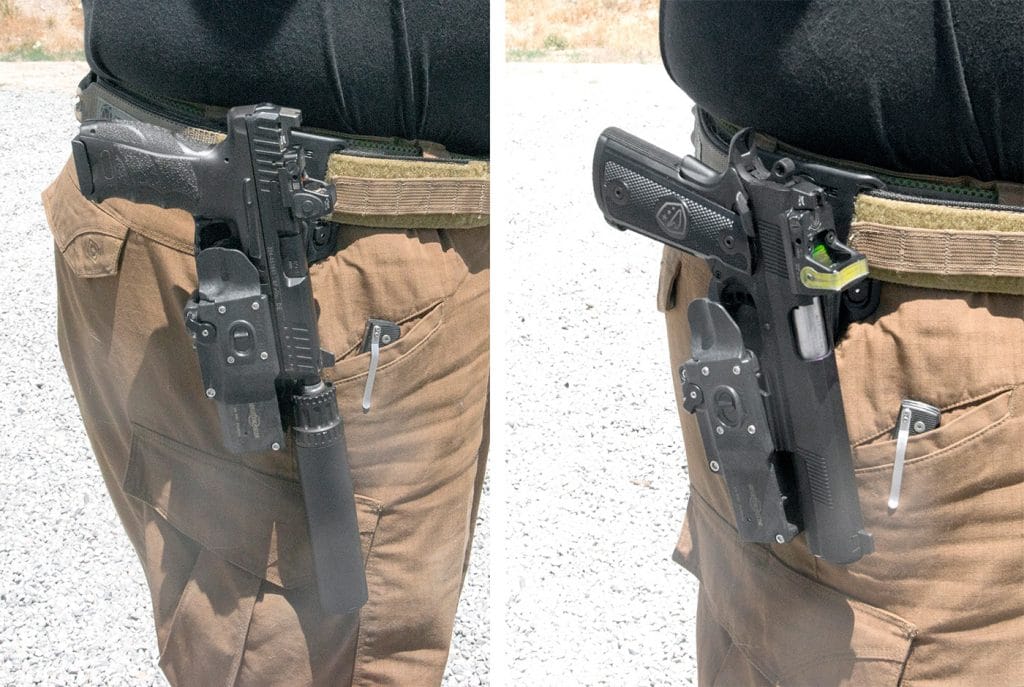 Activate the switch and it turns on the light (in any combination) when drawn. Insert and it turns off. Switched off it works like any holster. Turning the lock secures it, but cannot be drawn until unlocked, so be cognizant when crawling or rolling on the ground. Adding a suppressor made it barrel heavy as you would expect, but it worked great and did not interfere with any gear. Just make sure your pants are heat resistant if you intend to work the pistol hard and re-holster as it sits very close to your thigh.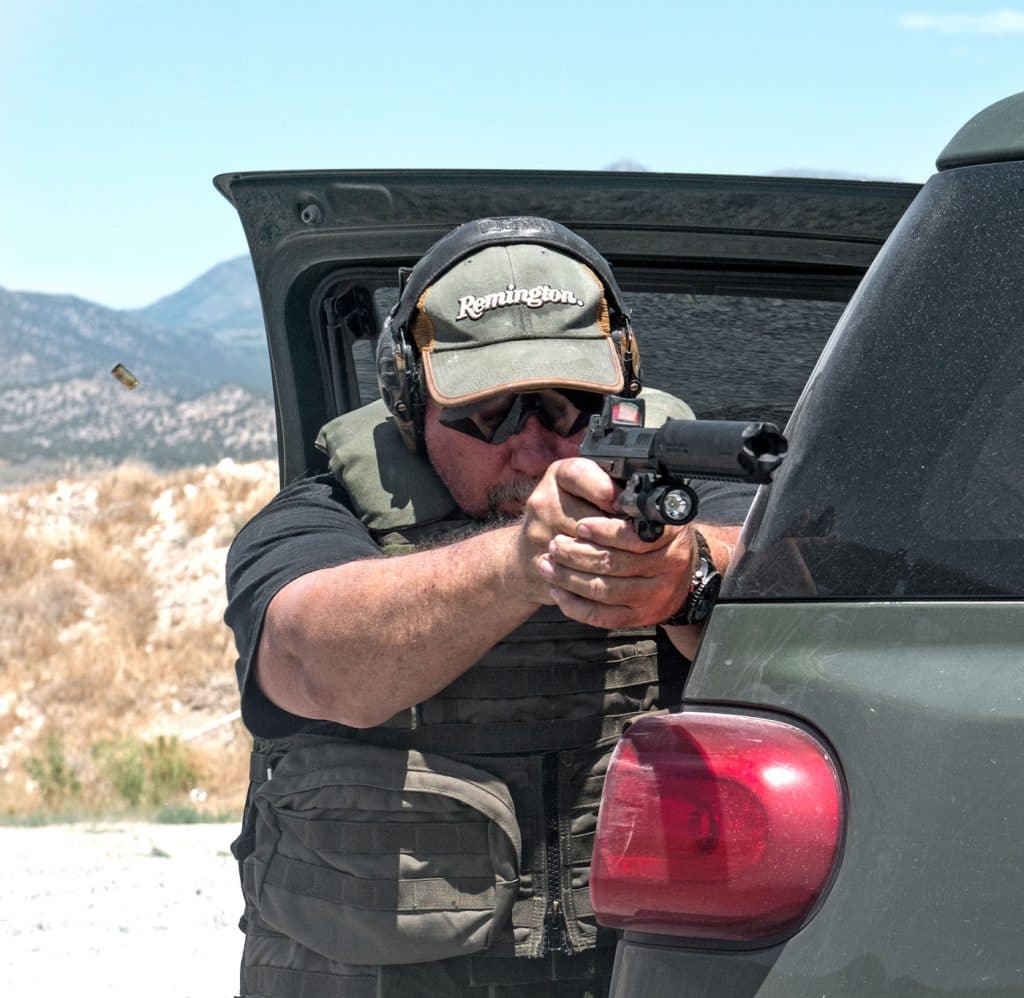 Overall a tight package, that worked great. No bigger or bulkier than most light-capable duty rigs. Understand your pistol is completely exposed to the elements and environment, including your RMR if attached. Be cognizant of your suppressor if hot. Otherwise it is light, strong, and never came loose under use. It makes moving between pistols a breeze, perfect for me. Retail on the holster is $169.00, capable lights range from $159.00 (Polymer LED) to $799.99 (Green LED laser). It's only available in a right hand model so far. If you want to deploy a suppressor, this is one of the best holsters I've seen so far and looks to be capable of pretty much any duty application and even a few hunting situations. See it at your firearms retailer, or contact Surefire, LLC, Dept. OT; Tel.: (800) 828-8809; Web: www.surefire.com
Source Article from http://ontargetmagazine.com/2017/07/surefire-masterfire-rapid-deploy-holster/