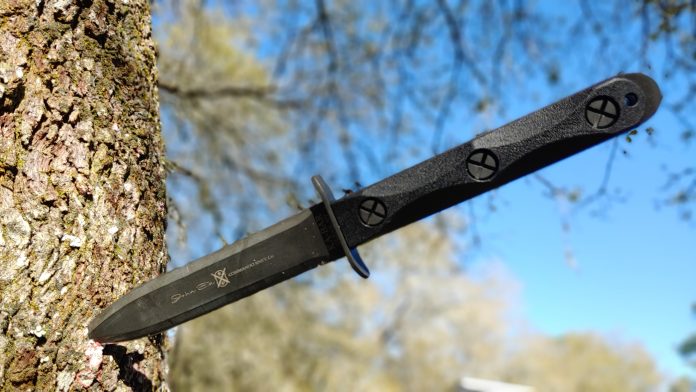 I don't identify as a 'knife' guy per se. Knife dudes can be some real 'characters', so I don't necessarily like that title. I do have a weird love of classic fighting knives. The knives from World War 1 and 2, Korea and Vietnam, fascinate me. Commando knives, in particular, interest me, and the Ek Model 4 is a classic commando fighting knife that's relatively unknown outside of fans of classic fighting knives. 
John Ek designed the Ek Model 4 during World War 2. He wanted to contribute to the war effort but was a bit too old to storm the beaches of Normandy. As an experienced machinist and knifemaker, he designed the Ek Model 4 specifically for American fighting men. The knife became incredibly popular with troops.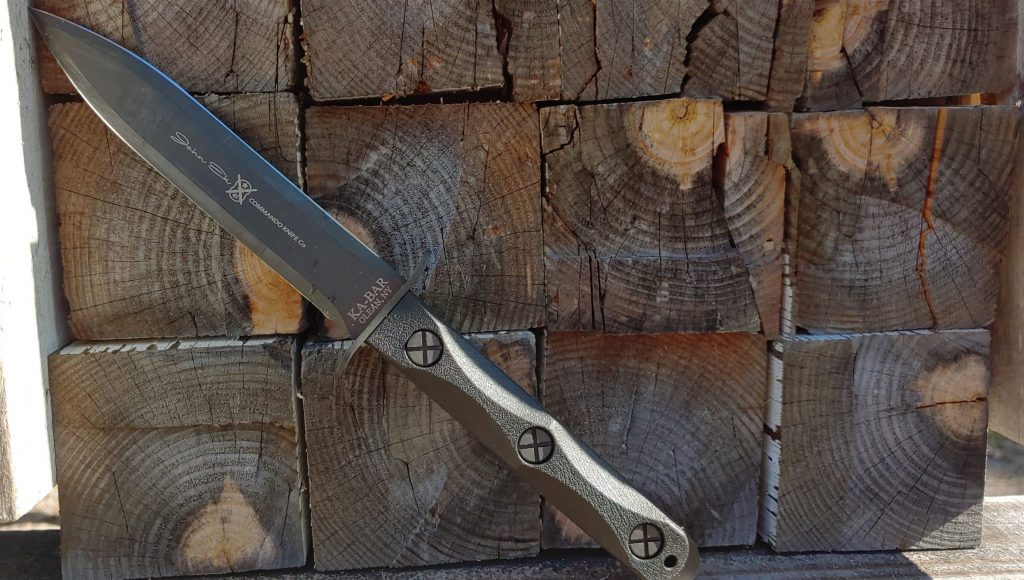 Back in the 1940s, production of these knives was limited. John Ek had his shop running at full capacity 24 hours a day to produce as many as possible. He required users to submit proof of military service to buy an Ek Model 4 so he could guarantee the knives went to American troops. Marine Raiders, the First Special Service Force, and the OSS all purchased Ek Model 4 knives. President Roosevelt even owned one and kept it on his desk until he left the presidency. 
Bringing Back The Ek Model 4 
Ek knives changed hands and moved from state to state several times. Recently KA-BAR was able to purchase Ek knives and revived the brand. Obviously, the first knife they needed to bring back was the Ek Model 4. Prior to this finding, an Ek Model 4 was near impossible and was regulated to antique status. I don't purchase guns I can't shoot or knives I can't cut with.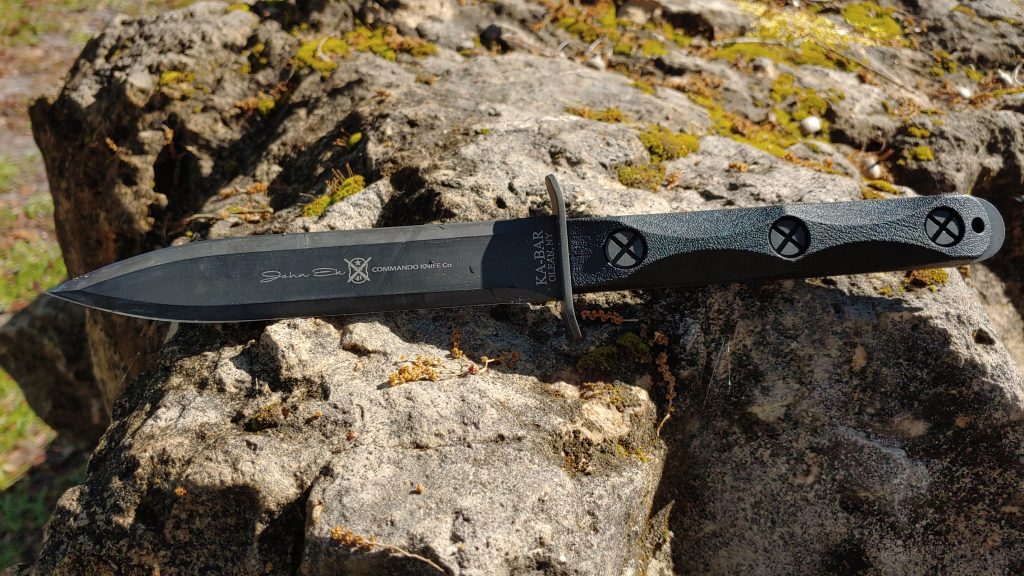 The modern Ek Model 4 keeps the design from the good ole days with some modern changes. The blade is made from 1095 Cro Van steel. This tough steel holds a great edge, is extremely strong, and will cut and stab deeply without issue. The MSRP is around 140, but the street price appears to be closer to an even hundred bucks.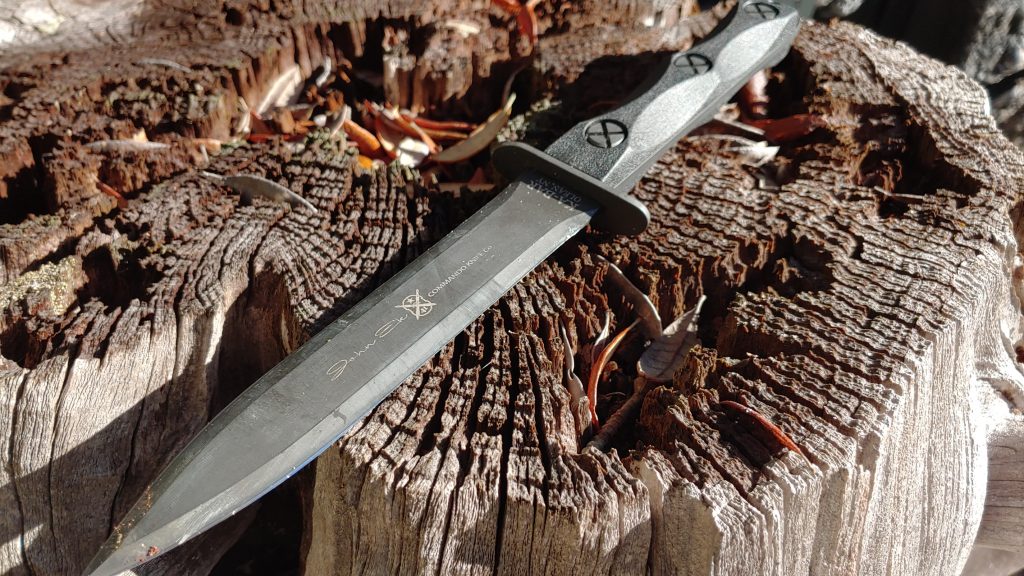 KA-BAR sells the knife with a modern sheath that is a combination of polymer and soft nylon. The blade fits with friction and a thumb snap retention strap. KA-BAR uses glass-filled nylon to produce the handles instead of wood but keeps the classic scalloped design. 
Commando Style 
The Ek Model 4 keeps the core design that made the knife so famous. This includes the dual-edge design with an aggressive spear point. The blade is 6.625 inches long, and at the time, that blade length was rather standard. The idea was that the length of the blade allowed you to reach a vital organ regardless of where you stabbed someone in the torso.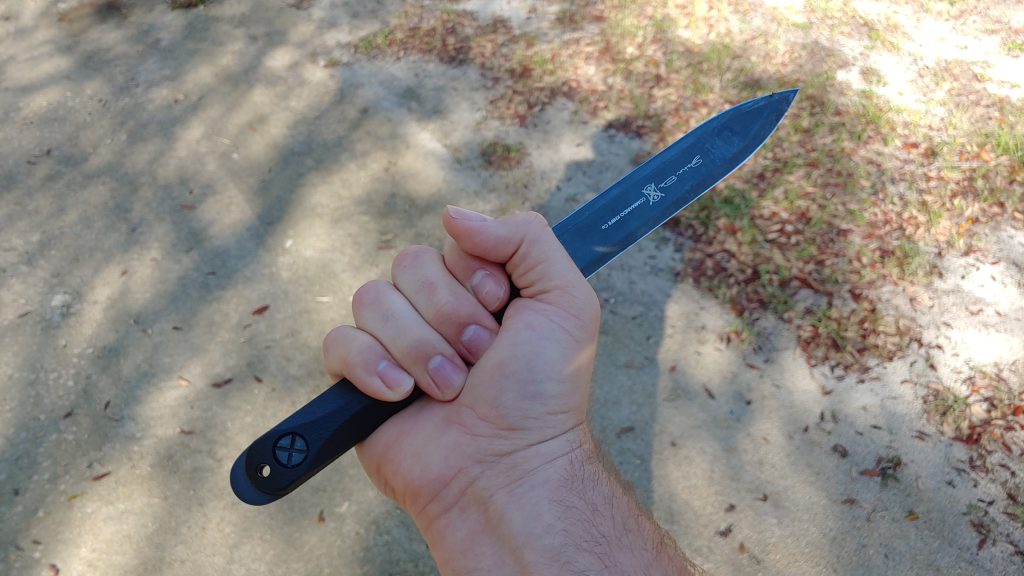 With a 1.125 inch wide blade, it caused damage in both directions. With a total length of 12.625 inches, the Ek Model 4 is a mighty big knife. You aren't going to be IWB carrying it for defensive purposes. It's a hefty 11.2 ounces, and that kind of weight gives you some great chopping power. Commando knives like the VG 42 aren't known for their chopping power, but the Ek Model 4 breaks the mold.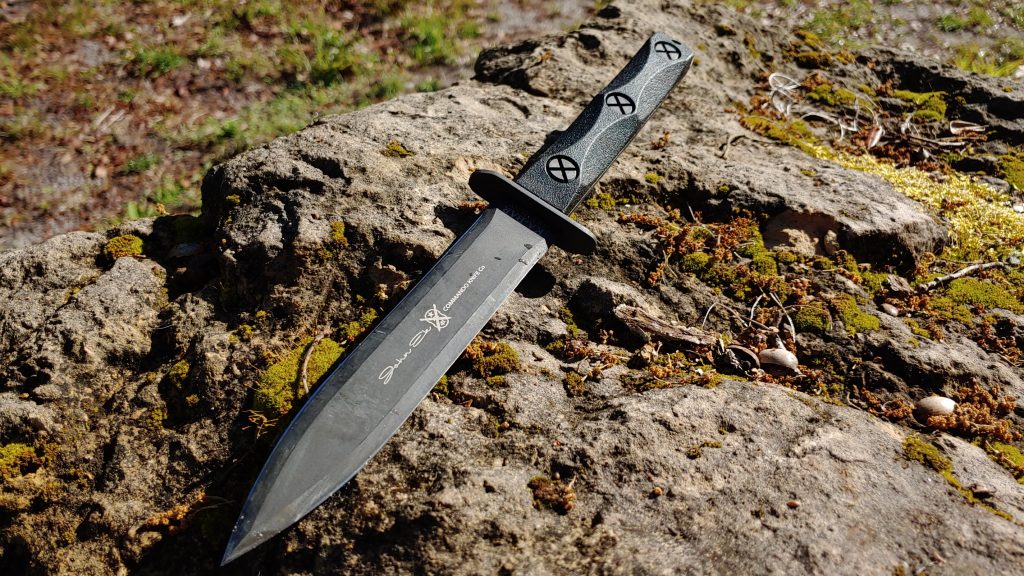 Holy hell, does KA-BAR send out a sharp knife. I greatly appreciate that. A sharp knife is not just a handy knife but a safe knife. It slices right through meat, vines, rope, and cardboard. It glides through chicken breast with little pressure required. Run the blade over meat, and it cuts through it.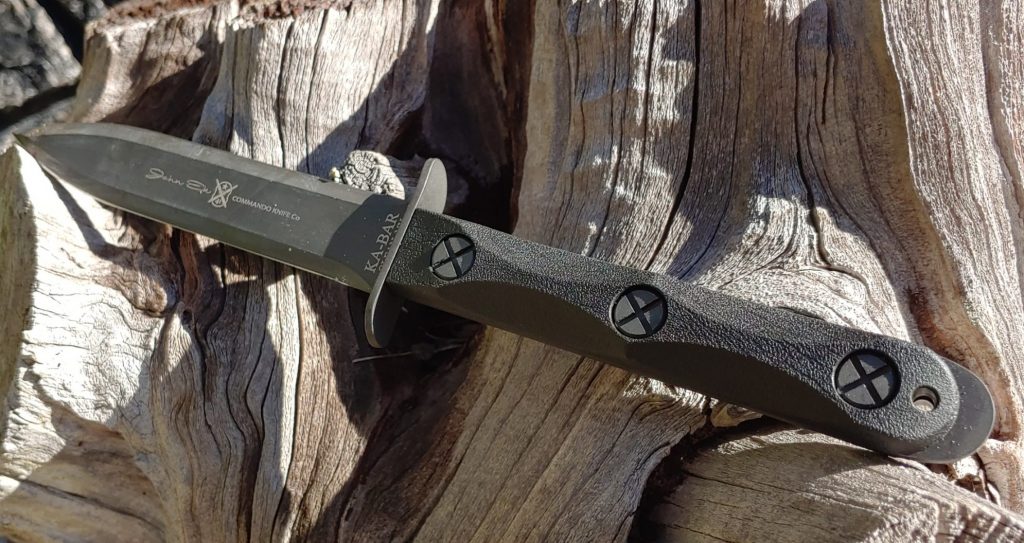 The blade grind is beautiful and appears to be quite even. Daggers can be tricky when it comes to applying a proper edge. KA-BAR did an excellent job with the blade. 
The Grip and Handle
Man, the handle is also massive. It's more akin to a hand and a half sword than a normal knife handle. John Ek designed a grip texture that gave users a sure grip without the need for costly and time-consuming checkering. The textured grip utilizes a series of scallops that provide a comfortable, nonslip grip.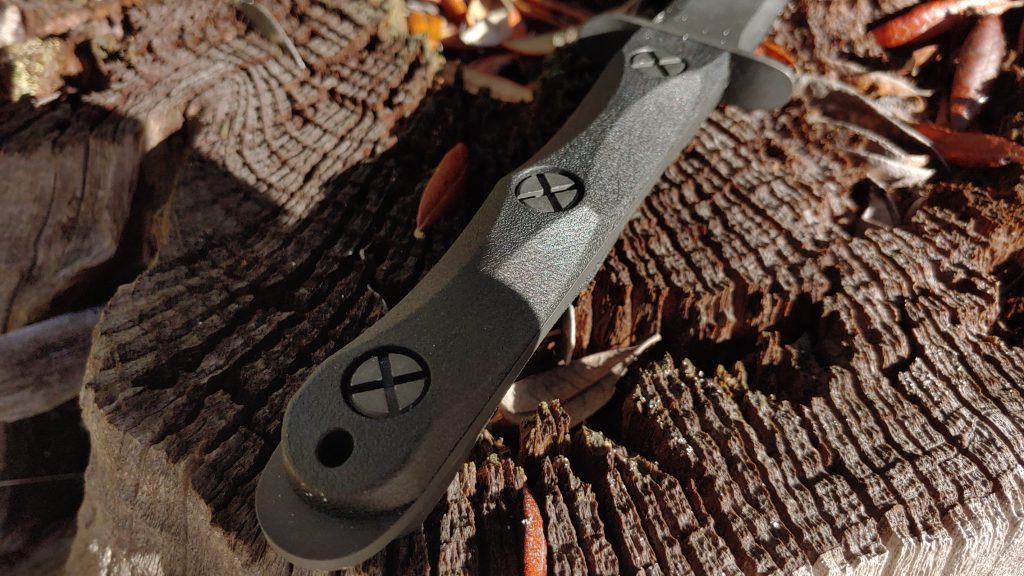 I drove this blade into an 8×8 beam of wood over and over, and my grip never slipped. If it had, the small cross guard would have protected my hand without issue. Until I had an Ek Model 4 in my hands, I never realized how awesome this grip design is. G10 is great, and I love it, but an aggressive G10 texture can rub the hands with hotspots, no such issue here.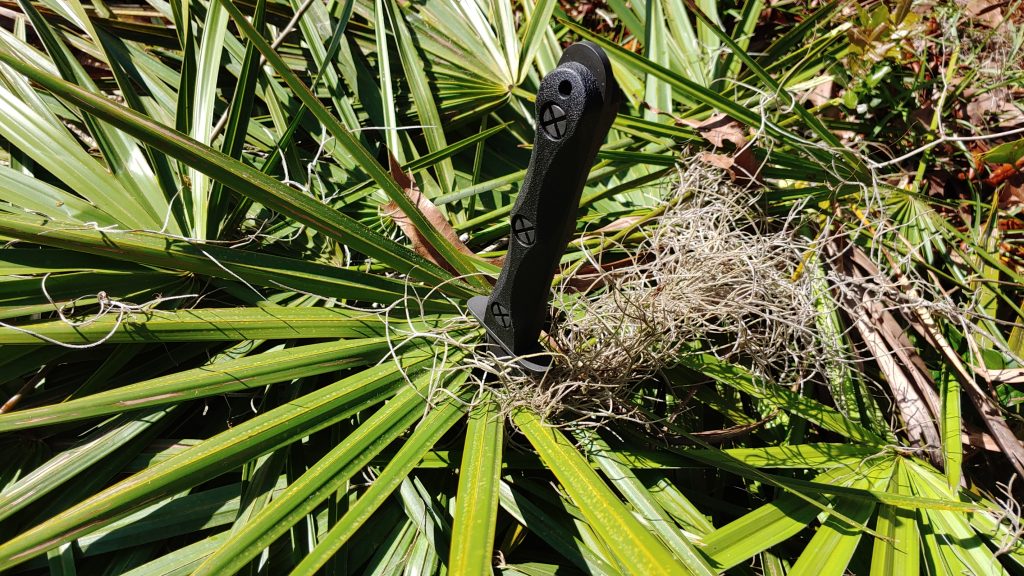 I don't have many Japanese Imperial Soldiers or Nazis to fight, but I do have the slow encroachment of nature in my yard. I like to spruce up in the spring and eliminate hiding spots for snakes. Typically a machete does the work, but I saved some for the Ek Model 4. I chopped through vines and cut through palmettos. I dug out sand spurs by the roots using the Ek as a gardener's shovel. Throughout a day of work, I never blistered up and didn't feel hotspots or raw rubbed areas.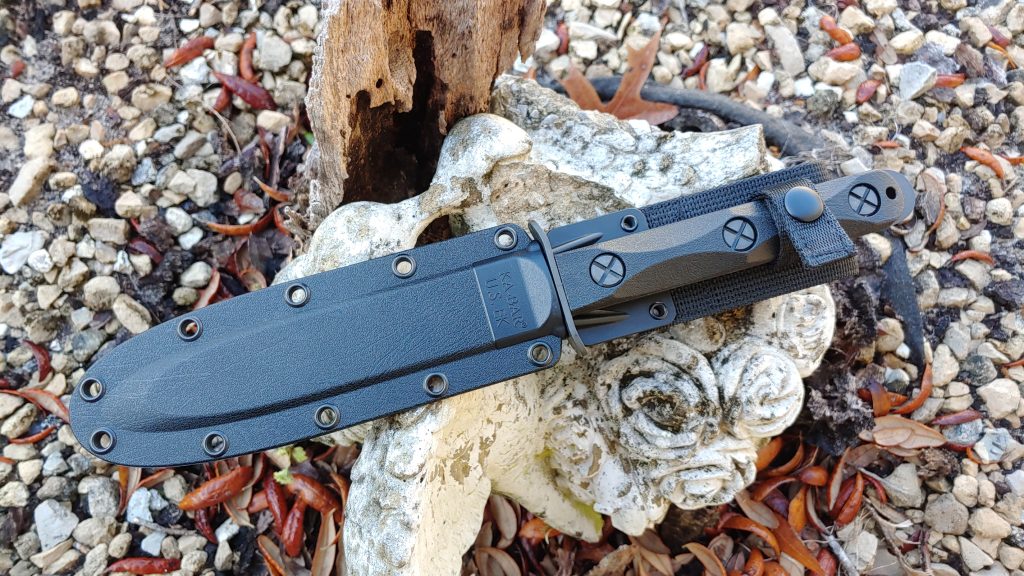 The Ek Model 4 In Real Life 
You can really dig in with this mother trucker with its long and thick handle. It's a good working knife, and I'm betting a feisty fighting knife. I'm glad KA-BAR has brought it back for a new generation to experience. While modern knives like the ESEE 4 might be more practical, being able to acquire an old warhorse at a working man's price is tough to beat.