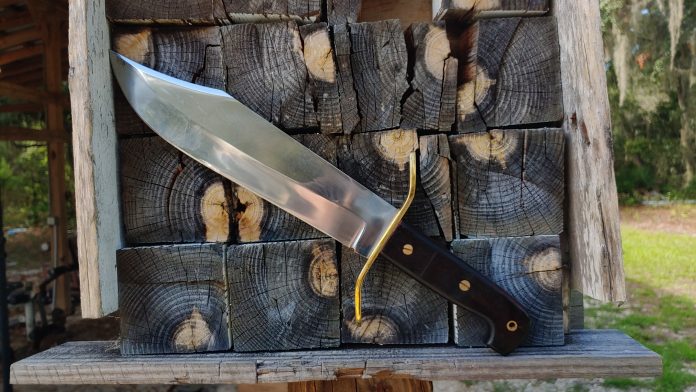 My youngest kiddo loves knives and weapons in general, so whenever a holiday comes around, he gets me a knife or some kind. Often a ridiculous, somewhat silly knife. Not quite fantasy knives, but knives that can teeter on odd. This year for Father's Day, he chose a Bowie knife from Cold Steel, specifically the Wild West Bowie Knife. 
Cold Steel makes a ton of bowie knives, which is new to me. I figured most bowie knives are cheap, crappy imports from no-name companies. Cold Steel is one of my go-to's when I want an odd but well-made knife. After glancing through the catalog of Cold Steel bowie knives, I agreed with my little guy's selection. The Wild West Bowie knife is a massive beast of a blade that harkens back to the classic knives that populated western movies and TV shows of yesteryear. 
Digging Into The Wild West Bowie Knife 
This big beast has a massive 10.75-inch blade has some heft to it. It's 2.4 inches wide and 4.7mms thick. It weighs 23.1 ounces. It's beastly and mean and awesome. When you first pick it up, you feel the weight of the knife and realize it could chop like an ax if necessary.
The exaggerated clip point tip makes it easy for thrusting and stabbing, and the big belly makes it a solid little slasher and deep cutter. The massive blade makes it more akin to a short sword than a knife, but it's just short enough to strap to your belt without drama.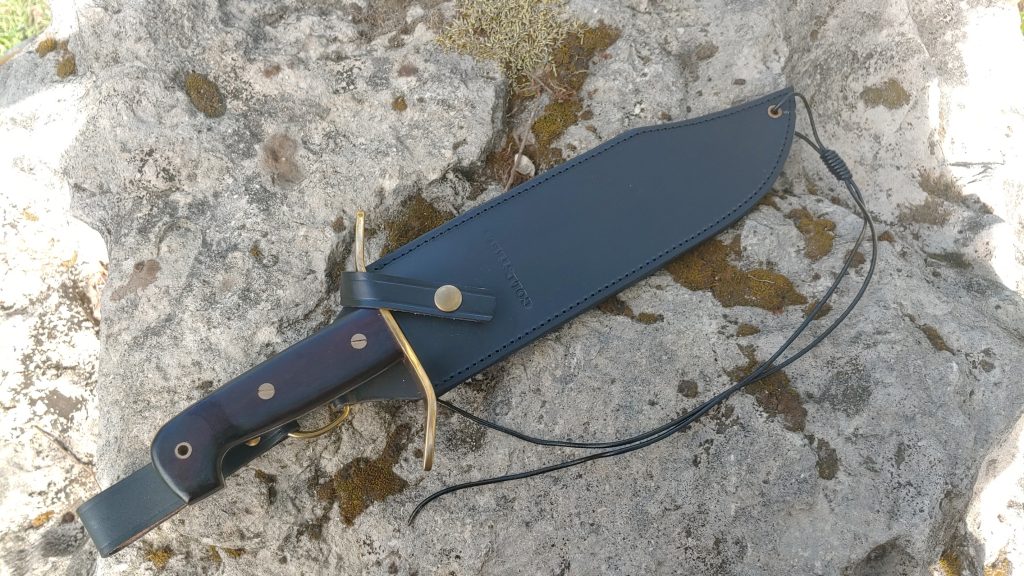 The handle features Rosewood scales that bolt onto the grip and provide a nice fat, shock-reducing grip. At the top of the handles sits an S-shaped handguard perfect for preventing slip and, of course, blocking and parrying. At the bottom of the blade sits a pronounced ledge to keep your hand in place. 
Cold Steel went with an affordable and good enough 1090 carbon steel. It's not the toughest or the most corrosion-resistant option, but it will likely work fine for this massive blade. All the extra steel built into it will provide plenty of strength and a rigid design. It's quite sharp and sharpens easily.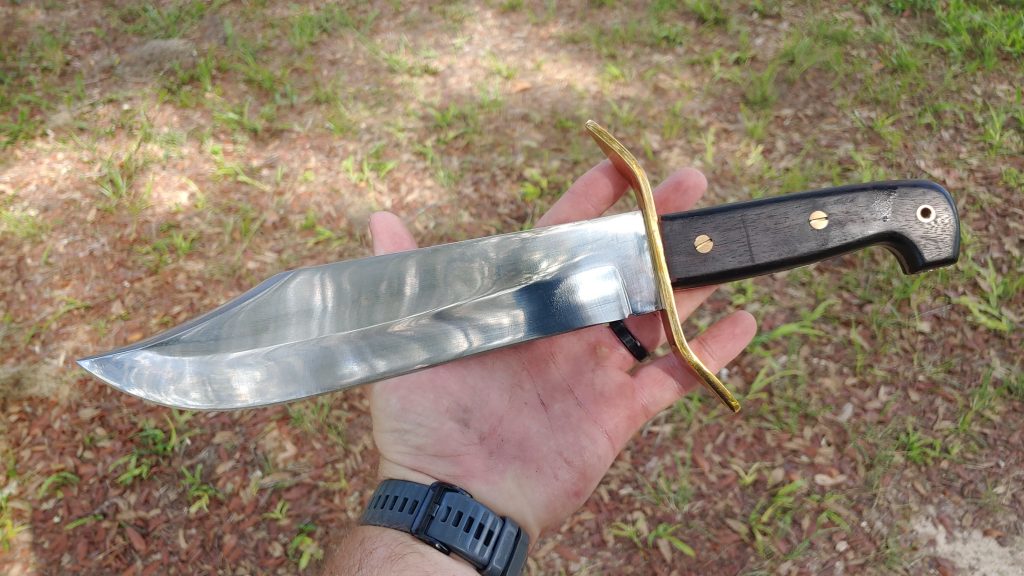 With the Wild West Bowie knife, you get a big leather sheath that certainly has that classic appeal. At the bottom sits a leg strap to make it easy to secure. This will keep the Wild West bowie from swinging around on your leg when you rock and roll through Dodge City. 
The Wild West Bowie In Action 
The Cold Steel Wild West Bowie is a big meaner chomper. Jim Bowie's knife was a fair bit different than what we picture as a bowie knife, but I prefer this more imaginative version. Jim Bowie famously killed a man and nearly chopped the arm off another after being shot and stabbed a few times at a Sandbar during a duel. 
With that in mind, I put an open challenge on the Book of Faces to meet at a sandbar in the Gulf for a knife fight. I figured this would be the best way to test the knife. Unfortunately, no one responded, and I wasted boat fuel looking crazy.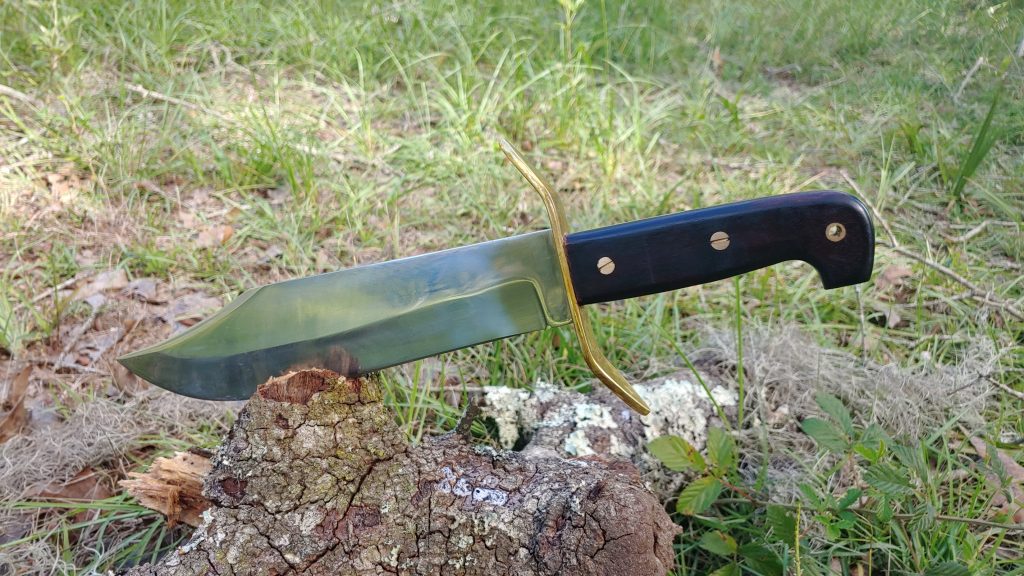 Anywho I went home and took my frustration out on my yard. Spring and now summer have turned my yard into a jungle. With that in mind, I went into action loaded for bear…or well overgrowth. I used it almost like a combination of a machete and hatchet. I had palmettos, low limbs, vines, and more that needed chopping. 
The Wild West Bowie and I went at it. As a chopper of branches, it can take down some finely sized ones without much difficulty. The lighter and more balanced nature does make it easier to chop when sitting at the top of a ladder. My home insurance was ticked about some branches touching my roof, and they varied between three to five inches, and it cut right through them with a few good chops.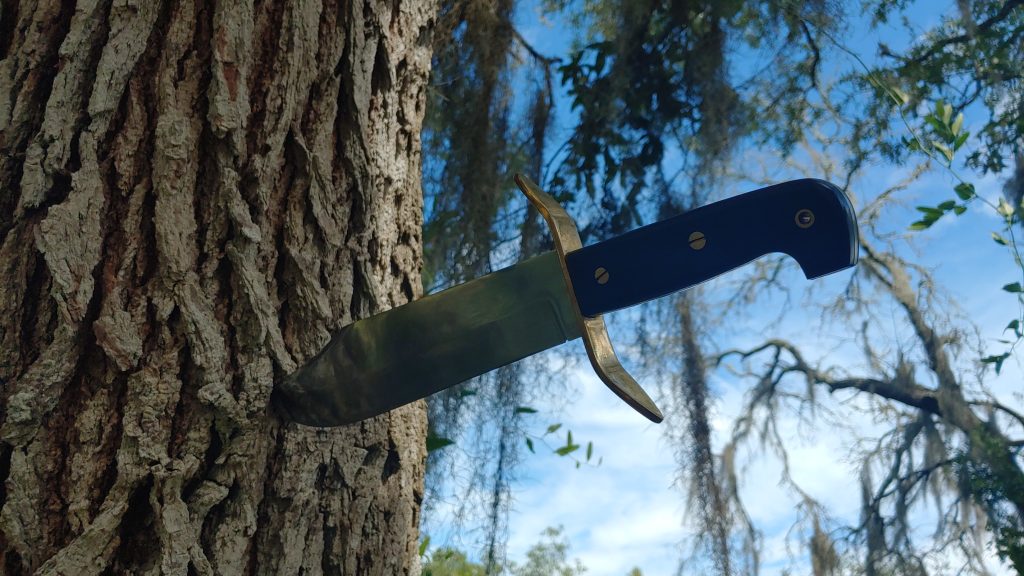 The palmetto bushes are thin but easy to chop through. I cleaned up plenty around the yard. I won't say the Wild West Bowie is as efficient as a machete or an ax, but it's a great in-between. 
Summer Fun
After a quick wash, my next opponent was a watermelon the kids intended to eat. I lopped it almost cleanly in half with a solid and satisfying wack. The kids all thought it was hilarious. I continued to chop the watermelon into bite-size chunks using the massive knife. It cleanly cut right through the thickest portions once the first cut was made. 
It's split, chopped, and delivered a great deal of fun for three young kids and their young-at-heart dad. The Cold Steel Wild West Bowie clearly isn't an EDC option, but it's a fairly efficient tool. It'd work well in the woods as a do-it-all and probably work fairly fine in a fight on a sandbar. Plus, it's just all kinds of cool.