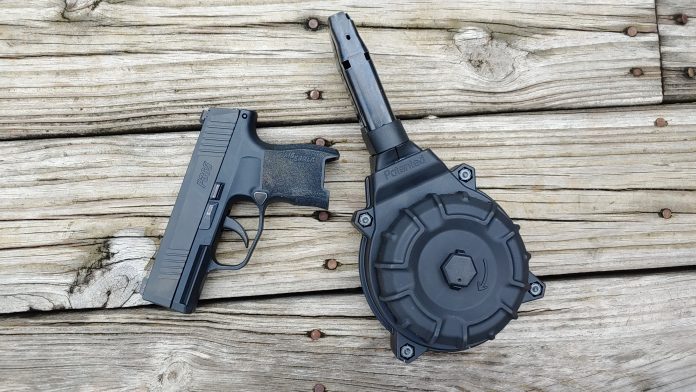 There is just something about drum magazines that appeals to me. Often they are frustratingly unreliable, yet I adore them. Young men get imprinted early, and something about the early 2000s History Channel left an impression on me. Wiseguys toting Tommy guns and the Brits spraying Nazis with drum-equipped Thompsons captured me. I've got drums for my AR 15, my AR 10, AKs, Glocks, and now I have a SIG P365 drum. 
Glock drums sound silly, but a SIG P365 drum is absolutely ridiculous. The Glock drum at least has some PCCs to justify it, but a P365? No such need or justification here. If you live under a rock, you might not know that the SIG P365 is a subcompact pistol just a bit bigger than a single stack 9mm. Who needs a drum for a concealed carry gun? Who would invent one? Why would you want one?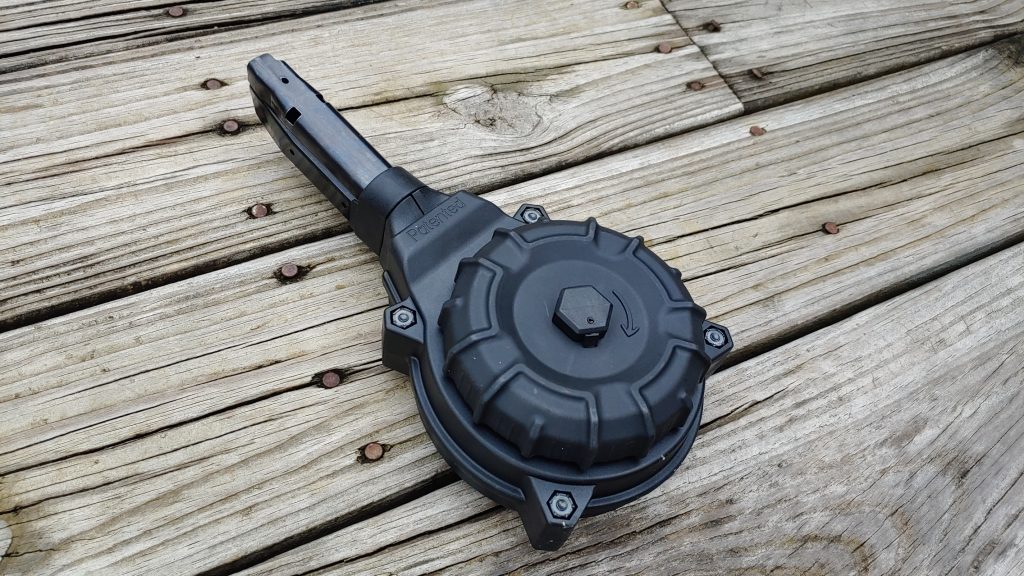 Let me answer those questions. First and foremost, I don't need much, and I don't need a drum. It's not a bill of needs, it's a bill of rights, and if I want one, it's my right. Who invented this SIG P365 drum? Well, believe it or not, it was ProMag. I want one because it's utterly ridiculous. Something about the fact that it exists pleases me greatly, and I knew I had to have one. 
The P365 Drum Deets
Drum designs have gotten better, which I primarily thank Magpul for. Most have a similar design to this model and incorporate a built-in winding device. This winding device relieves pressure from the follower and allows the user to load the drum without difficulty. When released, the pressure is reapplied, and it feeds your firearm.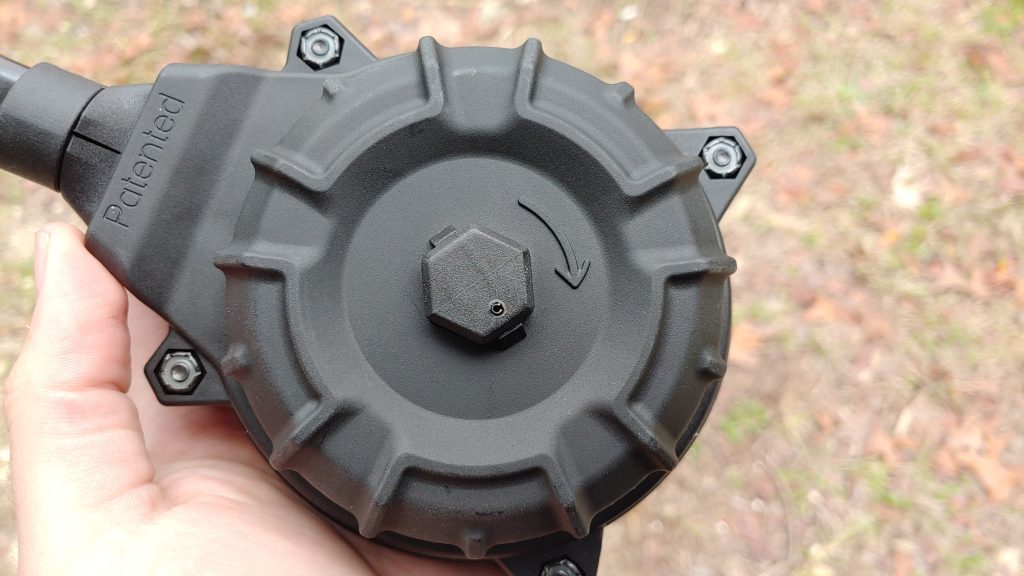 Believe it or not, there are two P365 drums designed by ProMag. One holds 30 rounds, and the second holds 50 rounds. I have the latter, because if you are going to be ridiculous go full bore. Who doesn't want 50 rounds in a gun designed for concealed carry? Loading it with those 50 rounds isn't super difficult, but you'll feel like you'll need three hands occasionally.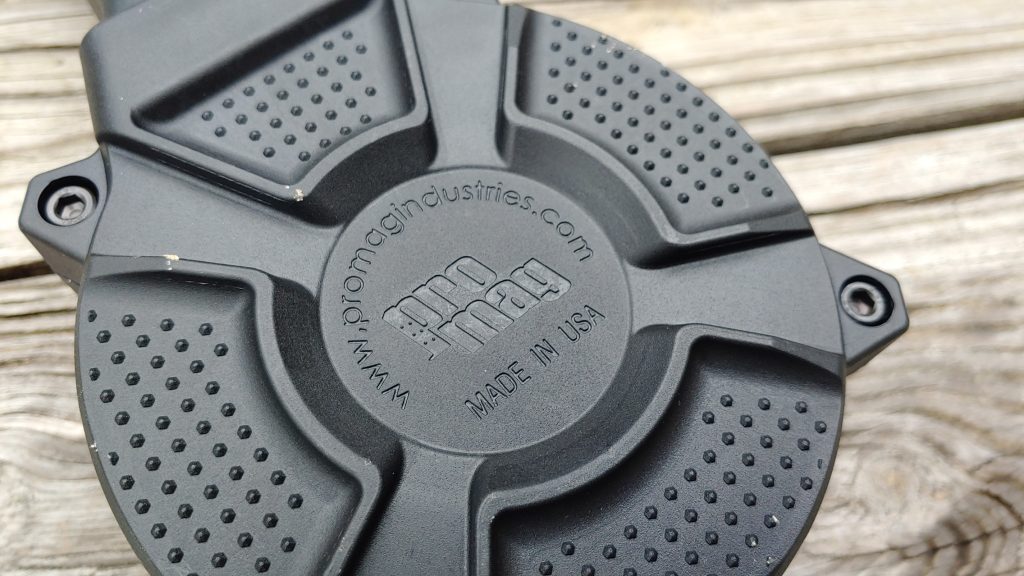 Once loaded, you're bound to ask, can I leave it loaded? Well, I can't say. I left mine fully loaded for ten days, and it seemed to work fine. Ten days isn't much time, and it's a drum from a company with a rather poor reputation. I wouldn't recommend leaving it loaded for long periods of time.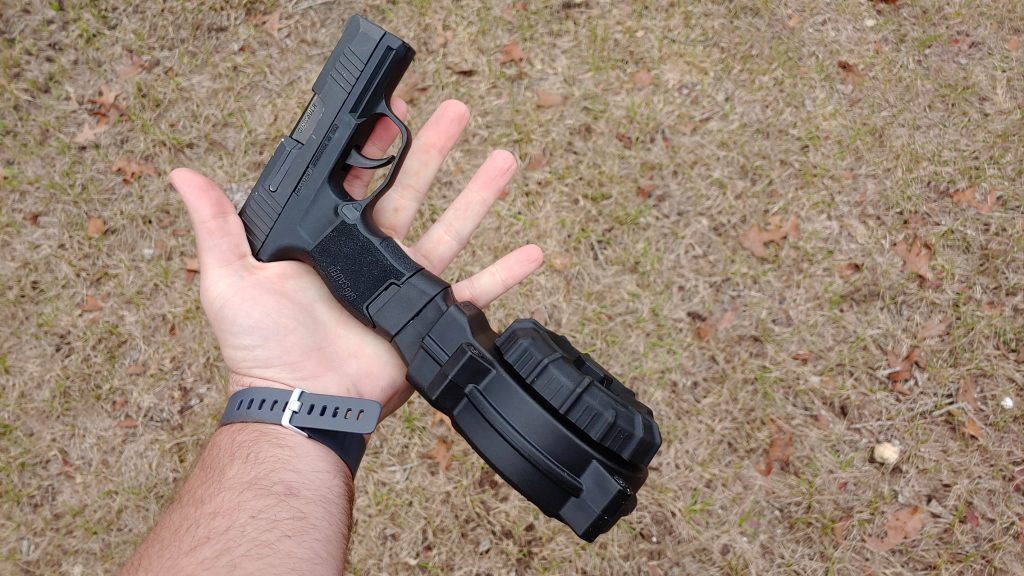 The majority of the drum is made from Dupont Zytel polymer. It's not fancy, but it likely makes it easier to form the drum and keeps things smooth on the inside. The tower is made from metal and fitted with a grip extension. The extension is necessary with a standard P365 and keeps the drum from moving backward and forwards and maintains reliability. The extension will need to be removed for the P365 drum to be used in the P365 XL's longer grip. 
Too The Range 
I initially loaded the drum with a box of Tula 9mm and left it sitting for ten days before the weather was nice enough to hit the range. The first thing I noticed was that loading the drum into P365 required me to either lock the slide back or relieve a little pressure via the crank.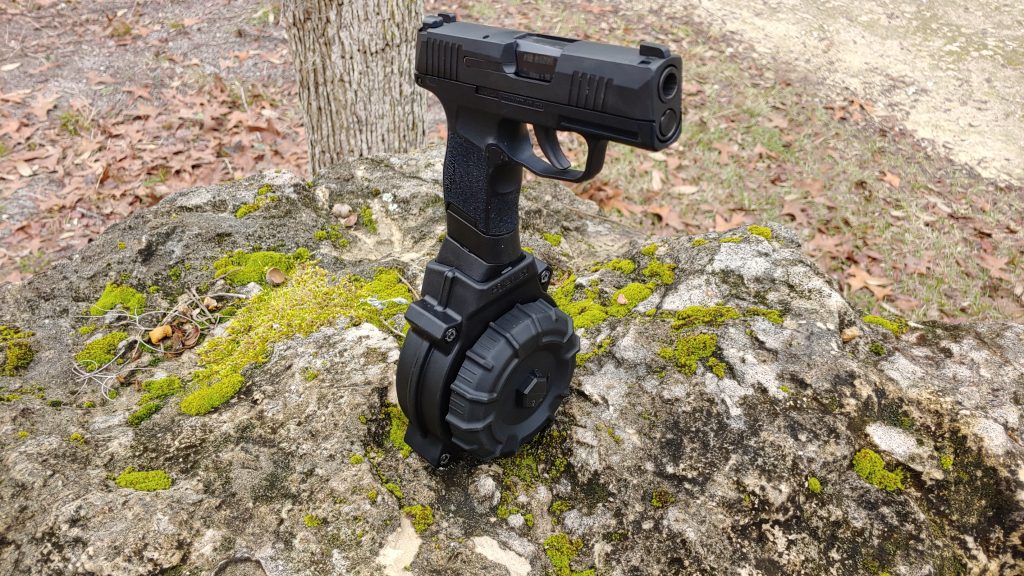 Once the gun was loaded, I let loose. To best test the drum, I started firing the weapon slowly, taking my time between shots and working the fundamentals. We are in an ammo drought, so I figured even with something as goofy as the P365 drum, I shouldn't just waste ammo. I fired ten slow-fire shots before deciding to stress the drum a bit.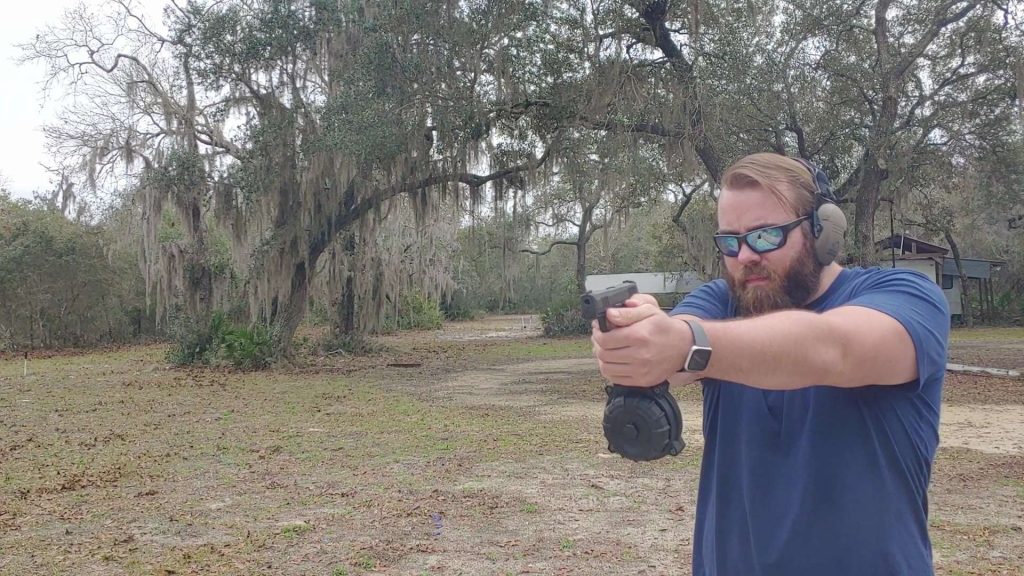 Another part of my testing was trying a few strings of rapid-fire. With ammo concerns, I tried to practice a good grip, as well as sight tracking and working my cadence. I fired in five-round strings as fast as I accurately could with an 8-inch gong as my target at 20 yards.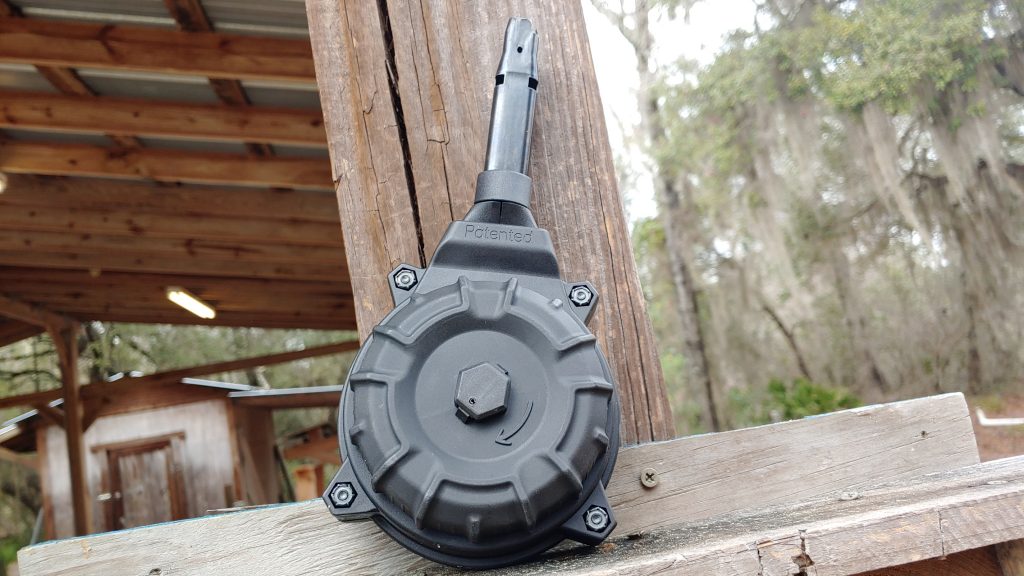 The little P365 drum fed surprisingly well. It made it through the first 50 rounds problem-free, then through another 50 rounds without issue. 100 rounds aren't much, and I didn't stress test because it's silly. I'm not going to rely on it for self-defense. I wanted to see if it could be a fun toy for range use and, of course, for excrement posting online. ProMag's P365 drum is frustration-free when it comes to some basic shooting. 
The P365 Drum in Action 
The P365 Drum changes the way your weapon handles a good bit. Not only does it increase the weight substantially, but it changes the recoil impulse. It feels like muzzle rise or muzzle flip is increased. As the gun recoils and comes upward, the weight feels like it's on a pendulum and a full drum keeps pushing forward, causing the weapon to flip upwards beyond the weapon's normal recoil. It's weird for sure and lessens as the magazine empties and gets lighter.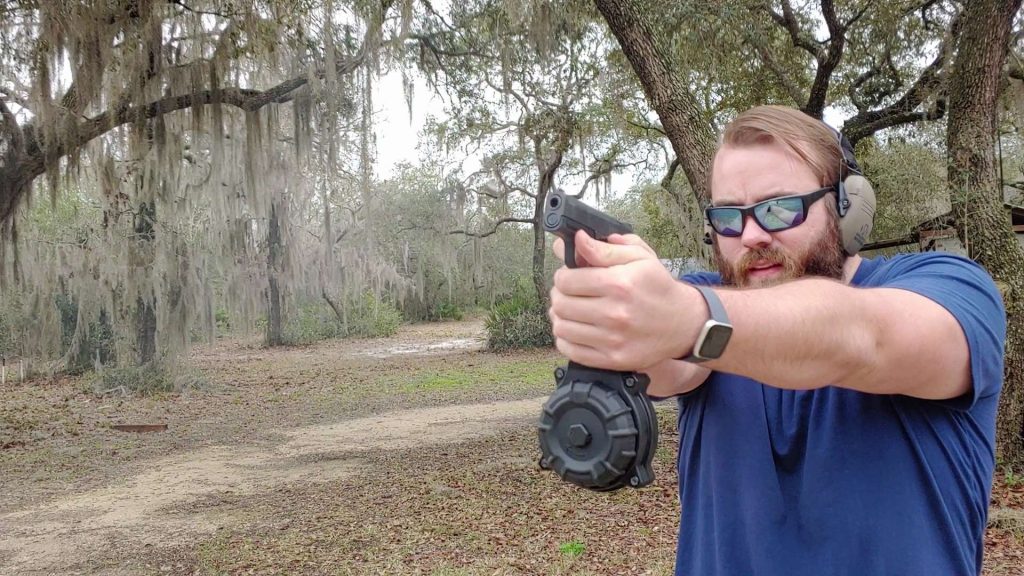 The drum does not engage the slide lock when empty and allows the slide to slam home. This wasn't just a case of my big thumbs pinning down the slide lock either. I rested the drum on a surface and used it as a monopod with a small table, and it still functioned fine. That's about as useful as the drum gets in practical shooting.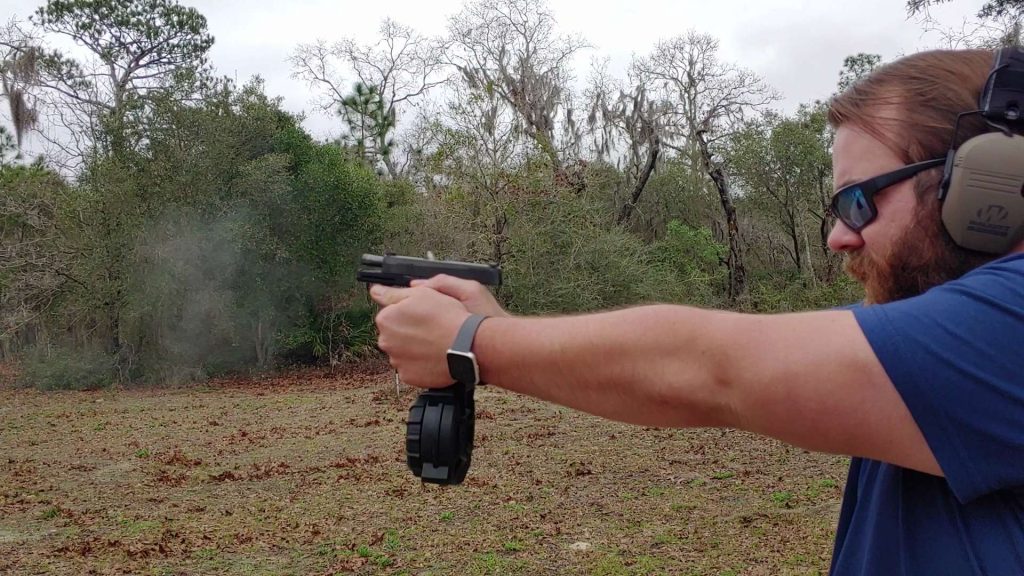 There doesn't seem to be a means to take the drum apart to clean it. The instructions do not include any reference to taking the drum apart for cleaning either. So, don't get it too dirty. You can find instructions to take apart the ProMag Glock drums online, and the designs look identical. Do so at your own risk, as it seems this would void your warranty. 
Purposeless 
The SIG P365 Drum from ProMag is genuinely purposeless. It's silly and seems to work fine in optimum conditions. Is it a waste of money? I guess it depends on how seriously you take yourself. I found the silliness worth the price, and it's a fun conversation piece. Would I trust my life to it? Oh hell no, it's a silly range toy. I can't hate on it, and it delivered a frustration-free experience at the range. If you are a drum nut like me, you'll appreciate it.