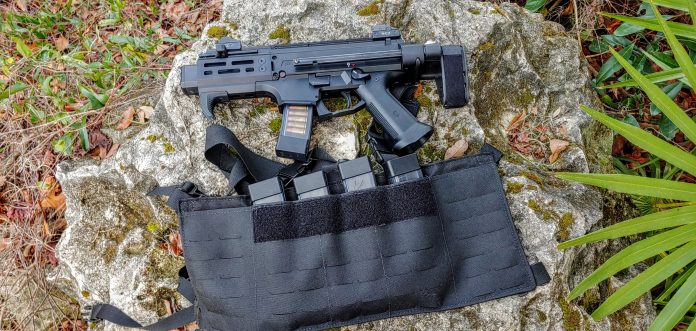 Who doesn't love PCCs? We all love them because they are more popular than ever before. With CZ, SIG, Ruger, hell even Aero is releasing one this year, finding gear for them can be tough. Purpose-built PCC gear is a must-have if you are like me and own numerous models. Going too specific with molded mag pouches prevents me from using the same equipment between different PCCs. Beez Combat systems had the answer for my problems, with their pistol caliber carbine chest rig.
Beez makes some outstanding gear, and the PCC chest rig is no exception. The Beez PCC chest rig is made to be low profile and is one of the lowest visibility I've ever seen. Put a jacket over it, or even a heavy button-down shirt, and it effectively disappears.
It's made from 1000 denier Cordura, and mil-spec thread and velcro are used to ensure it won't out before it's broken in. It comes with Velcro attached magazine flaps that are easily removed if you prefer an open rig. The rig holds four magazines, and it's not platform-specific.
Packin' Mags

The Beez PCC rig is designed to retain a variety of different platform magazines. They are focused on 30 to 32 round magazines specifically. Beez maintains a list of magazine compatibility.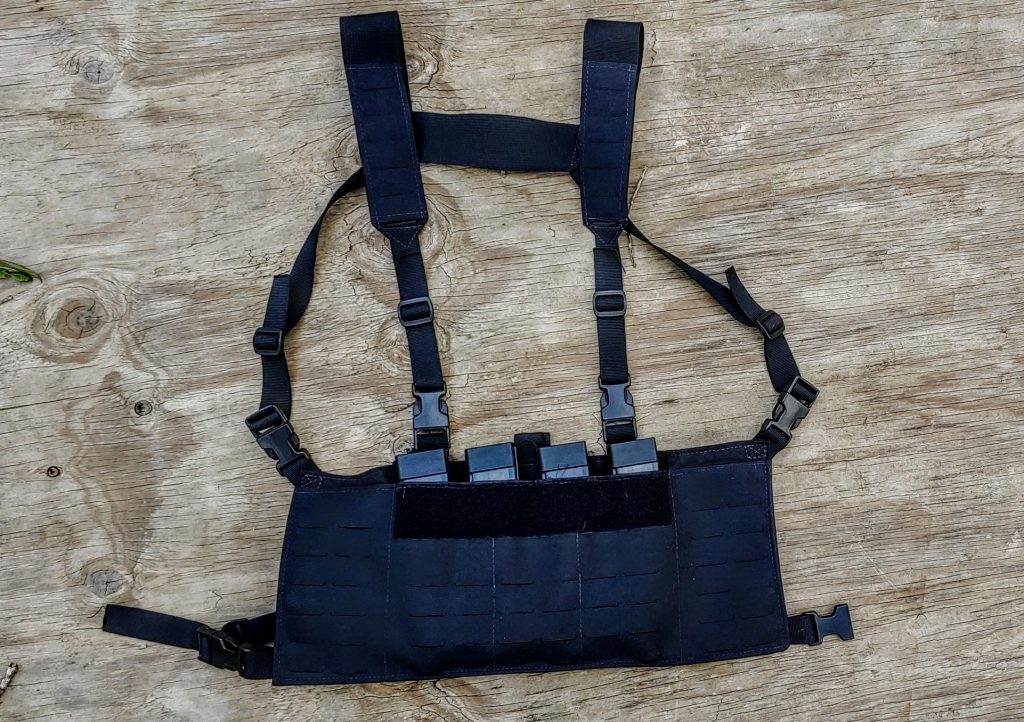 (Glock 9mm 33rd Magazine, M&P 9mm 33rd Magazine (ProMag), Beretta 9mm 32rd Magazine, Ruger 9mm 32rd Magazine, Springfield 9mm 32rd Magazine, CZ Scorpion 30rd mags, PGS hybrid CZ Scorpion mags. Sten mags, SIG MPX 9MM 30RD, KRISS Mags .45, 10mm and 9mm, HK MP5 30 round curved, PSA AK-V 9x19mm 35rd Magazine, Stribog 30rd Magazine)
In my testing, I can confirm they fit Glock 33 rounders, CZ Scorpion magazines, MPX magazines, Colt SMG magazines, Beretta 32 round magazines, and CZ 75 26 rounders (just barely long enough.)
These magazines are all roughly the same size but have different geometries. They fit, and they fit tight enough that they won't fall out if you are moving and grooving on the range. Covering the entire front of the chest rig is MOLLE compatible.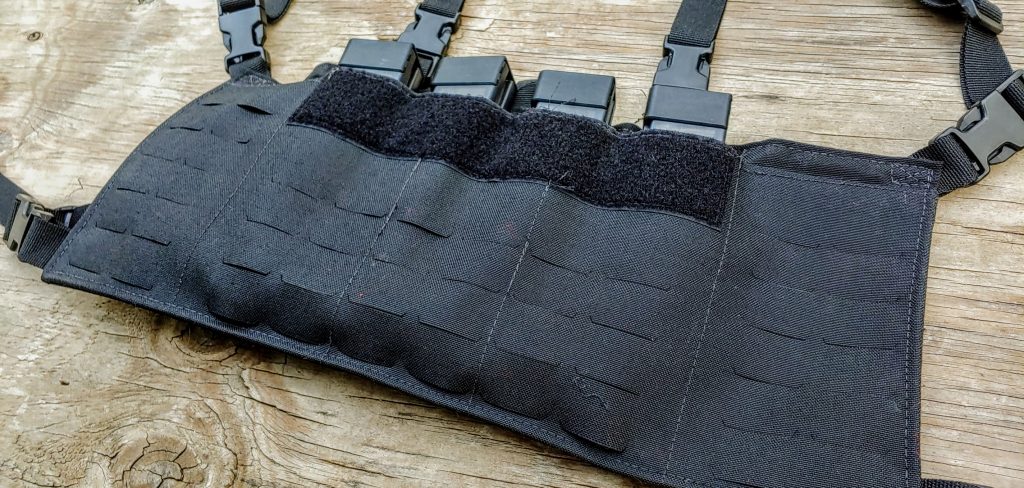 To be clear, it's not MOLLE webbing, and it's the Beez Grid system. This laser cut system gives you MOLLE compatibility with a much lower profile. It's tight and holds the chest rig much closer to the body.
How The Beez Runs

First off, this chest rig is quite comfortable due and very easy to adjust. The shoulder straps are an H-Harness and all easily adjustable, as is the rear strap. The shoulder straps are also quite robust. They go over and around the arms, and they can be adjusted for proper height and fit. There are six points of connection from the straps to the chest rig, so the kit is well supported.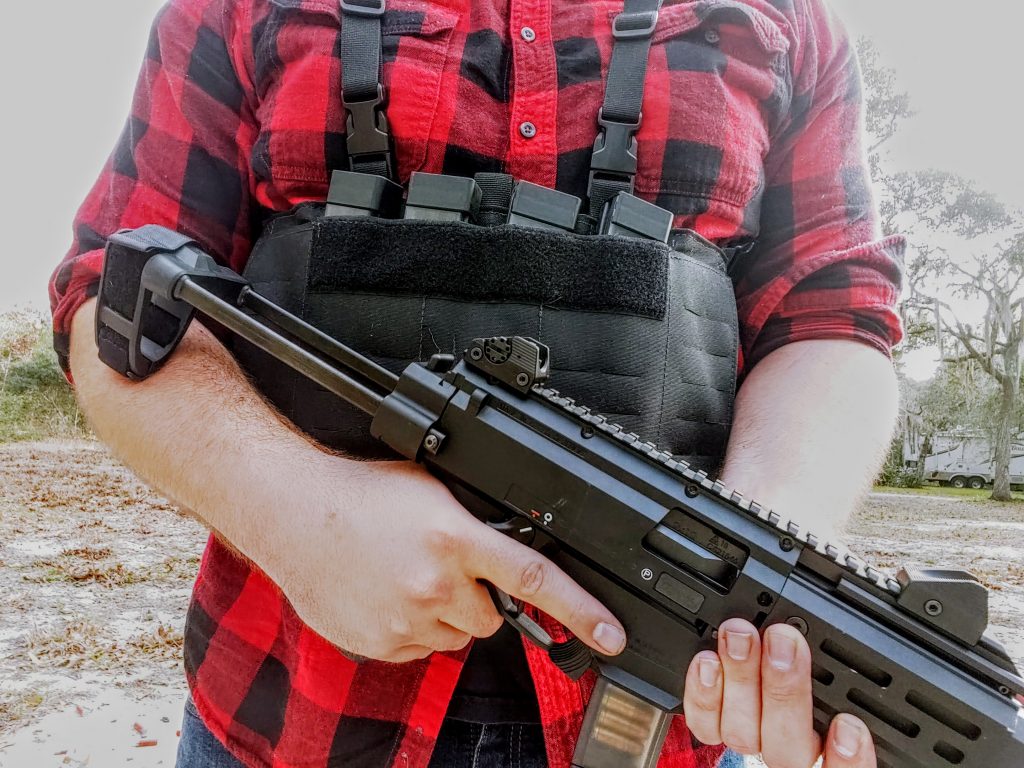 The shoulder straps also have a large padded portion to distribute weight better. Four fully loaded PCC mags can be a little hefty, and if you are wearing the Beez chest rig for a long time, it's going to get quite substantial in a short period. Thin straps will dig in, rub, and chafe you to no end. That little bit of padding also has Grid cuts to accommodate a radio, a knife, or whatever else you want to toss on there.
I mostly run this whole getup with one of my Scorpions. Specifically, the Mini Scorpion since it's my favorite anyway. The Scorpion 30 round mags almost get eaten by the Beez chest rig. There is only a small portion of the magazine exposed to draw the magazine. It's a little higher than I'd like, but with practice, I was able to figure it out quickly enough.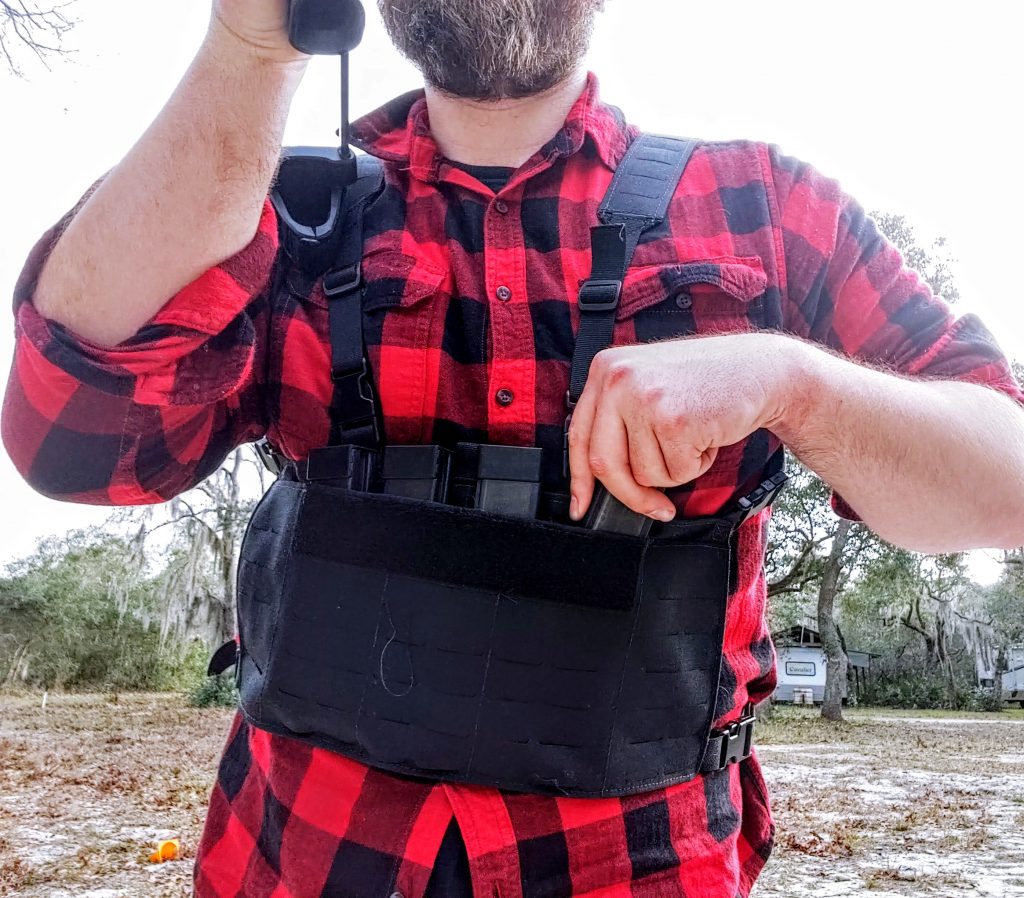 The magazines feed smoothly without exception, and the central location of every magazine makes each one easy to access. Even in odd positions, you can still reach any of the mags with ease. That's one of the joys of thin PCC magazines.
Lock it Down
Once the Beez Chest Rig is appropriately locked down, it won't jump, swing, or move with any reckless abandon. It can be fitted easily, but you need to take the time to make sure it's properly fitted and comfortable.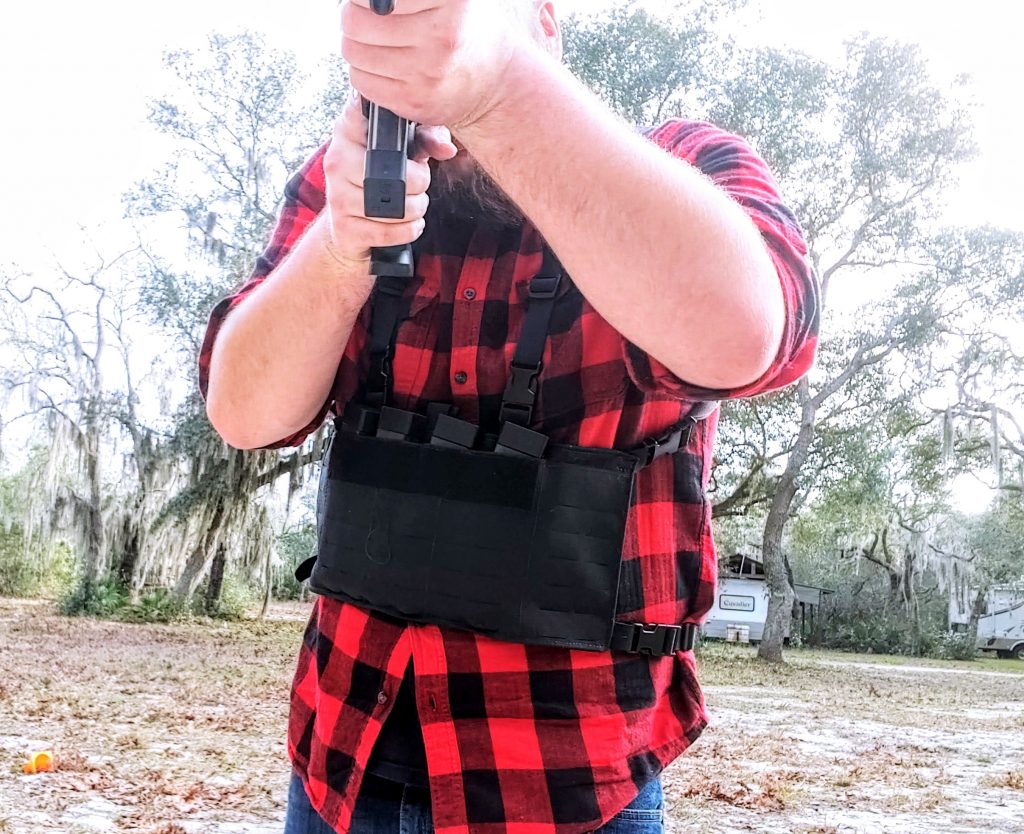 The added Grid system allows you to expand the kit, and add a medkit, handgun pouches, or even more SMG/PCC pouches if you want to run it large and in charge. I've become a bit fond of the slick, low profile version of the carrier. It's lighter, more comfortable, and very well done.
The Beez Chest rig is a fantastic little rig for the PCC user. With Aero Precision releasing a PCC this year, I started getting hyped once more for PCCs. It's purpose-built and proves itself to be a reliable piece and highly functional piece of gear. Check out Beez here, they are a small, but high-quality company with a variety of chest rigs, mag pouches, and more.