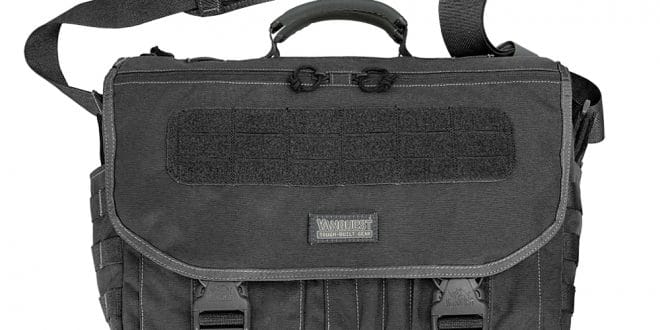 The Vanquest Envoy 2.0 messenger bag has been a favorite of mine since our original review back in 2014. This year's update to Envoy 3.0 has made a great bag, even better.
If you're unfamiliar with the previous Envoy 2.0 review or want more background on the features not covered here, you can read more about it here: http://248shooter.com/index.php/vanquest-envoy-2-0-messenger-bag-review/
What's New?
Two built-in bottle holders for 32oz (1L) Nalgene bottles with shock cord retention
Front flap's MOLLE-Air structure with loop-face
More internal loop fields for CCW and organization
Upgradeable to optional GT-COBRA™ Sling Strap system
Bottle Holders
Lack of Nalgene bottle storage was one of my complaints going from the Gen 1 to Gen 2. I understood the reason they did this and worked around the issue. As a person that carries a minimum of one bottle with me and due to kids (often I have two), the lack of proper storage for these with easy access was a pain. I often stored them in the bag which was workable unless loading the bag down for travel.
The new system is ingenious. Unlike the Gen 1 that left a large open pocket when not in use the Gen 3 secures the Nalgene pocket with a zipper. This keeps the profile of your bag smaller for those stupid Sprit Airlines carry-on rules, but opens up quickly and easily when you need it.
As an added bonus (and not mentioned in the product description) this pocket also has a shock cord loop at the top to secure the bottle. Very nice touch Vanquest.
MOLLE-Air
Instead of traditional hook and loop or MOLLE attachment points, Vanquest introduced their new, lighter-weight MOLLE-Air system. This means that regardless of the type of system you use to attach, you can do it without adapters. This new system combines ultra-durable Cordura® fabric, laminated with loop face that has laser-cut and stitch-reinforced MOLLE slots. It also works great for patches or Identifier tags.
Optional GT-Cobra Sling Strap
I didn't have any issues with the standard shoulder strap system. I'm not a bike messenger, and my commute to work is in a car, not a train or bus. Being comfortable as I carry or walk with the bag has been my number one issue on messenger bags. The Gen 3 delivers that out of the box. However, the added ergonomics and comfort of the optional GT-Cobra Sling strap, will be a welcome addition to more active bicycle or motorcycle commuters.
More Internal Organizational Hook and Loop
One of the things we talked to Alex at Vanquest about after reviewing the Gen 2 was the lack of hook and loop to secure your CCW in the concealed carry pocket. You want to know where the gun will be and how it will be positioned when reaching for it. This upgrade allows you to attach Vanquest's universal CCW holster, double magazine holder or any other hook and loop accessory for quick access.