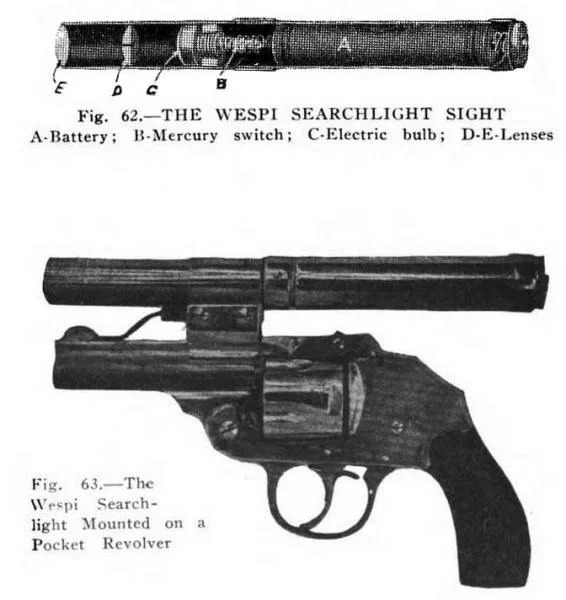 Do you ever get the feeling that what's new was once old? I've heard it several times throughout my time in the gun industry. Nothing is ever really new, just advancement on concepts we've known about long enough to forget. Well, what if the same could be said for weapon lights? Specifically, elective weapon lights. They seem rather new and have gone from Maglites taped to rifles to lights like the OWL in very short order. What if I said that an electric weapon-mounted light existed as far back as 1910-1912? Well, it did, and it was known as the Wespi Searchlight.
Inside the Wespi Searchlight
According to the patent, the inventor is listed as M B H Waffen-Technische Wespi. The Wespi Searchlight is admittedly more like a laser sight and less like a weapon-mounted light. The Wespi Searchlight is mounted to the top of your favorite gun, and pictures show it mounted to Mauser pistols and S&W revolvers. There isn't a ton of information about the light, and most comes from a book called Pistol and Revolver Shooting by A.L.A. Himmelwright.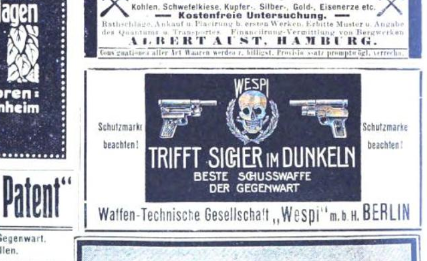 The book describes the function and design of the sight. The Wespi Searchlight was used as a night sighting device. The book describes the Wespi as a sight that was about 6 inches long and ¾ inches in diameter. The light has a dark spot in the center, and the dark spot is what the user aims with.
The Wespi Searchlight had to be zeroed, but it's not clear how. The Wespi Searchlight was capable out to 60 feet, according to the book. I imagine that's sixty feet in complete or near complete darkness. I don't imagine lights in 1910 were very powerful.
Operating the Wespi Searchlight
There isn't a ton of information on the Wespi Searchlight. A diagram and advert of the sight make it seem as if an almost crosshair-like light shines on the threat. This same advert is in Russian, and I'm trusting the translation from another website. It seems that the light would automatically come to life when the light was orientated forward. When positioned downwards, as if in a holster, it would automatically shut off.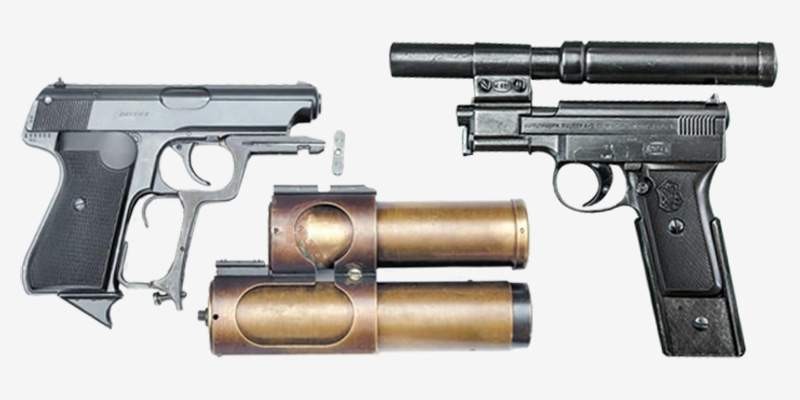 A magazine called Outing which covered numerous outdoor activities mentioned the Wespi Searchlight in volume 79 in 1921. It briefly mentions there is no better choice for night shooting than the Wespi Searchlight, and it was sold by the American Specialty Company on 5th avenue in New York City.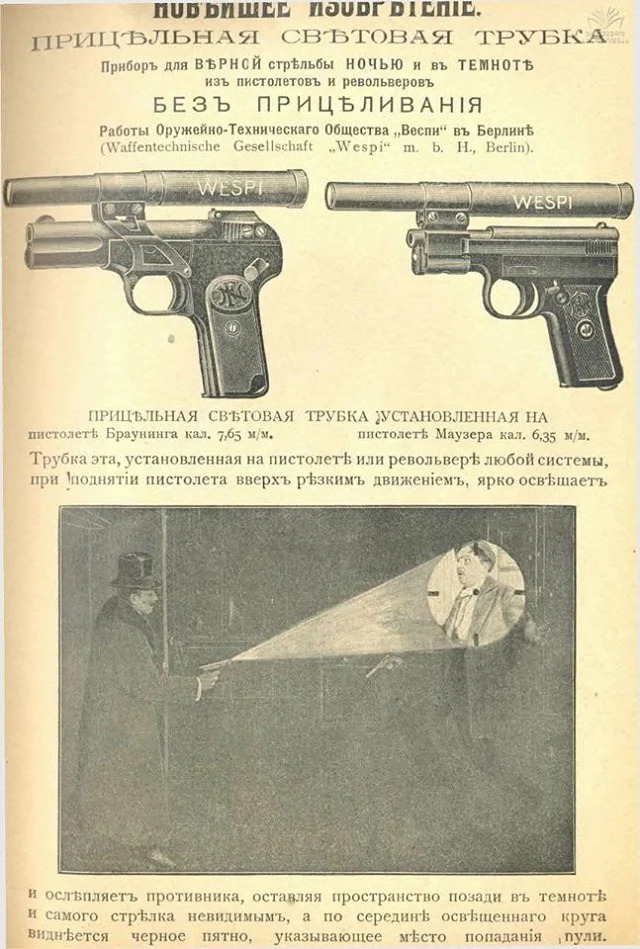 It's an interesting invention, and it certainly predates the modern incarnation of a weapon-mounted light. We've seen white lights used as aiming devices before. The SAS famously used white lights as aiming devices on their MP5s during the Iranian Embassy Siege. At the time, they were wearing massive gas masks and chemical suits, so they couldn't use traditional sights.
These days we have red dots and numerous IR and visible laser options, so it might not be en vogue, but it's always interesting to see how old concepts are and observe historical firearms and their accessories.