The Staccato-P 2011 pistol is Staccato's flagship duty-sized gun, and the company sells this handgun with either a steel frame or an anodized aluminum frame. Ceteris paribus, they retail for the same amount and the actual difference in weight is only five ounces between them. On the one hand, five ounces is five ounces, but on the other hand this is still a chunky duty size gun. And don't forget to consider the extra weight of the dot and a light either. To be clear, the one I got my hands on is the aluminum version with the five-inch threaded barrel with a black DLC finish (10-1201-000300). This gun is mounted with a Holosun 507C. While shooting it for the review, I attached my Surefire X-300U-B WML so I could take full advantage of my Floodlight's universal capabilities. Fortunately, shooting this gun coincided with USPSA's introduction of the limited-optics division, because literally the first thing I did after confirming the zero on the dot was to take it to a match and shoot limited-optics. After all,  this is a gun marketed as a tactical high-performance pistol, so what better way than to review it by pushing as hard as I can?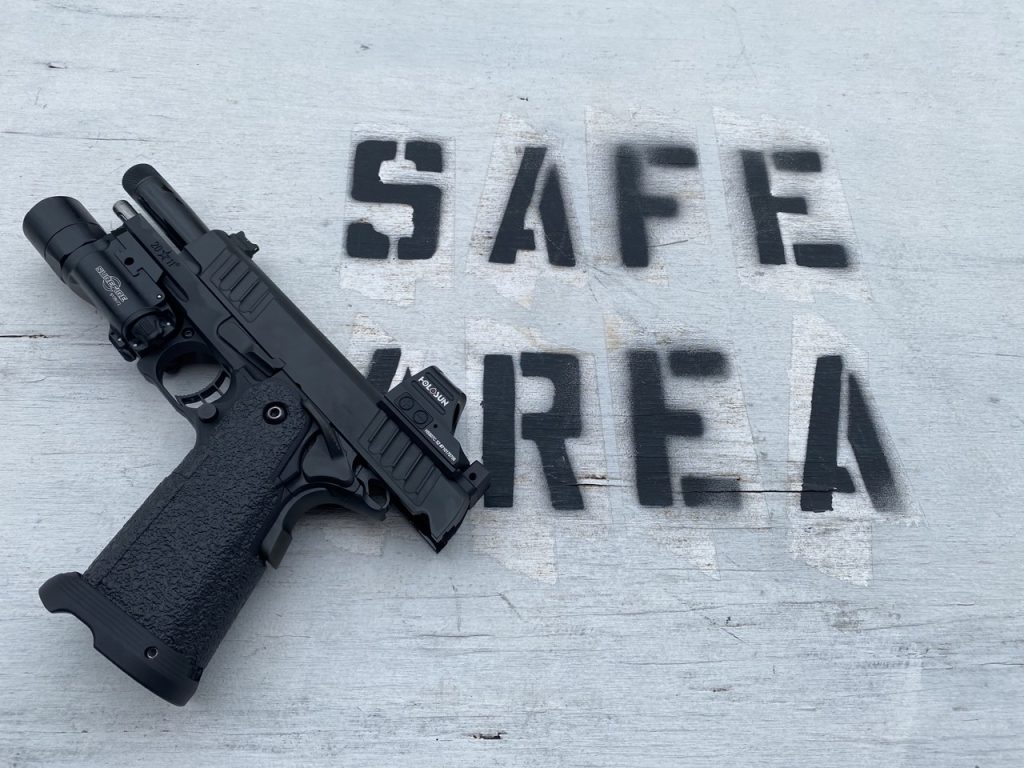 I'd like to make a point by first referencing a famous Mexican proverb.
"El Que Es Perico, Donde Sea Es Verde."
It originally means that parrots are green no matter which jungle they live in. Proverbially it means that someone who is talented can thrive anywhere. The Staccato P-Aluminum is no exception. Staccato was once known as STI (Strayer-Tripp International), who invented these high-capacity 1911s in the first place. After its current re-organization, the company also pared down its product line. Their current offerings are optimized and tuned their to be suitable for the street, as raceguns are not. So sure, this Staccato-P was built for the streets but it fell right-in at USPSA. As a left-handed shooter, I like that all Staccatos are outfitted with ambi safeties from the factory.
SHOOTING THE STACCATO-P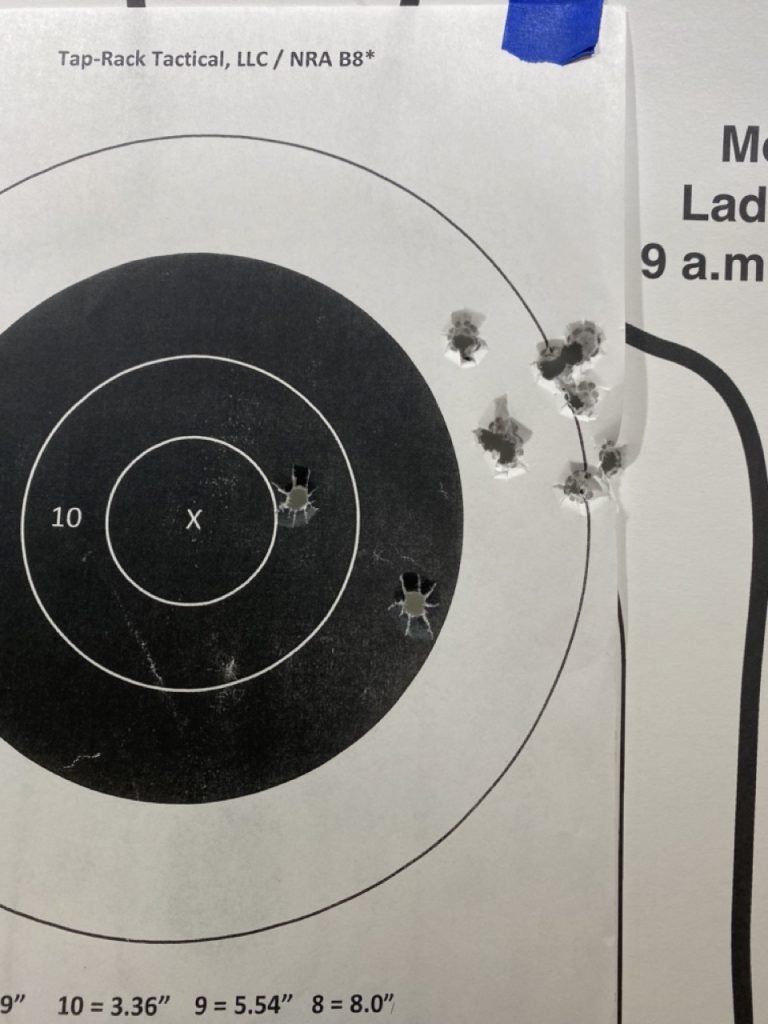 Since receiving the gun, I've taken it to at least three matches where I probably fired around 450 rounds, plus another 120 or so at an indoor range. My estimated round count sits around the 550 mark, with approximately 80% of these being my handloads and 20% being factory 9mm loads. But this review isn't supposed to be a dull range report of round counts. It's not a secret that as far as 2011s go, Staccatos generally have a good reputation for reliability. The third generation (G3) magazines make them even better.
The Staccato-P is extremely easy and accurate to shoot, and I think this is a huge factor in why they are extremely popular and sell very well. I mean, who doesn't want a pistol that amplifies their skill? There's a reason why even single-stack 1911s are still around after a century, and it's not merely the matter of "two world warz!" I've shot some of the easiest 25-yard NRA-B8 targets in my life with this specific pistol, and this easy accuracy proved itself very useful in the classifier of the last match I shot. Ditto for longer distance shots across stages at "challenging targets" like tuxedos and the like. It's always challenging to articulate felt recoil, but this is a full-size 9mm pistol, so there's really nothing to worry about.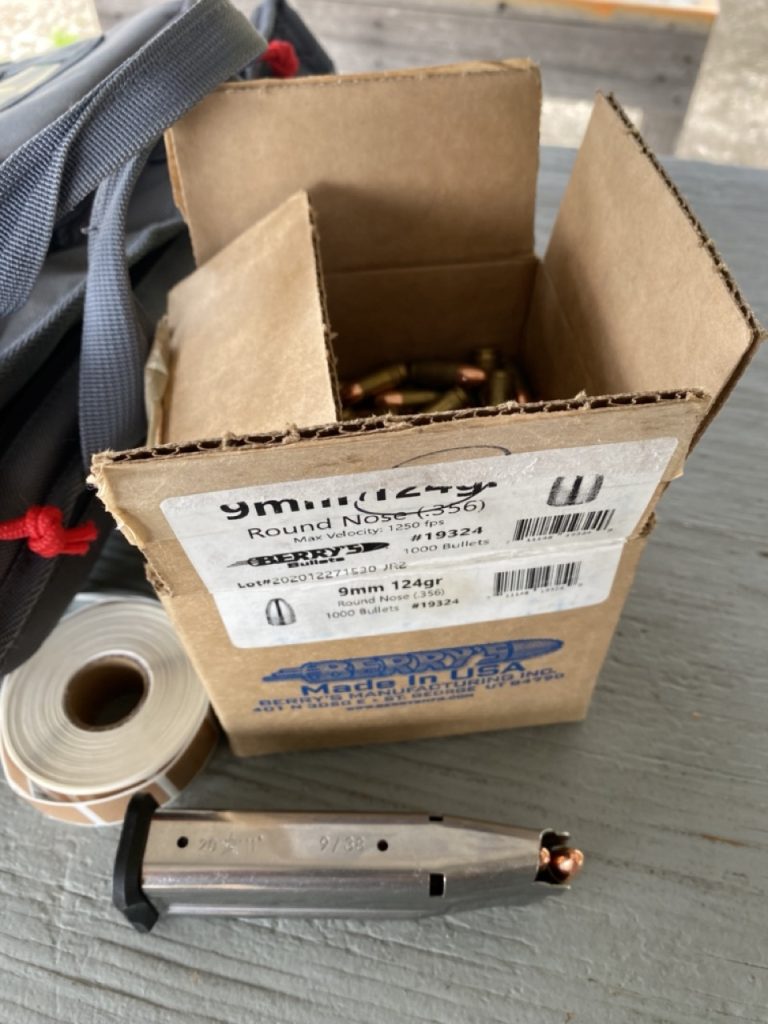 A "non-issue" I had with this pistol is how it's tuned at the factory. The rate at which the slide reciprocates back and forth during firing by default doesn't feel the way I like it. It actually feels a little bit slow to me. I'd wager that most people wouldn't notice this nor even care. And for those who would, it's likely no big deal because the chances are they were planning on tuning with their favorite loads. I say non-issue because it actually doesn't matter and it's not a real criticism because it would be like judging a truck because the driver's seat wasn't adjusted to your own body. At the end of the day, the slow slide never got in my way.
However, something to keep in mind is the size of the grip. The Staccato-P's grip is rather chunky and shooters with smaller hands need to see if the pistol fits them properly in order to wring the most performance from it.Trying to use any pistol with an ill-fitting grip is like trying to run a mile with shoes two sizes below.
Classically built 2011 pistols, such as this one, were designed around a very wide double-stack magazine built for the competitive .38 Super cartridge. Even though the gun is chambered for 9mm, a lot of the internal dimensions exist with .38 Super blueprints. As a result, 2011s have some of the largest and widest pistol grips in the modern handgun world. Staccato-P owners who plan to conceal carry their pistols also need to be aware and make sure that this oversize grip does not cause printing issues.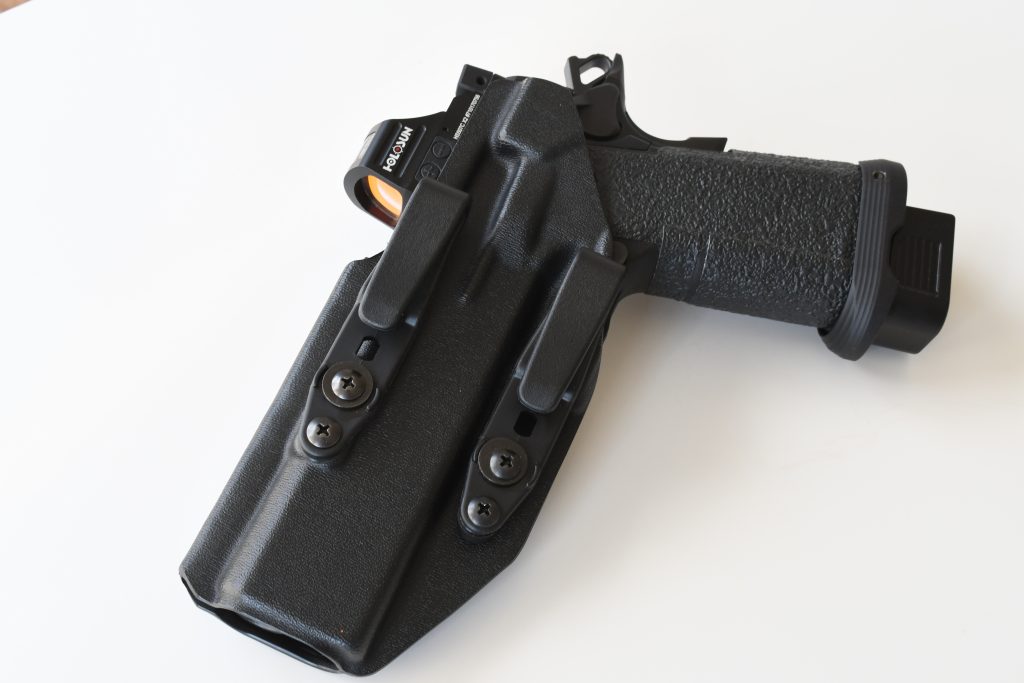 STACCATO-P DETAILS
The Staccato-P makes use of a wedge-lock arrangement in lieu of the classic barrel-bushing set-up, this is common for many bull-barreled 2011 pistols. Instead of the traditional guide-rod and recoil spring, it has the nifty Dawson Precision Tool-Less Recoil system. The slide stop is removed the classic way, by lining it up with the take-down notch. Once the slide is off, the Dawson self-captures the recoil spring by a clever hinge that catches the other half along with the spring under tension. It's no different than taking out a captured recoil spring from a Glock, in this sense. Since this barrel extends a half-inch further because it's threaded, it includes an O-ring to detain the muzzle cap. This works very well and the cap never came loose. This barrel is finished with a black DLC finish (and this costs a few hundred extra over the normal Staccato-P). This specific pistol also came with Staccato's factory optics cut, the DPO (Dawson Precision Optic). The system and its plates are designed to co-witness properly with the most popular reflex sights on the market. Even as plain iron sights, these are nice. The rear sight has a wide square notch and serrated face. The front sight has a wide, but not too wide fiber-optic insert. As all-around iron sights are concerned, these are fantastic. 
Both the slide and frame are fit exquisitely with no real rattle to report. The way the safeties engage is very crisp and positive even after multiple on/off cycles. The barrel lug engagement with the slide recesses feels very good when you gently ease the slide forward. Staccato pistols are known for their reliability, correct dimensioning of their parts and their build quality. Joe Chambers of Chambers Customs has an informative video series where he measures and discusses the critical dimensions of both single and double-stack pistols. Mr. Chambers has looked over a handful of Staccatos and their numbers are consistent across the board. It's important to keep in mind that any 2011 pistol is still a 1911 at heart. This means that is mechanics reward the shooter with superior shooting ability and accuracy, but there is no such thing as a free lunch. When the time comes, this gun will still be more critical to maintain and keep an eye on compared to your typical striker-fired polymer pistol. It's a trade-off many serious shooters willingly make.  
TAKEAWAY
2011 pistols have a lot to offer shooters in terms of performance. Their biggest downsides are going to be their grip-size and their cost. Keep in mind that magazines cost more and need more maintenance as well. The median price for the typical 2011 pistol these days hovers around the $5,000 mark and its not unreasonable for some custom builds to cost twice that. While Staccato-P pistols are production guns, they also aren't cheap by any means. The specific model I reviewed retails for $2,800. But in the world of "serious" double-stack guns, the Staccato-P is actually the value proposition.