I am a huge fan of both the original and the newest PHLster FLoodlight Concealment Holsters. As I've said in both of those reviews, I generally think that these holsters are well thought-out with clever design. In my particular case, the PHLster Floodlight family solves the biggest challenge I face as a left-handed shooter: the lack of holster selection. All versions of the Floodlight are pistol-agnostic, carry-optics friendly, ambidextrous and universal. (Concealment Floodlights v1 & v2 are both PHLster Enigma friendly too). Floodlight holsters are designed to index on your gun's WML (Weapon Mounted Light). By owning a Surefire X-300 U or a Streamlight TRL WML and by having any gun with an accessory rail in the dustcover, I can carry that gun–be it concealed in the appendix position, or in the case of the OWB Floodlight, on a belt.
PHLster Floodlight OWB Overview
The PHLster Floodlight OWB has been out for a couple of years now and most closely resembles the original Floodlight in layout and style. Both holsters are perfectly symmetrical, ambidextrous and use similar hardware and bushing systems. Both are made from the same Kydex material, but the actual holster shells have different hole patterns and are not cross compatible at all. The holes found on the concealment version are obviously for belt clip or loops, while the OWB version has hole patterns compatible with the most popular OWB belt attachment systems and holster hangers. The OWB Floodlight ships standard with a Tek-Lok hanger already attached. These typically work great in a general purpose role and are compatible with a wide variety of 1.5-inch width belts. The OWB Floodlight also includes three separate and color coded bushing kits to fasten both holster shells together depending on the size and width of the end user's specific handgun. The provided instructions are very clear and easy to follow along. In the case of the Canik SFx Rival-S pistol that I have been shooting, the medium width bushing kit worked just fine.
My Experiences With the Floodlight OWB
Since weapon mounted lights have been permitted in USPSA since 2021, my OWB Floodlight primarily serves as a competition holster. In my case, I attached it to a competition belt with a hanger that was compatible with the hole patterns on the OWB Floodlight, so I removed the Tek-Lok and set it aside.. (I do recommend using a thread locker when fastening the OWB Floodlight to any hanger or belt system). My retention is minimally set as there is no need for it to be snug at a match. In the context of USPSA matches, ranges are cold and guns are usually kept holstered and unloaded. In essence, competition holsters primarily hold guns in place and out of the way. When it is time to shoot, they ought to provide easy access for a fast draw.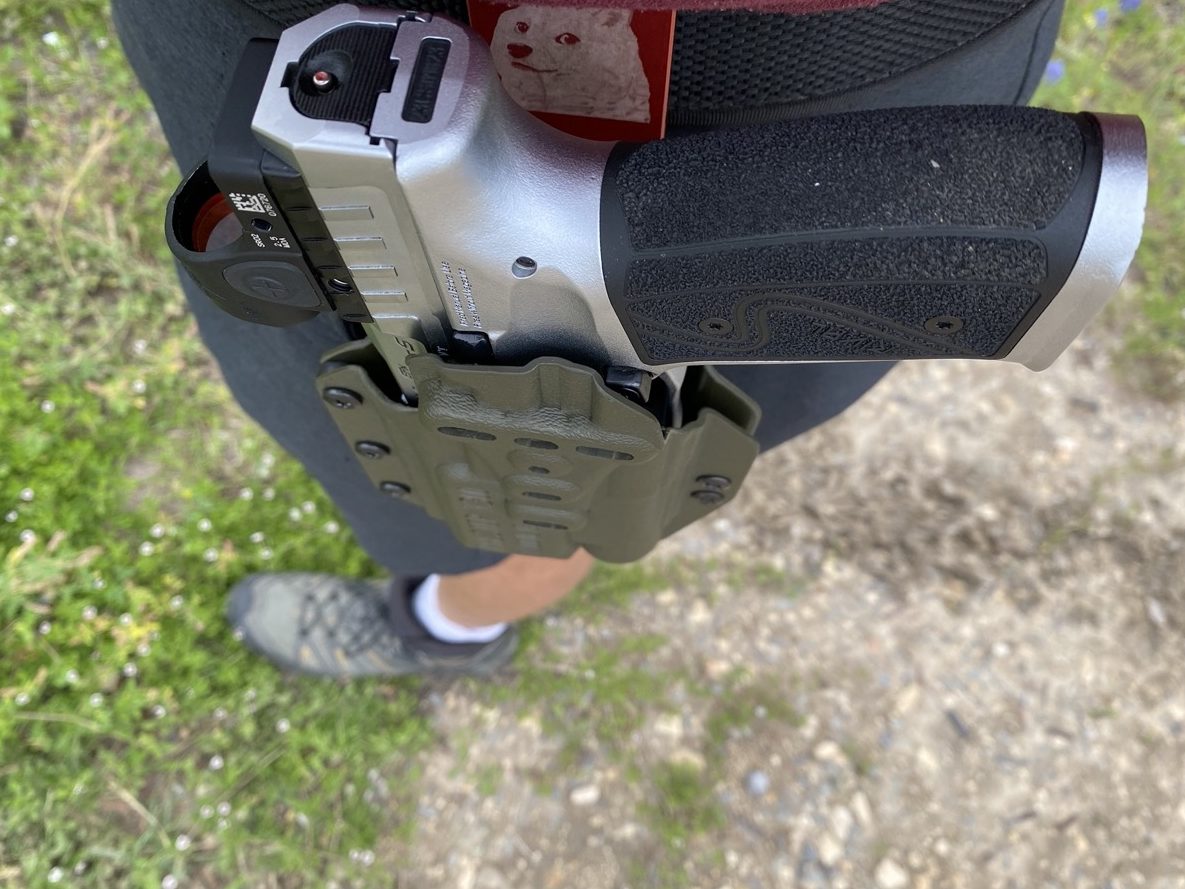 I've been using this holster for nearly two months now, and I've attended several USPSA matches, one Steel Challenge match and one live fire practice session. Otherwise, I've also been using it to practice and dry-fire at home with the IPSC targets set up in my backyard. Besides the Canik Rival-S, I've used it with following firearms: Staccato P Duo Aluminum, Glock 34, Glock 17, Beretta 92X Performance and CZ Shadow 2. Regardless of the handgun I shoot, I plan on working with this holster for the foreseeable future. If you're running an all-out limited or open division racegun, I do not recommend this holster. The oversize controls might clash with the sides of the OWB Floodlight's holster shell. And also, if you're spending that kind of money, it's probably worth to get the corresponding division-appropriate holster.
The Takeaway
The OWB Floodlight is an ambidextrous general purpose range and shooting holster. It works great for USPSA style competition and I can see it working just fine in the majority of shooting courses that do not call for concealment or other specialized equipment. The hole patterns are compatible with the most popular holster hanger and belt attachment options out there too. These include the standard Tek-Lok, the popular Boss holster hangers, and the Safariland style QLS gear.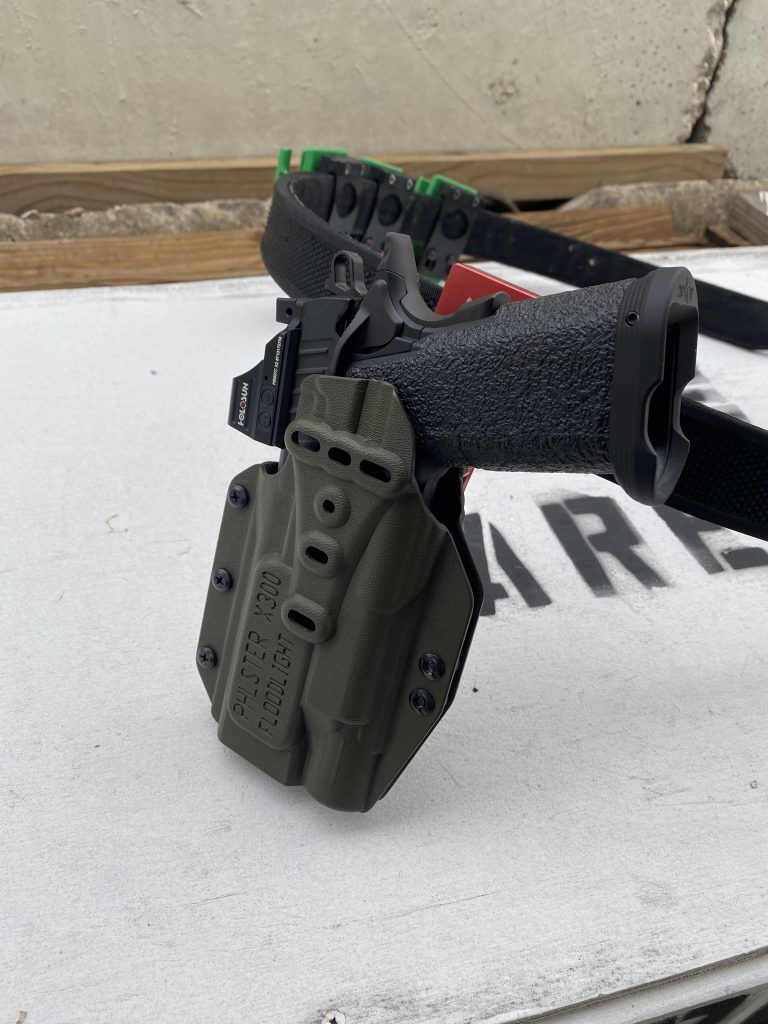 All Floodlights index on the body of the pistol mounted weapon light, and the retention concentrates on this smaller area only. Generally speaking none of the Floodlights have the same snug feel as other Kydex or polymer holsters which are engineered to "grab" onto the trigger guard area of a handgun. Nonetheless, retention can be adjusted to an extent. However, don't expect your OWB Floodlight to work just like a Level 3 retention Safariland 6390 ALS duty holster. The OWB Floodlight lacks any of the additional retention features as found on such Safariland holsters. Its construction also differs, but then again so does the mission of either holster. The Safariland 6390 ALS is a duty-grade full retention full size bucket that a wearer can have and wrestle a suspect to the ground with. The OWB Floodlight is a general purpose belt holster designed for shooting at the range, classes or matches. If you already own a weapon light and shoot pistols with accessor rails, the OWB Floodlight is a great solution for a universal holster.