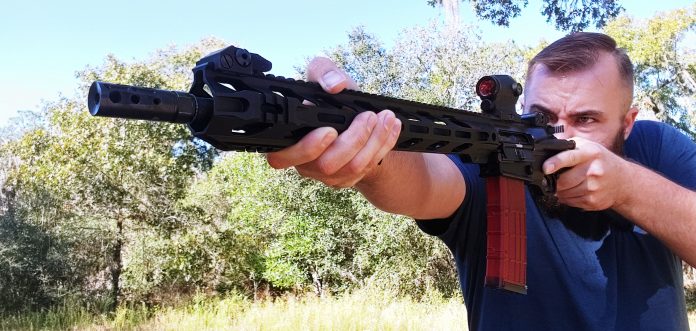 I don't know why STNGR hates vowels so much, but I do know they make great rails. STNGR, or Stinger, is a small Texas company that produces and sells its rails directly to the consumer. It helps keeps prices low and innovation high. They make rails in both Keymod and M-LOK formats and in a wide variety of different lengths. When they offered to send me the RPTR I immediately said yes. I was building a rifle, an unsual rifle, and the RPTR rail system made it stand out even more.
The RPTR rail was placed on an upper receiver that was being tossed on my SCR lower. The SCR Lower from Fightlite, previously known as Ares, is a kind of a AR 15 lower. It uses AR mags, and blends with AR uppers but is a thing unto itself. Just look at the photos. It's different, but I like it. I'm also working on an 80% lower for a 9mm build with a STNGR rail system.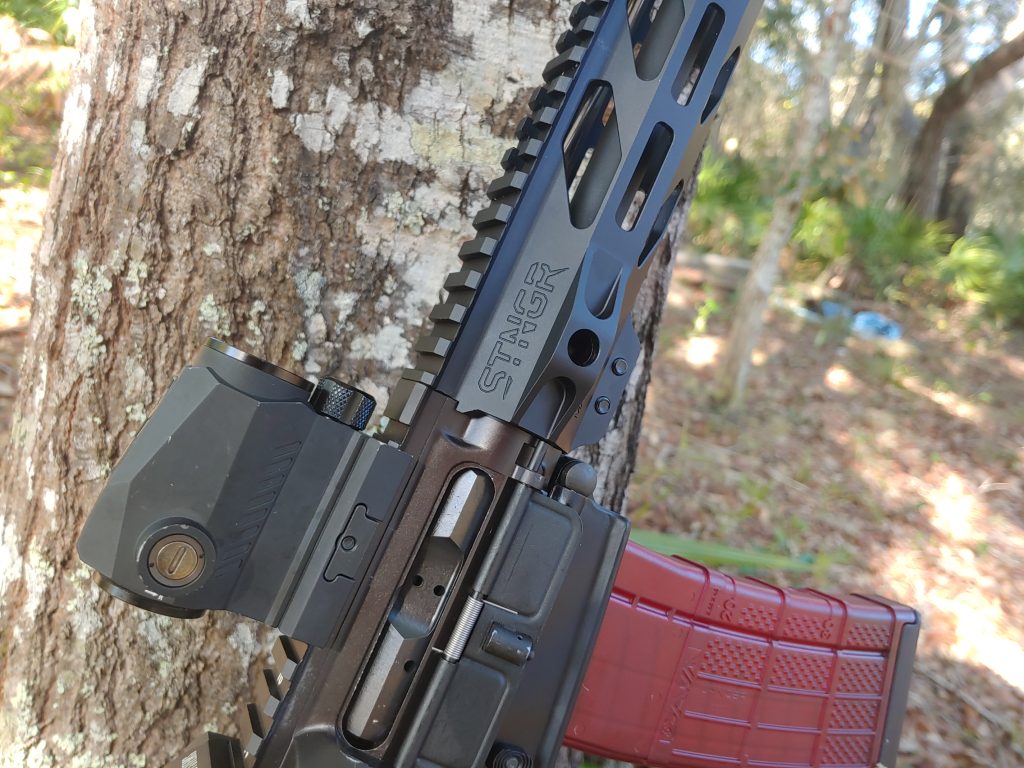 The RPTR rail comes in different sizes. Mine is the full-length 15-inch model, but 13.5 and 10-inch models are also available. The rail comes with a barrel nut, anti-slip plate, Crowfoot wrench, and Allen keys. You'll still need a torque wrench, vise block, etc. Everything you'd normally need to install a rail system.
What the RPTR?
The RPTR is an M-LOK modular rail system combined with short sections of Picatinny rail. The top is a full-length rail, but near the end of the muzzle side of the rail we have three sections of Picatinny rail on the right, left and bottom of the rail. These small sections of rail allow for easy attachment of lights. I normally mount my light quite far forward and this style of handguard is perfect for me.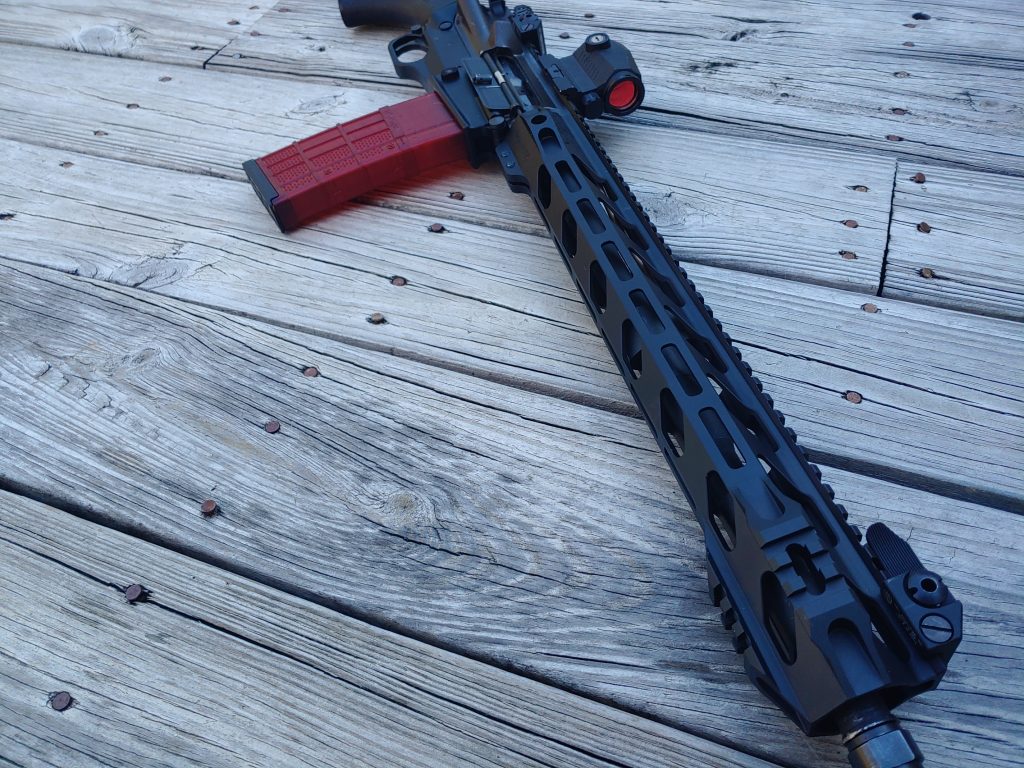 I like a little extra rail on my rifle and the RPTR gives me that. On the opposite end of the RPTR you have QD points on each side of the rail for mounting a sling. The rail features 6 M-LOK slots on each side and you have tons of extra room for mounting whatever you may need.
STNGR uses a really cool barrel nut that eliminates the need for indexing. The gas tube can just pass over the barrel nut and flow into the receiver. It's simple and it's so much easier than just dealing with a standard barrel nut that you have to line up just right to accommodate the gas tube. Just torque it down and install the gas tube and go.
Range Time
Ergonomically the RPTR is well done. It's thin and very easy for a shooter to wrap their hand around. The rail is remarkably comfortable in the hand and even with the 15-inch model you can reach the railed sections and therefore anything you'd have mounted there.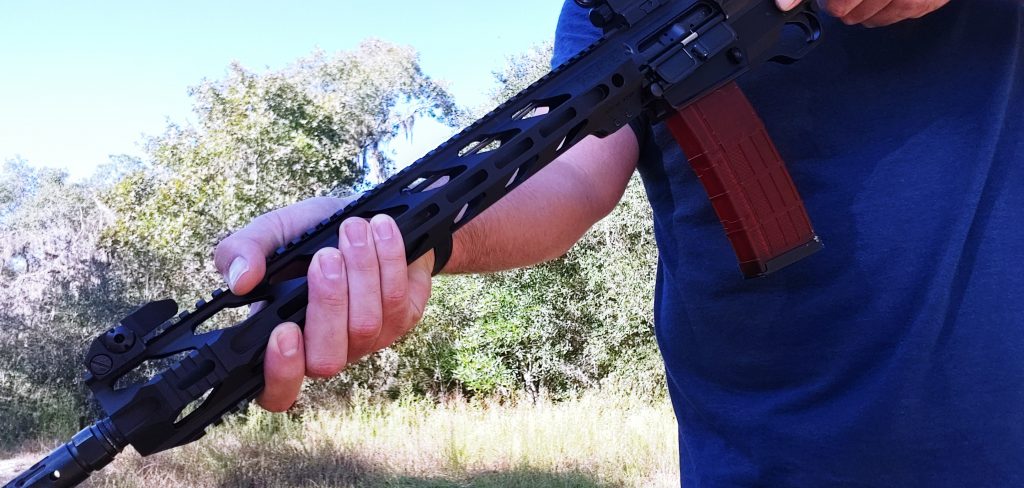 The rail itself weighs less than 12 ounces and is remarkably lightweight. It's super balanced and on the SCR lower it's a good fit. The weapon stays very balanced and is far from front heavy. The length allows for a far forward grip that lets you drive the rifle form target to target, and control muzzle rise.
The M-LOK slots are precision cut. Installing M-LOK rails or compatible accessories is smooth sailing. You may want to invest in some kind of grip if you are going to be shooting a lot in a short period of time. Be it vertical or angled. This rail is going to heat up quite a bit once you start spewing lead downrange.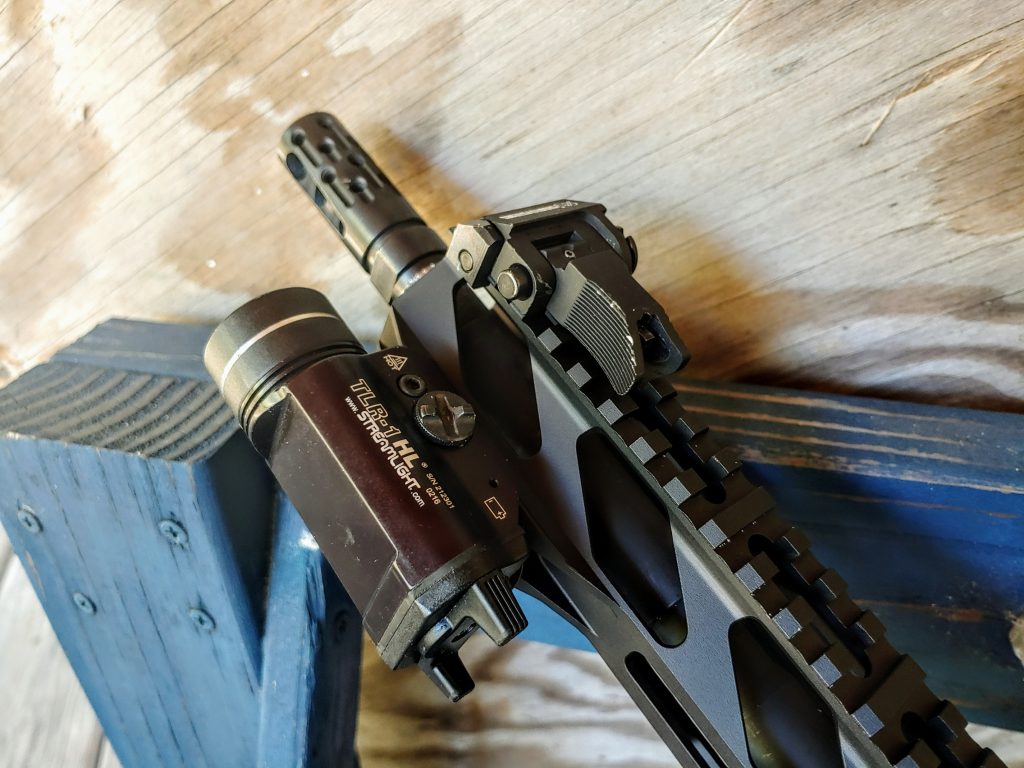 That's kind of a thing with lightweight metal handguards. If you are rapid-firing or taking a high round count training course the rail is gonna get hot.
Getting Stung
STNGR only sells directly from their website and you can find a multitude of rail systems there. The RPTR rail is one of two they sent me but is my favorite. The extra Pic rails and QD slots are a nice touch. What really captures me about the RPTR versus similar rails is just how good looking it is. It is an excellent way to top off my SCR rifle. Give STNGR and a look and let us know you think.