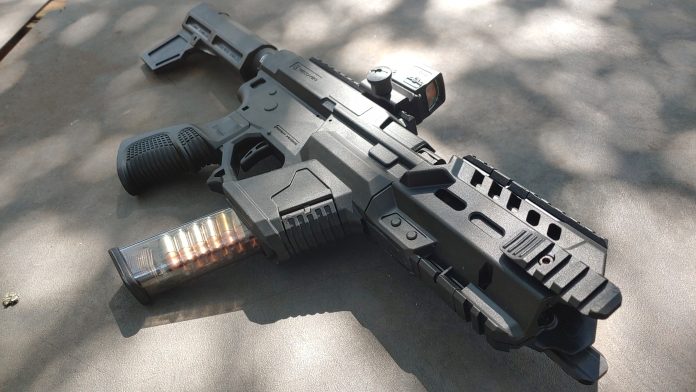 Glocks can be anything you want them to be. At SHOT 2022, I saw that in living color. I stumbled across two kits that were of immediate interest to me. I like odd, weird, and seemingly bizarre stuff. The two kits I ran across were the Meta Tactical Bullpup which turned your Glock into a bullpup rifle. The second was the exact opposite, the Recover Tactical P-IX. It actually reverse bullpupped a Glock.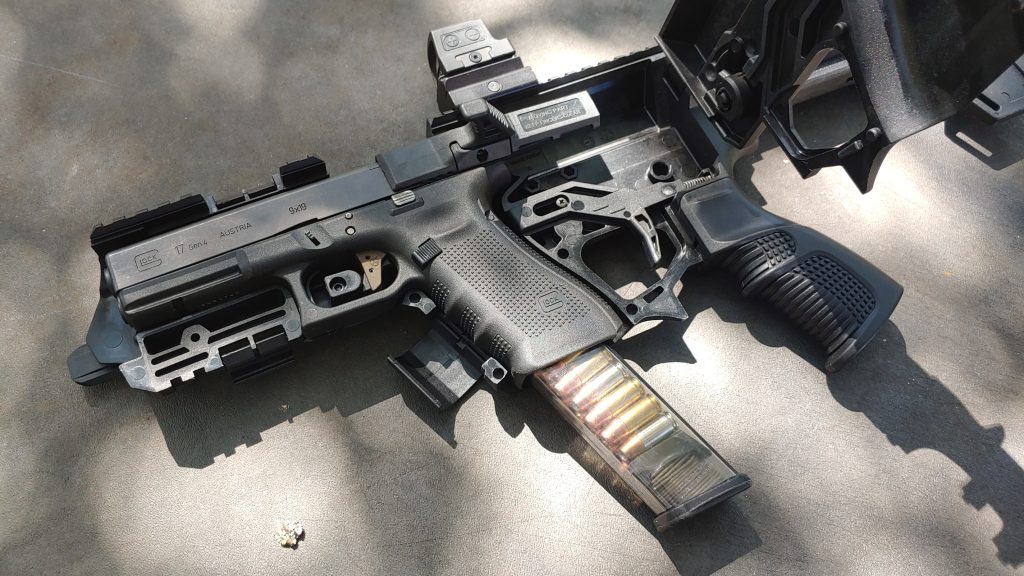 Recover Tactical is an interesting company. They produce a lot of weird products for various platforms that seem odd and maybe make you scratch your head. While their products tend to appear odd, they tend to be pretty dang useful. Things like the RT 20/20, their grips that ad Picatinny tails to guns without rails, and many more. Is the P-IX another handy piece of gear? 
The Recover Tactical P-IX – The Basics 
This isn't your traditional Glock chassis kit. It AR-izes your Glock pistol. Unlike a traditional Glock chassis, the entire Glock is enveloped here. It places the Glock in front of the trigger, and the pictures do it way more justice than my written words ever could. Just look at it. The magwell is your Glock grip. 
You have to attach a charging handle to your Glock slide, then drop it into the P-IX. Three latches lock the gun into the P-IX, and you are ready to rock and roll. Installation is super easy.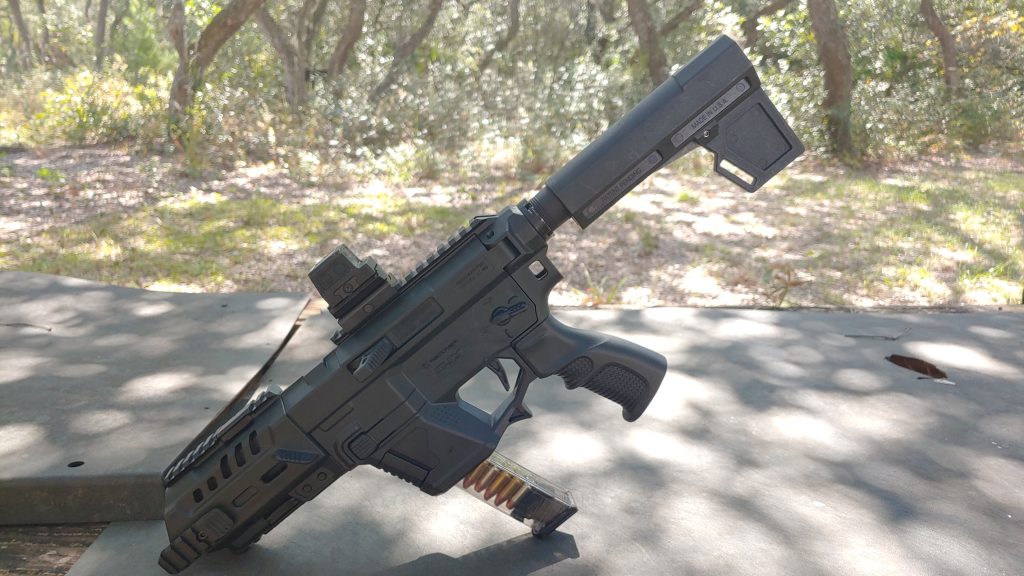 The design features a built-in safety, a new magazine release, as well as numerous additional rails. Across the top, we get what's essentially a full-length optics rail, just in case your Glock needs an LPVO. 
At the front, we also have two side rails and a small bottom rail. At the back, we have a threaded portion designed to accept an AR-15 type buffer tube for attaching a brace or potentially a stock if SBRs are your thing. You can even swap the standard grip out for your favorite AR-15 grip. The front is wide open, so you can attach most cans without issue as well. 
What's the Point of the P-IX
The most obvious advantage is the ability to add a brace or stock in the event of an SBR. This makes it easy to stabilize the weapon and increase your effective range. It handles much more like a CZ scorpion than a Glock with the P-IX.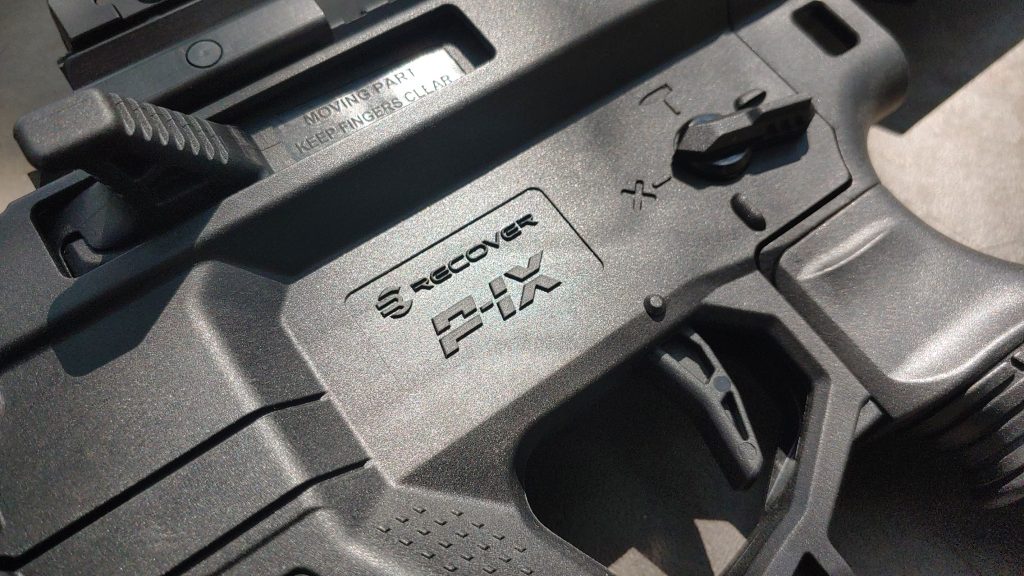 The presence of numerous rails across the bottom, type, and side makes it easy to add various accessories. This includes optics, like red dots, or even bigger and better optics. Don't forget being able to add more powerful lights that offer rifle-like performance or even IR lasers for the goons out there. 
Why the P-IX over a Glock? Well, this is still a handgun, and even in states like California, you can get a Glock Gen 3. That same state makes it plenty tough to get semi-auto rifles, but tossing a Glock into the P-IX gives you some of the same benefits. (Although lord knows what is illegal in Cali, so this isn't legal advice)
It's also a pretty cheap way to try out the Cheek Pistol concept. 
Review of the P-IX 
I dropped my Gen 4 Glock 17 into the P-IX and locked it down. Installation is easy, and it takes very little time to do so. It takes more time to attach the charging handle than anything else. Once attached I took it to the range to give it a little test fire. 
I'll go ahead and get the worst part out of the way now. The P-IX has an absolutely terrible trigger. It's super heavy, long, and spongy and is about as bad as a trigger can get. Even so, the additional stability the P-IX offers allows you to extend your effective range. I can hit targets at 50 yards with a Glock 17 a portion of the time. Toss the Glock 17 in the P-IX, and I'm hitting it every time.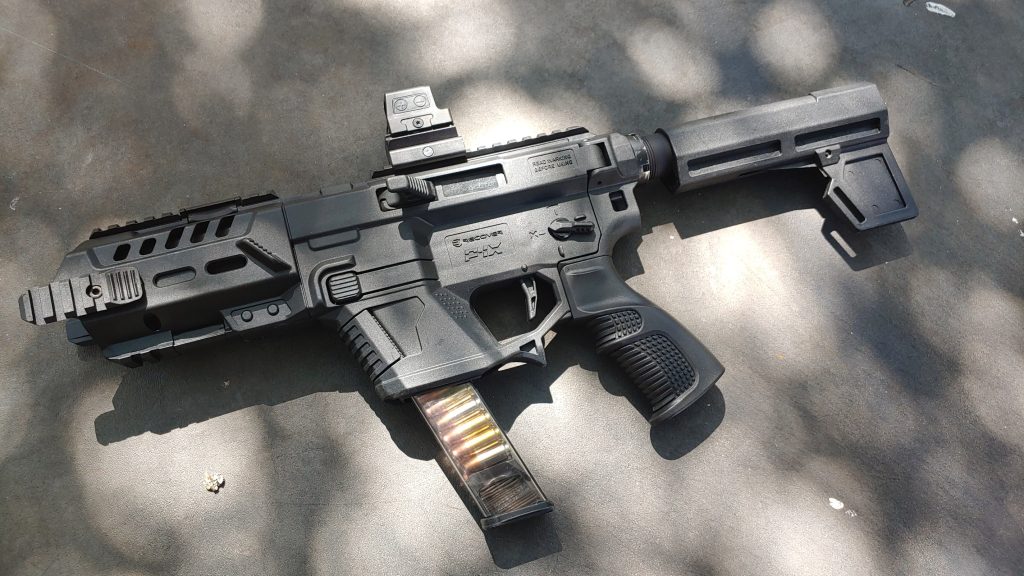 Unlike other chassis kits, the Glock sits in the same place every time, so the zero doesn't shift when removed and reinserted if it does shift, it's not notable out to 50 yards. 
Reliability isn't affected either. It's had zero issues over a few hundred rounds with various magazines. The wide-open ejection port keeps things nice and reliable and prevents the casings from locking up the slide. 
The P-IX offers great ergonomics, well decent ergonomics. The safety is very AR-like and easy to use. The magazine release is placed well but is not tactile by any means. It's tough to know how hard to press it to release the mag, so just go whole hog until the magazine drops out. The P-IX and a brace make the Glock easier to control with a reduction in recoil and muzzle rise. 
Yay or Nay 
The P-IX isn't for everyone, but it's a solid little piece of gear. Glock chassis kits certainly aren't for everyone, either. With that in mind, the P-IX does what it promises without creating any issues with your gun. Sure it might be silly for some of us in a free state, but for others, it might be a fun range toy. On my next range trip, I plan to remove the brace and try the cheek pistol concept, so wish me luck.