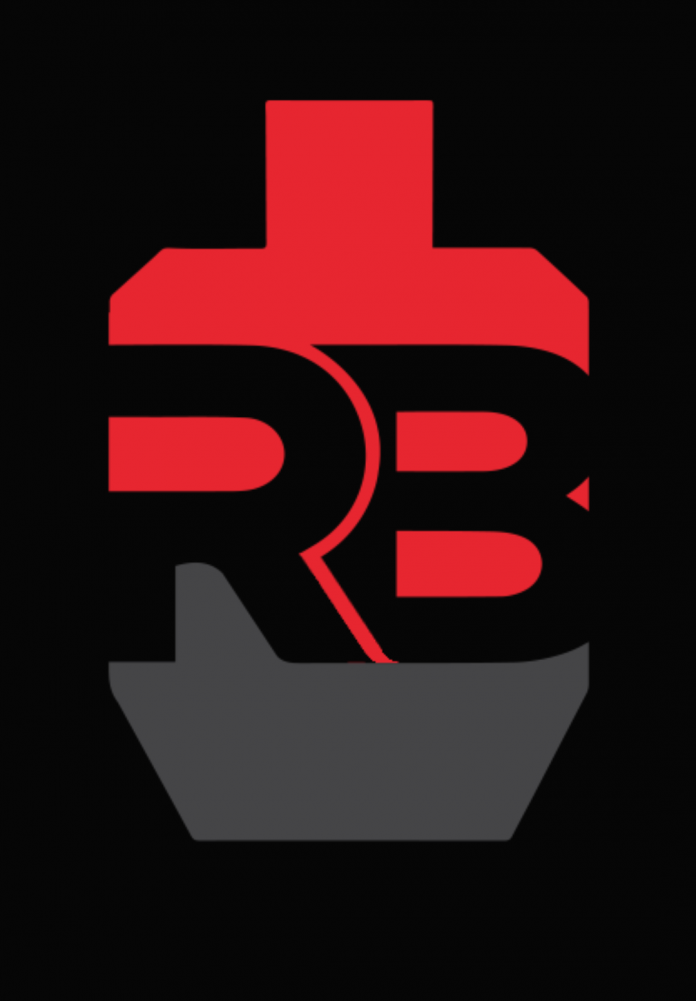 I'm the type to fully embrace the future or whatever amalgamation of it presents itself. This includes the field of firearms. I love tech and how it can be implemented into the firearms training world. With that in mind, this morning, I discovered an app called The Range buddy. You can find it on the Google Play store, and there are a few apps using the phrase Range Buddy. Look for the one developed by Atriarch Targets.
The premise is simple. The app is free to use and free to download. You can choose to subscribe to donate a thing or two to the developer. The plans are 99 cents a month, 2.99 a month, or 8.99 a year. I went with the 8.99-a-year program because I'm not a cheapskate and like supporting our community. If you choose not to donate, you can use the entire app for free, but you'll get the pop-up every time you start up the app.
A small price to pay, in my opinion. If you have Netflix or Hulu, or whatever, you can afford to support this app if you choose to use it.
What's the Range Buddy
I'll get off my high horse now. The Range Buddy is an app that catalogs various shooting drills and programs from a wide variety of sources. The drills are quite varied and range from classics like Jeff Cooper's El Pres and Mozambique to more modern drills like the Herron Bill Drill. There are a ton of drills in the system, and the app creator is promising to add more.
There are even several police quals, and I might reach out to the developer to send more. I have an entire Google Doc I've used to catalog dozens of police quals from Fed, State, and municipal police forces. I even have some security guard quals if they want them. The app catalogs these drills in various ways.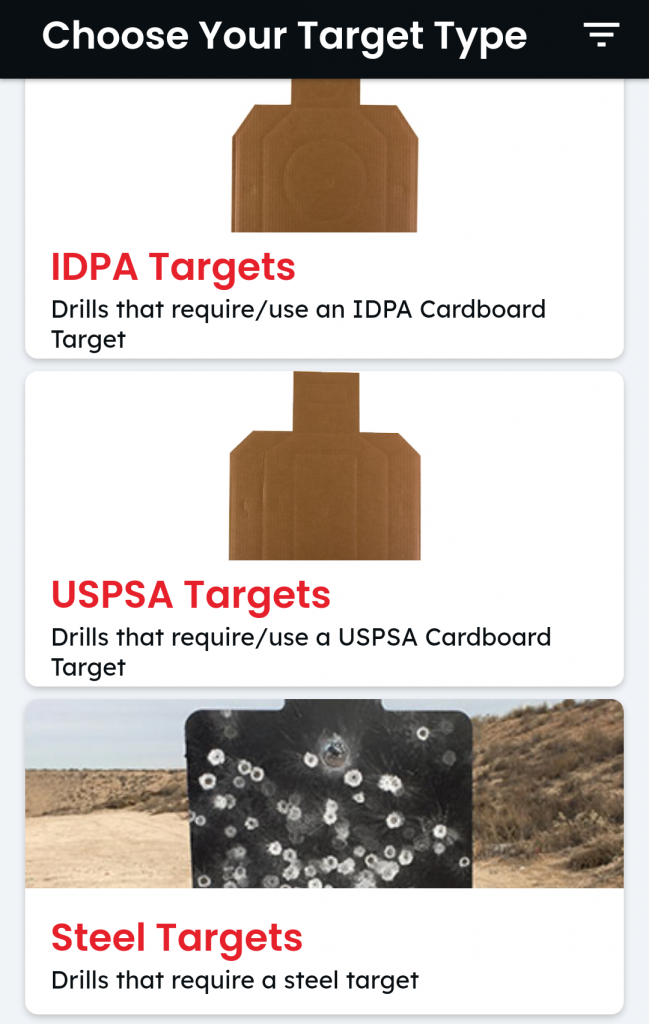 The most obvious is that it divides the drills up by target offer IDPA, USPSA, Homemade, steel targets, and more. Select the target you have or are using, and it will give you several drills and how the target is used for those drills. Obviously, most of these drills can be modified to use whatever target you have, so if you're new here, don't feel stuck to one type of target.
Speaking of being new, you can also look at drills in accordance with their difficulty level. You can search for beginner, intermediate, and advanced drills, as well as drills that require movement to achieve. You can also just use the search function to find the drill you are looking for.
Using the Range Buddy
Once you find the drill you want to shoot, you give it a click to get a detailed summary of the drill. A small preview will give you the range and rounds required. A click gets you deeper information. The in-depth overview gives you the basics, the target type, and a small explanation of the purpose of the drill.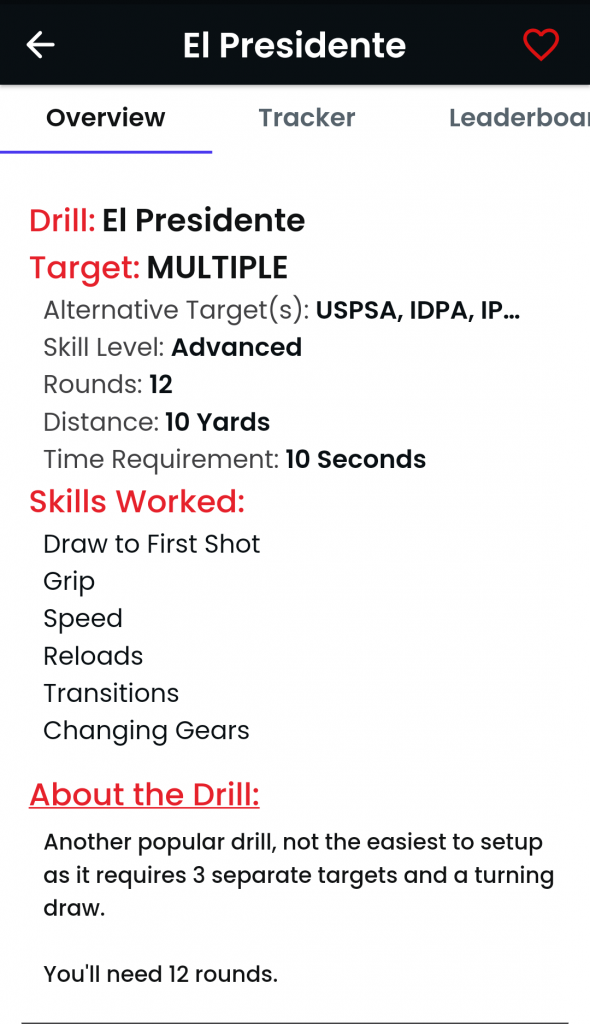 From there, it dives into how to setup up the stage, and the requirements, alongside the course of fire. Finally, we have scoring and related drills if you want to do something similar to the drill you fired. You can use the next page to keep track of your shooting. You can enter time, accuracy, gun type, and notes and even upload a video and picture.
There is even a leaderboard to drive competitive shooters to keep trying and getting faster and faster. The video verification will certainly help regulate some of the more obvious crazy claims that will surely pop up.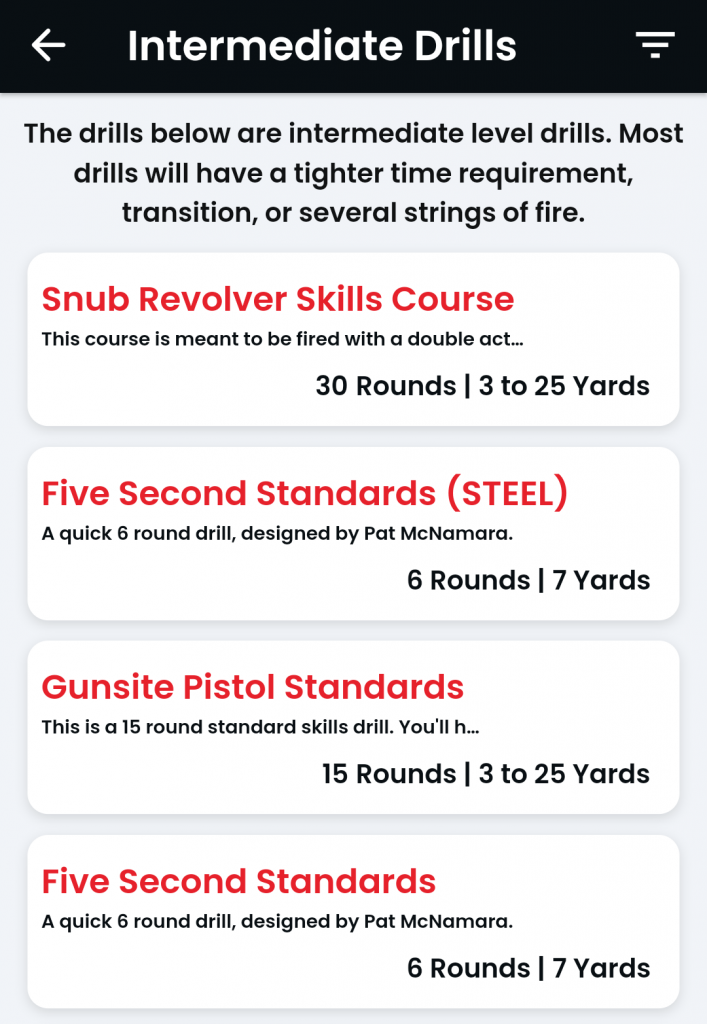 The Range Buddy is a super neat app that has a lot of promise. There are a few bugs that are being ironed out, but it's just got released. By the time this is published, they might be gone. I hope to see it supported and to see more development. While plenty of websites list tons of drills, the Range Buddy provides a range-friendly option to quickly look up drills and to spend more time shooting and less time reading.