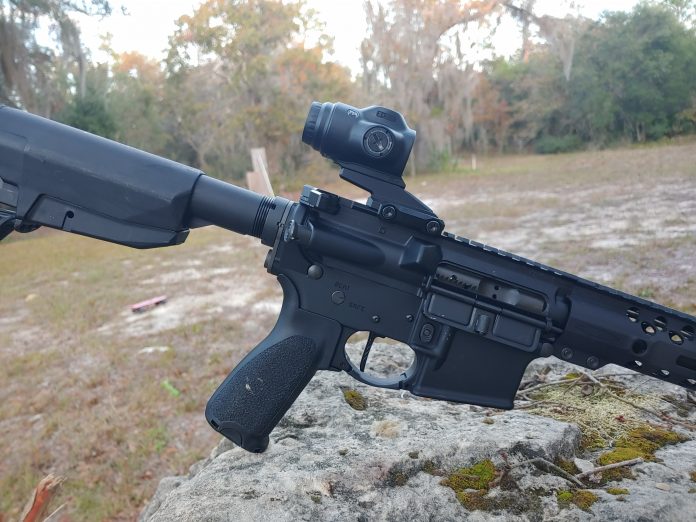 I feel like we are slipping backward in the world of rifles. Not in a bad way, but do you remember in 2012 when everyone was obsessed with super lightweight builds? Then we all embraced LPVOs, robust slings, and meaty stocks, and the weights went up. It seems like the new generation is bringing the weight back to more manageable levels. One company helping us in the optics world is Primary Arms. The MicroPrism series from Primary Arms is taking prism optics to a new level.
Admittedly prisms haven't been super popular these days. LPVOs offer the best of both worlds, and prisms seemingly couldn't compete. I think the MicroPrisms from Primary Arms are pushing the prism forward. The small size of the optic combined with the fixed 3X magnification gives it a desirable combination of features.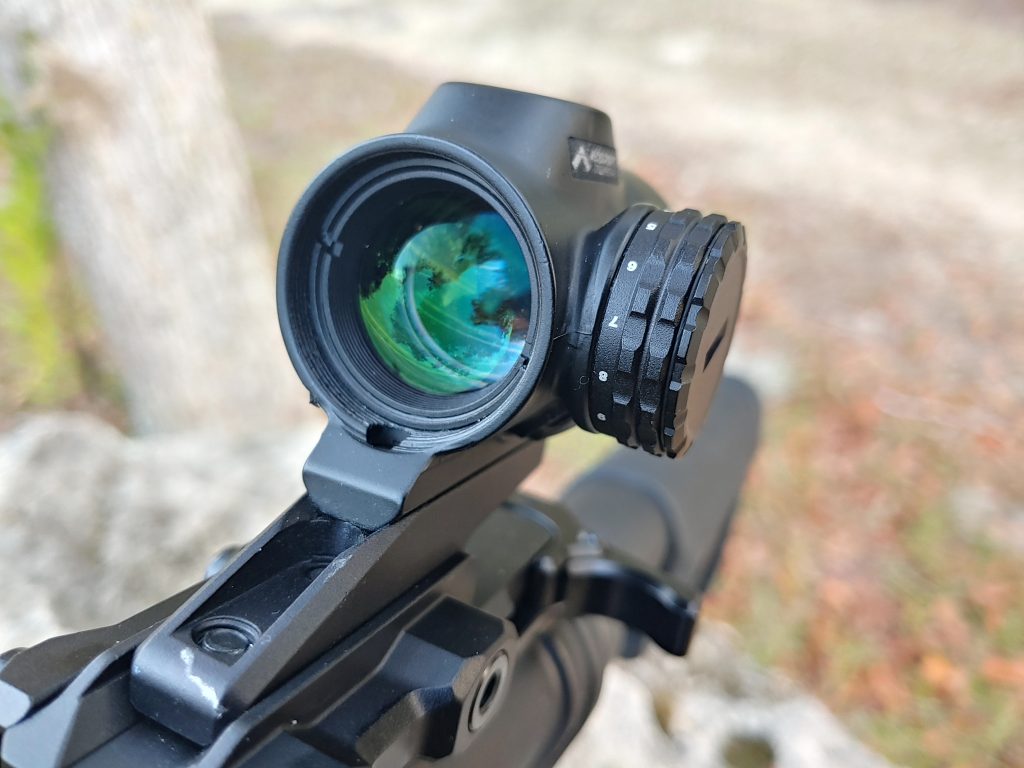 Size-wise, the Primary Arms MicroPrism is about the size of a compact red dot. It's a hair bigger than something like the Aimpoint T-2. It weighs 7.95 ounces, and that's it. This tiny little optic still gives you some decent magnification but lives up to the name MicroPrism. Primary Arms produces the optic for 5.56/.308 caliber guns and .300 Blackout/7.62x39mm rifles.
Opening Up the MicroPrism
Primary Arms packages the MicroPrism with everything you need to get the optic up and running on your firearm of choice. This includes not only a mount but an adjustable mount. You can change the height and add a cantilever mount to help with eye relief. While most prism sights are designed for AR-type firearms, these can be used on all manner of firearms.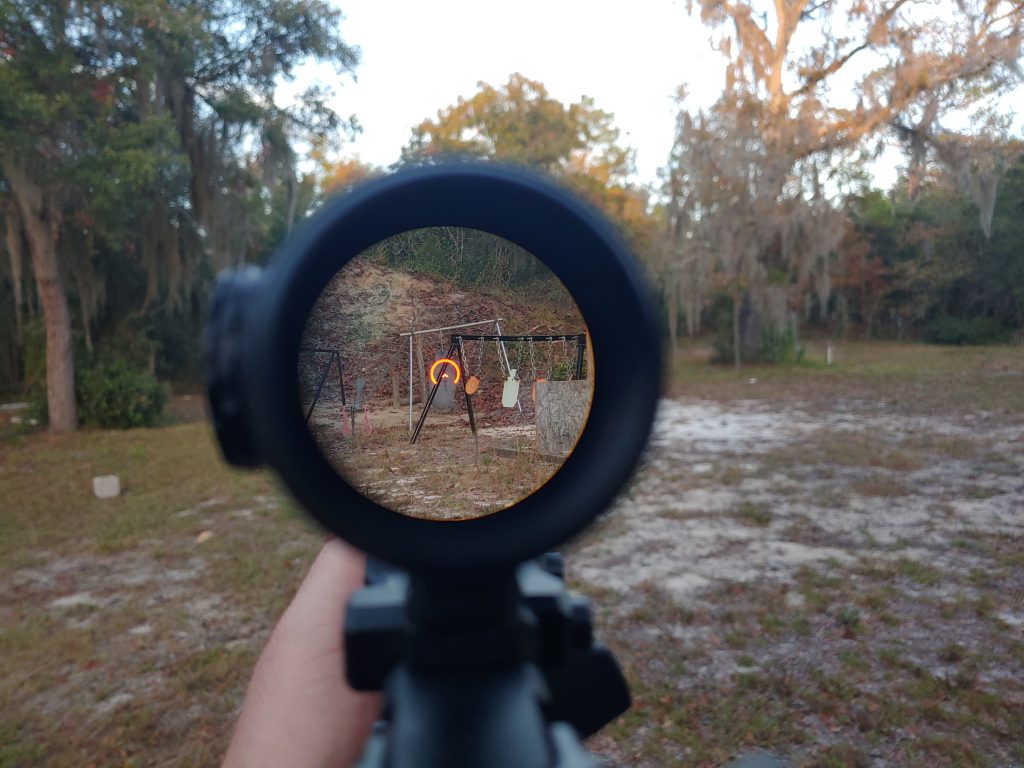 We get the battery and the wrenches necessary to install it, as well as a battery to power it all up. The optic has 13 brightness levels, with the first three being night vision compatible. The reticle is a version of the ACSS Raptor design, which varies slightly depending on your caliber choice.
The MSRP of the optics is a pleasant 319.99.
At the Range With the MicroPrism
The big exposed turrets provide easy adjustments, and anything from a flathead screwdriver to a cartridge rim can be used to make adjustments. The click value is a ¼ MOA. I can't complain and haven't been a fan of the use of 1 MOA click on magnified optics. CoughVortexCough.
Zeroing was easy, and the clicks were both tactile and audible. It clicks nicely and makes zeroing easy. It didn't take much to go from high right to dead on, even at 100 yards. The eye relief is tight but not as tight as my old ACOG. You get 2.7 inches to play with, and it's not insufferable.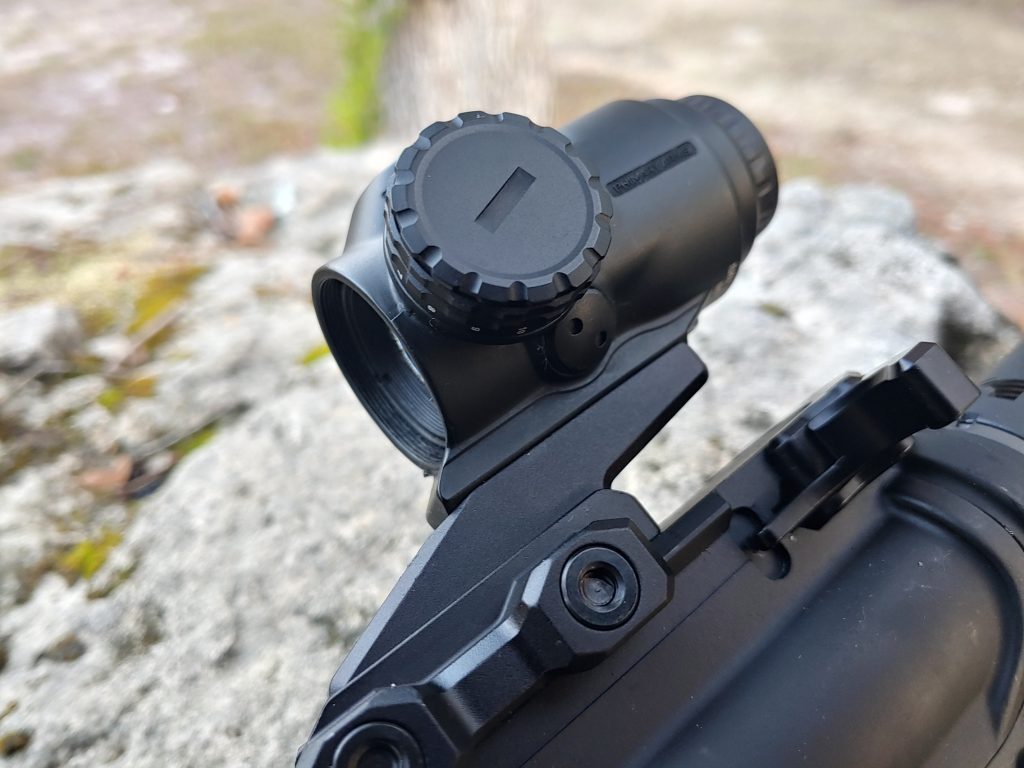 The reticle is very crisp and clear, nice and easy to see. The illumination can get quite bright. Bright enough to use in the middle of the day without issue. You can look up at the clear blue sky, and the reticle remains bright and clear. That reticle does offer you a bullet drop compensator out to 600 yards with the 5.56 variant of the gun.
The big chevron is super easy to see and get on target. I do a bit of a lollipop-style zero, with the tip of my chevron being the exact point of aim and point of impact at 100 yards. Any shots I need to take between 100 and 300 yards can use the chevron. Anything below requires me to use the bullet drop compensator. This type of reticle limits your barrel length and ammo options, but they do make shooting at various ranges much easier.
Up Close and Personal
Primary Arms makes a secondary mount that allows you to run an offset red dot for close-range shooting. This is a bit more intuitive than the alternative. The alternative to using an offset red dot is using an occluded shooting method…even though your optic isn't occluded.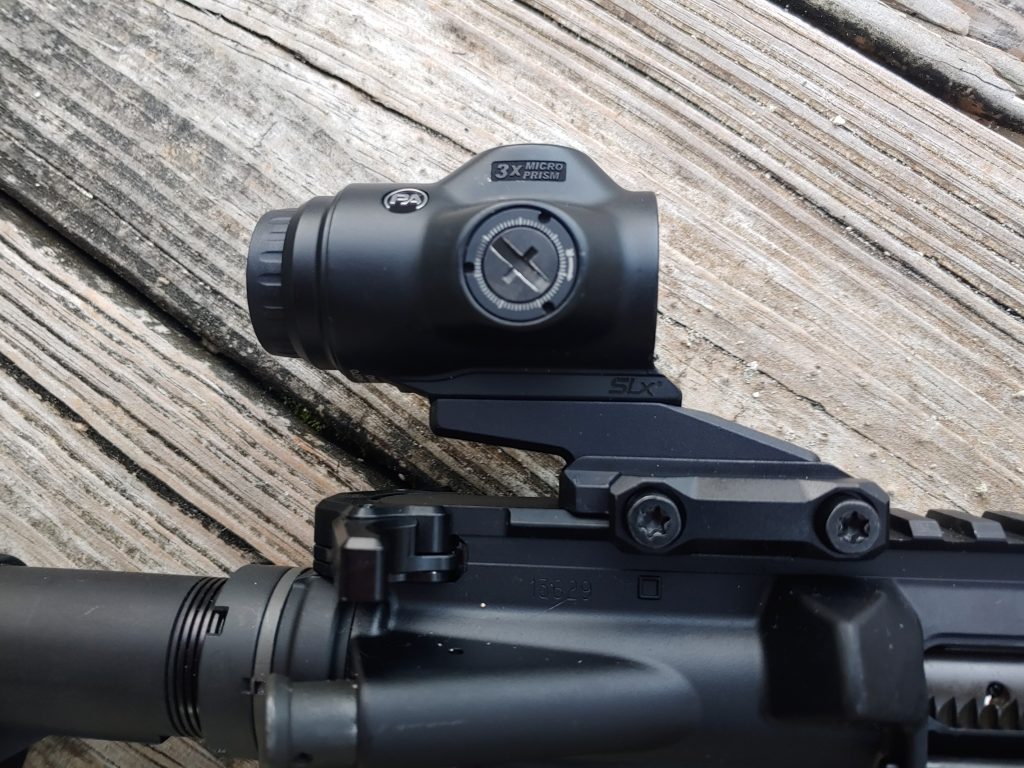 Open both eyes and focus with your non-dominant eye on the target. This takes some practice and isn't 100% precise, but it allows you to put rapidly fired rounds into the torso of a target quickly and efficiently. I wouldn't try to take a headshot with it, but in CQB, you can make it work. The MicroPrism has a very bright reticle, and that does make this close-range shooting method a bit easier.
Within 25 yards, I could use the occluded shooting method with the MicroPrism to ring a 10-inch gong repeatedly.
Ring a Ding
The view through the MicroPrism is surprisingly clear for a tiny little optic. It's perfectly clear out to 300 yards. Impressively so, to be honest. Beyond that, and it gets a little less clear, but out to 450 yards, I could still fairly well and could see a big man-sized target as long as it's not camouflaged or trying to hide.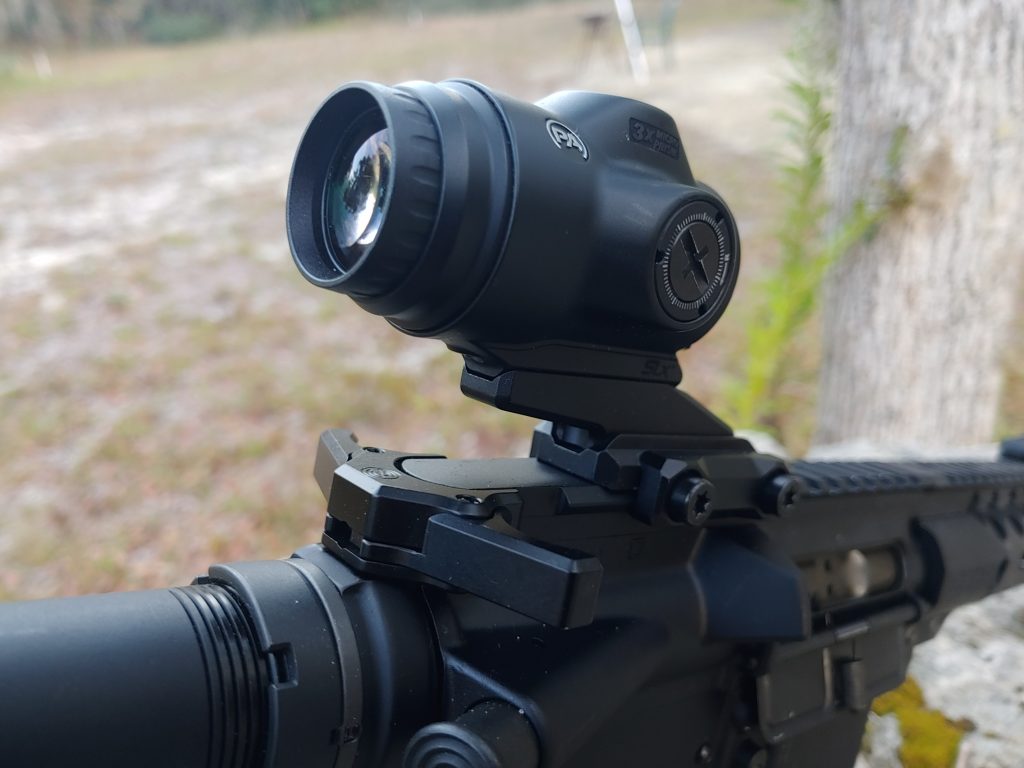 Primary Arms has knocked it out of the park with the MicroPrism. The tiny, 3X prism packs a mighty big punch for its price and size. Dare I say Primary Arms made prism optics cool again?