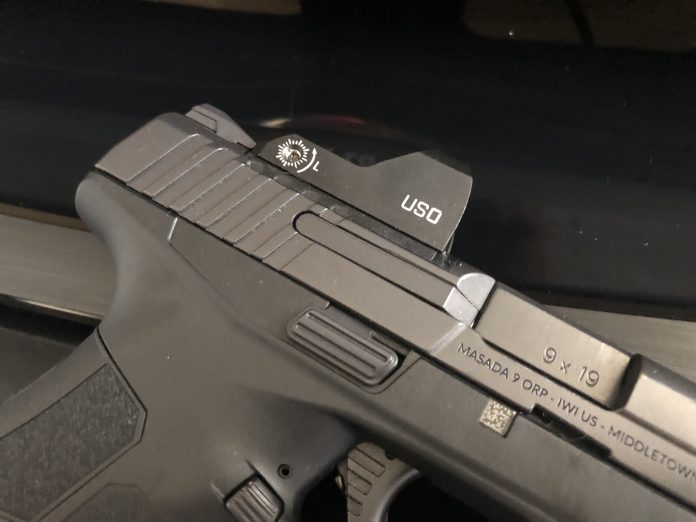 The US Optics Dynamic Reflex Sight (DRS) is yet another in an expanding list of optical offerings in the micro red dot category. Useable on low mount picatinny rails for systems like the MP5, Galil ACE, and any number of shotgun receivers, or mounted to a pistol with a Vortex mount pattern, the DRS is a versatile little item.
But does it hold its own in the expanding field?
Yes, depending on what you want it to do. That's a critical distinction based upon how the DRS operates.
DRS Run Down
The Dynamic Reflex Sight is a CR2032 powered, 2MOA dot, open emitter micro red dot reflex sight. It's not the first and not the last. The body and lens design are very 'geometric' and make me think of a lego block.
The battery houses below the sight and is changeable by removing the sight from its mount. The battery life is the typical tens of thousands of hours standard on high efficiency LEDs today. The formula for making a useable sight was studiously followed by USO.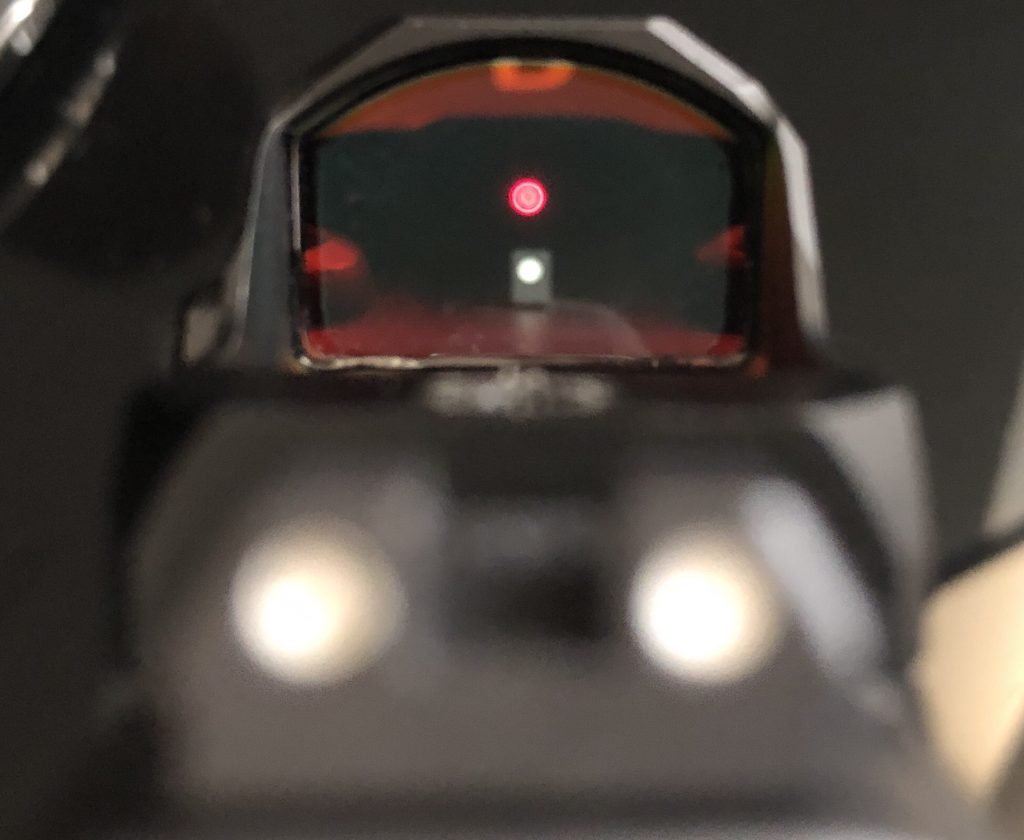 DRS Performance
I have here a 2 MOA red dot and… it ran like a 2 MOA red dot should run. It turned on, adjusted brightness, zeroed, and turned off all on my command.
The little screws require a little screw driver to move the elevation and windage and they don't click so pay attention to the hash marks, those are accurate. Lens is coated to reflect the LED but clarity down range is excellent, no issue running this on targets.
But here's the catch, it is the control scheme that will make or break whether the DRS is the red dot you are looking for. Sitting at $249 MSRP, the DRS is an easy way to get into a dot for a number of different platforms. It comes with a low height mount for rails and the screw pattern will put it on pistols without much issue. The Masada I've got the DRS on currently has a factory plate that required a touch of fitting, that was all.
Controls and Use
USO's DRS runs very much like a miniature EOTech HWS. Up arrow and down arrow for brightness and up/down left/right screws for zero. It includes a 4 hour auto shut off to further conserve battery power. It's this auto shut off that gives me pause. An auto shutoff is not conducive to a carry optic. The on button is only the up arrow, down wouldn't activate the sight.
Competition? Absolutely, in an environment where you can do a quick check on your equipment before starting a stage it will do fine.
Training? Definitely, another environment where you can status check your equipment prior to an evolution the DRS will be right at home. I will go so far as to say that as a training dot it excels for dollars spent, especially on someone still trying and feeling dots out as an evaluation.
Home Defense? Yes, with caveat. On a carbine or shotgun set up in a 'semi-ready' configuration turning, the sight on as part of bringing the gun to full ready would be the same as with an EOTech. I would prefer the down button activate the sight too. But with the control placement you can easily hit both and then set your brightness.
On a pistol? I'm not going to use the DRS as a home defense optic, you may but I believe there are better options. Most carry a higher price tag though.
Carry? No.
Carry optics need to stay on. Period. "Shake awake" optics also hit the constant on category for carry, but DRS does not.
The DRS Overall
It serves best in the roll of carbine or shotgun optic if you're looking for home defense. Pistol, great for training and competition. My favorite guns to run it on were the MP5 and Galil ACE like a little micro XPS. In that roll the Dynamic Reflex Sight excels.
EDIT: UPDATE
After a call with USO it sounds like a DRS without the auto-off feature is in the pipeline too. So this review stands for the auto-off variant only.