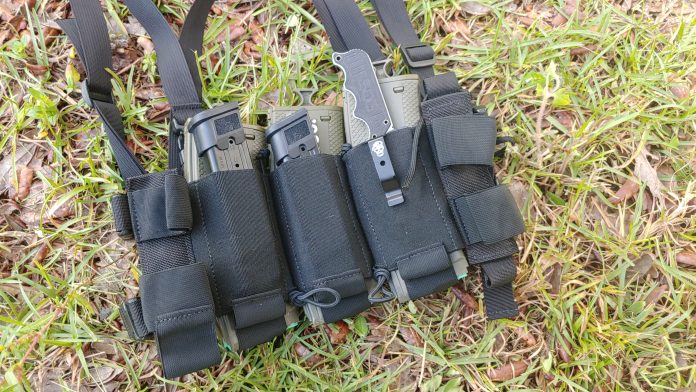 I'm a man who appreciates minimalist gear. I'm a Florida man, it's hot, and wearing plate carriers all the time isn't fun. Little rigs can be a blast, especially when I want to LARP as a modern-day version of Neil McCauley. Since the Forgotten Weapons Heat vests sucked, I had to settle for the Dank Robber. 
Settled sounds mean. The Dank Robber is an awesome rig that would do any larper proud. Beyond LARPers, I could certainly see something like this being fairly handy for police officers who might need to employ a patrol rifle on occasion. The rig is small and easily stowed out of the way until it's needed. When ended, the Dank Robber provides enough at-hand gear and ammo to stay in the fight. The Dank Robber comes from Unobtainium Gear and is one of their many awesome rigs.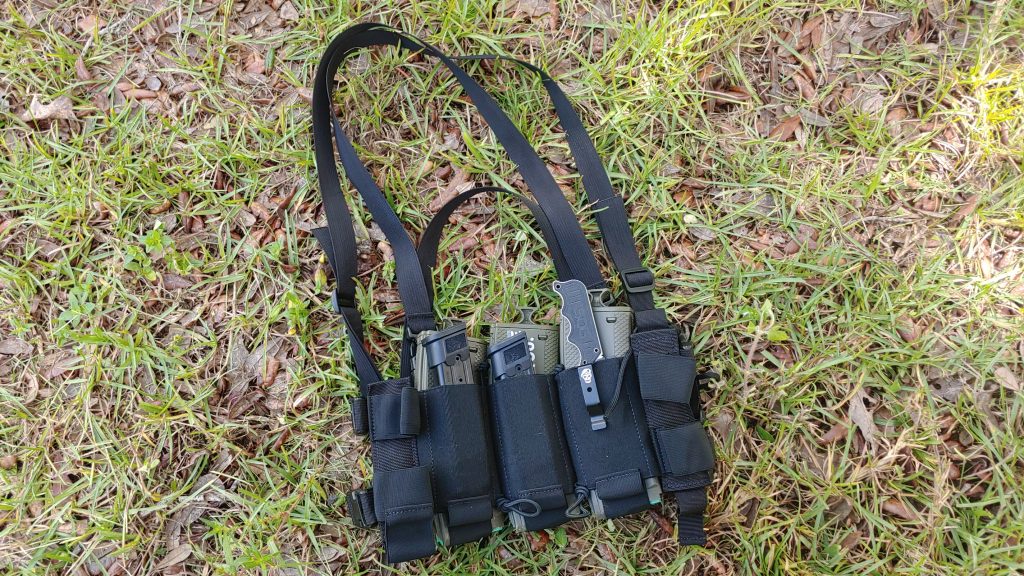 Its small size and broad adjustments make it easy to squeeze over armor and deploy in a flash. Its design also allows it to be fairly versatile and be used for more than stacking mags. 
The Dank Robber Defining Minimalism 
I don't think a minimalist rig gets much smaller than the Dank Robber. It's ultra-small and is basically the sum of its many pockets and attachments. It's hanging pockets essentially, and that's not bad for a minimalist rig. The base of the Dank Robber is three layers of mil-spec elastic. These three layers form two rows of pockets.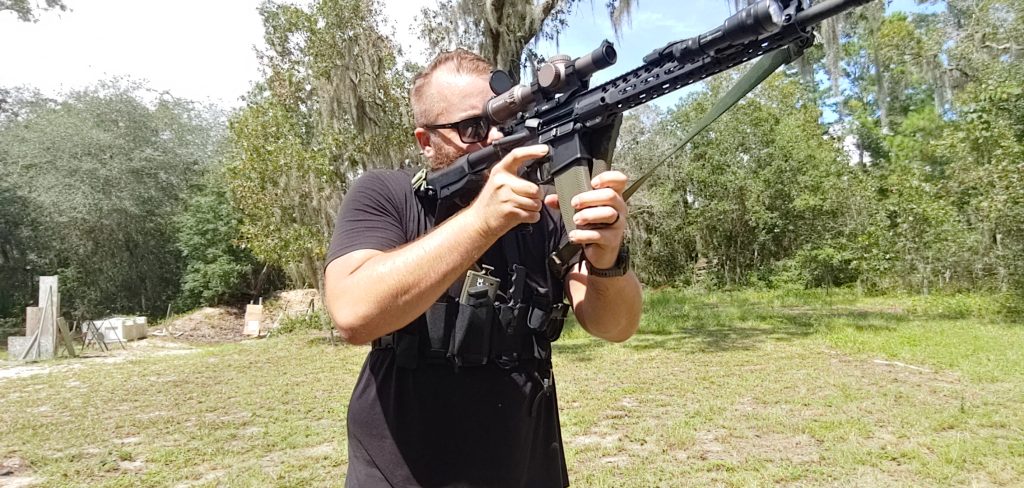 The straps are just simple straps without anything fancy on them. There is no padding, just buckles and adjustment tabs. You can utilize the strap in a few different ways. I set the rig up using the two rear straps as an X strap, but you can wear it any way you want. 
Keeping Things Versatile 
We have the rear, larger pockets designed for rifle magazines, and the front panels designed for smaller, handgun-sized mags. The larger pockets are big enough to hold AR or AK magazines. These pouches are fairly large, and you can fit a variety of tools in them, from H bandages and beyond. 
The front pockets are perfectly sized for handgun mags or similar-sized tools. Shove your favorite sheathed knife, multitool, tourniquet, or whatever in here. These smaller pockets are also big enough to fit SMG-type magazines. If you want to ignore the reach pouches and make this an SMG-themed rig, you easily can.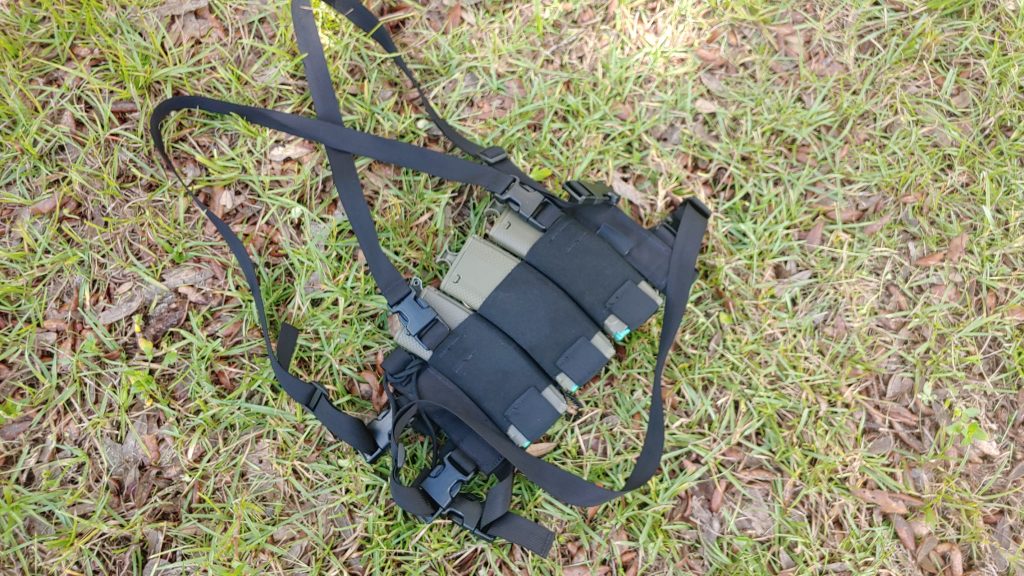 To the side, you have two large pouches that allow you to fit radios, a small IFAK, a Nalgene bottle, or dang near anything else you can shove into it. It's a little extra room that allows you to fit a variety of goodies. Below the mag pouches sit a few elastic loops that will fit a tourniquet just right, but you can also shove a pair of gloves in there, a light, or whatever you need. 
For such a small kit, it has tons of potential and room to store goodies. The Dank Robber provides in a surprisingly gracious way. 
Feeling the Heat Around the Corner…. 
None of the above matters if the kit just doesn't work. The elastic is fairly tight, and retention doesn't seem to be an issue. I've used the rig for several months now, and I leave it loaded. That keeps things fairly reliable. Even under different levels of movement, the mags don't move. 
Jump, run, kick, and practice your sweet karate moves with the faith that your magazine is staying put. The elastic eats up most of the mag, but enough is left exposed to make grabbing and going easy. Reloading isn't hard, and you can get a good grip on the mag before it gets tossed in the gun.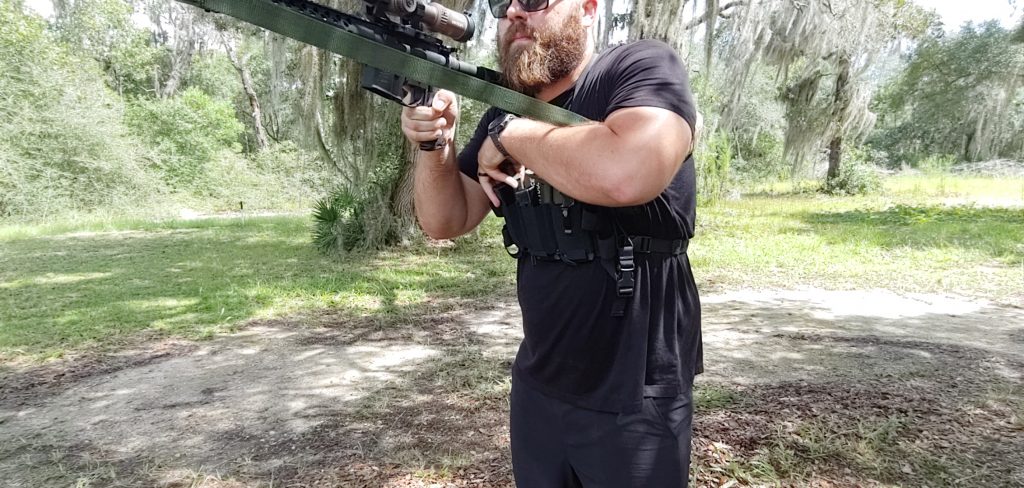 If you are an extendo fan, watch how long your magazine is in regards to your magazine. It can get in the way if it's too long. 
With the Dank Robber, your pistol and rifle pouches are clung together. My SIG 21-round P320 mags seem to be just the right length to stay out of the way. On the flip side, you might find that Glock 19 mags and those of similar size are just too short to easily retrieve. You have to find the right balance to make it work. 
When you have three loaded 9mm mags and three loaded 5.56 mags, things can feel a little heavy. It's no combat load, but the thin straps let you feel that weight. You pay for minimalism sometimes, and straps show that.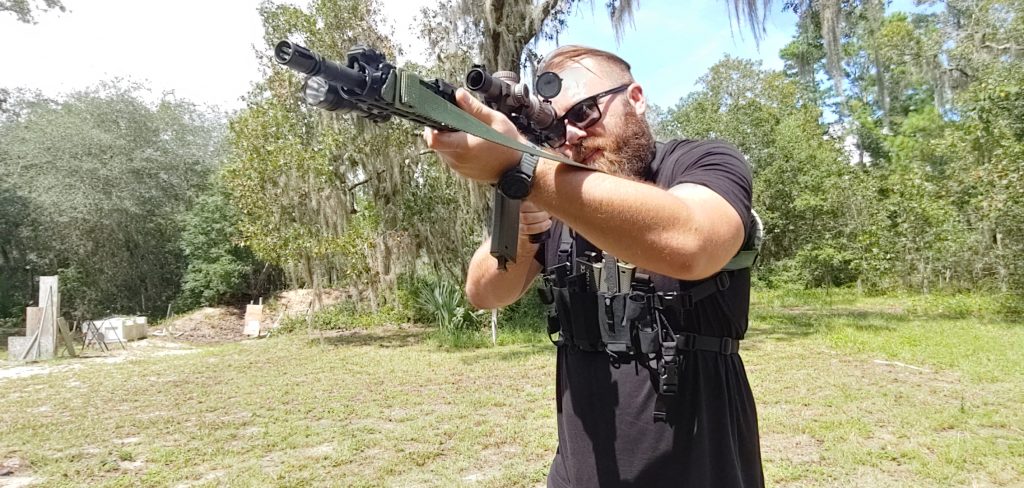 Still, even with my meager complaints, the Dank Robber is one of my favorite minimalist rigs. It's ultra-light and very small. Easy to keep tucked away in a go bad but always ready. It's about as small as you can go without getting ridiculous.