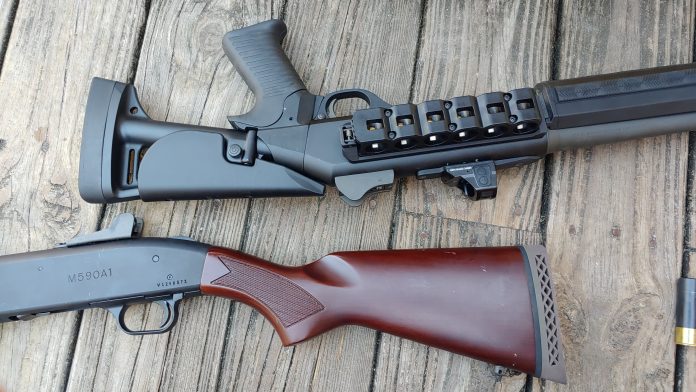 When you start accessorizing your home defense shotgun, you will eventually get to the stock. If you change the stock, you'll have to weigh your options carefully. We have the standard-style shotgun stocks your shotgun likely came with. Your standard stock might be too long, made of wood, lack sling swivels, or whatever, and you want to replace it.
The second choice is the tactical or pistol grip style stock. To be clear, I don't mean pistol grip only. I mean a stock with a clearly defined, 90ish degree pistol grip sitting below it. Or maybe your gun came with this stock and you hate it.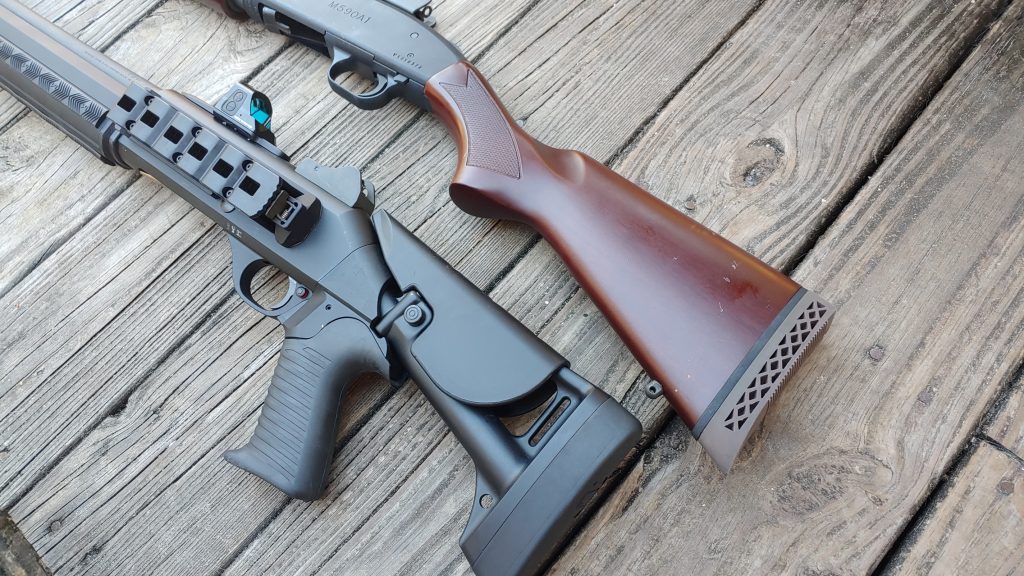 Like most things, the decision is all yours to make, and there isn't a clear winner that can objectively measured as better. However, I can present you with the facts regarding the advantages of different shotgun stocks.
Standard Shotgun Stocks
Your standard shotgun stock has a semi-curved pistol grip, with the stock extending from the rear of that pistol grip. This simple setup is the most popular design and has been around since the beginning of dedicated shotguns. It's quite standard and sticks around because it works.
Why You Should Choose a Standard Stock
The advantages of standard shotgun stocks often go underappreciated. Lots of people like to make their shotgun AR-like and might be ignoring why these stocks have stuck around for so long. First, most shotgun controls are built around the standard stock and more ergonomic with a standard straight stock. Hell, the Mossberg's tang safety is only easy to use with a standard stock.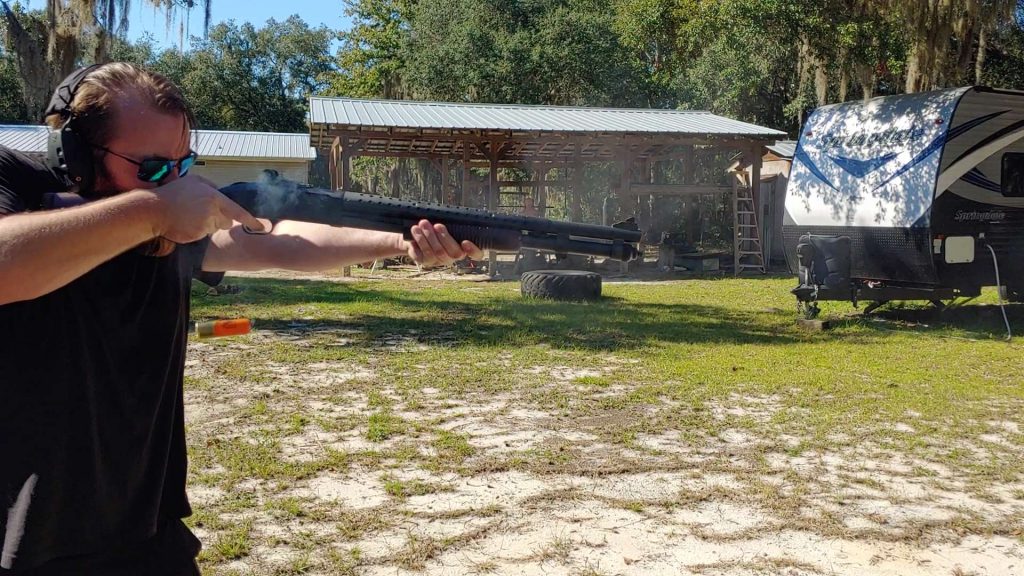 Additionally, the area beneath the gun is less crowded, and this makes reloading faster and more intuitive for most people. There is a reason why only really see straight stocks in the professional 3-Gun circuit. Also, if you rotate the gun slightly to better access the loading port, the gun feels much more balanced than a pistol grip-equipped shotgun.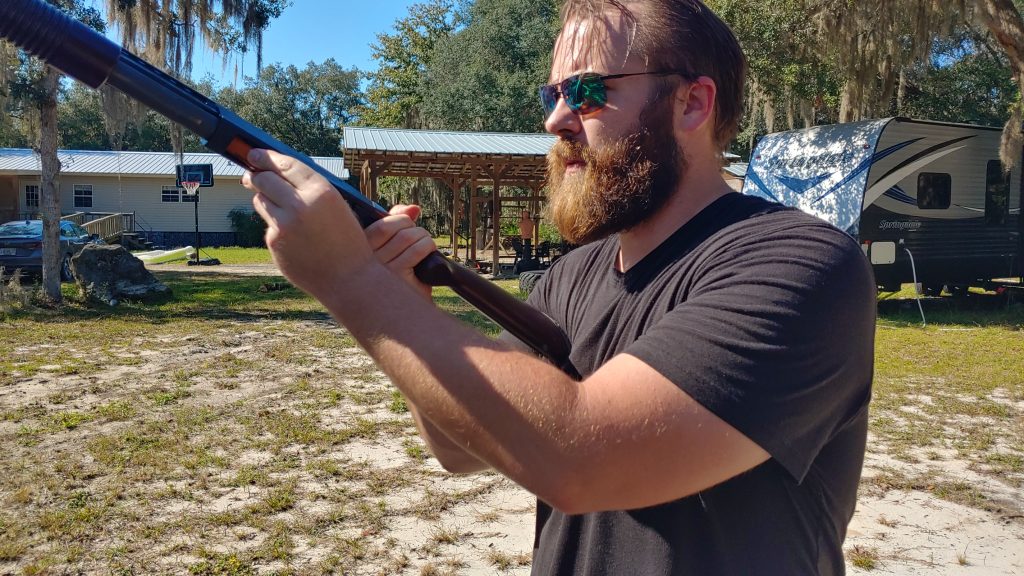 These stocks also tend to be more robust and more capable of absorbing recoil. I tend to prefer this style of stock. I find them more consistent when mounting and easier to utilize the controls. The downside of these shotgun stocks comes from the length of the stock. Most of the time, they are too long, and you'll want to look at a youth stock or trimming your stock down.
The Tactical Pistol Grip
When you move from a rifle to a shotgun, the attraction of a pistol grip on your shotgun makes a lot of sense. It feels much more natural. Pistol grip shotgun stocks have a pistol grip extending below the stock, and the stock is often separate from the pistol grip.
Why A Pistol Grip Stock?
Outside of quickly transitioning from rifle to shotgun, the pistol grip offers numerous advantages. First, it gives you more leverage and makes the gun easier to hold up with a single arm. If you need to open a door or hold back a child, it takes a lot less strength with a pistol grip stock.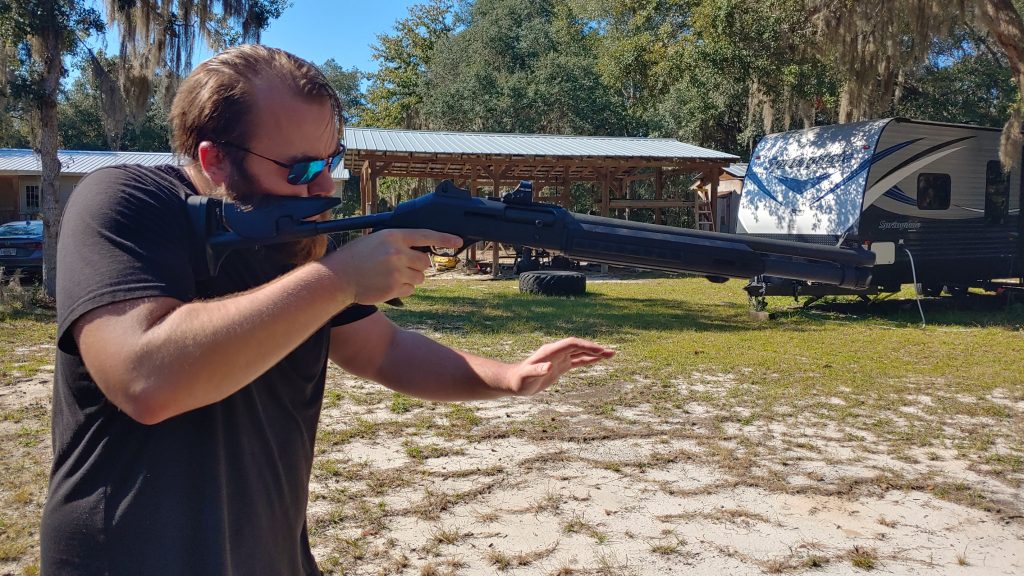 I've always found it more accessible for beginners to use the push/pull recoil reduction method with pistol grip stocks. That vertical pistol grip is a nonslip surface when I'm pulling it rearward to brace for recoil. Pistol grip shotgun stocks are also often adjustable. The use of M4 style stocks on shotguns has grown, and users can set their LOPs with this style of stock.
Pistol grip stocks make a magazine fed shotguns easier to reload. For tube-fed guns, it makes the reloading area crowded and difficult to cant to the side. One important consideration is the quality of the stock. A lot of crappy companies make pistol grip stocks, and they often suck.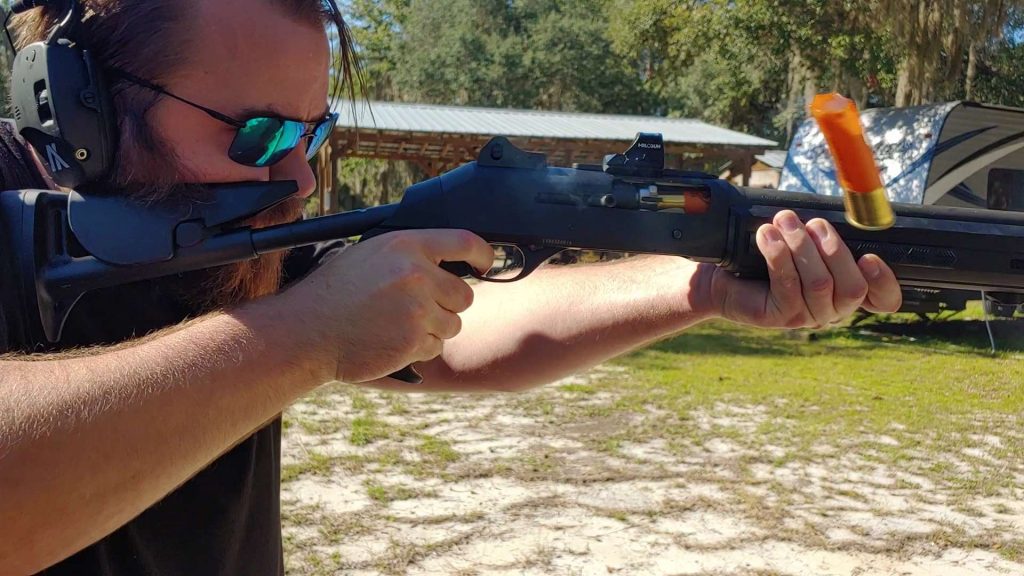 A cheap standard stock is a lot more robust than a cheap pistol grip stock. Well-made pistol grip stocks likely cost in excess of a hundred bucks, so be prepared for the additional cost. (Don't even ask how much a stock for the Benelli M4 costs.)
What's Perfect?
There is one option that is superior to both, and it comes from Magpul. The Magpul SGA stock is a hybrid that mixes the best of both worlds into a single stock. At first, it looks like a standard stock. However, notice the pistol grip position in accordance with the stock. It's a more vertical grip.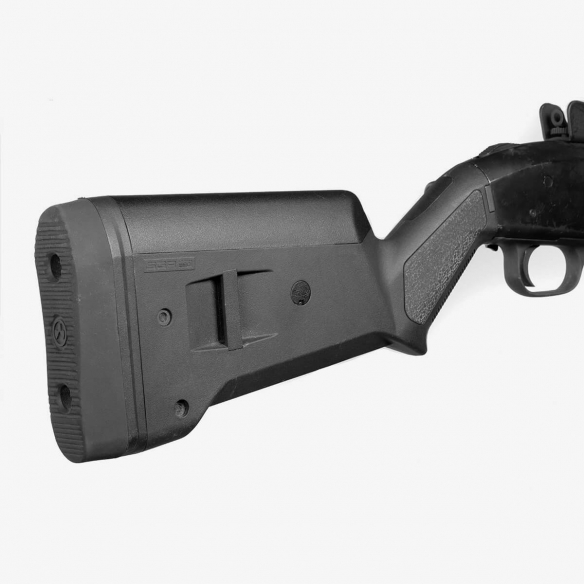 As far as shotgun stocks go, it offers you the advantages of each. You can easily hold the gun up with one hand and cant it to the side for faster reloads. It's not overly crowded for quick reloads and allows you to do a great push/pull technique.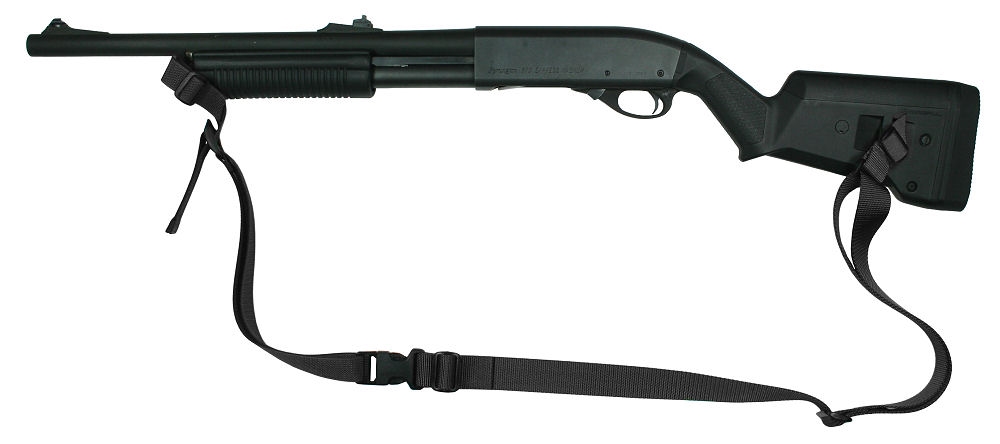 Plus, the stock can be shortened or lengthened by removing spacers from the stock. This allows the user to adjust the length of pull without sacrificing the robust design of a standard stock. To me, the Magpul SGA works wonderfully and provides the best of both worlds.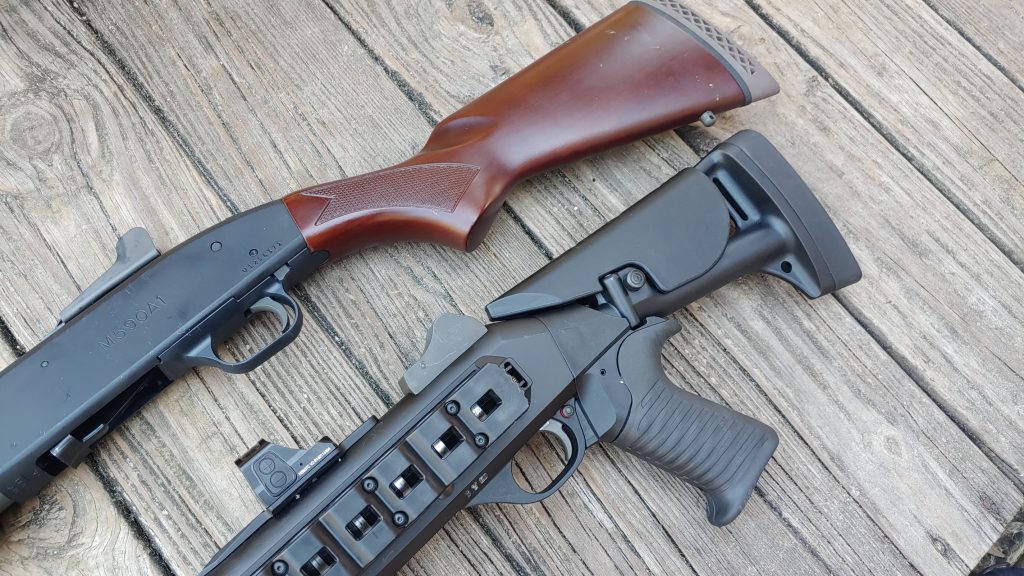 However, this is still a personal decision you'll need to make. As always, I say try 'em both, or in this case, all three. Whatever you choose, ensure it fits your needs, and you train with it. Anything less is letting yourself and John Browning down.