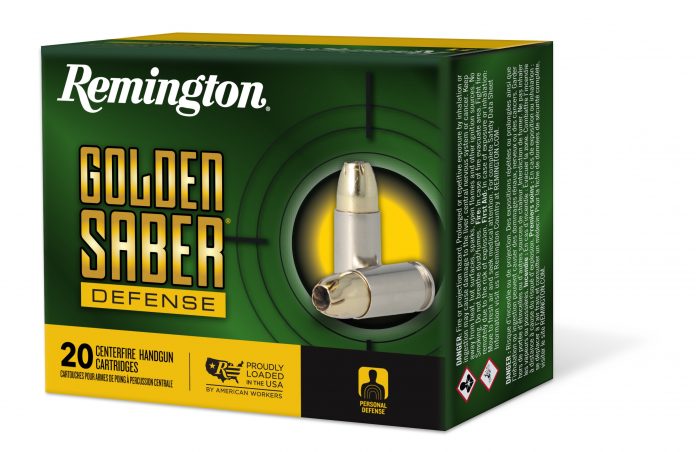 On the tail of the SIG P320-XTEN announcement, Remington hits us with three new loads for the 10mm. In fact, they have three new Golden Saber loads. The press release is still hot enough off the presses that the loads are not on the Remington Ammo website. However, if they're anything like the classic Golden Saber loads they will be true 10mm defensive loads. None of these 40 Short and Weak. 
Here's what Remington has to say. 
Remington Ammunition Introduces Golden Saber Rounds 
Lonoke, Arkansas – May 26, 2022 – As part of the 2022 new product lineup, Remington Ammunition is thrilled to announce the introduction of 10MM AUTO throughout its trustworthy personal defense lines of Golden Saber Bonded, Golden Saber Defense and Golden Saber Defense Compact.
Formerly a law enforcement only product, Golden Saber is now available to the public. The ultimate in defensive and tactical handgun ammunition, the 10MM AUTO Golden Saber Bonded rounds offer the same features as other products within the Golden Saber Bonded family:
Lead core hot-bonded brass jacket
Exceptional weight retention
Reduced bullet noise diameter for precise bore alignment
Match-grade accuracy
The Golden Saber Defense and Golden Saber Defense Compact 10MM AUTO rounds are non-bonded, budget friendly options that carry many of the same features that make Golden Saber an icon in the personal defense handgun market. Golden Saber Defense Compact is optimized for peak performance in compact or micro-compact pistols and handguns.
"Adding 10MM to our Golden Saber line is exciting and it allows us to bring another great personal defense product to self-defenders and concealed carriers nationwide," said Joel Hodgdon, Remington's Director of Marketing. "We have a defensive load for everyone, and the three offerings in this caliber give 10MM fans a leading option."
Stop by the Remington booth, 2739 at the NRA's Annual Meetings in Houston for more details on Remington's new 10MM offerings.