At the aggregate level, the PHLster Enigma system merely allows wearers to conceal a handgun on their person without the traditional accouterments typically required to bear a concealed pistol holster—that is a belt and pants (or any other garment with loops sturdy enough to support a belt). However, the manner in which PHLster has implemented this concealment solution has rocked certain corners of the American gun world and has also been responsible for ushering in an entire group of people who may not have otherwise gotten involved with the concealed carry of handguns and taken pro active steps in their personal safety. Being fairly familiar with PHLster as a company, I have already written about their Floodlight WML appendix holster and I have also reviewed the Enigma elsewhere. However, I've had the privilege of witnessing the Enigma since its early product launch to what it currently has become, and what I see bears chronicling.
An important distinction about the Enigma system compared to other alternative carry methods is that once again, its design and execution has opened concealed carry to the mass market in a way that very few holster companies are ever able to do. Not only does the Enigma system grant wearers independence from the typical couture of concealed carry, but its timing coincides with a great trend in the domestic handgun market—that of the modern semi automatic striker fired polymer single stack subcompact marketed exclusively to concealed carriers. Prominent examples of such guns include the SIG SAUER P365 series, the Glock models 42/43/43X/48, the Springfield Armory Hellcat series, or the Smith & Wesson M&P Shield series. The fact of the matter is that currently, the gun industry offers pistols in similar configurations across all price points and market segments. Snub nosed revolvers such as the Ruger LCR (Light Carry Revolver) or the contemporary Smith & Wesson J-frames are still relevant to an extent as PHLster actively supports either of these revolver lines via their "The City" holsters (which are also Enigma compatible).
Though new Enigma users, and perhaps especially those who are new to concealed carry all together may perceive the Enigma system as a little overwhelming and challenging, it bears mentioning that PHLster has been phenomenally pro-active in anticipating and addressing their new clientele's concerns. The staff at PHLster has spent a tremendous amount of time publishing user guides, making graphics, recording videos, and being generally helpful with their customer experience and customer service. The manner in which they disseminate and update their materials and findings could rival the methodology utilized by elite scholars.
In conjunction to shaping their main business website to harbor more concealment related educational resources, PHLster staff also curates and maintains an active presence on a large Facebook group called the "PHLster Concealment Workshop" which I briefly touched on in my original Enigma Express review. Anyone is welcome to post questions or concerns in this group and receive feedback not only from the staff but an active community of fellow Enigma users. It is worth mentioning that PHLster staff invests a lot of time and energy in keeping things running smoothly and keeping the group relevant. In addition to PHLster's own efforts, there are several social media accounts with followings that also spend time making guides and videos and dispensing advice to better others' experiences with the system. For example my friend and colleague here at GAT, the Suited Shootist, has plenty of material in optimizing concealment with formal or professional attire and the Enigma as it relates to men's fashion. Another Instagram account of note is called Armed and Styled run by Tessah Gabrielle. Her account gravitates around women's fashion and practical concealment implementing the Enigma system. In full disclosure, it should be noted that she is now currently part of PHLster's staff in spite of the fact that her content, presentational, and informational efforts began independently of PHLster. Accomplished competitive shooter, Julie Golob has also partnered with PHLster and is an enthusiastic Enigma user and evangelizer, especially as it pertains to women new to the concealed carry space.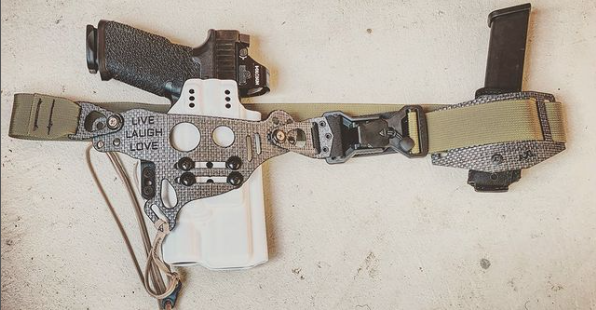 PHLster deserves credit for the work it does to further the body knowledge of firearms concealment as their information is pertinent to everyone, even those who are not their direct customers. PHLster especially deserves credit for not only implementing their own solutions off original the Runcible Works rigs but also bringing the Enigma to market in addition to attracting this new-to-carry customer base. By offering an alternative concealment solution, many of these new customers are arguably now empowered by being more pro-active about their personal safety while not having to sacrifice their comfort or sense of style.