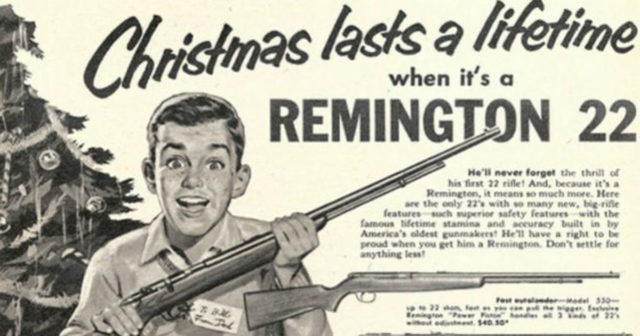 If you watch any Youtube gun channels, you're likely being hit with targeted advertisements from gun companies, right? I'm sure you are, and you've likely seen one of the worst. You know, the one where a gruff voice says something along the lines of "Some people say dogs are a man's best friend, but this bad boy is my best friend!" And he's holding a Glock. It's almost as if you can judge a company's products by its advertising. However, that's not entirely true.
The World Of Gun Advertisements
EAA has those very bizarre print ads where women are some odd form of cyborg and CZ clone. While the ads are odd, the EAA-imported Witness series are very nice firearms. Gun advertising itself is a bit of an interesting topic. It's been somewhat controversial over the years. This is especially true when gun companies are directly advertising to the average everyday Joe.
Advertising to police, military, and security has always been fairly straightforward. Advertising to the civilian firearm market has always been tricky. It's certainly not getting any better. Some companies have certainly leaned into their reputation, and Intrate, makers of the TEC-9, used to advertise it as having a fingerprint-resistant texture and that it's as tough as your toughest customer.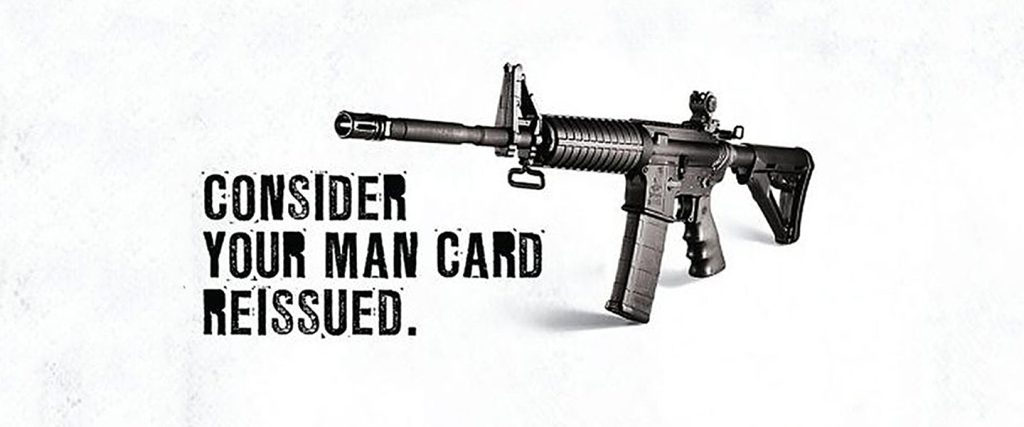 Sometimes firearms companies advertise in somewhat cringy ways. Bushmaster's famous "Consider your man card reissued" advertisements still make me sigh. Worse than that, the ad was part of the lawsuit filed by the families of Newtown. Remington settled for $73 million with the families. They claimed the ad targeted young, at-risk males. That seems a bit of a stretch but it still cost $73 million.
More recently, Daniel Defense came under fire for an ad they tweeted. It showed a Daniel Defense AR and a child with the phrase stating, "Train up a child in the way he should go, and when he is old, he will not depart from it." That attracted a ton of negative attention from the antigun folks. The media tried to somehow imply that such an ad would cause mass shootings.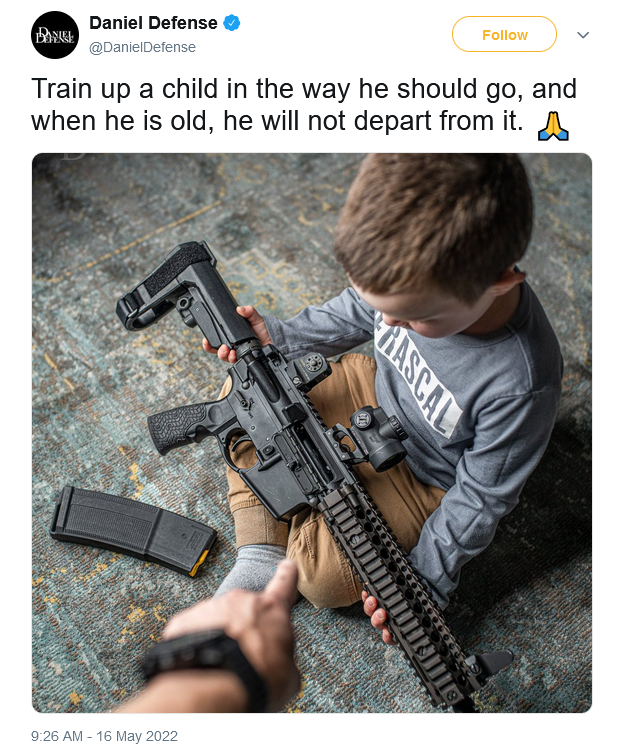 Another company, Wee 1 Tactical, produces a rifle called the JR-15. It's a very basic .22LR rifle that looks like an AR-15. It's no more an AR-15 than every other straight blowback .22LR rifle. However, the very idea of a safe, ergonomic platform to teach kids to shoot caused quite a bit of malarkey. Enough to attract the attention of Senators and Congressmen. There are calls to investigate Wee 1 Tactical by the FTC. It's absurd, but it's the world we are living in.
The Changing World of Gun Ads
I know a friend who works at Mossberg, and they recently changed some terminology to avoid the ire of the antigun, lawsuit-friendly crowd. The Newtown suit was a wake-up call to the industry. They've since changed the name of their youth model stocks to Bantam.
Firearms advertising seems to have become a field of land mines these days. It's easy to trip up and find yourself on the front page of CNN's website as they gleefully proclaim your work caused death in some odd way. I know people who say they aren't affected by advertising, they typically don't know what they are talking about. The reason so much is spent on advertising is simple, it works and we have a ton of data showing the how's and why's.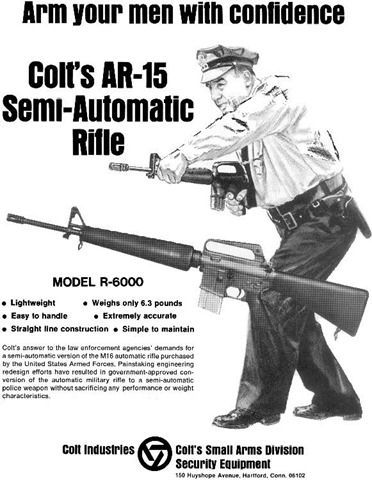 However, I highly doubt advertisements implying kids can be taught to shoot responsibly can cause a mass shooting. The same goes for the cringe ads. Sure, they are cringe, but they aren't going to cause a monstrous reaction.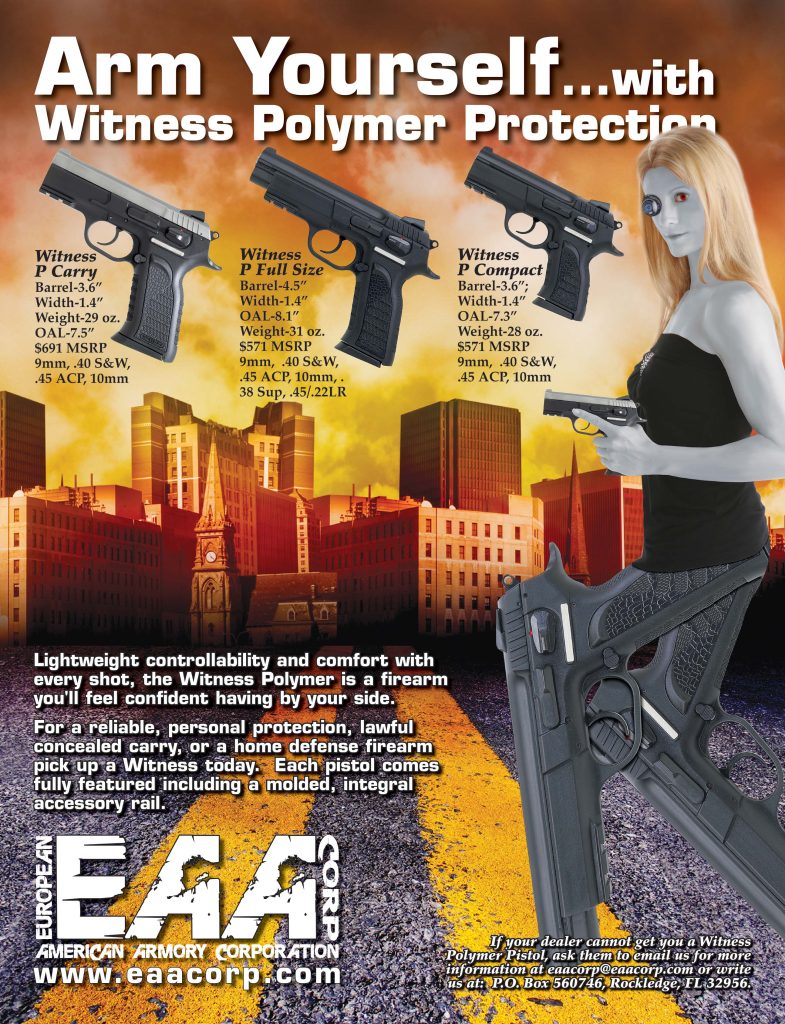 Trying to say they are is an absolute farce. The firearms industry as a whole is very dedicated to firearm safety. Enough so that the firearm industry actively shames unsafe firearm handling and the people that do it. Firearm advertisements are dog whistles to mass hooters. It's just the antigun industry finding a new way to fund itself. 
Note from the Editor: Efforts by antigun politicians and organizations are themselves advertisements. Advertising works by keeping a brand in the mind of the general population and building certain associations about it. Antigun politicos use a variety of techniques to try and broadly appeal the guns bad message, luckily for us they are often juvenile and imbecilic which tends to improve the credibility of progun messages and advertising.
Firearm ads have to walk a fine line in targeting the right customers, selling their features, and standing out. All the while being blackballed from anything but gun-related websites, magazines, and television networks. On top of that, they have to avoid being cringe and being the subject of a future litigious mob.
With that said, maybe EAA has something with the gunleg lady. It's so bizarre and absurd that maybe that's the way to go. Who dares call out the gun leg lady? Hell, we all remember it to this day, so maybe it's effective.