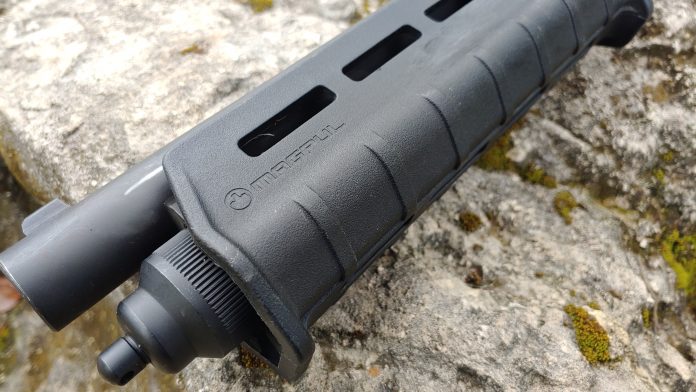 Why should shotguns be ignored when it comes to modular handguards and accessory attachments? We've seen M-LOK systems dominate the rifle market and luckily enough they've begun to slide into the shotgun market. For pump-action shotguns, the pump is one of the few places you can add accessories and still manage their controls. Modern options exist and there is no reason why you can't have an M-LOK Shotgun pump. In fact, we have three options for you to check out. 
Why an M-LOK Shotgun Pump?
Rails on a 12 gauge shotgun pump suck. The recoil generated by a 12 gauge shotgun and the way Picatinny rails dig into your hand is not a pleasant combination. An M-LOK shotgun pump allows for easy and comfortable manipulations and the ability to attach lights, lasers, kitchen sinks, and more to your gun. M-LOK options are lighter weight, slimmer, and overall just better for shotguns. 
So who makes the best M-LOK shotgun pump? Well, I'll give you the best, as well the most lightweight, and most modular. Now keep in mind these three designs are only available for the Remington 870 and Mossberg 500/590. These two platforms own the market, and that's why most options are limited to the Remington and Mossberg guns.
The Best Overall – The Magpul SGA Pump 
The Magpul SGA was the first M-LOK shotgun pump to hit the market. Magpul is always an innovator, and the SGA series has become the standard for professional-grade shotguns. Both Remington and Mossberg produce Magpul variants of their shotguns, and it's easy to see why.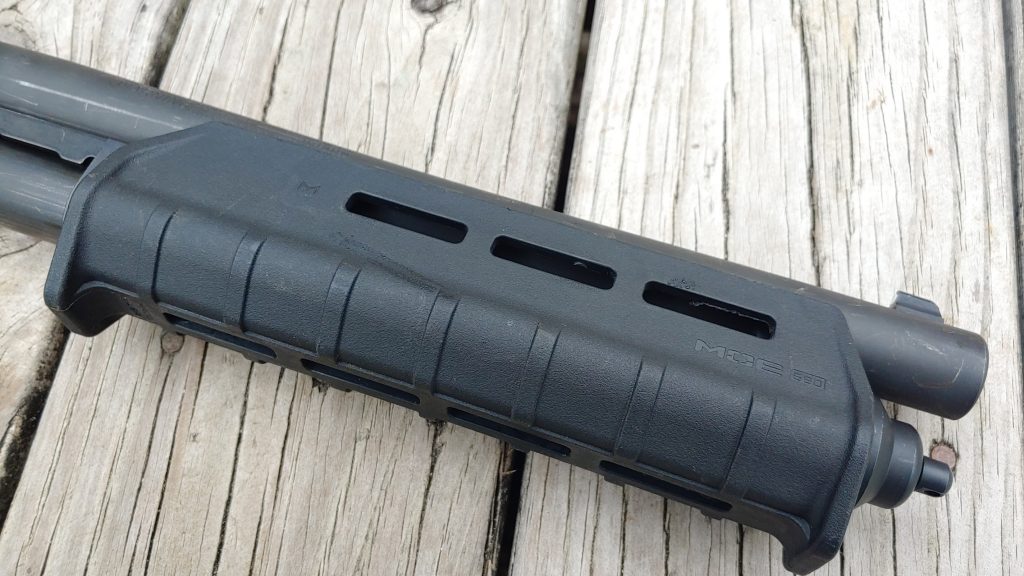 The Magpul SGA isn't just some slots dug into a standard shotgun pump. Magpul did an excellent job of designing the pump and making it very ergonomic. Most shotgun pumps are round, but the SGA is more squared off, with only a bit of roundness to it at the bottom. The pump is streamlined and nearly snag proof. The bottom is textured with a series of ribs that allow for a sure grip, and this makes it easy to manipulate the pump.
The sides and bottom of the pump have numerous M-LOK slots for accessories, and the slots are placed for easy reach and to accommodate various shooter sizes. Speaking of, Magpul wisely made their M-LOK shotgun pump longer than most. The rear area is extended, and this allows smaller shooters to have more control over their guns, but it doesn't extend far enough to interrupt side saddles.
The front and rear of the pump also have built-in handguards that keep your hand from slipping off in either direction. As usual, Magpul did it right, and like the P-MAG, the SGA pump is becoming a standard issue item with manufacturers. 
What I Like 
Longer Design
Provides a very stable grip
Affordable
Proven
The Lightest Weight Design – The Ergo M-LOK Pump 
Ergo is mostly known for their grips, but they've been expanding a good bit into other realms. Their stocks are sweet, and their grips are great, but their advancements in shotguns are what I'm looking at today. They make sweet adapters and a kick-ass M-LOK shotgun pump. This aluminum shotgun pump is also a minimalist design, and I do like to keep my shotguns streamlined and my pumps as small as necessary.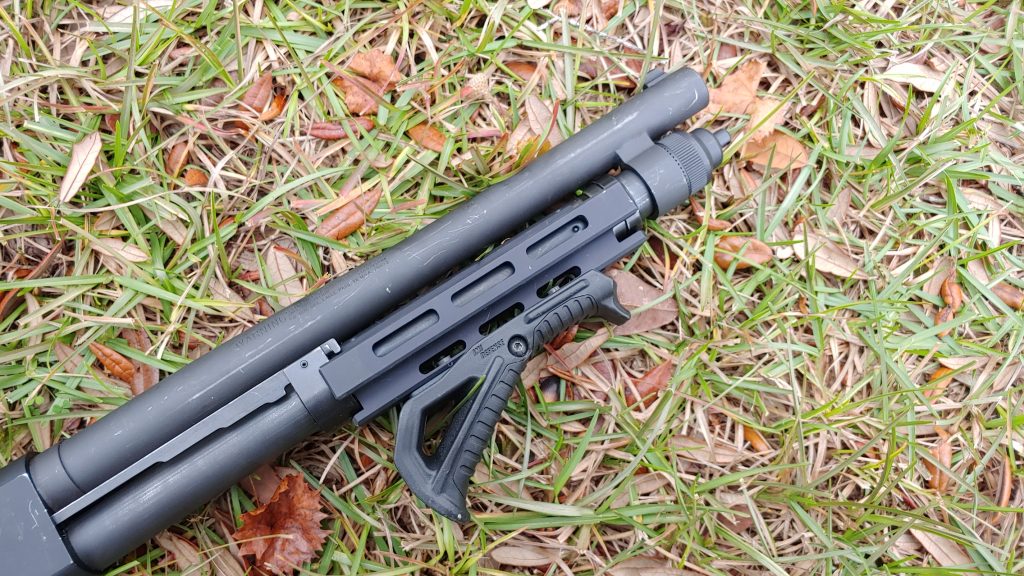 The Ergo M-LOK pump is damn near best described as svelte and is the perfect option for those looking to keep the weight low on their scattergun. This option works with both Remington and Mossberg shotguns, and for Mossberg, they have both full-sized and SBS options. The Ergo M-LOK pump is the lightest M-LOK shotgun pump of the three on this list. 
It offers slots on the bottom, left, and right sides of the pump and gives you four in each location on the full size and three for the SBS variant. The layout is three rectangular outlets that come together as one pump. It doesn't look comfortable, but it is. You can grip and control the pump with ease. The Ergo M-LOK pump offers zero extra room and keeps to the minimalist design philosophy. 
What I Like 
Superbly lightweight
Minimalist design
Aluminum Construction 
The Most Modular – Strike Industries VOA Handguard
Strike Industries is my latest M-LOK Shotgun pump and is a smart mixture of the Magpul and Ergo options. If you want aluminum construction on top of a longer length pump, then the VOA handguard has you covered. The VOA is 8.9 inches long and gives extra rearward length for shorter shooters.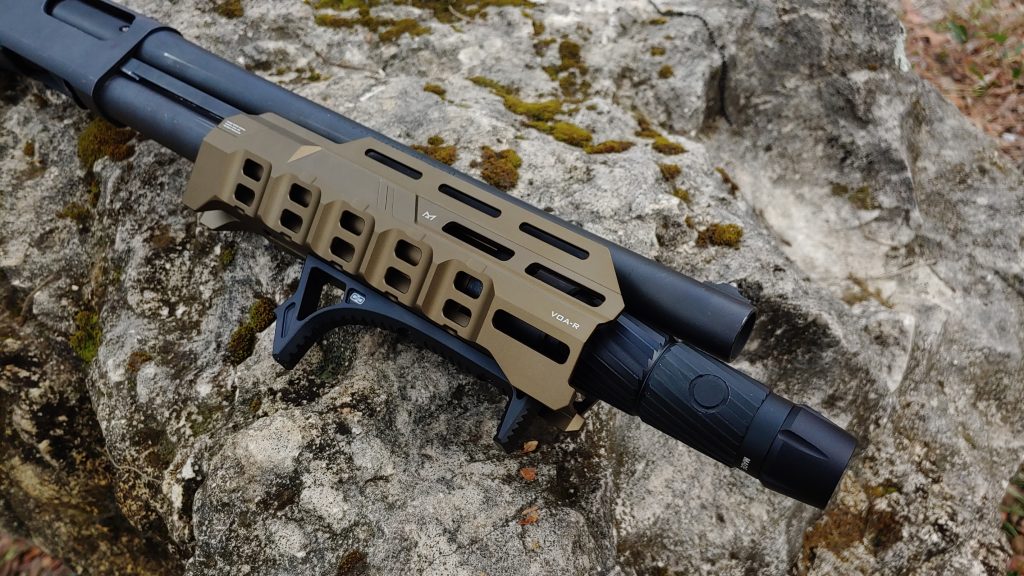 The VOA pump also pushes forward a bit and places an M-LOK slot as far forward as possible. Mounting a light here would make a lot of sense to help in eliminating barrel shadow, or at least reducing it. The VOA offers the most M-LOK slots, ten total options for accessories of all kinds. The VOA pump is very aggressively textured on the sides with peaks and valleys for finger placement.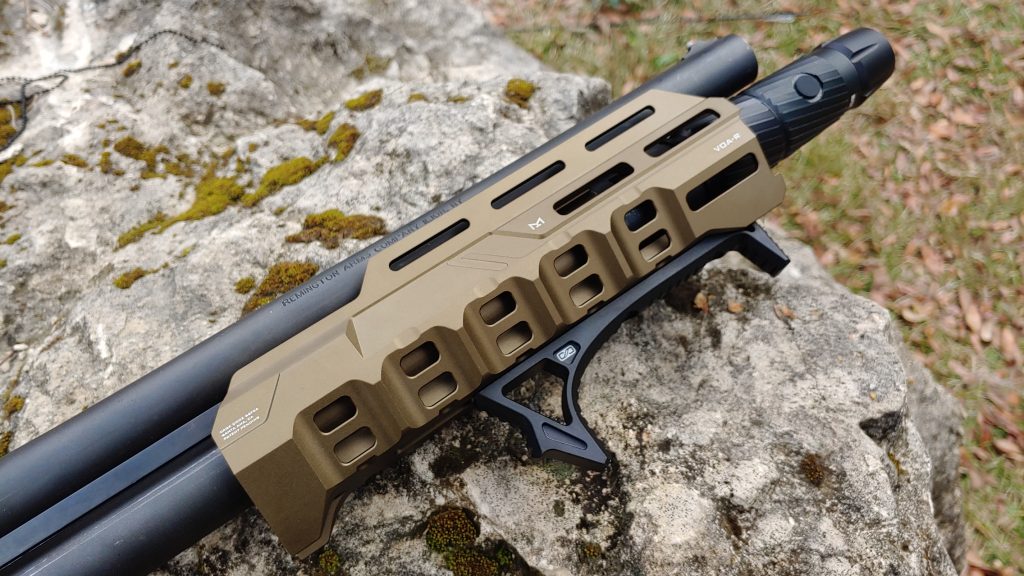 The rear of the pump also has a handguard to keep your hand in place when aggressive manipulations come into play. The VOA is surprisingly light and ergonomic for its length. It combines aluminum design with a long pump action to accommodate shooters of all sizes and plenty of slots for M-LOK attachments. 
What I Like 
Aggressive ergonomics for enhanced control
Tons of M-LOK slots
Longer length accommodates more shooters 
Shotguns Rule
M-LOK belongs on everything, and that includes shotguns. Modern guns require modern solutions, and the pump is the best place to mount accessories. The best way to mount accessories is M-LOK and outfitting your shotgun with an M-LOK shotgun pump is the future. Don't get left behind.