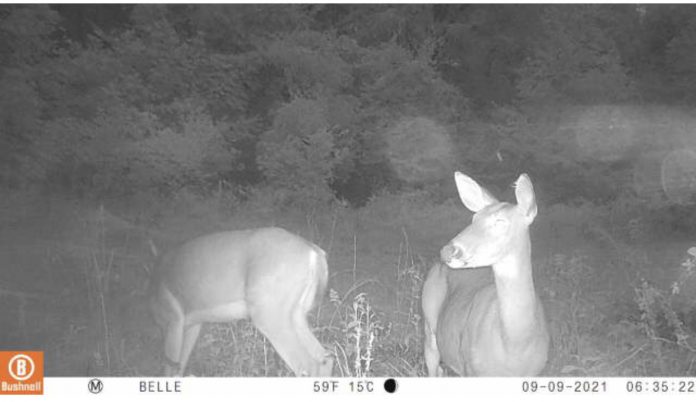 I have put in more deer season prep this year than I ever have in the six or so years I've been trying to learn to hunt this property. I sure hope this pays off, because doing every single bit of it myself as a novice can feel a bit overwhelming at times.
I mentioned in Part 1 the various things I was "planning" to do. Now I'm going to tell you about the execution of the plan, and additional items and issues I added to the list.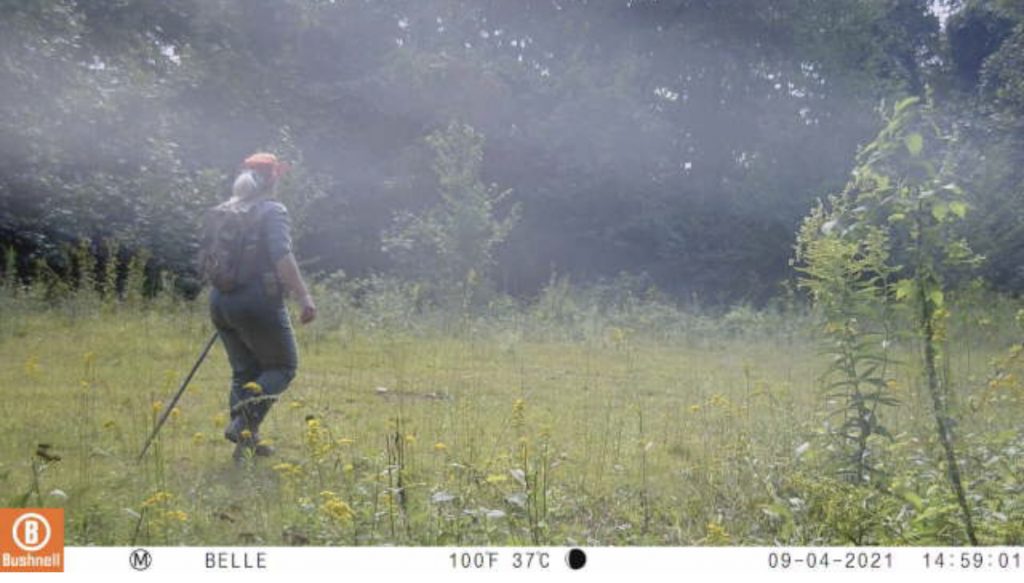 Blind
I did get the blind up several weeks ago and got my two additional new cell-cams positioned in areas that are adjacent to where my blind is. My idea was to watch what was happening "around" the blind in addition to what was right in front of it.
I installed the roof poles in the blind that I had forgotten the previous trip and added a couple more guy lines for stability. Snow can happen up there in October, so I don't want the thing collapsing before I can even use it. I also dragged along a few large pieces of cardboard to use as a "floor". I didn't want leaves and sticks crunching under my feet as I shifted position. At least I "think" this is a good idea – we shall see.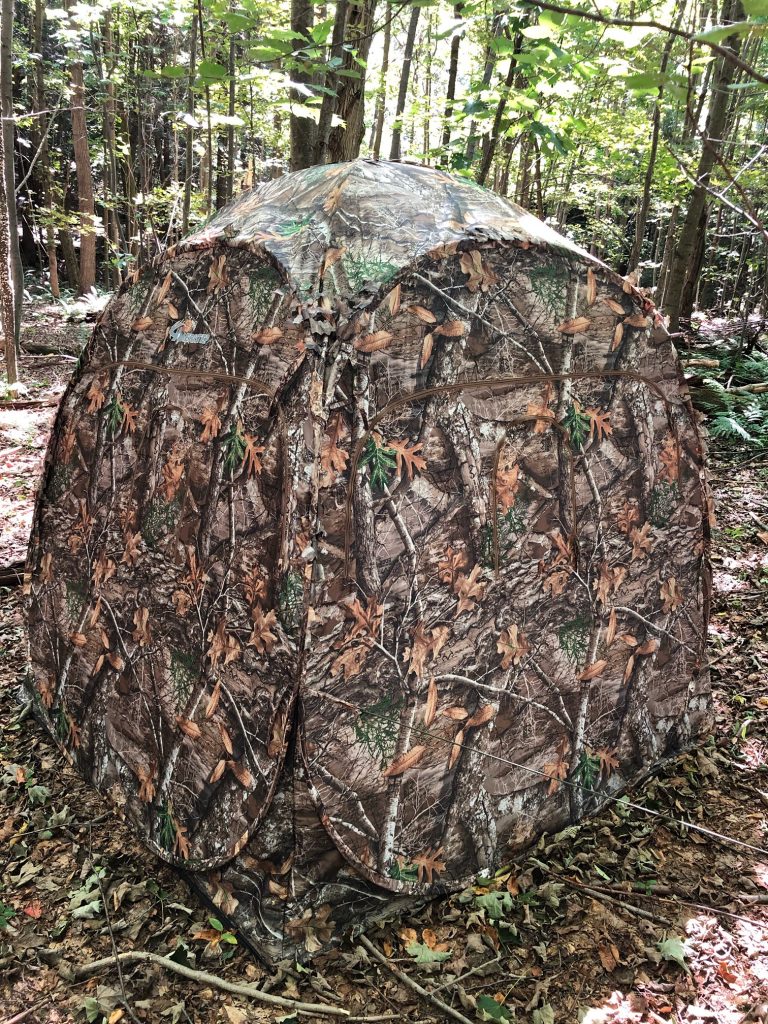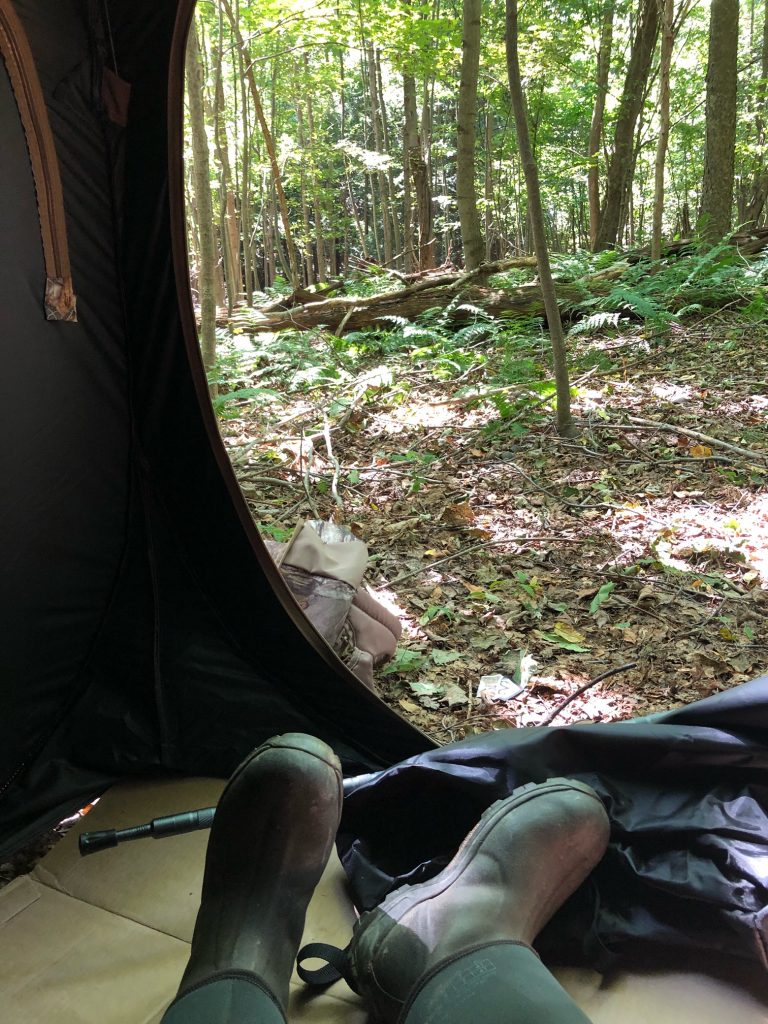 Stool/Lounger
Ok, don't laugh, but instead of my usual uncomfortable three legged stool for my bind, this year I bought a camp cot.
It's really more of a lounger, because the head end can be adjusted upward. I saw it online and thought it might be perfect for my needs – low enough that my head doesn't scrape the ceiling of the blind, wide enough that I can change my position periodically so my butt doesn't fall asleep, and with a back/headrest so I could even take a lil nap when I get bored. I'll let you know what I think in real life after the season starts.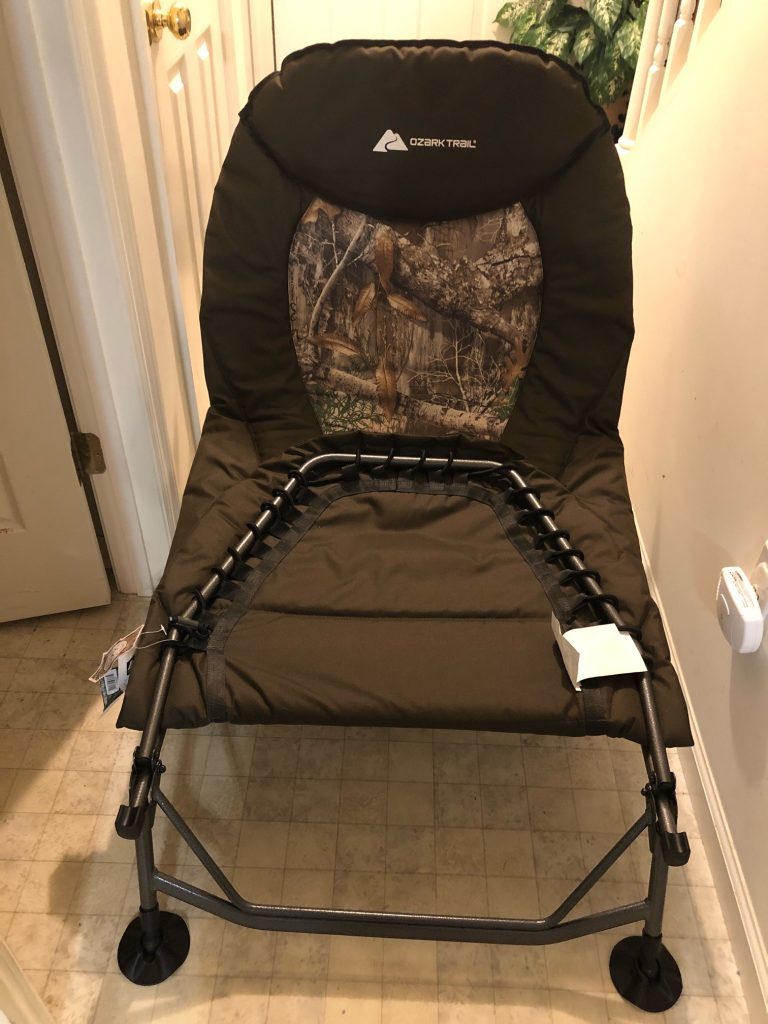 Sled
On the advice of a brilliant friend I purchased a molded plastic "sled" of sorts to use to help me drag my (hopeful) success to the car. It's really more for ice fishing, but the less friction on the drag the better as far as I am concerned, especially since I'd be going uphill to the car. Additionally, since I have a Subaru Forester – not a pick-up – any carcass is going to have to go "in" the car. The sled should help contain any leaking fluids during transport.
CWD Area
As if I weren't putting in enough effort already, I also found out that the property is now in a Chronic Wasting Disease area of the state. In an effort to control the spread, the Game Commission places even stricter rules in place in the areas that they are monitoring for disease.
-Urine lures of any kind are prohibited and illegal to possess in the field. So any mock scrapes I wanted to make could only have my "own" urine in them. *sigh*
-Feeding anytime of year is prohibited. So that corn I wanted to put out before the thirty day limit was a no-go as well. *sigh*
-No transporting a whole deer carcass out of the area either. The neural tissues- like brain and spinal cord – have to stay within the boundaries of the control area. That means that I can't take any deer carcass home to process. That further meant that I needed to find a local approved processor to do it for me in case I had a successful hunt.
I did finally find a candidate and called them to be sure of procedures. They do offer an after-hours drop-off cooler, so that helps mitigate the PIA of having to drive an hour south to drop off my deer. At least it's more or less on the way home.
I should probably write up an entire article on CWD since there was so much reading I had to do.
Lodging
Then, since the property is a five-hour round-trip from home, it's exhausting and not long-term feasible to just make Saturday day trips to hunt. That means I needed not only time off work for long-weekends, but also a place to stay.
I've stayed various places up there before including an historic B&B, an old railroad hotel, and a modern chain hotel. But this time I'm trying an Airbnb efficiency room about ten miles from the property. I'm thinking that a single room with an outside entrance should help with the muddy boots and wet gear issue. Not something I want to inflict on an historic B&B with antique carpets.
Barriers
All of these issues just serve to illustrate some of the problems with trying to get new hunters into the field. I am a female, hunting alone, pushing age 60. I at least have the financial resources to tackle some of these complications and am bull-headed (I mean motivated) enough to try to not let these barriers deter me. But even for me it takes months of planning and $$$ of spending. Thus it's not a surprise that other younger people often decide that all of this is just too damn much trouble. But I'm keeping my head down and keep on plowing forward toward a hopeful goal.
I'll continue to keep you posted.