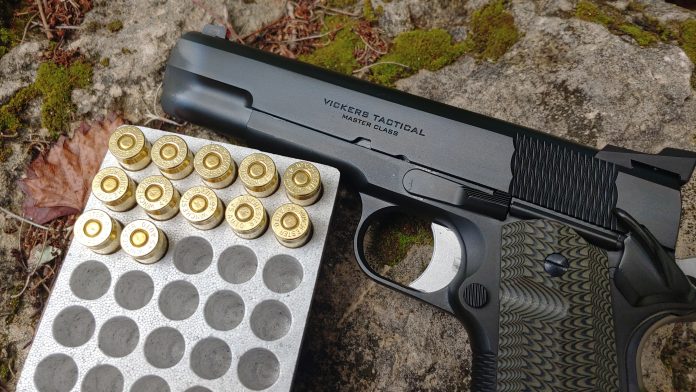 Larry Vickers is likely more of a badass than the next 1,000 people to read this article. His career in the Army is one that's hard to replicate. He was a Green Beret, and later a Delta Operator, and now a tactical firearms instructor and small arms subject matter expert. The guy is also a huge 1911 fan and recently teamed up to make a new Lipsey's exclusive in partnership with Springfield Armory and Wilson Combat. The result is the Vickers Tactical Master Class 1911.
This gun mixes a lot of new with a lot of old. The Vicker Tactical Master Class 1911 has a lot of classic cool to it. The weapon is a 45 ACP design with a 5-inch barrel, and a GI recoil system.
Pretty classic so far. The Vickers 1911 does nothing crazy that would make it a gamer gun. No massive magwells, no charging handles, no ports, or compensators. Nope, none of that, instead, we have a well built, combat-focused 1911 that focuses on making the gun more intuitive and practical.
Inside the Vickers Tactical Master Class 1911
The gun is built on a forged frame and slide for increased durability and the avoidance of all that cast mess. The rear sight is a Vickers Elite Battle Sight that's blacked out and serrated for glare reduction.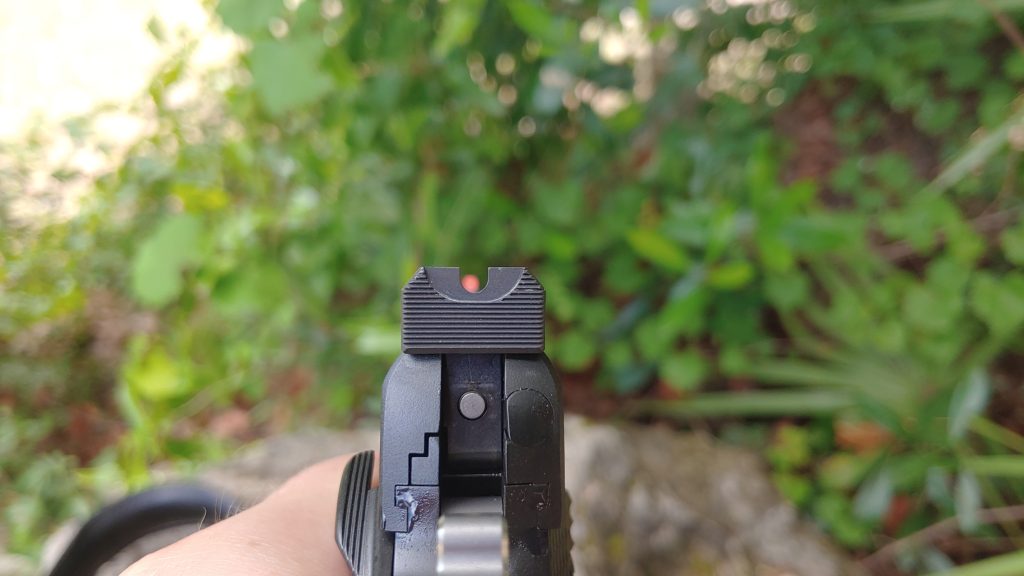 It sits nice and high and is easy for the eyes to find. The front sight is a day and night sight with an orange luminescent insert and a tritium vial. The front sight is relatively small but still eye-catching.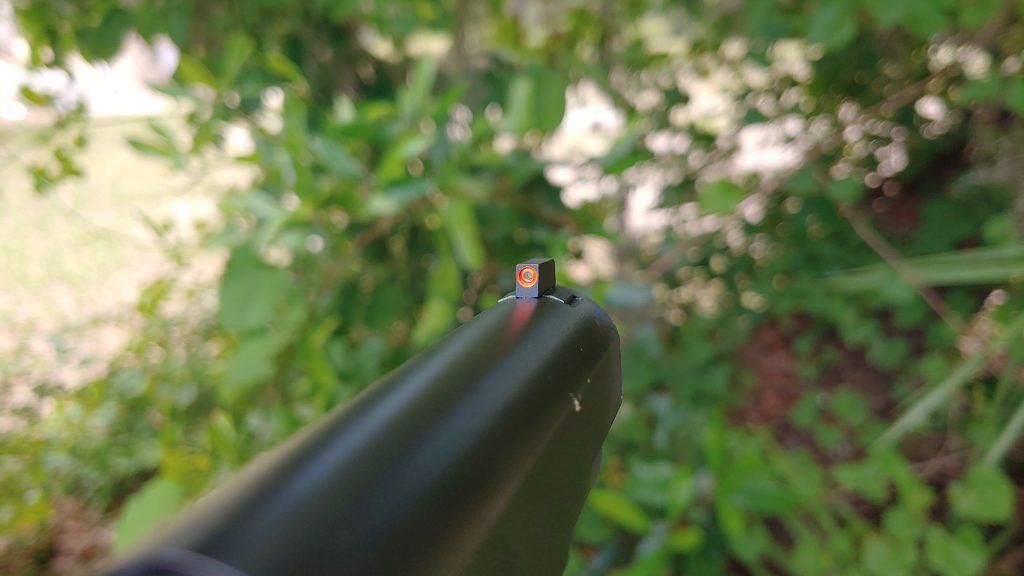 The Master Class also features woven slide serrations that are aggressive to the fingers, but not to the body when carried IWB. The slide houses a match grade stainless steel 5-inch barrel that looks rather nice if looks matter. The slide also has the unique Vickers Tactical Master Class Logo that's subtle and far from a Taurus style billboard.
The frame is fitted with aggressive G10 grips that are labeled with the LAV logo. The front and backstrap are also textured rather aggressively. The whole gun gives you a lot to hold onto. The trigger is a match grade medium length design. The hammer is a Wilson Combat design; it's a Commander hammer that's small and unobtrusive. The safety is also a Wilson Combat single side design.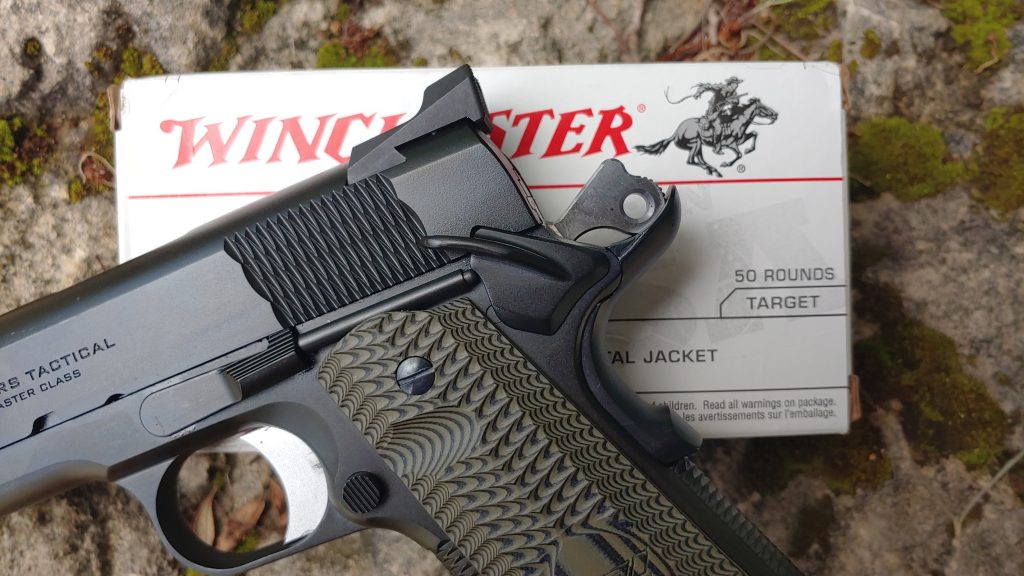 Lastly, the magazines are from Wilson Combat and are outfitted with Vickers Tactical baseplates. These baseplates offer you the ability to grip and rip the magazine out of the gun and are made of metal. They give the magazine a good level of protection for reload after reload.
How it Comes Together
The Vickers Tactical Master Class aims at being a combat component 1911 that pairs excellent ergonomics with a reliable weapon. The Master Class is a simple weapon, but a very competent one.
The trigger is outstanding, better than your average 1911 by far, but also isn't a hair-trigger by any means. The pull is smooth and light with an excellent reset.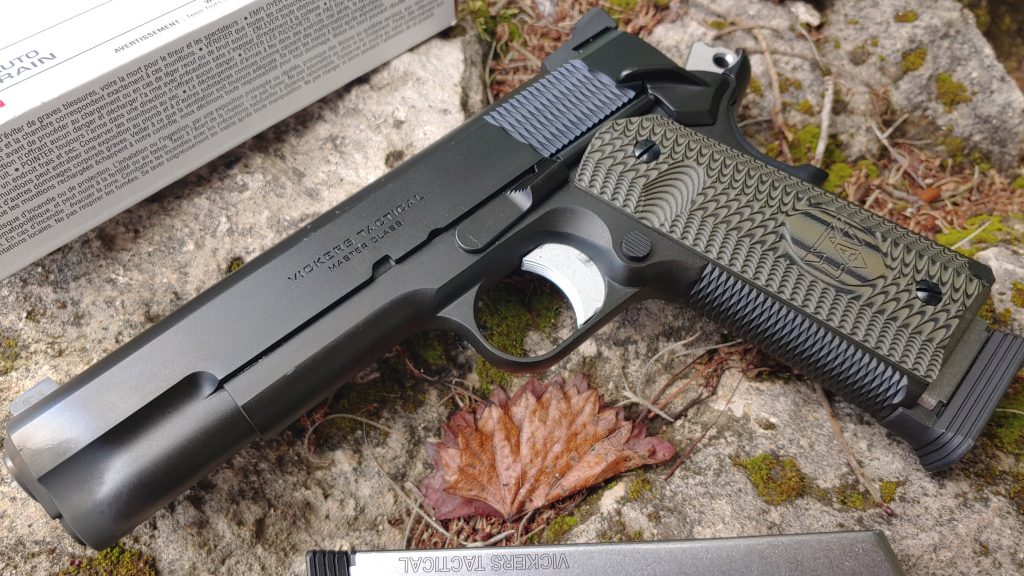 The sights are also very precise and eye-catching. At 50 yards, the front sight makes it easy to see your target while aiming at it. The smooth trigger and match-grade barrel help the system come together to form a very precise weapon. The accuracy can't be ignored, and if you do your part, you'll hit those targets at 50 yards. My smallest target was a ten-inch rifle gong, and I hit way more than I missed.
Hitting a man-sized target at 50 yards in the vital areas is a cakewalk. Moving up close and getting in bad breath range is a more frequent application, and it shines there as well. The Master Class has a very aggressive grip texture that allows for a tight grip to maximize control. The gun also has that extended beavertail for a high grip.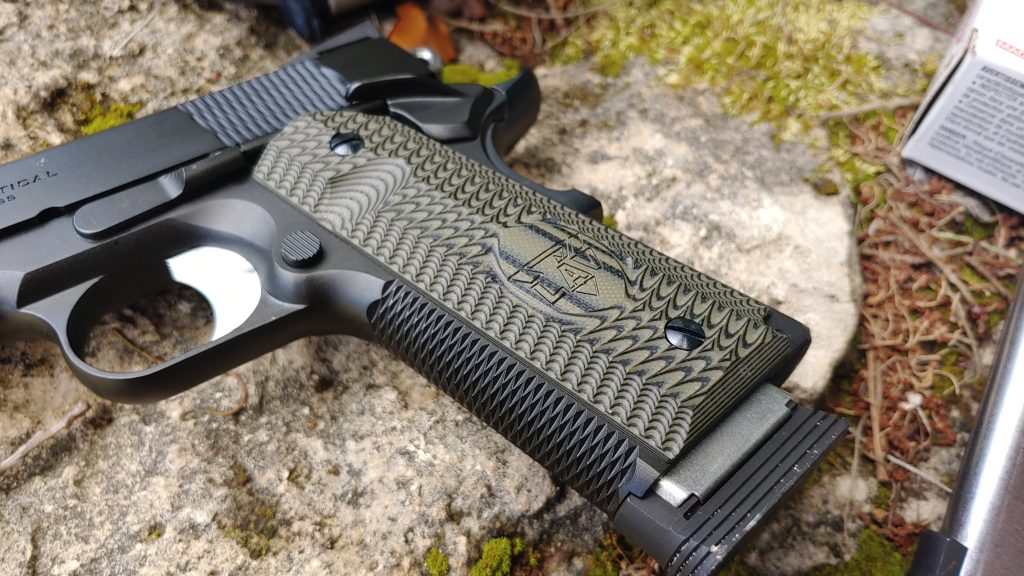 The combination makes the weapon controllable and easy to keep your hands on when firing rapidly, with a single hand, or from close retention. Add in the rather soft push of the 45 ACP against the 40 plus ounces of forged steel 1911, and you get something that is very controllable in close quarters.
Up Close and Personal
I took a range backpack full of magazines and ammo to range to run the gun through the ringer. Recoil and muzzle rise is minimal, and the gun drills those fat 45 ACP pills into the target. This makes the gun quite easy, especially when exercising controlled pairs, or hammer pairs. The Master Class is a smooth and peasant shooter, and against the clock, it does quite well, to me anyway.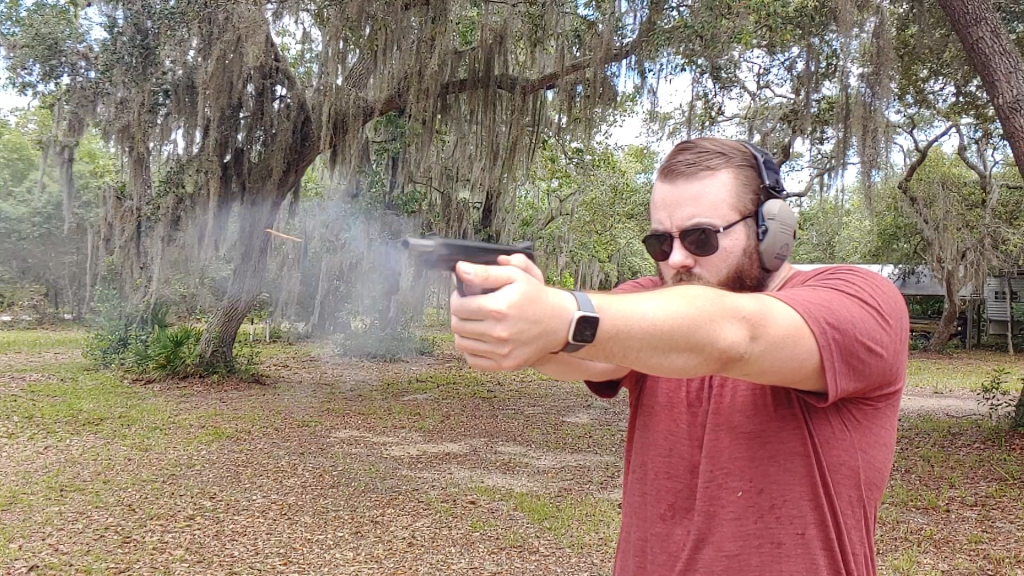 Failure to stop drills were doable in under three seconds, and I got a superbly fast box drill in 3.5 seconds. This was from concealment and utilizing a Crossbreed ST2 Hybrid IWB rig. Full-sized guns are great in general because of this, and admittedly the 1911 does offer you a thin package for a concealed carrier. Thin and heavy cause this is a dense lady.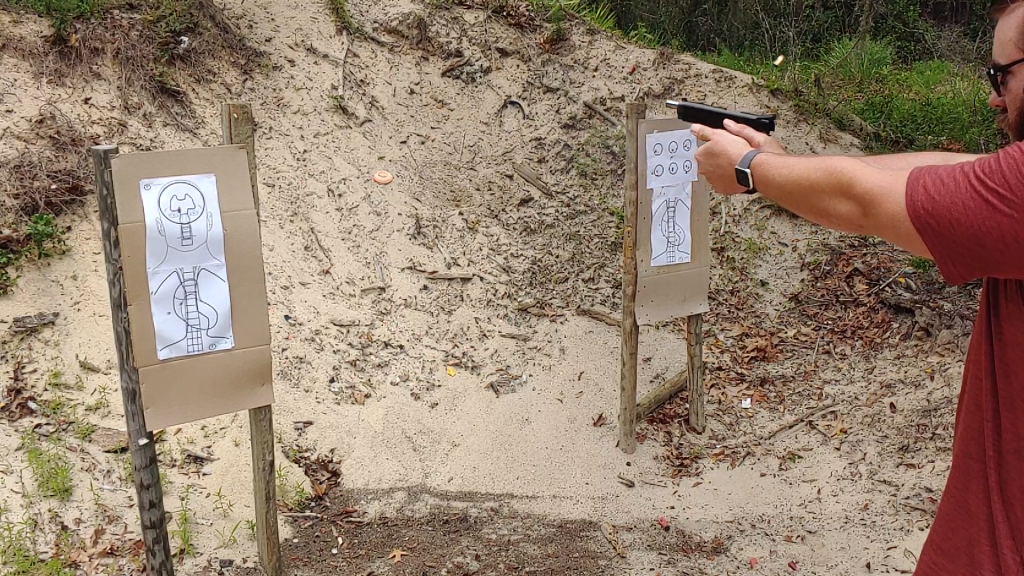 Reliability is also not an issue. The Jamteen eleven meme does have its basis in reality, but the Vickers Tactical Master Class doesn't fall into that trap. It runs, isn't picky, and it isn't a prom queen that needs to be cleaned all the time.
The MSRP is around $1,500 bucks, and for a semi-custom 1911, that's very affordable. I initially assumed it would be in that 2k range, but with an MSRP of $1,500, that means we'll likely see it priced a good bit below that.
The Vickers Tactical Master Class lives up to both the Vickers Tactical reputation and the Master Class name. They should be shipping as you read this, so if tickles your fancy tickle it back.