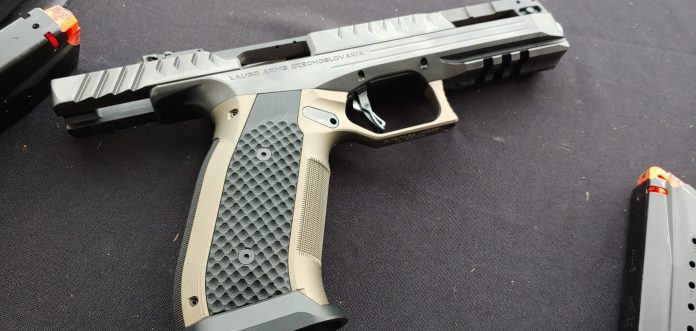 As I sit drinking my local craft beers and wearing my Dixxon Flannel I reflect on the fact that I'm a gun hipster. A tactical hipster if you will. That leads me to love CZ's firearms and similar designs. The Laugo Alien (a gun that's at least as Sci-Fi looking at the Kriss Vector) isn't a CZ, but it reminds me of CZs through and through. It as a very low bore axis, in fact, it's a crazy low bore axis. The bore axis is basically in line with your wrist.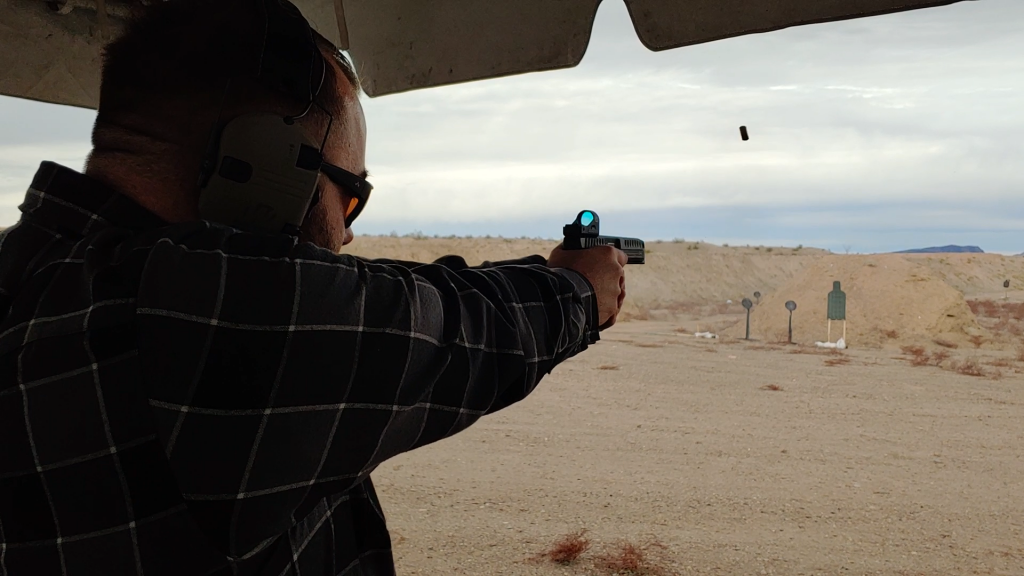 Bore axis is one of those things that most people don't understand. It takes a very low bore axis to achieve any kind of recoil and muzzle rise reduction. The Laugo Alien is one of the few pistols where the bore axis is low enough to make a difference. When you take such a low bore axis and combine it with a caliber like 9mm you have what could be considered one of the easiest shooting guns ever made.
The recoil and muzzle rise reducing effects don't stop there. In fact, the muzzle rise and recoil are also mitigated by the gas-operated recoil system. Much Line Hans Gruber's famed HK P7 this gun has a gas piston that retards recoil and makes the gun extremely soft shooting. Add in the weight of a metal frame and slide and you have a gun that barely moves between shots.
From Out of This World
The Laugo Alien isn't exactly new, but it's new to the US. Lancer, the company that makes my favorite AR magazines, will be the US distributor. The gun will be hitting the shelves soon and it does pack a ton of features into a very modern pistol.
The upper portion of the slide can be swapped to accommodate an MRDS upper slide or a slide with a section of 1913 Picatinny rail. This allows for a level of modularity we haven't seen with handguns before it.
The Laugo Alien proved to be one of the most controllable, easy handling guns I've ever fired. It makes a 9mm feel like a 22 Magnum. The gun hardly moves round after round. It's most evident when you have a miniature red dot attached to the gun. You hardly see that little dot move.
The Laugo Alien – Premium Grade Guns
Holy crap, everything about this gun exudes quality. I wish I could put more rounds downrange at range day. The gun doesn't just barely move, but the ergonomics are spot on. The Laugo Alien handles like a champ. It feels like a high-end premium-grade gun because it is.
The trigger is absolutely outstanding. The trigger took me by surprise when firing my first shot and I was blown away. This thing is absolutely brilliant. The grip is comfortable, the recoil is nil and the trigger is brilliant. Don't consider this a full review, but if you asked what I thought about this gun I'd have nothing but positives so far. Hopefully, we can review a Laugo Alien soon and have a full range report.