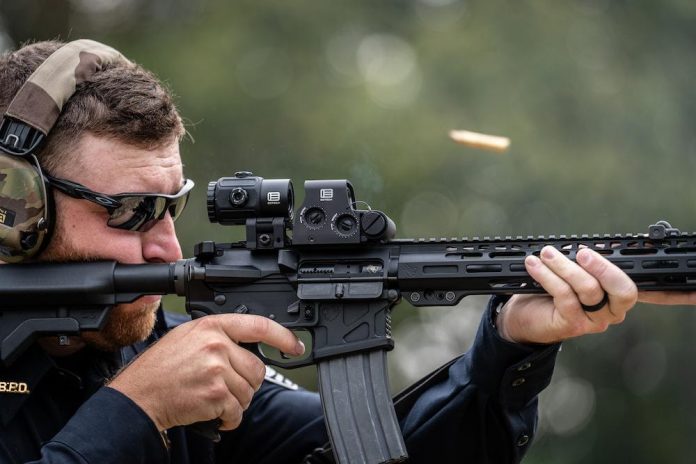 Despite a certain firearm authority highly disliking the EOTech HWS, they continue to be one of the most popular top end optics in the reflex type. The laser diode powered emitters continue produce the cleanest and most distortion free aiming point available from modern dot optics. Of the two, LED and laser, lasers are the more power hungry but virtually eliminate the parallax and allow for a very fine aiming point. They continue to be a preferred sight in the SOPMOD kit and top many an M4A1 and MK18.
Growing Demand Sparks EOTECH® Move, New Manufacturing Facilities and Headquarters
Plymouth, MI (December 15, 2021) – Firearm Owners love EOTECH's battle-proven optics for the military, police, and consumers. And as a testament to its popularity, the Michigan-based optics manufacturer needed more space to keep pace with increased demand and an ever-growing product line. 
EOTECH's hunt for new locations led them to Traverse City and Plymouth. Ideally situated within Michigan's regional technology and manufacturing hub, both cities offer a talented labor pool and enhanced supplier access. "The choice to move was clear. Both Traverse City and Plymouth welcomed EOTECH with open arms," said Dean Loebig, EOTECH Chief Technical & Operations Officer. "Offering an economic development incentive proved these cities wanted our business, plus it's a strategic place to base our operations." 
Late Summer, EOTECH's new manufacturing facility was up and running at 2207 Traverse Field Road in Traverse City, MI. It features a state of the art 22,000 square foot building. The new headquarters, an impressive 67,000 square foot building located at 46900 Port St. Plymouth, MI, will be fully operational by the fourth quarter of 2021.