By Dave Bahde
---
CZ USA puts a strong focus on suppressor-ready pistols for 2016, and they don't dissapoint!
Demand for suppressor-capable pistols continues to rise. Once a novelty limited to rimfire pistols, they are becoming almost prolific. Threaded barrels have always been available for some centerfire pistols, but factory options were rare. Along with several aftermarket barrel options, several companies now offer suppressor capable versions of their most popular models. As suppressors in general gain overall popularity, the pistol versions are gaining some serious steam. Coupled with many new ARs or similar MSRs chambered in pistol calibers, it is a cost effective way to learn just how much fun they can be. New multi-caliber suppressor designs allow use on numerous weapons of various calibers. Made from light weight materials built to last a lifetime, they are simple to use, easy to clean, and reduce recoil, flash and muzzle blast. One of the newest pistols introduced for suppressor use is the CZ P-01 Omega in Urban Grey.
CZ 75 P-01 (Omega)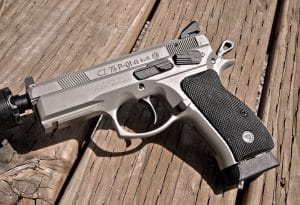 One of the most popular pistols world wide, the CZ P-01 has a strong following. Many foreign police agencies issue them as duty sidearms. Following extensive testing it has been chosen to replace the CZ 7s in use by the Czech National Police. The P-01 is a compact aluminum–framed, 9mm pistol capable of excellent accuracy, high capacity and extreme reliability. Equipped with the new Omega trigger system, it can be switched from de-cocker to safety operation like the P-07 and P-09 pistols. The Omega system allows for easy assembly without tools, while new materials enhance durability and operational life. The result is a very capable pistol that is easy to maintain in the field and configure as needed.
New to the line is the Urban Grey Suppressor ready model with a threaded barrel, high suppressor sights and a color that is a mixture of gray and Flat Dark Earth. Taller sights allow you to aim properly over an attached suppressor. Tritium dots facilitate use in low and failing light. The aluminum frame includes a light rail, ergonomic rubber grips and grooves on the front and back straps. An extended beavertail provides recoil control and a comfortable grip. Magazines are double-stack holding 16 rounds, and include an oversized plastic pad.
The safety lever is ambidextrous and easy to access. An extended slide stop sits on the left side. Magazines are released with an oversized, mildly checkered and reversible thumb release. An oversized trigger guard facilitates gloved hands and includes checkering on the front. This pistol was shipped in DA/SA decocker mode, but can be quickly reconfigured to a single-action-only pistol with manual safety.
A cold-hammer-forged, 4.50-inch barrel is threaded 1/2" x 28 TPI and the muzzle is protected with a metal cap. It sits in a steel slide that has cocking serrations at the front and back. Groves are cut into the flat-top slide to deal with glare. Suppressor sights are tall and include tritium dots and a no snag rear design. The entire pistol is coated in Urban Grey that looks more brown than grey. It is shipped in a hard case with two magazines.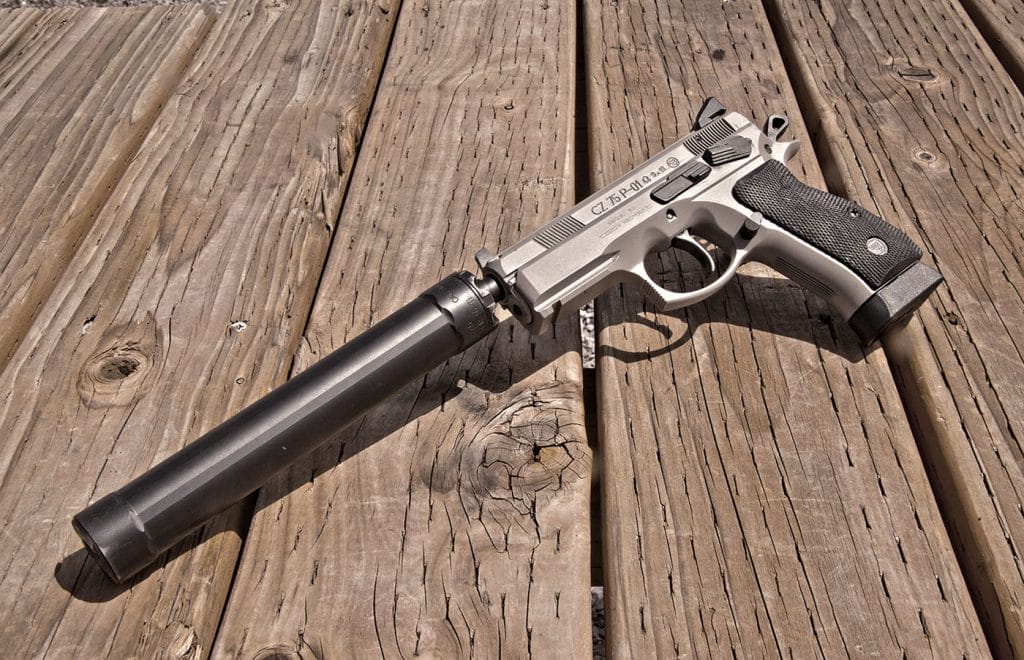 Suppressors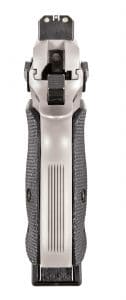 Two different suppressors were used for testing. SureFire's latest SF-Ryder Ti9 is compact and light weight (www.surefire.com). Designed for use on 9mm pistols it does not use a recoil booster. Most pistol suppressors reduce recoil to the point they will not cycle. SureFire uses a modified baffle design that creates enough back pressure for proper operation. This suppressor has been tested on several models and has cycled them all. Baffles are stainless steel, while the tube is titanium. Since it is designed for use with rimfire pistols as well it can be disassembled for cleaning.
Liberty Suppressor's Cosmic (www.libertycans.com) is a modular design using a monolithic core and titanium cover. Designed for use on everything from 9mm to 458 Socom, it is very strong yet very light. Liberty uses different end attachment pieces for use on any number of firearms. For pistols they have recoil boosters available for various calibers and threads. Testing was all completed using their 9mm recoil booster with the 1/2" x 28 TPI threads. It can also be disassembled for easy cleaning.
On the Range
Most centerfire pistols are not designed for suppressor use. As a simple blowback design there are only two places for unburned powder to go: out the muzzle and the breach. Just like rifles, much is dependent on the ammunition and barrel length. Low-flash powders that burn clean often have less back splash. Longer barrels will have less, and suppressors with less back pressure will also send less debris back at the shooter. It is imperative you use eye protection when shooting pistols in general, but more so with suppressed pistols. Both of these suppressors sent noticeable debris into my face. Mostly annoying, it was less noticeable during practical strings of fire. Given the larger bore diameter of the Cosmic, it sent a bit less back at me. All of the self defense ammunition was noticeably cleaner then the practice loads.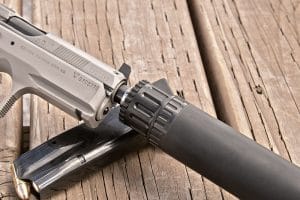 During the course of several hundred rounds, the P-01 functioned perfectly with every load and both suppressors. The slide locked back after the last round with all ammunition tested, including the 115-grain loads, and even some of my hand loads. Loaded just hot enough to lock my personal pistols open, it is very soft shooting yet still worked with both suppressors. Removing the suppressors did nothing to compromise the reliability of the P-01 pistol. One of the few NATO pistols to do well during military trials, it produced a failure rate of 7 in 15,000 rounds. Its one of the reasons CZ pistols are amongst the most popular world wide for IPSC and IDPA competitions. This example was no exception, and it worked without fail during the entirety of the testing.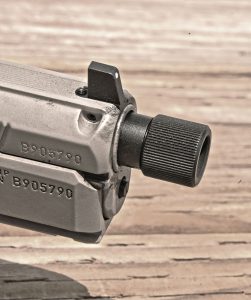 All of the testing was completed with the pistol in single-action mode. While the P-01 Omega can be configured as a DA/SA with de-cocker, it also can be safely "de-cocked" using the trigger to thumb-down the hammer. Not something most shooters in this country are all that comfortable with, it is common elsewhere. Since my preferred carry mode is "cocked and locked," and the P-01 is capable of safe carry in this manner, it was used that way. The trigger is crisp, with an average pull weight right at four pounds, with moderate take-up and no over-travel. Trigger reset measured just over 1/4 inch. Once I got used to it, follow-up shots were pretty quick. My first IPSC pistol was a CZ, so it is not something unfamiliar. Their single-action triggers are excellent, and the P-01 offers one of the best on a DA/SA pistol.
Accuracy was very solid, producing its best group using the Sig Sauer 124-grain Elite Performance, which measured just under two inches. Testing was done without the suppressor, with a couple suppressed groups to follow. Since each suppressor has a different weight, balance point, and recoil impulse, it is more consistent unsuppressed. Unlike a rifle, where suppression almost always makes shooters more accurate, that has not been my experience with pistols. While recoil is reduced, muzzle "flip" can be increased. For the most part, my groups were better without a suppressor mounted, although a couple improved. Most everything printed between 1.75 and 2.5 inches using a sandbag rest. Even 10-round groups from this position were under three inches at 25 yards.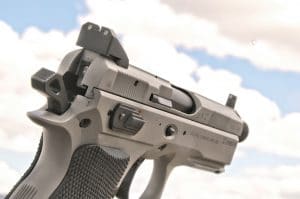 Moving around the square range, the P-01 remained accurate and easy to shoot. From 15 yards it put 10+ rounds into 4 inches or less off hand, with most in the 2-inch range. Magazine changes were easy, and it was possible for me to run the P-01 just like my 1911 pistols using the slide stop as a release. Putting on the plate carrier and Haley Strategic D3 chest, rig the P-01 worked well as a secondary firearm. Running the PWS MK107 for transitions, the P-01 kept everything inside four inches at 10 yards. Safety manipulation was intuitive for a 1911 user running it from either side. Overall it is a very comfortable pistol to run, pretty much like all of the CZ pistols I've tested.
Final Thoughts
Running suppressed pistols is fun for sure, though not truly sold yet as a practical matter. I use hearing protection with my suppressed rifles, so it's less an issue for me, although you could certainly run this gun with these suppressors without hearing protection if necessary.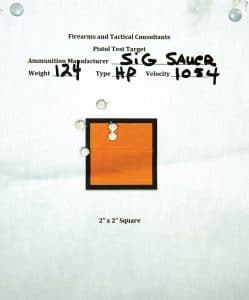 Using subsonic ammunition, it is very quiet. The only subsonic I had on hand was Remington's 147-grain HTP and it ran great. As demand increases for suppressed pistols, my guess is that subsonic 9mm ammunition will become more prevalent. There are a few holsters out there designed for suppressed pistols but they are rare, especially for longer ones. For most shooters, they will be for range use or dedicated home-defense pistols where safe storage is possible without a holster. Since they all but remove flash, it is a more than practical task.
Having used CZ pistols for years, their reliability is no surprise and their ergonomics are excellent. The P-01, along with its larger sibling the SP-01, are among the most comfortable. If you are looking for a great pistol, threaded barrel or not, this one should be on your list. See it at your firearms retailer, or contact CZ-USA, Dept. OT; Tel.: (800) 955-4486; Web: www.cz-usa.com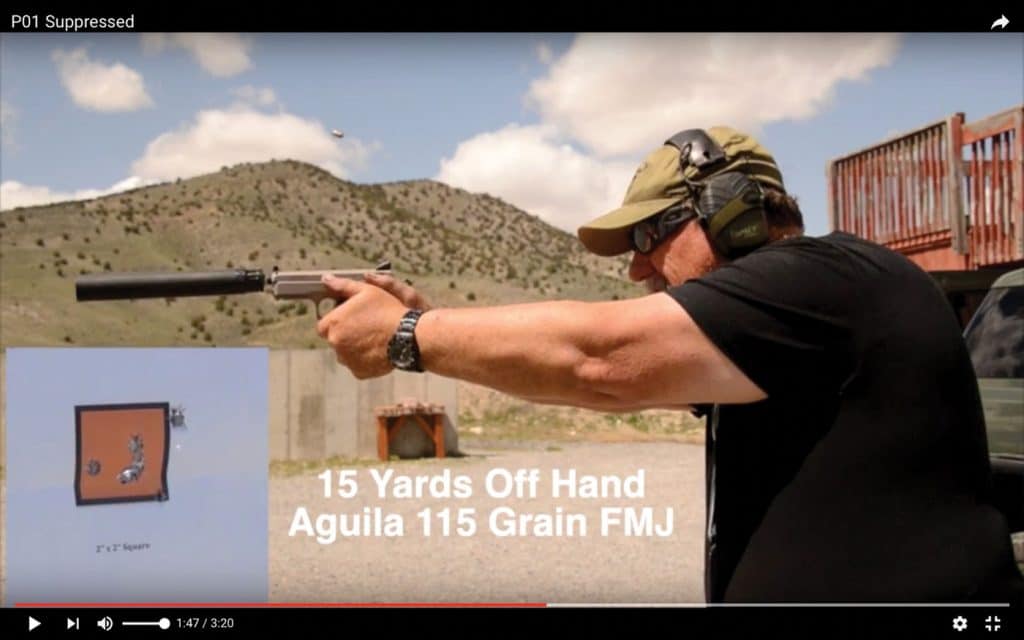 —–
Construction             Aluminum frame/steel slide
Empty Weight                       1.88 pounds
Overall Length                      8.0 inches
Barrel Length                        4.25 inches
Height                                  5.7 inches
Width                                   1.38 inches
Grips                                    Rubber panel grips
Sights                                   Tritium front and rear (suppressor height)
Magazine Capacity                 16
Retail Price                            $653.00
—–
Velocity & Accuracy
Load Size                                                                   Velocity                      Group  
Sig Sauer 124-gr. JHP                                              1,054 f.p.s.                     1.75"
Black Hills 115-gr. +P                                              1,342 f.p.s.                     1.80"
Speer 124-gr. Gold Dot                                           1,100  f.p.s                      2.00"
Black Hills 115-gr. Barnes TAC-XPD                         1,128  f.p.s.                     1.90"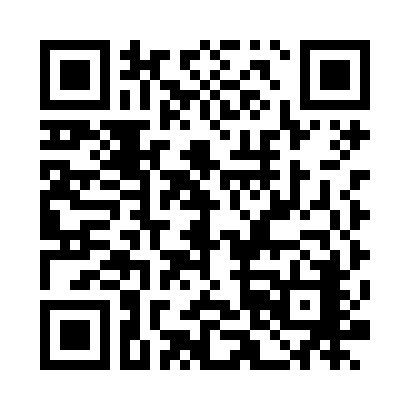 Average accuracy for three 5-round groups fired from 25 yards. Average velocity for three 5-round groups measured using a Pro Chrony chronograph.
Source Article from http://ontargetmagazine.com/2016/09/cz-75-p01-omega-suppressed/