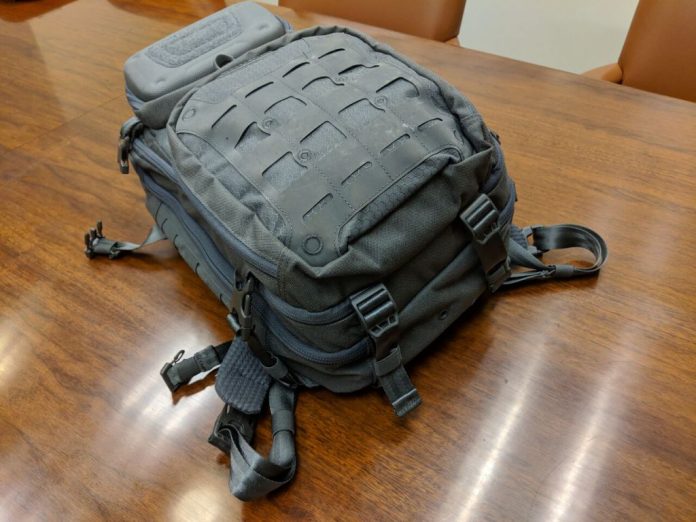 The Riftcore has been on the market for roughly two years now. It debuted with their AGR line. Standing for Advanced Gear Research the AGR line was a departure from the brutal bomb proof 1000 Denier Cordura bags they built their company on. The pros of 1000D Cordura is that is nearly indestructible. The downside is that it is heavy and, in a pinch, can double as light duty sandpaper. The AGR line is billed as a smarter design. Still utilizing 1000D where high durability is needed it substituted the lighter yet still strong 500D hex weave in most places. Gone also is the 1000D heavily stitched PALS webbing. It is replaced by a Nylon-TPU composite in an ATLAS configuration. Also replacing the traditional adjustment strap fabric is a new seatbelt like material. The intention being a bag that is as durable if not more so for real world use while being lighter and more comfortable to live with. Sounds great but when you are being asked to pay north of $200 for a relatively small backpack you want to make sure the fancy new materials and design lives up to the billing. I will attempt to answer that in this article.
As the name of the article suggests I've used the Riftcore daily for now over a year. Now I am no operator dragging this bag around the world from one covert mission to the next. I am an IT professional and shooting enthusiast that takes self-defense and personal protection seriously. The day I purchased it the bag became my daily use bag. It has carried my laptop, headphones, various cables required to do my job, sunglasses, flashlight, first aid kit, Glock 19 and two spare mags with me to work every day. It is on me or in my truck 100% of the time. It even made it to Costa Rica with me for some hiking in the Manuel Antonio National Park. I am by no means extremely hard on my gear but I'm not gentle either. I have dropped, kicked, scuffed, stabbed, this bag and even had my 80 pound black furball drool all over it. I think I have accumulated enough data to assist you in making an informed buying decision.
The Good:
The biggest positive of the Riftcore is the bag's structural design. This thing bends the laws of physics in what it allows you to cram inside. Then the yoke like shoulder straps and padded back make it extremely comfortable to wear. In its daily carry configuration my bag weighs over 20 pounds and it easily is the most comfortable bag I've daily carried. This is due to the aforementioned straps but also the design that keeps things very compact and tight to the body. Once you get it up on your shoulders and cinched into place you forget about it until it's time to get something out.
I will commend Maxpedition on the choice of fabrics. The softer materials are easier to live with and their lighter weight allowed Maxpedition to pack more features. Interior pocket utility and waist strap comfort and utility are greatly increased over the comparable legacy pack. The end result however is a pack that weighs a little more. That's definitely a knock against the original concept however you do get more for the weight at least in my opinion.
You've also lost nothing in durability by the selective use of 500D CORDURA over 1000D. 15 months of daily use loaded to capacity and there are no signs of fraying or structural wear. The grab handle is still solidly attached. None of the mesh on the padding is even showing a hint of wearing through. Even the seat belt material is holding solid despite constant adjusting. This bag has been rained on, peed on (incident with the dog that we're not going to go into), dragged through dirt and mud, had a pygmy goat climb on and chew at it, and grabbed at by monkeys with hardly a mark to show its age.
All in all my complaints are largely superficial and minor. They just eat at me because of simply how much this pack gets right. It's clear a lot of thought went into the details. The pull tabs on the zippers are perfect. The loops given at the end of the adjustment straps are exceedingly useful. The compartments are well laid out and either mesh or semi transparent. The middle compartment with the soft side velcro lining is eminently usable even if you do not take advantage of the velcro. The way each compartment opens completely to fold flat is brilliant. The back padding provides just the right combination of pad and airflow to keep you comfortable even in the humid jungles of Costa Rica. Well as comfortable as is possible in 90 degree heat, 80%+ humidity, and no breeze.
The Bad:
First and foremost is the cinch strap material. This seatbelt like material while soft and comfortable is awful in the roll of adjustment strap on a bag. When you reduce the natural friction of a strap and put it in the same friction based buckle as the previous straps you are setting yourself up for annoying the hell out of your customers.It is good they put the handy pull tabs on the bottom of the shoulder straps because you will be using them a lot. As a cruel joke played on those of us more OCD inclined they have placed elastic keepers on these straps to contain the tails. Same friction based problem applies. If you are like me you will find yourself adjusting strap lengths and keeper placement at least once a day. In their credit, while in use they do not move. It is when the bag is taken off and put back on repeatedly where things find their way out of place.
The next biggest complaint is the lack of laptop friendliness. The pocket in the back that is ostensibly designed to hold the water bladder or a laptop comes far too high up on the back panel to be of use as laptop storage. The elastic keepers along the front of that flap are stitched in the middle so as to preclude any securing of a laptop in the main compartment. "But it's not designed to hold a laptop." you may argue. My counter to that is why not? Who is not carrying some form of electronic computer with them on a daily basis now days? Especially when you have an admin panel clearly designed to accommodate office supply type objects. It is baffling to me that the opening of the back pocket was not lowered enough to allow for a laptop to easily slip in. As it sits even putting a water bladder in there is an exercise in frustration. On the topic of water I would have also appreciated an exterior water bottle pouch rather than an accessory you have to purchase.
The final gripe is with the bag's CCW compartment. My complaint here is two fold, first the opening is not spacious enough to allow quick and easy access to your weapon. Second while sounding nice on paper accessing the compartment from both sides of the bag creates a potential for confusion under stress. For this reason I regularly practice getting my weapon out of the bag with it in various starting positions both on and off my body. I highly recommend if you choose to carry in this method that you do the same.
In conclusion, in my position at work I'm given a lot of tech oriented backpacks. Five high end packs have been given to me in the last year in fact. My Riftcore that I paid for with my own money is my daily pack and I don't see that changing anytime soon. I can thoroughly recommend it for anyone who wants to bridge the gap between tech/business and preparedness/self defense. It comfortably lives in both worlds and will not let you down.