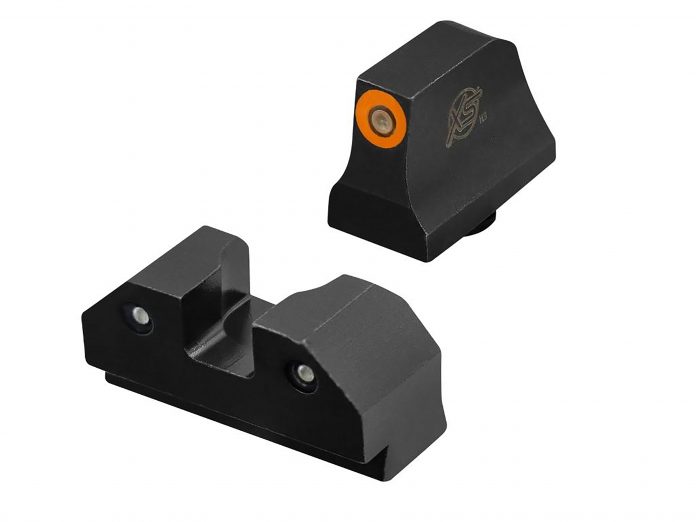 Fort Worth, Texas (January 11, 2022) – XS® Sights is pleased to extend its R3D Night Sight offerings for CZ and Glock pistols with the addition of standard height R3D sights for the CZ P-10 C Optics-Ready pistol and suppressor height models for Glock 43, 43x, and 48 MOS pistols.
Available with a bright Orange or Green Glow Dot front sight, the XS R3D has a traditional 3-dot tritium, notch and post sight picture with a notch that is 15% wider than the front sight, allowing more visible light around the front sight. This space, combined with the XS Glow Dot technology, makes it easier to see the front sight in changing light conditions and when shooting on the move. It also aids in faster sight alignment and increased accuracy.
"The Glow Dot technology in our R3D front sight activates even before the tritium is visible, giving those who prefer a 3-dot notch and post sight picture a significant edge in high-stress situations," said Addison Monroe, Marketing Manager for XS Sights. "The R3D front dot also
glows brighter than the two-dot tritium rear which drives your focus downrange and prevents you from mistaking a rear dot for the front sight when your adrenaline is surging."
Retail Price: $110 to $123
For more information, visit www.xssights.com.
All XS Sights are backed by a 10-year, No Questions Asked Warranty and XS's 30-Day Satisfaction Guarantee.
About XS Sights
XS Sights is known for making the fastest sights in any light. For more than 25 years, the XS team has created some of the most innovative sights on the market today for pistols, rifles, and shotguns. Whether used for personal defense or hunting, these sights are designed and built to be the absolute best for their specific purpose. American Made. Texas Proud. 2A Strong.