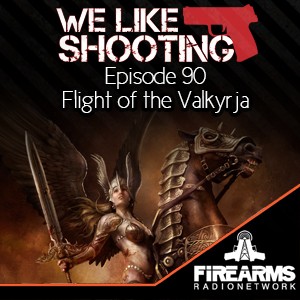 Podcast: Play in new window | Download
Welcome to the We Like Shooting show, Episode 90, this episode we'll talk about ks-23 shotgun, colorado, dez tactical arms, iconic industries, Valkyrja Arms and more!
Our panel tonight consists of –
A YouTuber with a DIY attitude and retail hands –  Savage1r
Retired Navy, advocate for women's shooting, and blogger at HeelsandHandguns.com  –  Lil Chantilly
Former Marine and owner of Rivers Edge Tactical – Jeremy Pozderac
Precision rifle and barrel maker – Nick Lynch
You know him, you love him, Our Media contact,  Machinegun Moses, Aaron
My name is Shawn.
Our guest tonight is CEO and owner of Valkyrja Arms, Please welcome Molly Rae Machine. Now is machine your real last name?
Second Call Defense
Let me play some audio for you.
Common Myths!
Castle Doctrine and Stand Your Ground
Legal principles put into place in recent years have made using lethal force easier to defend. But they do not remove the need to hire an attorney or give you a "get out jail free" card.
Castle Doctrine and Stand Your Ground provide a way for police and prosecutors to think about self defense that favors you, the defender, rather than your attacker. But no matter how justified you may be in using lethal force, the police will show up to investigate your use of a firearm. You can still face arrest and prosecution requiring a robust legal defense that can cost thousands of dollars.
Don't wait until it's too late. Please consider joining Second Call Defense right now. For a limited time get your first month free, go to http://welikeshooting.com/scd today.
Who are some of the women leading the way in the firearms industry today?  I am going to start a multi-part series tonight, talking about some of my favorite ladies who are changing the world for all ladies!
My first is one of my very favorite ladies – a long range lady: Regina Milkovich
She competes in the precision rifle series (PRS) along side the guys, and in 2012 finished 20th out of 147.  So far this year, she is 32/330+.
Sniper's Hide and Scout.com did shooter spotlights at the Vegas Precision Rifle Challenge back in January, and they did one on Regina.  You can watch it here.  Her advice to women who want to compete in long range competitions?  "Jump in both feet first!"
Started Team Triangle, a group of tenacious women long range shooters who encourage each other and are doing a lot to pull women into their sport!
Tonight we are going to do We Like Shooting Theater sponsored by Manticore Arms. Where we re-enact movie scenes, our style. Tonight we will perform a scene from Friday. Smokey will be played by Savage and Craig Jones will be played by Aaron
Smokey: Why you not goin' to work?
Craig Jones: I got fired yesterday.
Smokey: No shit? I thought you had the day off yesterday.
Craig Jones: I did. I went in to pick up my check, came home, my supervisor called me about four o'clock, told me he got me on tape stealing boxes.
Smokey: The hell you stealing boxes for? What you trying to build, a clubhouse?
Craig Jones: Hell, no, ain't got me on tape. But they said they did. Fired me on the spot. Talkin' about pressin' charges.
Smokey: Goddamn! You've got to be one stupid bastard to get fired on your day off.
Several of the WLS crew will be in Mount Carroll, Illinois on Sept 19th for the annual Bullpup shoot!  This event is free to the public and entry gives you the option to shoot all kinds of great guns from so many great vendors! Go to bullpupshoot.com to find out more!
Thanks to Manticore Arms and don't forget you can get all kinds of awesome accessories for your rifles! Check out their new ALFA rails for your AK at ManticoreArms.com
Visit them at manticorearms.com to see their full product line and what they have to offer.  Manticore Arms is a proud sponsor of the We Like Shooting show.
Please go to http://welikeshooting.com/manticore to say thanks!
Limit to 2 stories
where we talk about stuff that we have, want and need!
savage1r: KS-23 Soviet 6-Gauge Shotgun
Aaron – fun on the sun. Trip to CO
Lil –
Jeremy-
Shawn – DEZ Tactical Arms .308
NickLynch – Iconic Industries 117 Stealth Lower
Guest:
Q&A
We also have a new giveaway that is open to everyone. We are supporting C-SAEF and helping them raise money to protect children by training school staff to deal with emergencies. Once they hit their funding goal of $25,000 we are giving away a Larue Costa Edition AR-15 rifle with an Aimpoint T1, Surefire light and more valued at $3500.
It's open to anyone, to enter, visit http://welikeshooting.com/safe
Please consider donating to help C-SAEF hit their goals!
Favorite episode
How they found the podcast
Favorite guest
Funniest moment

4/8 – Funniest moment on the show

Best takeaway
Rhyming review
A particular strange word –
In addition to our amazing sponsors, our show is crowdfunded. You agree to support us and we will send you cool stuff AND . The best part is you get rewards back. We've given away 2 rifles, a Canik TP9-SA, a suppressor and 200 bucks for the tax stamp in the last 6 months! When we reach $700 per episode, we're giving away a Sonoran Desert Institute complete AR-15 build kit! We were planning on giving it away tonight but it dipped back below $700.
Find out more at http://welikeshooting.com/pledge
Roku – http://welikeshooting.com/roku
Thanks to our guest!
Thanks to everyone else that has commented on our social media and our show website. If you would like to correspond with us please
Email us questions, comments, or insults at  feedback@welikeshootingpodcast.com,
Thanks to our advertisers, DEZ Tactical Arms, Manticore Arms, Soco Kydex and Second Call Defense and the Sonoran Desert Institute.
Thanks to our syndication partners:
ModernArms.net
GunsSaveLives.net
Easy Bake Gun Club
AR-15 Gun Owners of America
Guns America
warrior talk radio
Don't forget to join a gun related advocacy group such as the Second Amendment Foundation, the NRA, whatever. Your money helps them fight for our rights.
Don't forget, the Veterans crisis line & suicide prevention line – 1-800-273-8255. I hope you don't need to call but if you need to, make the call.
HI DAN!
Thanks for listening and shoot straight.
You can download or subscribe to our weekly show every Thursday at http://welikeshooting.com/show
If you'd like to watch live, our show broadcasts live every Wednesday night at 7:30PM (MT), watch it and chat with us at http://gunchannels.com/WeLikeShooting
Podcast: Play in new window | Download