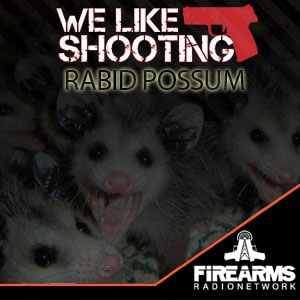 Podcast: Play in new window | Download
Welcome to the We Like Shooting show, Episode 86, this episode we talk about the Pfeifer SR2, The Pact, Rapdom Fingerless Gloves, 80% 1911's and more!
Our panel tonight consists of –
A YouTuber and my soulmate. – Savage1r
Retired Navy, advocate for women's shooting, and blogger at HeelsandHandguns.com  –  Lil Chantilly
Former Marine and owner of Rivers Edge Tactical – Jeremy Pozderac
You know him, you love him, Our Media contact who flew the pinkeye back from CO –  Aaron Krieger
My name is Shawn and I really hate april fools day.
and I'mma get this party started. Our guest tonight…
Is a former college professor and the editor in chief of Gunsamerica. He writes about guns and gun culture, please welcome David Higginbotham.
Let me play some audio for you.
What happens next?
Tonight we'll talk about the basic plan. For $8.95 a month, you get accidental shooting protection, criminal defense reimbursement, Immediate cash for bond, Immediate attorney retainer, 24/7 legal hotline, personal crisis manager, nationwide attorney network access, local attorney referral, emergency contact notification and more.
Don't wait until it's too late. Please consider joining Second Call Defense right now. For a limited time get your first month free, go to http://welikeshooting.com/scd today.
Speak of Sean Maloney, one more chance to vote at the NRA Annual Meeting
Tonight we are going to do We Like Shooting Theater sponsored by Manticore Arms. Where we re-enact movie scenes, our style. Tonight we will perform a scene from The Lion King. Scar will be played by Aaron and Young Simba will be played by Jeremy.
Young Simba: Hey, Uncle Scar, guess what?
Scar: I despise guessing games.
Young Simba: I'm gonna be King of Manticore Arms.
Scar: Oh, goody.
Young Simba: My dad just showed me the whole kingdom. And I'm gonna rule it all. Heheh.
Scar: Yes. Well, forgive me for not leaping for joy. Bad back, you know.
[flops on his side]
Young Simba: Hey Uncle Scar, when I'm King, what'll that make you?
Scar: A monkey's uncle.
Young Simba: [laughs] You're so weird.
Scar: You have no idea.
Several of the WLS crew will be in Mount Carroll, Illinois on Sept 19th for the annual Bullpup shoot!  This event is free to the public and entry gives you the option to shoot all kinds of great guns from so many great vendors! Go to bullpupshoot.com to find out more!
Thanks to Manticore Arms and don't forget you can get all kinds of awesome accessories for your AUG, AR, AK, Tavor and more just by visiting Manticore Arms.
Visit them at manticorearms.com to see their full product line and what they have to offer.  Manticore Arms is a proud sponsor of the We Like Shooting show.
Also, please tell Manticore Arms how much you appreciate them supporting the show by going to welikeshooting.com/manticore
Limit to 2 stories
where we talk about stuff that we have, want and need!
savage1r: Pfeifer SR2, details link
Aaron – Tac16 book "the pact"
Jeremy- RapDom Fingerless Gloves
Shawn – 1911 Build kit from 1911 Builders .com and jig from Stealth Arms "Phantom Jig"
Guest: shockwave technologies shotgun – blade
Q&A
Name: Brian
Message: Who's night sights suppressor sights do you guys recommended for a Glock 17? Might make a good topic for the show to go through some of the options out there
A particular strange word –
In addition to our amazing sponsors, our show is crowdfunded. You agree to support us and we will send you cool stuff AND . The best part is you get rewards back. We've given away 2 rifles and a pistol in the last 6 months! When we reach $700 per episode, we're giving something amazing stay tuned to find out what (HINT if you build it, Shawn will come)!!!
Find out more at http://welikeshooting.com/pledge
Roku – http://welikeshooting.com/roku
Thanks to our guest!
Thanks to everyone else that has commented on our social media and our show website. If you would like to correspond with us please
Email us questions, comments, or insults at  feedback@welikeshootingpodcast.com,
Thanks to our advertisers, DEZ Tactical Arms, Manticore Arms, Soco Kydex and Second Call Defense and the Sonoran Desert Institute.
ModernArms.net
GunsSaveLives.net
Easy Bake Gun Club
AR-15 Gun Owners of America
Guns America
warrior talk radio
Don't forget to join a gun related advocacy group such as the Second Amendment Foundation, the NRA, whatever. Your money helps them fight for our rights.
Don't forget, the Veterans crisis line & suicide prevention line – 1-800-273-8255. I hope you don't need to call but if you need to, make the call.
HI DAN!
Thanks for listening and shoot straight.
You can download or subscribe to our weekly show every Thursday at http://welikeshooting.com/show
If you'd like to watch live, our show broadcasts live every Wednesday night at 7:30PM (MT), watch it and chat with us at http://gunchannels.com/WeLikeShooting
Podcast: Play in new window | Download