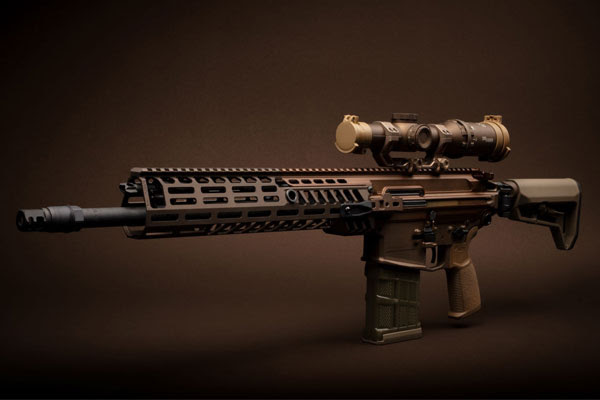 NEWINGTON, N.H., (May, 2021) – SIG SAUER is pleased to support Task Force Dagger Special Operations Foundation with an exclusive SIG MCX-SPEAR package for the Task Force Dagger SOF Auction and Raffle occurring in conjunction with the upcoming SOFIC (Special Operations Forces International Conference) show.  Task Force Dagger Special Operations Foundation is a veteran-operated non-profit that aids wounded, ill, or injured U.S. Special Operations Command (USSOCOM) members and their families. This exclusive package includes a SIG MCX-SPEAR Rifle in a 6.5 Creedmoor caliber, a TANGO6T riflescope, and a SIG SLX Suppressor. The auction opened on Monday, May 9th and will close on Tuesday, May 17th at 8:00pm. 
"It is an honor for SIG SAUER to support the mission and programs of Task Force Dagger year after year in support of the Special Operations Community. This year with the excitement of our selection as the provider of the U.S. Army's Next Generation Squad Weapons Program (NGSW) and the SOFIC show we are hopeful that our donation of this MCX-SPEAR package will help to increase the success and reach of the Task Force Dagger Foundation programs within the SOF community," said Jason St. John, Director, Government Products. "The MCX-SPEAR and the SLX Suppressor are the same platform and suppressor as the NGSW rifle. For this auction, the rifle is offered in the soon-to-be-released 6.5 Creedmoor caliber and paired with the popular TANGO6T riflescope currently in use in various set-ups throughout the military. With the excitement and demand of the MCX-SPEAR in the commercial market we are hopeful that this will inspire the bidding to benefit the organization."
The SIG MCX-SPEAR rifle is an adaptable multi-caliber rifle featuring rear and side non-reciprocating charging handles, 6-position folding stock, ambidextrous fire control, bolt-catch, and mag release, 2-stage match trigger, 2-position adjustable gas piston, a lightened free-float M-LOK™ handguard, a full-length picatinny rail, and ships with (1) 20-round magazine. 
The SIG SAUER SLX Series of suppressors are designed to drastically reduce toxic fume inhalation by the end-user and sound reduction.  The SLX suppressors feature a monolithic core construction in Inconel, an internal multi-flow path to exhaust gases at a higher rate resulting in lower toxic fume inhalation, a sound-reducing baffle design, a flash reducing end cap, and are available with either the new Clutch-Lock QD mounting system for easy install and removal that offers an intuitive tactile locking ring with infinite radial locking positions or direct thread.  
The SIG SAUER Electro-Optics TANGO6T optic is currently in use as the Direct View Optic (DVO), Squad Designated Marksman Rifle (SDMR) and the USSOCOM Squad-Variable Powered Scope (S-VPS).  The SIG SAUER TANGO6T 1-6x24MM riflescope is available in first and second plane, and varying reticles including 5.56/7.62 Horseshoe Dot, HELLFIRE MOA Milling, HELLFIRE FL-6 and the new DWLR6.  
The complete details of the SIG SAUER MCX-SPEAR package to benefit the Task Force Dagger SOF Auction are available on the auction website and bidding is open through Tuesday, May 17, 2022 at 8:00pm.
About SIG SAUER, Inc.
SIG SAUER, Inc. is a leading provider and manufacturer of firearms, electro-optics, ammunition, suppressors, airguns, and training.  For over 250 years SIG SAUER, Inc. has evolved by blending American ingenuity, German engineering, and Swiss precision.  Today, SIG SAUER is synonymous with industry-leading quality and innovation which has made it the brand of choice amongst the U.S. Military, the global defense community, law enforcement, competitive shooters, hunters and responsible citizens.  Additionally, SIG SAUER is the premier provider of tactical training and elite firearms instruction at the SIG SAUER Academy.  Headquartered in Newington, New Hampshire, SIG SAUER has over 2,900 employees across eleven locations.  For more information abo ut the company and product line visit: sigsauer.com.