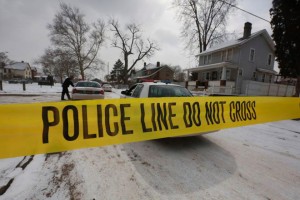 NBC4i: Columbus, Ohio News, Weather and Sports (WCMH-TV)
One man is dead after he broke into two homes in Columbus, Ohio, early Thursday morning.
Just before 5 a.m., the suspect, who was later identified as 28-year-old Christopher Lee Willis, broke into a home before being chased away by the homeowner. In an effort to escape, Willis broke a second-story window and jumped from the roof.
Willis then ran across the street to the home of Sharon Jessee, where he broke another window and attempted to get inside. Jessee, who was asleep on the couch and was awakened by sound of glass shattering, grabbed a gun and fired several shots, striking Willis.
A call was placed to 911 and the caller reportedly told the dispatcher, "She shot him. She shot him good."
Willis was transported to the hospital, but died about two hours later.
Buck Jessee said he was concerned about his widowed mother being safe and bought her a gun for protection just last week.
"Just like this situation right here," Buck told a local NBC affiliate. "That's why I bought it."
Jessee's daughter, Robin Catalfina, said she can't believe that her mother shot and killed someone, but she feels her mother acted appropriately.
"She's been through a lot and she's definitely not going to let someone go into her house and take what she's got or harm her," Catalfina said. "She will protect herself and she did."
The case is still under investigation, but at this point, authorities do not expect any charges to be filed against Jessee, as it appears she acted in self-defense.
Investigators do not yet have a motive for the break-ins, but Sgt. David Sicilian, homicide squad supervisor with the Columbus Police Department, called Willis' behavior "kind of bizarre."
None of the residents in the neighborhood were acquainted with Willis.
According to The Columbus Dispatch, this was the second fatal defensive shooting in the city so far this year. In 2014, Columbus saw a total of five homicides which were deemed self-defense.
Source Article from http://www.guns.com/2015/02/23/widow-shoots-kills-intruder-a-week-after-getting-a-gun-for-self-defense-video/