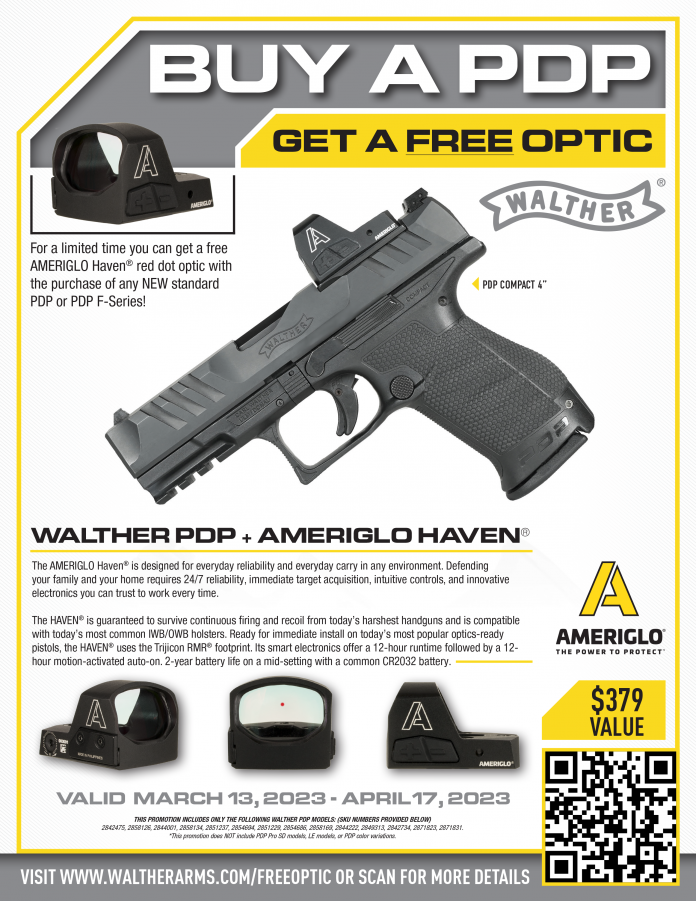 PURCHASE ANY NEW WALTHER PDP AND RECEIVE A FREE AMERIGLO HAVEN® OPTIC
Walther is excited to announce this new free red dot promotion in partnership with AMERIGLO. 
Beginning 03/13/2023 and running through 04/17/2023 any law-abiding consumer who purchases a new, standard PDP or PDP F-Series will receive a free AMERIGLO Haven® Handgun Red Dot Sight (MSRP Value: $379.)
"This is an incredible value add to any consumer looking for a quality red dot to install on their new PDP." said Rob McCanna, CEO of Walther Arms Inc. He went on to say, "This promotion will really help consumers get into shooting with a red dot by making it much easier for them to acquire and mount a quality dot."
ABOUT THE WALTHER PDP AND PDP F-SERIES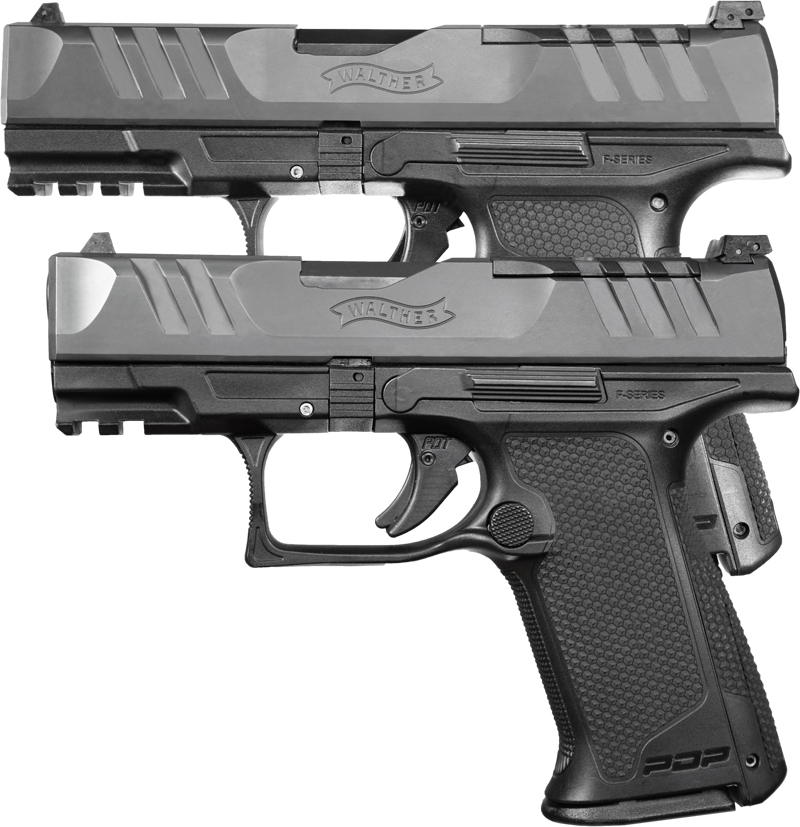 With revolutionary Red Dot Ergonomics engineered into the pistol, the PDP platform has been designed around making the switch to the popular red-dot sight system easier for the new RDS shooter and faster for the RDS veterans. The SuperTerrain serrations are uniquely shaped to protrude above the surface of the slide allowing for quicker and more responsive hands-on engagement with the pistol. Walther's Performance Duty Trigger shortens the length of travel and increases the tactile definition of the trigger break making the best striker-fired trigger on the market even better. The PDP is the most modular and versatile pistol ever designed by Walther and every PDP model comes red dot READY.
ABOUT THE AMERIGLO HAVEN®
The AMERIGLO Haven® is designed for everyday reliability, for everyday carry, in any environment. Defending your family and your home requires 24/7 reliability, immediate target acquisition, intuitive controls, and innovative electronics you can trust to work every time.
The HAVEN® is guaranteed to survive continuous firing and recoil from today's harshest handguns and is compatible with today's most common IWB/OWB holsters. Ready for immediate install on today's most popular optics-ready pistols, the HAVEN® uses the Trijicon RMR® footprint. Its smart electronics offer a 12-hour runtime followed by a 12- hour, motion-activated auto-on. 2-year battery life on a mid-setting with a common CR2032 battery. Also available with optional iron sights as a Carry-Ready™ Combo.
HOW TO CLAIM YOUR FREE AMERIGLO HAVEN®
The consumer must submit a valid receipt showing that they purchased a new Walther PDP model within the giveaway dates/time frame (between 03/13/2023 and 04/17/2023) and submit it along with a picture of the label on the box showing the serial number.
Only one redemption per serial number is allowed but we will allow multiple redemptions to customers who purchase multiple pistols. Redemptions should be done online only and we should encourage dealers to do the redemptions for their customers if the customers are not tech-savvy.
LINK TO REDEEM FREE OPTIC: https://waltherarms.wufoo.com/forms/pdp-march-optic-promotion/ 
Please allow 1-4 weeks for processing and handling of the optics. Purchases must be made between 03/13/2023 and 04/17/2023 and redemptions must be submitted by 05/17/2023.
THIS PROMOTION INCLUDES ONLY THE FOLLOWING WALTHER PDP MODELS: (SKU NUMBERS PROVIDED BELOW) 2842475, 2858126, 2844001, 2858134, 2851237, 2854694, 2851229, 2854686, 2858169, 2844222, 2849313, 2842734, 2871823, 2871831.
*This promotion does NOT include PDP Pro SD models, LE models or PDP color variations.
Must be over the age of 18 to participate and must follow all State, local and federal regulations. Walther Arms Inc. reserves the right to modify, change, deny or discontinue this rebate at any time for any reason.
About Walther
"It's your DUTY to be READY" is a message to clearly and concisely show that Walther is doing everything in its power to support shooters everywhere with not just the absolute best in firearm innovation and performance but also access to the best training and informative firearms community as well. History has shown Walther's
dedication to this message, beginning in 1886 and continuing today with the innovative spirit that builds off  the invention of the concealed carry pistol by creating duty grade weapons such as the PDP and world-class  rimfire products such as the P22. Walther will continue its long tradition of technical expertise and innovation  in the design and production of firearms to meet the demands of any customer. Excellent service and superior  quality will continue to be benchmarks of Walther's success. www.waltherarms.com