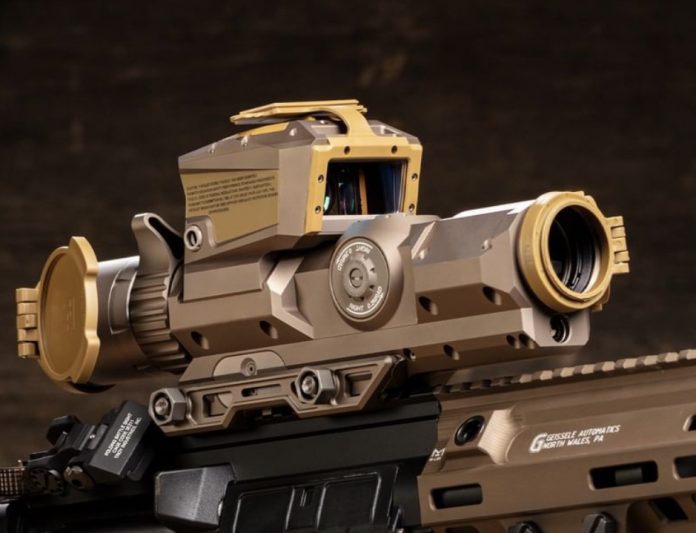 BARNEVELD, Wis. – American, family-owned Vortex Optics was selected by the U.S. Army to produce and deliver up to 250,000 Next Generation Squad Weapons – Fire Control (NGSW-FC) systems over a 10-year production period, beginning in 2022.

The Vortex Optics NGSW-FC, dubbed the XM157, was designed and built with the needs of the current and future warfighter in mind. The XM157 – invented, designed and engineered entirely in-house at Vortex® Headquarters – is a Low Powered Variable Optic (LPVO) with a display overlay, Laser Rangefinder (LRF), ballistic solver, environmental sensors, aiming lasers, digital compass, and wireless communication to provide for seamless connectivity on the battlefield.

The XM157 is built around a 1-8×30 LPVO featuring a glass-etched reticle on lenses made entirely in the U.S. The XM157 weighs less than many traditional LPVOs with current weapon mounted LRFs and associated mounts and enables America's servicemen and women to engage threats quickly and effectively.

With an integrated picatinny base that houses the Vortex® Active Reticle® system, the XM157 injects a digitally displayed image into the first focal plane of the optic and allows for intuitive displays to support ballistic drops, reticle shapes and sizes, and additional modes to display way points, identified threats, and fields of fire.

To account for a rapidly evolving battlefield and a broad range of climates and weather conditions, the optic withstood rigorous drop-testing, extreme hot and cold environments, immersion testing, and tens of thousands of rounds of live-fire testing.

With a clear focus on ease of use, the combined technology enables the XM157 to range a target, send the information to an on-board ballistic solver, gather atmospheric information, and display an illuminated Active Reticle® corrected aimpoint with wind holds in the user's sight picture, all in tenths of a second. To provide for flexibility in the field, the XM157 can be controlled via an on-board keypad or a detachable remote.

As the production period begins, Vortex® will leverage a talented collective of American aerospace machine shops and American lens manufacturers to supply components to be assembled entirely at Vortex® Headquarters in Barneveld, Wis.

For a behind the scenes look at what it took to bring the Vortex Optics XM157 from concept to reality, check out the latest episode of the Vortex Nation™ Podcast.

To learn more, be sure to follow Vortex Optics on Instagram, Facebook, YouTube, and Twitter.

Effort sponsored by the U.S. Government under Other Transaction number W15QKN-22-9-P001 between Sheltered Wings Inc. d/b/a Vortex Optics and the Government. The U.S. Government is authorized to reproduce and distribute reprints for Governmental purposes notwithstanding any copyright notation thereon.

The views and conclusions contained herein are those of the authors and should not be interpreted as necessarily representing the official policies or endorsements, either expressed or implied, of the U.S. Government.
About Vortex Optics: American owned, veteran-owned, Wisconsin-based Vortex Optics designs, engineers, produces, and distributes a complete line of premium sport optics, accessories, and apparel. Dedicated to providing unrivaled customer service and exceptional quality, Vortex® backs its products with the unconditional, transferrable, lifetime VIP Warranty. Built on over 30 years of experience in the optics industry, Vortex® has emerged as a leader in the optics market.