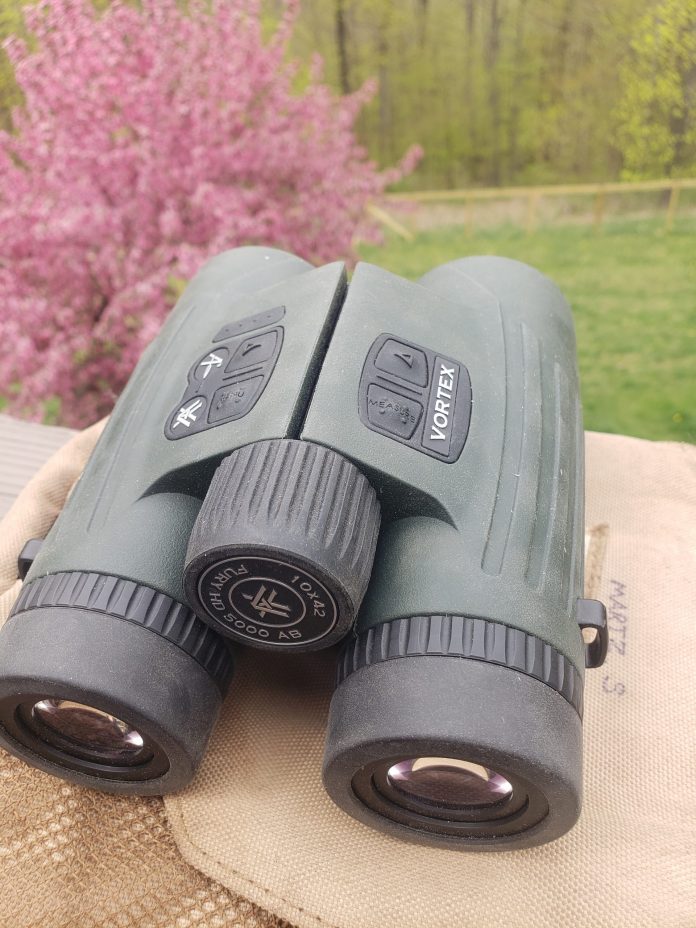 Gone are the days of using three different pieces of glass when engaging an animal or a target. Using your binos to find the target, switch to range finder to range the target, get your data, now to your rifle glass to finally engage. Targets can be lost or move all within that time frame. The Vortex Fury HD Binoculars and Rangefinder cut that time down in half allowing you to find the target, range your target, and get your data all within the same piece of glass.
In the box
The Furys are ready to use right out of the box. They are shipped with the Furys, CR2 battery inside, chest harness, comfort neck straps, objective and eyepiece lens covers, and lens cloth.
Capabilities
Ranging
The Furys feature both last and best ranging modes. It also includes Horizontal Component Distance (HCD) mode for angled ranging and scan ranging for ranging while scanning across an area. The product manual features descriptions for each ranging feature and when is the best time to use each mode.
| | |
| --- | --- |
| Range Reflective | 5-5000 yards |
| Range Tree | 5-2400 yards |
| Range Deer | 5-1600 yards |
Note: The reticle when ranging can actually be used for more than point and lase. The sub tensions are measurements. While scanning and ranging you can use those to measure your intended target. See below.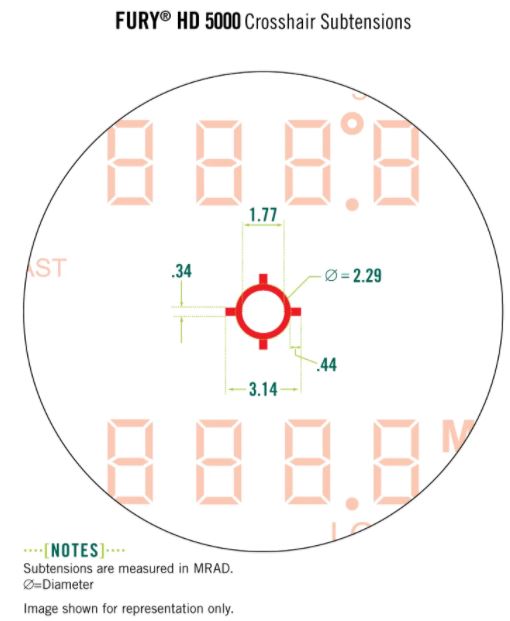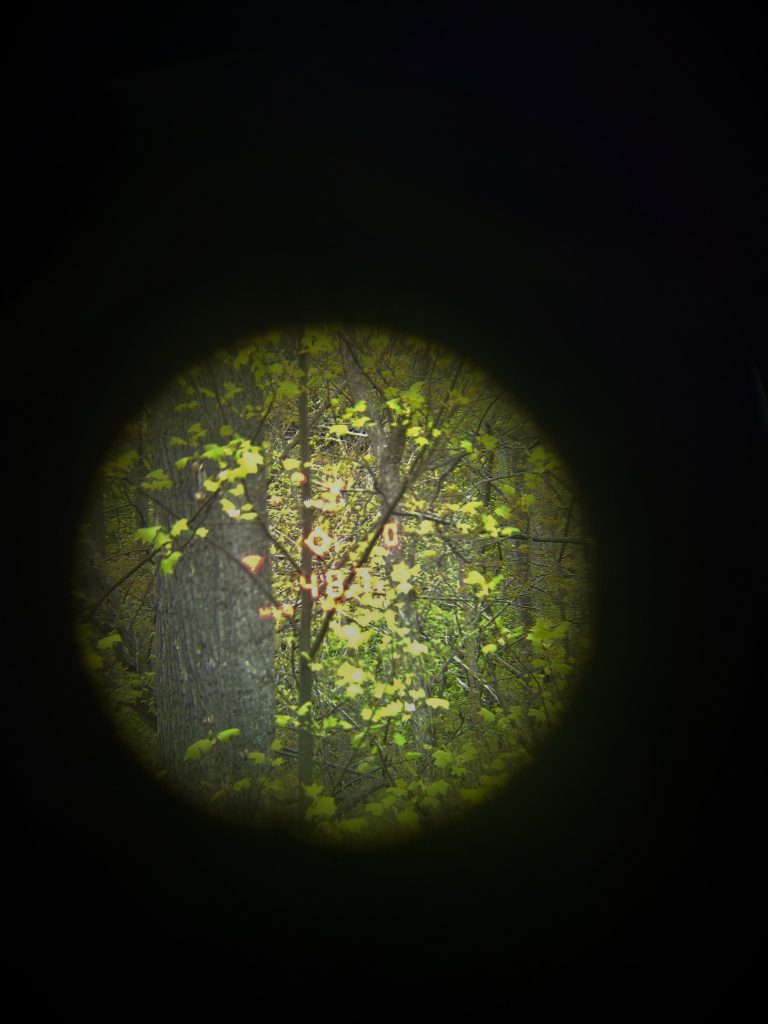 Data
After either linking your Furys to a Kestrel, Garmin, or the Vortex Fury app and inputting your gun info and ballistics into said app, you now can correctly use ballistic mode. In BAL (ballistic) mode after measuring the distance to your target your specialized elevation and wind will pop up in the glass. This can be shown in yards or meters.
Data is powered by Applied Ballistics. The same ballistic solution that is in many kestrel products.
Environment
The Vortex Furys include everything you need to read your environment and input it into your ballistic solution. The Furys will read and display temperature (Fahrenheit and Celsius), barometric pressure (Mercury or Millibars), and wind speed (MPH or MPS). This is all only available in BAL mode and can be measured by clicking the measure button while in the certain displays or by opening up your Fury AB App.
Note: The Fury environmental sensors are inside of the Fury Chassis. Due to this your Furys may need some time to acclimate to its surroundings depending on if it is a drastic change. You do have the option to manually enter the evironmentals and push them to your Furys. See the video below for more information on doing that.
Wind
Everyones biggest enemy. The Furys are a great tool for capturing the wind. It offers both full crosswind mode and wind bearing capture mode.
The full crosswind mode will be standard when recieving the Furys. Within this mode the Furys are under the impression that the wind is coming from either the 9 o clock or 3 oclock position. You can then enter the wind speed into fury which allows it to populate your wind hold at various distances when measuring.
In wind bearing capture mode the Furys will do the work for you. This mode will capture the wind direction no matter which way you are facing due to its internal compass. Convienently, there is an individual wind bearing capture button on the binos. Stand directly into the wind and press the capture button. The degree for which direction the wind is coming from will populate within the Furys. Then input the speed and you now have your wind hold data.
Options for Linking
There are many options to link these binos to your favorite ballistic finder. The Vortex Fury HD 5000 AB's are compatible with a Kestrel with Applied Ballistics, a Kestrel without Applied Ballistics, and the Garmin Foretrex.
Specs
Magnification 10x
Objective Lens Diameter 42 mm
Eye Relief 16 mm
Exit Pupil 4.2 mm
Linear Field of View 321ft/1000 yds
Angular Field of View 6.1 degrees
Close Focus 18.5 feet
Interpupillary Distance 58-72 mm
Height 5.8 inches
Width 5.0 inches
Weight 32.4 oz
Optical Features
HD Optical System Optimized with select glass elements to deliver exceptional resolution, cut chromatic aberration and provide outstanding color fidelity, edge-to-edge sharpness and light transmission.
Dielectric Coating Multi-layer prism coatings provide bright, clear, color-accurate images.
XR™ Fully Multi-Coated Proprietary coatings increase light transmission with multiple anti-reflective coatings on all air-to-glass surfaces.
Phase Correction Coating on roof prism models enhances resolution and contrast.
Construction Features
ArmorTek ® Ultra-hard, scratch-resistant coating protects exterior lenses from scratches, oil and dirt.
Rubber Armor Provides a secure, non-slip grip, and durable external protection.
Fogproof Nitrogen gas purging prevents internal fogging over a wide range of temperatures.
Tripod Adaptable Compatible with a tripod adapter, allowing use on a tripod or car window mount.
Options
The Vortex Fury comes in three options and the price is right on all of them. Many aren't switching over to an all in one binocular and rangefinder due to the high price it takes to purchase. Vortex however put out a quality piece of glass for a very fair price.
The Fury HD 5000 with AB
The Fury HD 5000
The Fury HD (available for limited time)
Warranty
As always, Vortex offers their lifetime VIP warranty. Very Important Promise. If your Furys are damaged or defective simply contact customer service and you will be taken care of. If the product cannot be repaired you will be given the same equipment in perfect condition.
To Set Up
The first thing that was done after receiving the Furys was to ensure that they turn on and set them up for the proper focus. Following the product manual online made it super easy. After downloading the Vortex Fury App information was then taken from my kestrel and input into the Fury app such as height over bore, twist rate, etc. After all information was manually input into the app, the App and the Furys were then connected using bluetooth. Deciding to link Furys to the Fury App instead of the kestrel is due to the Fury having all of the math and environment elements already inside internally so the constant link up is not needed. After ensuring the Furys were on the range mode that was needed for my shooting application (best range mode) and verifying the data output was correct the Furys were ready to use. It all took about a half hour to do the set up.