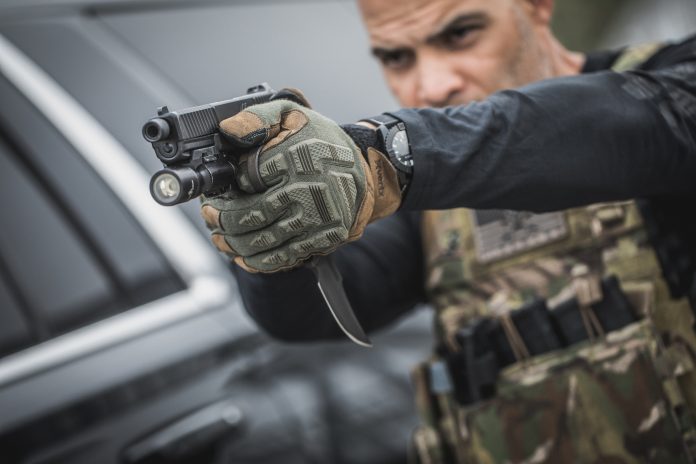 Vertx®, a leading manufacturer in low-profile apparel and gear, announces the launch of a
new cutting-edge tactical glove line designed to further support the Prepared Professional™. This new line of gloves consists of four innovative styles including the VaporCore™ Shooter, Rapid LT, FR Assaulter and FR Breacher.
"With more than 175 years of experience in the military and tactical world, we combined expertise and research to develop a new line of gloves that would meet our standard of quality, provide superior functionality and address some of the top needs expressed by today's customer base," said Justin Roberts, Vertx Brand Manager.
All four gloves share similar features including articulated pre-curved fingers that provide exceptional fit and dexterity necessary for comfort and functionality. Strong hook and loop wrist closures ensure a secure fit and double needle topstitch reinforcement in all key areas maximizes the gloves life-span. The gloves mimic human skin through the use of natural goatskin suede, enabling a better sense of touch. The middle finger and thumb also include conductive touchpoints for use with smartphones and other touchscreen technology.
In addition to the gloves' shared characteristics, each style has a unique set of key features. The VaporCore™ Shooter has active particles permanently embedded within its fabric that allows the glove to dry five times faster, keeping the hand cool and comfortable. The Rapid LT incorporates an expertly constructed lightweight design, pairing the suede with a two-way fabric providing free range of motion. This glove also benefits from
color fastness, retaining its original color wear after wear. The FR Assaulter and FR Breacher both benefit from flame resistant qualities, as Kevlar®
thread knitted throughout the pieces provide excellent durability. The FR
Breacher also provides knuckle protection, guarding the back of the hand from harsh environments and general wear and tear.
For more information regarding the new tactical glove line, visit www.vertx.com.