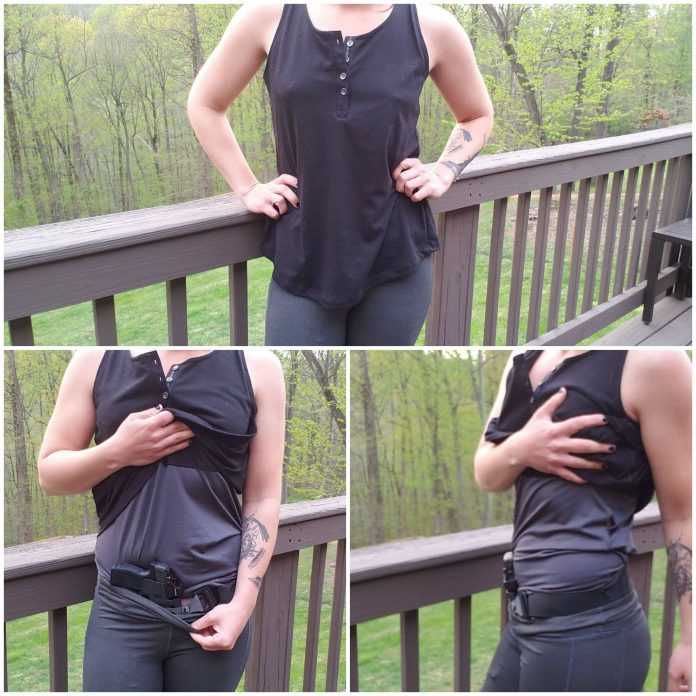 Note: In the cover photo I am wearing the Vertx Womens Guardian Tank which has an under layer. This layer is great for concealed carry and even better for the enigma as it acts as another layer to protect against abrasion from skin to holster/belt contact. This current set up has each upgrade mentioned.
The Phlster Enigma has proven to be the only option on the market that allows the user to not have to choose their clothes around their Everyday Day Carry holster. The enigma uses a belt system that connects to your normal kydex holster which then allows you to wear leggings, jeans, a skirt, etc. It has been a hit and now Phlster has released upgrades to make it more comfortable and conceal your carry gun and equipment better.
Sport Belt
The Enigma Sport Belt is the first upgrade that I would recommend. It is a much more comfortable material against your skin over the original belt. The Sport Belt has a stretchy and wide back panel that stretches around your back as the belt is tightened and due to it being wider, carries the load better. The elastic back panel also has sewn in pockets that dan be used as places to store extra magazines on the body, carry cash, a key, or an ID.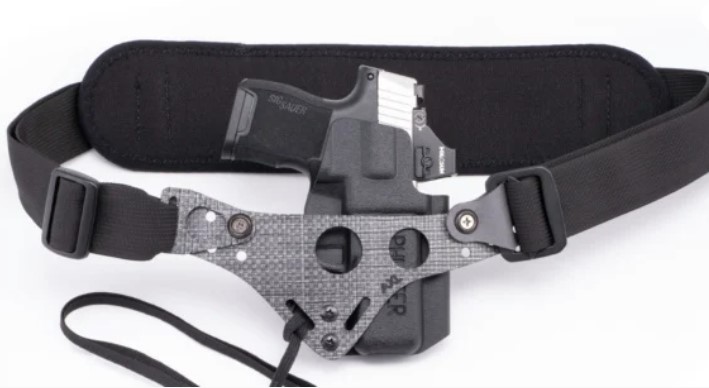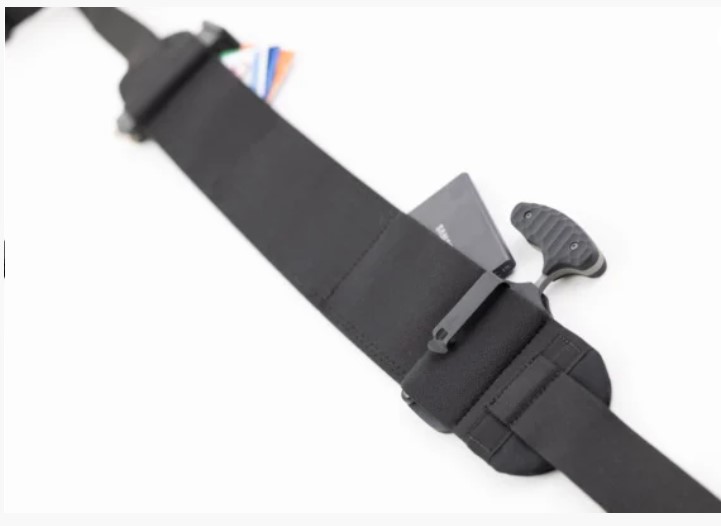 I have went for runs in the sport belt, did heavy lifting, the belt never came loose, hurt my back from the load, or introduced chaffing, nor does it capture sweat. All of these activities were done while wearing leggings and the Enigma w/ sport belt and sig P365 w/ Holosun 407k in a Phlster Skeleton Holster. All very concealed.
Installation is very easy as the sport belt threads directly through your existing enigma. No extra hardware needed.
Distributes pressure over wider area of the back
Helps maintain steady belt tension, which aids in comfort and concealment
Nylon webbing with a 3″ tall elastic panel in the back
Works with all Enigma model
Price: $34.00
Ensure that you use this sizing guide when purchasing the length of your sport belt.
If you did not want to buy a whole new belt, you still have the option of buying the Levo Designs Conventional Papoose. Which is a sewn fabric sleeve that covers the belt and holster creating a more comfortable carry on your skin.
So, Sport belt or Papoose? The sport belt is $34.00 and helps with bolt comfort and load carrying, the papoose is $45.99 and helps with skin to holster contact and can be customized.
"The short answer is that they do two different jobs, and it depends on what problem you're trying to solve. The Papoose covers the holster, Enigma faceplate, and standard nylon belt. It reduces the need for an undershirt, and protects your skin from abrasion.The sport belt has a wider back panel to distribute the pressure and weight of the gun. It has a moderate amount of stretch, which is helpful for maintaining constant belt tension.You can also use both together. You can a) use just the pistol pouch of the Papoose with the sport belt, or b) trim the belt portion of the Papoose to cover the nylon portion of the sport belt."-Sarah Hauptman from Phlster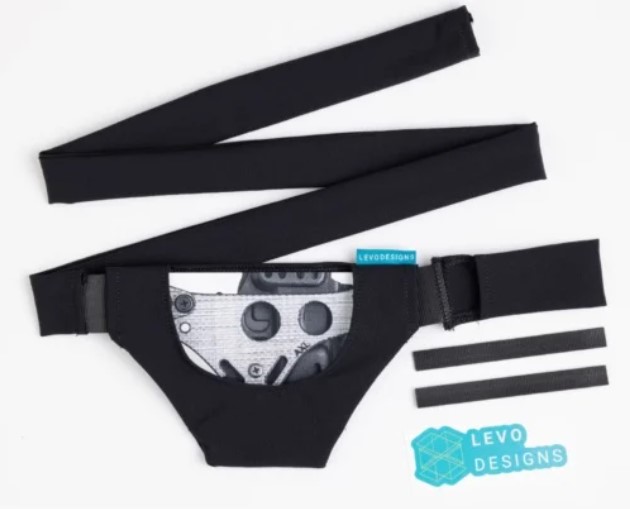 Optimized Modwing
The Optimized Modwing Insert Kit is another great upgrade that Phlster has pushed out. Wing inserts are largely used to help with grip tuck. These extra wings are taller than the standard Modwing insert. "The short EMod is approximately 1/16th of an inch taller than a small Modwing insert, and the tall EMod insert is approximately 1/8th of an inch taller than the large Modwing insert."
Optimize grip rotation and grip tuck with the Standard Enigma
Comes with two inserts (tall and short), plus a set of round spacers for each.
Note: ModWing base not included. (If you need a ModWing base, click here and choose "ModWing Standard.")
Price: $12.00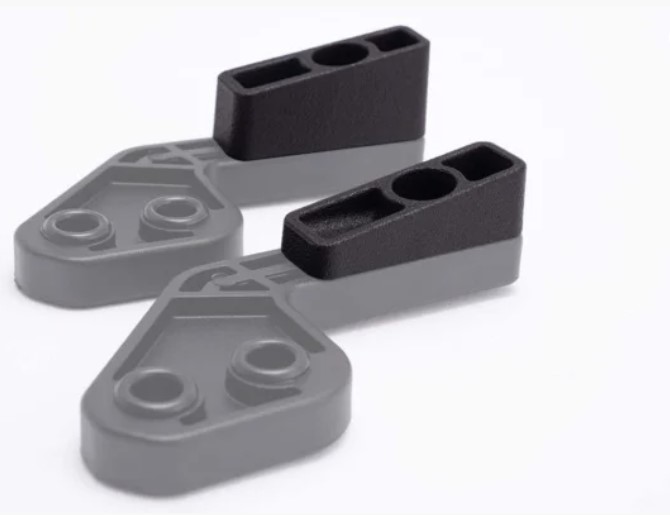 The Optimized kit can be balanced with a wedge to further help with grip tuck. Learn more about this concept with the quick video below.
Reduced Sized Buckle Kit
Ah, an addition for us smaller folk. The Reduced Sized Buckle Kit is a nice upgrade that helps get some of the bucklier items off of the enigma but still performs just as well. Replacing the current buckle, the smaller buckle works as a simple thread through instead of a snap buckle. This will help with printing on smaller shaped torsos. For installation, no extra hardware needed.
Reduces buckle span by 3″
Recommended for smaller users (30″ waist or below)
Takes up less space, allowing you to accommodate additional gear items
Attaches with the original hardware included in the Enigma hardware kit
Price: $13.99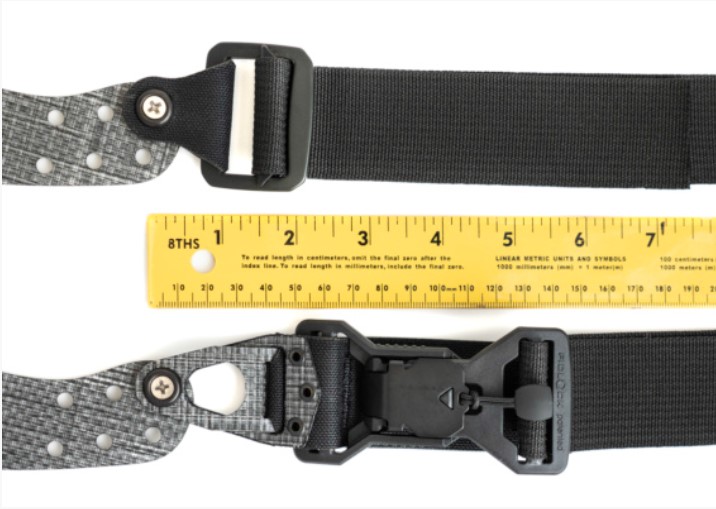 Future releases
Keep an eye out for some wedge designs that Phlster is currently working on the "erGO Holster Wedge Kit" coming soon..
To keep up to date with this and other releases, join their Facebook group under Phlster Concealment Workshop. Joining this group also is a great outlet to get some help with your specific set up and concealability as many put up photos and videos of their Enigma asking what they can do better.