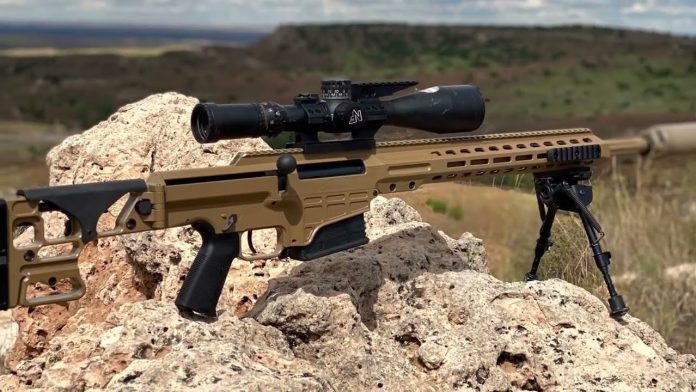 NEWINGTON, N.H., (June 13, 2022) – Following the success of the U.S. Army and U.S. Navy MK248 300WM Precision Sniper Rifle Contract, SIG SAUER is pleased to announce another U.S. Army award to manufacture the follow-on Advanced Sniper Rifle (ASR) 300 Norma Mag (NM) and armor piercing 338 Norma Mag (NM) ammunition.
"This selection by the U.S. Army to manufacture ASR ammunition reinforces SIG SAUER as the leading manufacturer of modern sniper ammunition for the U.S. Department of Defense, and demonstrates confidence in SIG's ability to deliver the most precise ammunition in the world," began Ron Cohen, President and CEO SIG SAUER, Inc.
The U.S. Army ASR ammunition contract consists of two cartridges: M1163, a 300NM, 215 grain round, and M1162 an armor piercing 338NM, 300 grain round. The $157MM maximum value contract includes 4.5MM rounds for the first delivery order.
"Sniper ammunition must be manufactured to the most precise standards. This award, combined with our proven success in the MK248 300WM contract, further demonstrates our most important customer's confidence in our ability to build and deliver the most precise ammunition," concluded Cohen.
All SIG SAUER Ammunition, including the Precision Sniper Rifle MK248, the Advanced Sniper Rifle M1162 and M1163, and the new Next Generation Squad Weapons (NGSW) 6.8mm Common Cartridge, is American made and manufactured at our state-of-the-art ammunition manufacturing facility in Jacksonville, Arkansas.

About SIG SAUER, Inc.
SIG SAUER, Inc. is a leading provider and manufacturer of firearms, electro-optics, ammunition, suppressors, air guns, and training.  For over 250 years SIG SAUER, Inc. has evolved by blending American ingenuity, German engineering, and Swiss precision.  Today, SIG SAUER is synonymous with industry-leading quality and innovation which has made it the brand of choice amongst the U.S. Military, the global defense community, law enforcement, competitive shooters, hunters and responsible citizens.  Additionally, SIG SAUER is the premier provider of tactical training and elite firearms instruction at the SIG SAUER Academy.  Headquartered in Newington, New Hampshire, SIG SAUER has over 2,900 employees across eleven locations.  For more information about the company and product line visit: sigsauer.com.