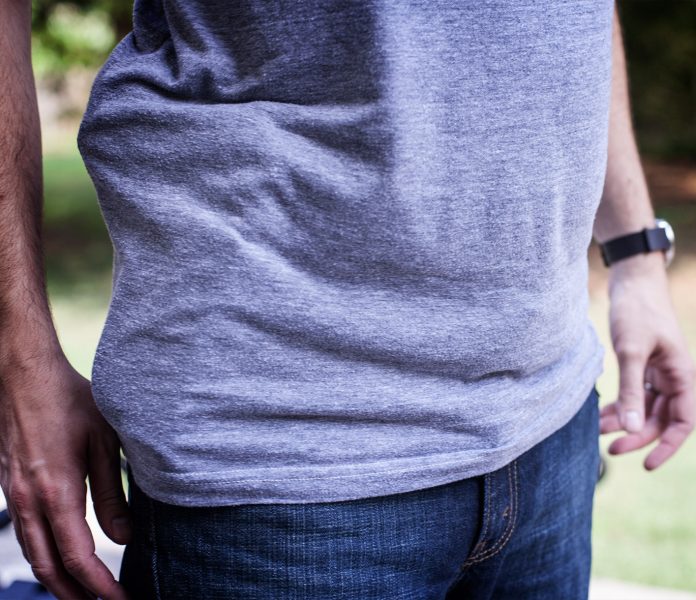 Avoid clothing that's too tight: This one should be pretty obvious. Over the last couple years the trend seems to thankfully be moving away from overly fitted, almost painted on looking clothing. I don't think much needs to be said on why this would be detrimental to concealment. We all like to joke about the guy in his shmedium Grunt Style t-shirt trying to hide a duty sized pistol in a hip holster. If your clothing hugs every curve and contour of your body, then any additions made to those curves & contours, be it a firearm or tacos, will be immediately apparent. That being said, I doubt this one will be a real issue for a majority of the people that read my posts.
Avoid clothing that's too loose: There are actually 2 major reasons for this one. Firstly, baggy clothing tends to look sloppy or careless. This can set a negative impression, and is unflattering. Aesthetics might not be the top priority, but that's not to say it isn't important. The second aspect is a little counter-intuitive. Baggy clothing can highlight a concealed firearm almost as easily as tight clothes can. How is that? Baggy clothing means there's a lot of extra fabric flapping around, so your daily bending, twisting, and moving can result in that extra material settling on the shelf that's created by the grip of your pistol. If one side of your shirt is bunching and gathering unnaturally, that's the type of irregularity that can invite further scrutiny.
Belt selection is critical: Typically when you're dressing up, that means a tucked in shirt, which in turn means your belt is visible. Even if you're wearing jeans, a "tactical" belt like the Wilderness Tactical Instructor belt or the Ares Gear Ranger belt will look out of place. Even something lower profile like the Mastermind Tactics (formerly Graith) Specialist is too conspicuous in my mind. Ares Gear tried to get around this with the Aegis, but it's still scuba webbing. Typically dress(ier) belts mean leather. Just make sure the leather you select is appropriate for the environment. If, for example, you're in a button down shirt with jeans & boots, a beefier leather gun belt like the 1/4″ thick offerings from Mean Gene, but if you're in chinos, slacks or suit pants, you'll need something that doesn't look like work wear. You may have already read my article where I compared the Kore Essentials and Slidebelt, which are my previous and current go-tos.
Your pants play into the concealment of an IWB holster! Most dudes, especially dudes that have a less than athletic build like myself will be inclined to pick pants that are less constricting because that's more comfortable. This unfortunately creates a problem. You want your waistband to help snug the gun up against the body. Additionally, I've found that pants that are a little more fitted in the crotch, seat, and thigh tend to keep the holster body in place and prevent shifting. I'm not suggesting that the waist of your pants needs to be so tight that it's cutting into you and leaving marks or red spots, but there should be at least some notable level of pressure from the waistband against your body.