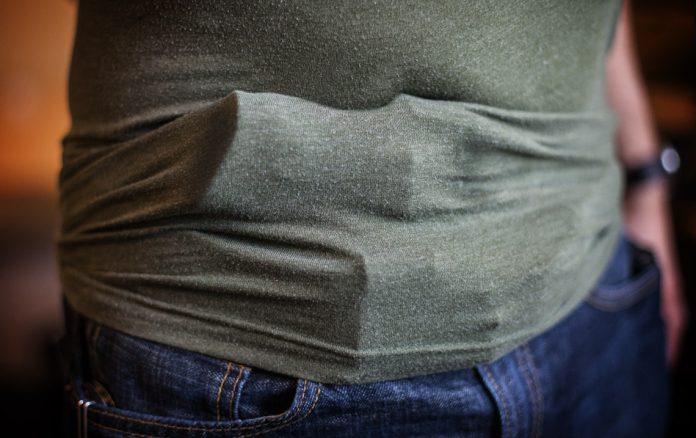 Pant rise is important: For those unfamiliar, "rise" is the distance from the waistband to the crotch of a pair of pants. "Wait, you mean to tell me they're not all the same?!?!?". Well no, in fact they're not, nor is one type universally effective. Depending on your build and the length of your torso, standard (high) or mid-rise pants might be more appropriate for you. The most common mistake that most guys make (again, especially those with the "successful lifestyle body") is that they wear their pants too low. This can negatively impact your concealment by causing the gun to ride too low and/or create hot spots and discomfort. Your natural waist is typically at the level of your belly button, possibly down an inch or two. Most guys wear their pants on their pelvis, which is too low. The other issue is that wearing pants with the wrong rise too low can impede movement. The crotch of the pant is now lower than it should be, which means your legs are joined further down than they are naturally.
Shoe selection matters! Dressier shoes tend to have leather soles. Leather soles tend not to have the best traction. Traction is kind of important if you're having to physically manage another person. You're probably thinking "Well that's an easy fix. I'll just wear nothing but rubber soled shoes then!". While that will work, I've yet to see a rubber soled shoe that actually looked like it belongs with a suit or dress pants. Thankfully there are some hybrid options out there, where rubber studs or sections are built into a leather sole, giving you better traction without looking like you're wearing orthotic shoes or a uniform duty oxford.
Get friendly with your tailor: Most clothing off the rack doesn't really fit anyone all that well, it just fits a lot of people okay enough that they'll buy it. A good tailor can help tweak and adjust any garment to serve a specific purpose for you, and make sure your clothing is working for you instead of against you. And, speaking of tailors, there are a few specialty adjustments you can have your tailor make to your wardrobe:
Reinforcing your waistbands: Most of us carry guns and other support gear on the belt line. Other than work wear and denim, most slacks and suit pants are more delicate and not well suited to supporting weight. Having your tailor reinforce the waists of your pants will help to prevent sagging, and have the added benefit of more material that will keep your holster clips and other gear from wearing holes in your pants.
Extra belt loops: Along the same line as a reinforced waist, you may find it beneficial to have extra belt loops added to your trousers. This helps more evenly distribute weight across your belt, and prevent the waistline of your pants from sagging. Very important for any tools carried along the mid-line or in the pockets.