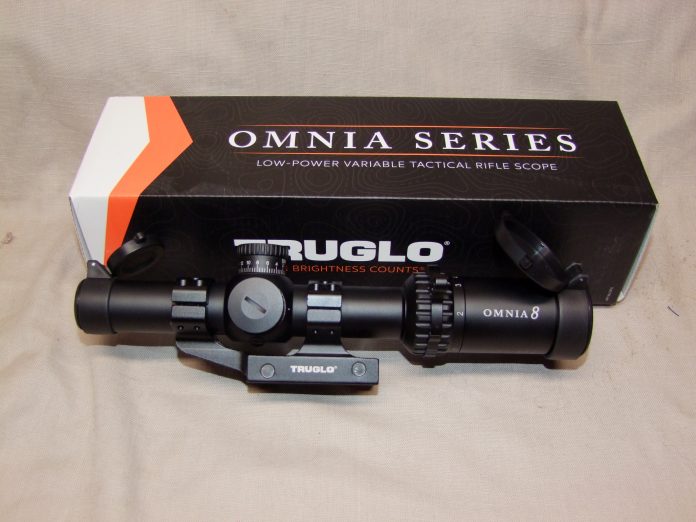 Over the last several years I have become a fan of Truglo Optics. They are affordable, give you a lot of value for your dollar and are well made. My choice for three gun has been the Omnia series.
My 1-6 Omnia has traveled the country and used in matches from Las Vegas to Georgia. Throughout those travels the scope has endured being tossed in dump barrels, falling off the tailgate of the truck, all conditions of weather and being removed to switch to a red dot. Throughout all of that, the scope has never lost zero or fogged up. I cannot ask more out of a scope.
When the new 1-8X Omnia was introduced, I was thrilled. This would expand the scope's uses dramatically. Not that I planned to use it for long range shooting, but the extra magnification would be ideal for hunting. 6X is good, but in low light conditions of the woods it could leave you wanting more. Not that one needs to see a deer better, but you need to be able to see how large the rack is. Shooting a buck that does not meet the state requirements can lead to a lot of legal hassles. The extra magnification should help eliminate that problem.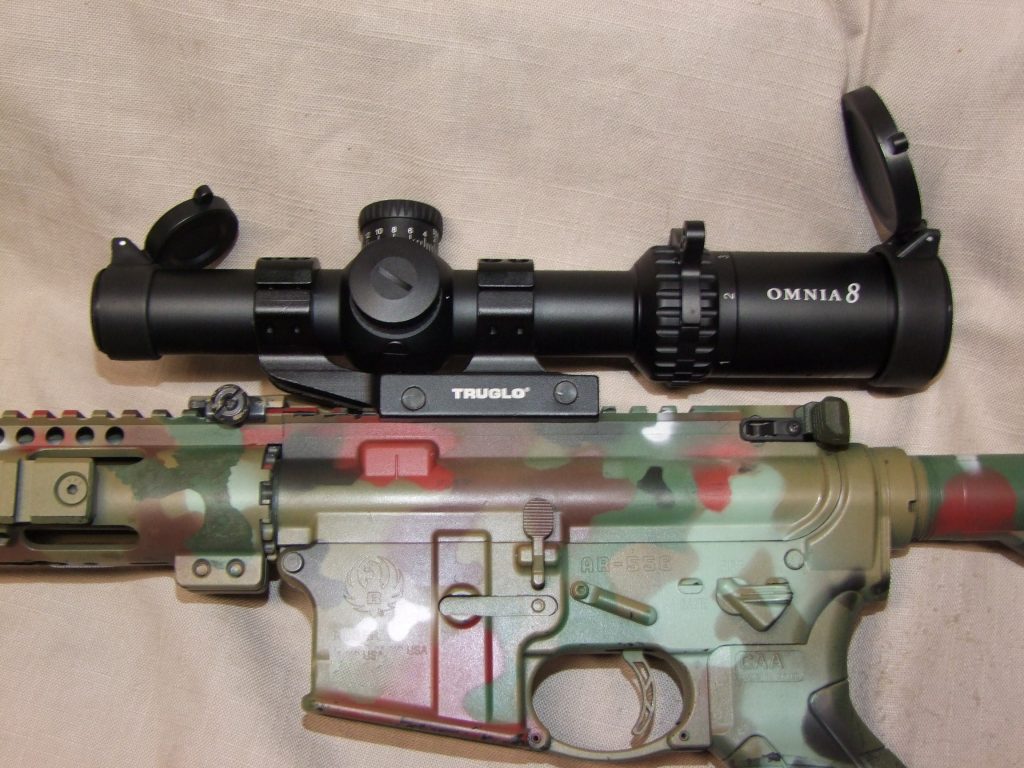 What specifically do I like about the Omnia scope? First off you receive a complete package. In the box is the scope, flip-up scope caps, mounted throw lever, an APTUS-M1 mount (it fits Picatinny rails perfectly and will work on a Weaver rail) and the wrenches to loosen the locking caps. Second is the price, the 1-8X has a MSRP of $414.99. Third is the quality. I have found I do not need to have a multi-thousand dollar optic to shoot three gun or to hunt deer in Pennsylvania. What I need is an optic that can survive me and still work, Truglo's optics do that.
One feature that truly sets the Omnia scopes apart from other low power variable optics is the illuminated reticule. Unlike many others, when set on one power to use it as a "red dot", the aiming point does not wash out in bright sunlight. Omnias have been the only scope out of dozens of scopes that were still visible at high noon. It might not seem like a big deal until you come up on a freshly painted piece of steel and your aiming point washes out. Since I am not planning on hunting polar bears; that should not be a concern I need to worry about in the field.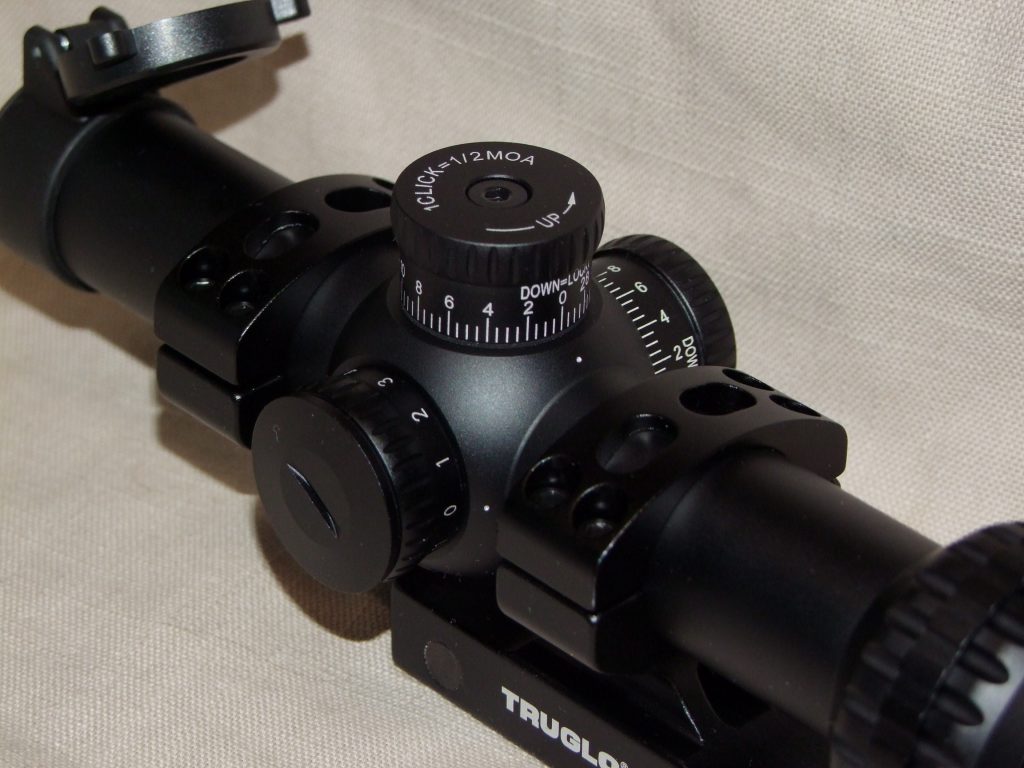 Let's look at the details of the Omnia. It has a 30mm tube with a 24mm objective lens with ½ MOA adjustments (@100yards), locking pull/push turrets, an adjustable ocular lens and 11 intensities of brightness for the reticule. The illuminated All Purpose Tactical Reticle (A.P.T.R.) is a bullet drop compensator for 55 grain .223 Remington bullets when you use 50/200 yard zero. If you use 100/300 zero, a different .223 bullet weight or other calibers you will have to learn the different drop for each stadia mark. For three gun, I use 69 grain .223s and there was not enough variation that it was not an issue to get hits on steel at 250 yards plus.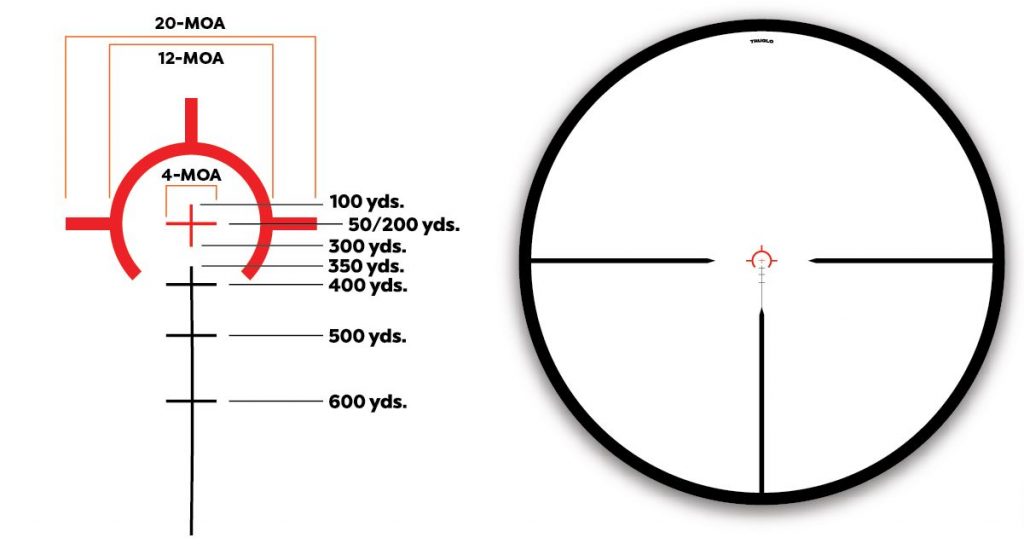 Adjusting the point of impact on the Omnia is easy thanks to the large locking knobs. The ½ MOA clicks are positive. To make adjustments, pull the knob up and to lock it, push down. Once you have zero set, you loosen the knob's set screw, move the knob to zero and tighten the set screw down. Once it feels snug, it is tight.
The throw lever comes installed. When it is at 3 o'clock you are on 1X, rotate counterclockwise to 9 o'clock and you are at 8X. The power adjustment is smooth and simple. I have tested more expensive scopes that did not move as smoothly. To the rear of the power adjustment is the ocular adjustment. It rotates to the left and right to ensure the Omnia's A.P.T. Reticule is sharp and clear for you.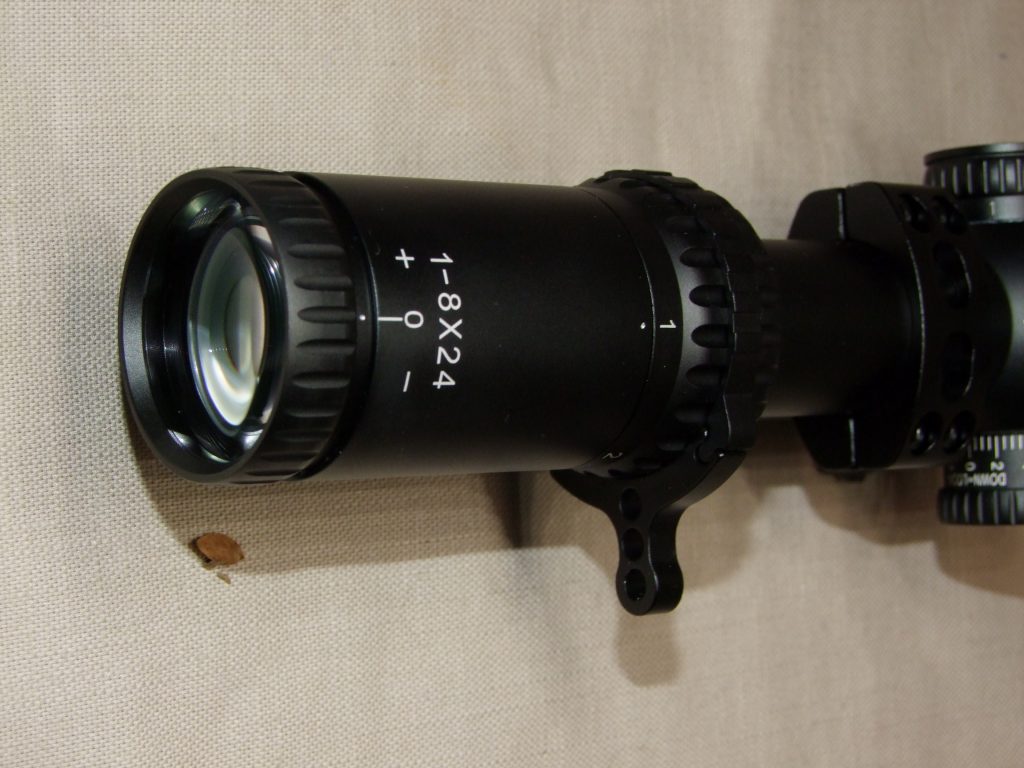 The APTUS M1 mount is a solid one piece mount. Obviously, the upper portion of each scope ring is removable. Each ring is secured by 4 Torx screws, two on each side of the ring. When mounting the scope I put a drop of purple LocTite on each screw to keep them from loosening. This not only keeps you from constantly checking to see the screws are tight but will help prevent over tightening and stripping the mount threads. I do the same to the mounting bolts and have yet to have a mount or rings loosen.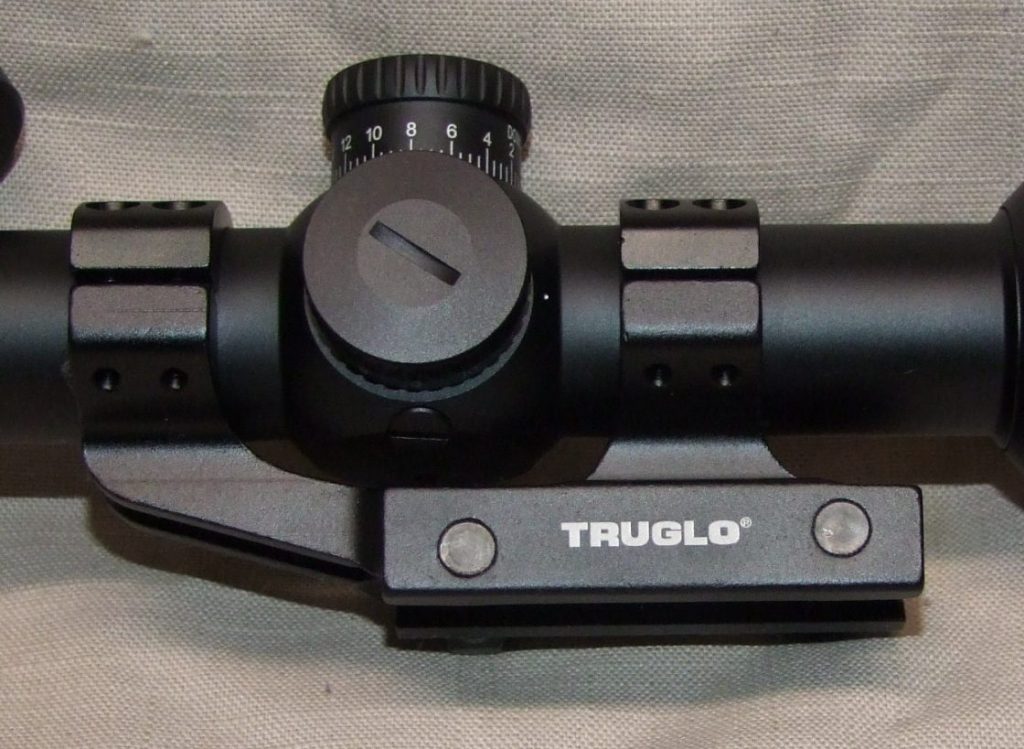 As you can see, Truglo's Omnia 1-8X is a lot of scope for the money. It would be a good addition to any rifle with a Picatinny rail, but shines on Modern Sporting Rifles. If you are looking for a new scope for the field, duty or competition; you will be hard pressed to find a better value on the market. The Omnia's clear view and outstanding A.P.T. Reticule will help you shoot accurately, let you see your target area to shoot safely and shoot better for more fun.