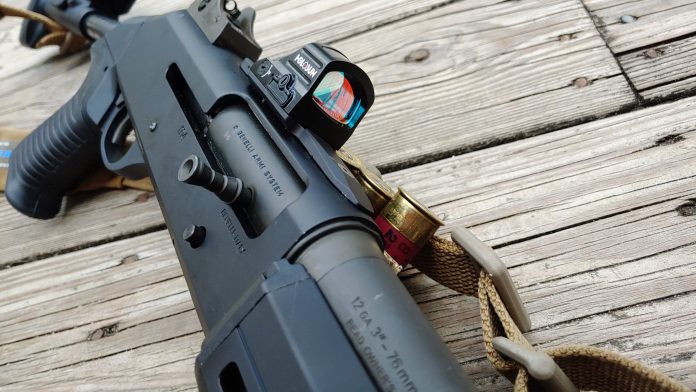 Let's talk about mounting optics to shotguns. Sometimes it really does suck. Shotguns aren't nearly as standardized as ARs, and mounting optics isn't always the easiest thing to do. Today we are going to discuss the problem, as well as point you to three of the best shotgun red dot mounts on the market.
The main problem is that the most common way to mount optics to shotguns is to toss on a Picatinny rail and then the optic. The problem here is that the red dots often sit higher than you'd like. Shotguns are close-range weapons, and you typically want the optic to sit as low as possible. You don't want height over bore issues, and you want more of a cheek weld than a chin weld.
Sometimes even the presence of just a rail and low mount sits the dot uncomfortably high. With that in mind, we've found three awesome options that will get you nice and low behind the dot.
The Aridus CROM
One of the best options comes from a small American shop known as Aridus Industries. They provide some top-notch awesomeness in the form of their shotgun accessories. The CROM shotgun red dot mounts are designed with cowtinessing in mind. CROM stands for Co-Witness Ready Optic Mount.
This places a slot for a rear sight on the optic's mount, and Aridus uses the XS rear sight setup to make it work.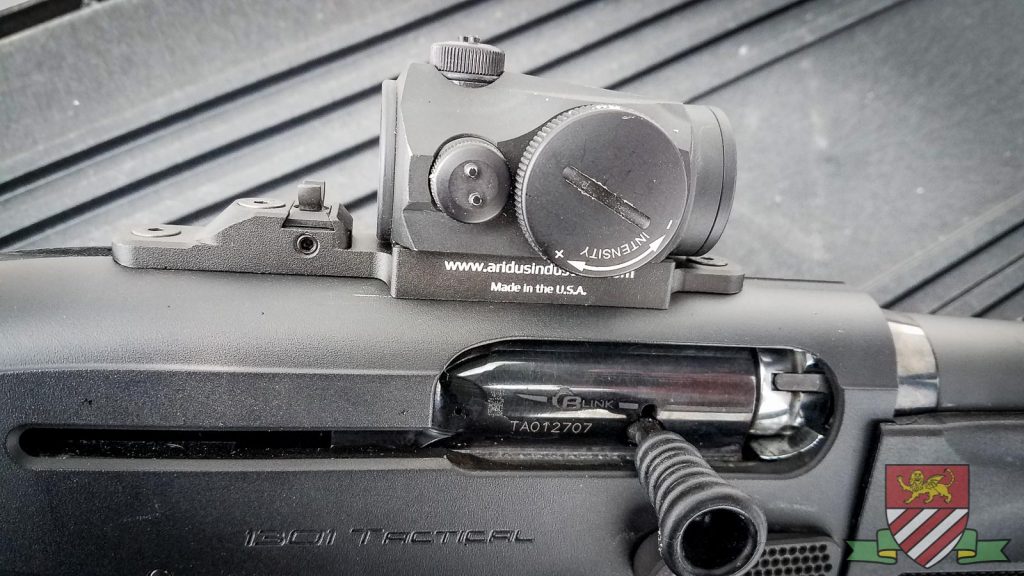 This is a peep sight, but there is also a Rob Haught modification that cuts the top half off for faster shooting. In front of that rear sight sits your optic's mount.
Aridus manufactures these mounts with Picatinny rails and allows you to pick a specific footprint to directly mount your optic to the gun. Aridus makes these mounts for Remington 870, Beretta 1301, and Mossberg 500 shotguns. The optic footprints include the Trijicon RMR and Aimpoint Micro.
The Scalarworks Sync Mount
Scalarworks is well known for producing some awesome AR height mounts for all your red dot needs. So much so that a lot of people sadly don't even realize the Sync mounts exist for their favorite scattergun. The Sync mounts are very simply designed and use a footprint-based mount to attach the optic as low as possible to your shotgun.
With most guns, these with cowtiness with the existing sights. For example, on the Benelli M4, it sits just lower enough for great co-witnessing.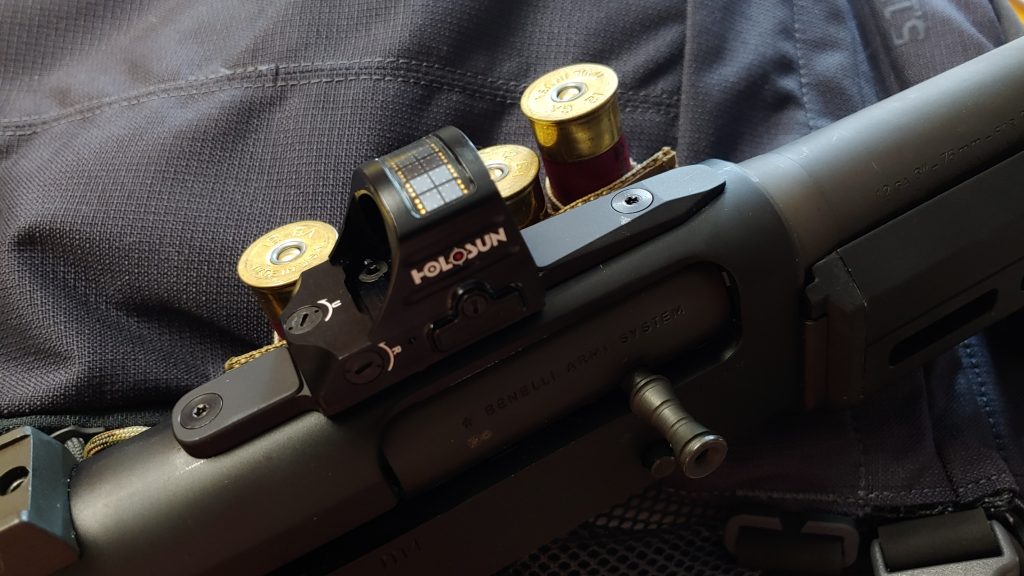 However, on certain guns like the Mossberg 590, you may have to remove the ghost ring to mount it. These rugged machine mounts are ultra lightweight and designed with shotguns in mind.
Shotguns are brutal, violent weapons, and Scalarworks uses an innovative mounting system designed to help shake off recoil and resist any form of loosening when you get into those high round counts. These mounts are available for the Benelli M4/M2/SBE, the Remington 870, and Mossberg 500 series and use either Aimpoint micro or the RMR footprint. These shotgun red dot mounts attach cleanly and are tough to boot.
The KE Arms Shotgun Red Dot Mount
The Aridus Crom and Scalarworks Sync aren't the cheapest options. If you want a quality-made design that won't leave your wallet empty, look no further than the KE Arms Shotgun red dot mount. These simple mounts mate to the receiver and provide a footprint-based platform.
They are made for the Mossberg 500, 930, and Remington 870 shotguns. These mounts accommodate the RMR, Delta Point Pro, and Aimpoint Micro footprints.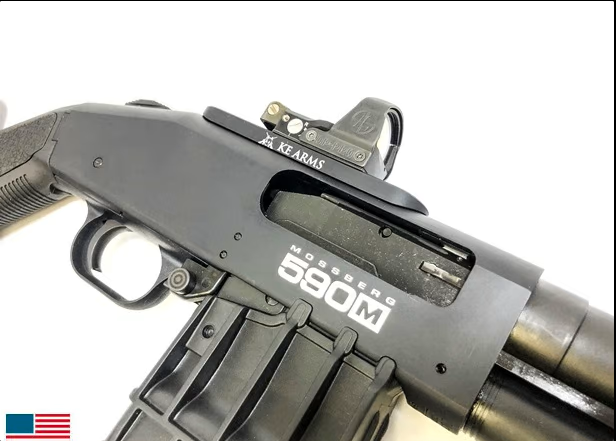 These all metal mounts get the optic super low. This makex it easy to use your standard stocks without the need for a chin weld.
The KE Arms mounts cost less than 70 bucks and mount with absolute ease. The KE Arms Shotgun mount provides a simple, but robust and well made series of shotgun red dot mounts.
Shotgun Red Dot Mounts – Blast Away
Shotgun red dot mounts should aim to get the optic low and easy to use with a nice, stable cheek weld. The mounts listed above are superbly well made and are the best I'm currently aware of. As a shotgun nerd, I'm constantly upgrading and experimenting with my scatter guns, and maybe this list will grow. For now, those are the best options you have.