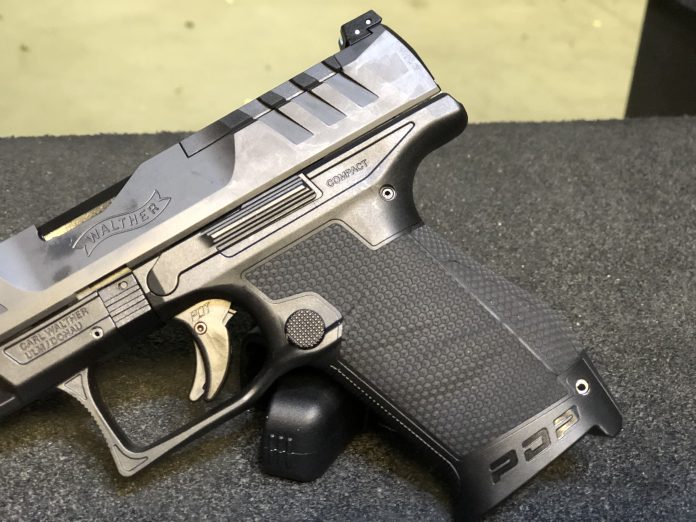 It's your DUTY to be READY. The Walther Police Duty Pistol.
Walther's timeless innovation has once more achieved a breakthrough never seen before in firearms with the PDP elite handgun. Whether you are on the job or with the family, it is your duty to stay ready for any situation that may come. Now, you can do so confidently with the groundbreaking advancements afforded by the Walther PDP. With revolutionary ergonomics, SuperTerrain Slide Serrations and a brand-new Performance Duty Trigger, this is the next evolution in world-class ingenuity for pistols.
No other handgun can put all the tools you need at your disposal like the Walther PDP. It's a handgun specifically designed to maximize readiness no matter the circumstance, and with the support of Walther's historic ingenuity, it's guaranteed to surpass all expectations time and time again. The unique design offers versatile advantages when you need them most, providing supreme performance in any condition, making this the go-to choice for shooters who demand excellence every single day.
As the ideal firearm for those seeking unmatched versatility, dependability and effectiveness in both concealed carry and conventional service situations, the Walther PDP is how you stay ready.
There's the company promo line.
Let's get to the gun(s).
Here's the short, short, short version.
It's a PPQ with a new slide to support optics, deeper serrations, and the frame texture from the Q4SF panels molded into the polymer. It shoots with that PPQ goodness, the trigger lives on. They also added an 18rd full size frame to lineup. Done.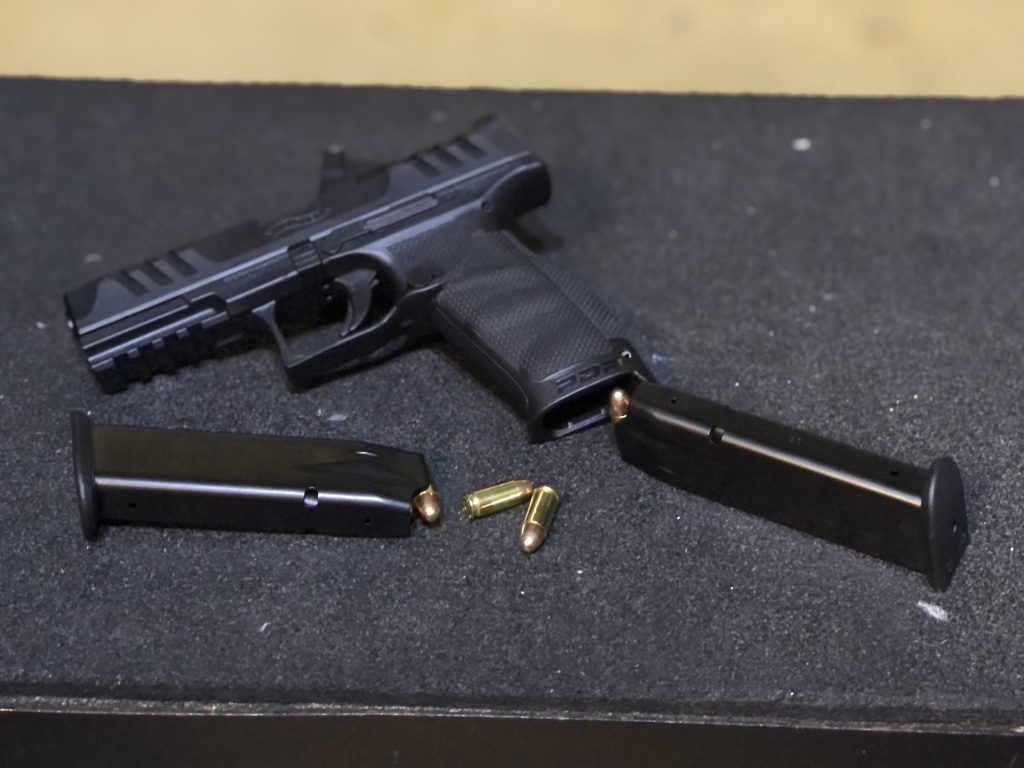 Now the long version.
Full review in process [read: looking for more 9mm and a dot to throw on top]
The PDP, Police Duty Pistol, is the logical evolution of the PPQ, Police Pistol QuickDefence (they're German, it's the Euro spelling). The line is launching with two frame sizes and three slide/barrel lengths, although the 5″ barreled variant is only being offered on the fullsize frame (as of now). This is yet another international manufacturer standardizing on pistols with red dot optics.
For any existing fans of the PPQ pistol, especially the M2 variant, the PDP will feel right at home to you.
As you might expect from a modernized offering, it is Optics Ready. The slide is where the PDP departs most drastically from its PPQ legacy, although the frame also takes some inspiration from the Q4SF, notably in texture. You can track the PDP's legacy back to the P99, it has come far and offers more than ever.
They've partnered with C&H Precision to offer plates that you can purchase directly through Walther's website, however you get one Walther plate for free. Just use the plate request form from Walther and pick your optic style of choice, the corresponding plate is on the way. If you know what you want ahead of time you can order it and have it ready and waiting of course, however you do get one free.
With the number of people who ditch the stock optic plates offered with other handguns for upgrades, like C&H or Forward Controls, I like this offering method. It doesn't burden someone who isn't going to use an optic, or use one right away, with small parts to lose. It also doesn't saddle the optic using owner with a bunch of 'cost effective' plates that they will only use one of, and may replace later anyway with a dedicated machined plate. It goes right to the dedicated plate option, with C&H offering a higher grade "Defensive Division" on Walther's site. Trading some wait time for less clutter and a higher grade offering.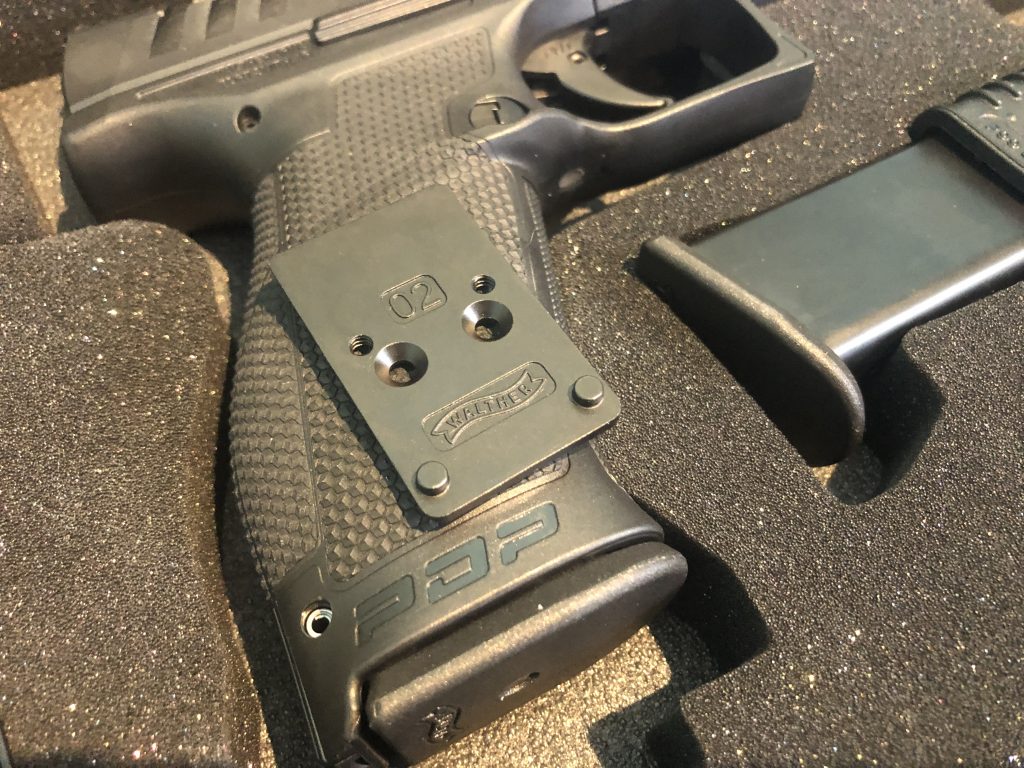 Oh! They have light rails too, so X300U or TLR-1HL it and get right to work with a few light indexing optic compatible holsters. PHLster Floodlight, for example.
Speaking of holsters, branded Comp-Tac's will be available shortly from Walther directly (if they are not already). Tier 1 Concealed, Tenicor, PHLster Pro's (in addition to the current Floodlights), C&G Holsters, DeSantis, Safariland, and TREX Arms will all have offerings.
I am a hardcore PHLster man myself, and if you say leather I will probably say DeSantis, but picking a holster is like picking a good pair of pants and we all have our brands of preferences.
A review in a preliminary pair of paragraphs, then the official press release.
The PDP retains everything we loved about the PPQ M2, trigger, magazine, and slide lock/release, while it adds the modern optics capability from the factory. They took a solid approach to the mounting equation that, while delaying mounting the dot immediately (without additional cost), offers the user a more solid method of doing so. It is a welcome addition into modern fullsize and compact duty pistols.
In my personal opinion, the compact shoots the best. But that might just be because it awakens all the old PPQ familiarity. The 4″ 15rd capacity gun is a pleasing form fitting evolution of its legacy models. The new 18rd 4.5″ gun is a welcome change from Walther, who had previous been rather endeared to the, admittedly very comfortable, 15rd frames while relying on extended magazines to reach higher capacities. For the larger pawed crowed it will make the Walther's a more accessible pistol option, and with 4″ barreled slides still being an offering in the full frame, concealment shouldn't be a problem.
OFFICIAL: Walther launches the PDP, its new flagship handgun. It's your duty to be READY.
Walther, a company defined by over a century of engineering passion, precision workmanship and innovation, has entered a new era of manufacturing with its flagship elite handgun. The PDP, Performance Duty Pistol, has been designed by Walther to be READY, no matter the circumstance.
With revolutionary Red Dot Ergonomics engineered into the pistol, the PDP platform has been designed around making the switch to the popular red-dot sight system easier for the new RDS shooter and faster for the RDS veterans. The SuperTerrain serrations are uniquely shaped to protrude above the surface of the slide allowing for quicker and more responsive hands-on engagement with the pistol. Walther's brand new Performance Duty Trigger shortens the length of travel and increases the tactile definition of the trigger break making the best striker-fired trigger on the market even better. The PDP is the most modular and versatile pistol ever designed by Walther and every PDP model comes red dot READY.
Available in 9mm, the striking design provides supreme performance in any condition, making this the go-to choice for shooters as an ideal firearm in both concealed carry and conventional service situations. The PDP is launched in two distinctly different frame sizes – compact and full size – as well as three different slides lengths – 4" and 4.5" in compact models, and 4", 4.5" and 5" in full size models.
The PDP is the next evolution in world-class ingenuity for polymer frame pistols. Packed with features, Walther's PDP is specifically designed to maximize readiness no matter the circumstance. The Walther PDP is how to stay READY.
"At Walther, we believe it is our duty to engineer the best possible pistol for anything our customers may encounter. We want them to focus on being READY for anything and not thinking about how or if their pistol will perform, we have done our job so they don't have to worry about it." Jens Krogh Vice President of Marketing and Product Development Walther Arms USA.
WALTHER PDP FROM MSRP: $649.00
For more information on Walther Arms, visit waltherarms.com/PDP