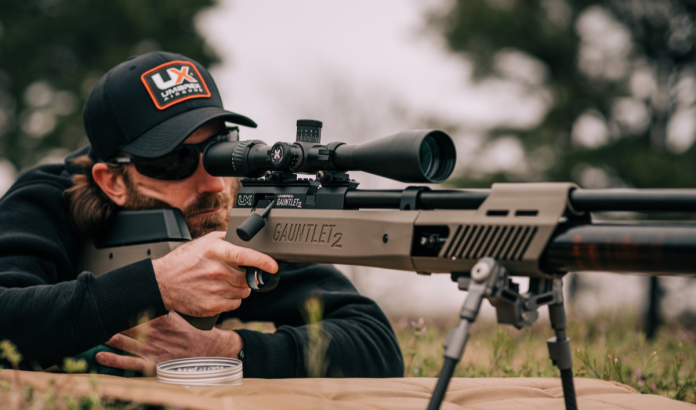 Umarex Airguns Announces the Gauntlet 2 PCP Air Rifle
FORT SMITH, AR (May 10, 2021) – Umarex USA, innovator, manufacturer, and marketer of airguns, optics, and accessories for outdoor enthusiasts is pleased to announce it is running the Gauntlet again! The Gauntlet 2 pre-charged pneumatic (PCP) is all new for 2021. Umarex Airguns is bringing substantial improvements over the first generation Gauntlet and its direct competitors. The new Gauntlet 2 will be available in both .22 and .25 calibers and bring a refined look and a new performance potential to shooters looking for an alternative to rimfire rifles or the discerning air gun shooter in aim of the 10-ring.
Ergonomics mean everything when it comes to handling any tool and air rifles are no different. The new Umarex Gauntlet 2 stock has been optimized with esthetic design changes as well as functional improvements that captivate the eyes and meld with the body. Its new high-strength polymer stock is molded in Flat Dark Earth with the adjustable cheek rest accented in black. The stock has been slimmed down and trimmed in conspicuous places while still offering superb interaction, reduced weight, and synonymous feel for the shooter. This new approach accommodates M-LOK® accessories via the attachment points on three sides of the reinforced and lengthened forearm. Additionally, the new Gauntlet 2 is fitted with an easy-to-grip knurled cylindrical bolt handle that treats the shooter to a much more positive interface, especially in inclement weather.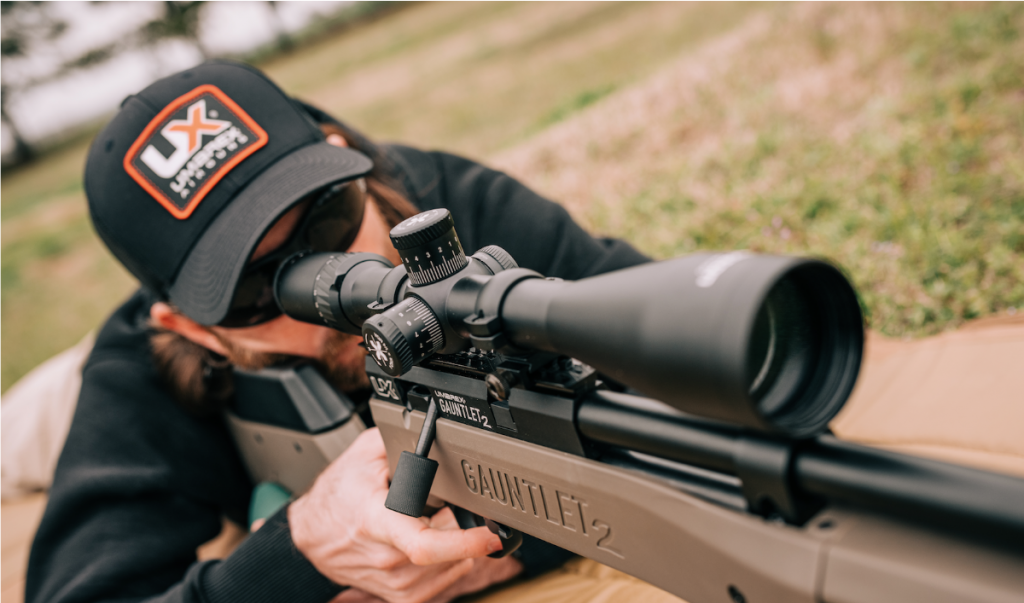 Umarex Airguns raised the bar with improved performance in this new edition to their PCP lineup. The Gauntlet 2's new onboard air tank has been increased to 24 cubic inches from the first generation's 13 cubic inch tank. The biggest news for the Gauntlet 2, however, is the increased regulated pressure. Shooters picking up the .22 caliber Gauntlet 2 will find the regulated shot pressure at 1,900 PSI and the .25 caliber Gauntlet 2 tank regulated at 2,100 PSI. Velocities for .22 and .25 caliber pellets will hover in the 1050 FPS and 980 FPS range using lightweight lead pellets and energy levels in the 33 FPE and 51 FPE range with popular standard weight pellets, respectively. The huge 24 cubic inch tank also works to increase the shot count by 17% in .22 caliber to 70+ shots and 85% in .25 caliber to 50+ shots. Even though the Gauntlet 2 is producing substantially more muzzle energy than the original Gauntlet, additional baffling in the barrel assembly works to reduce the noise level by 8dB in both calibers. Mounting a scope on the new Gauntlet 2 is also easier than ever with a Picatinny style optics rail now topping off the receiver.
Umarex USA has run the Gauntlet again by refining the lauded Gauntlet platform to create a powerful and pleasing PCP pellet rifle that, in typical Umarex Airgun fashion, offers exceptional power and exceptional value for the consumer's shooting dollars. The Gauntlet 2 will be offered at fine airgun retailers and the Umarex USA webstore at a MSRP of $449.99.
About Umarex USA
Umarex USA, Incorporated is one of North America's fastest growing family-owned outdoor sport and recreation companies. Umarex USA innovates, develops and markets products under brands owned or licensed by its parent company, UMAREX GmbH & Co. KG. Such brands include Axeon® Optics, Beretta®, Browning®, Colt®, Elite Force® Airsoft, Exude™ Lights, GLOCK®, Heckler & Koch®, Hornady®, IWI®, REKT®, Ruger®, RWS®, Smith & Wesson®, T4E™, UMAREX®, Walther® and others. For additional information regarding Umarex USA visit UmarexUSA.com.