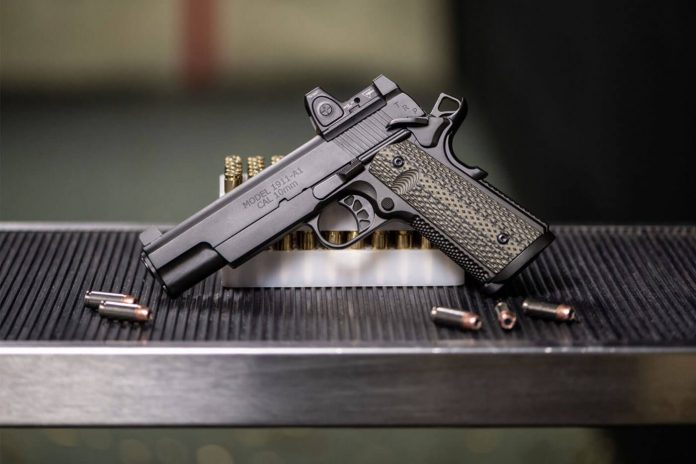 Accuracy. Power. Speed. For as long as there has been shooting, whether it be for hunting, self defense, sport, or any other reason, these three aspects have embodied an idea of balance. This saying has literally become iconic, and not only is it an apt description of key shooting aspects that most are trying to equalize, but it is constantly applicable across all manner of shooting.
Dedicated and serious shooters are always looking for a better way to accomplish hitting a target, whether that is in the application of shooting (the accuracy and speed part) or an increase in power. Despite current trends, there are still many shooters who desire a cartridge that represents more power than just "good enough," especially for a specific task or purpose. More power will always be more power, but this constant search can also lead to excesses in one direction or another. However, if we use this axiom of accuracy, power, and speed to measure a pistol itself, what results would we gather?
Enter the TRP 10mm RMR
This new offering from Springfield Armory takes the existing TRP 10mm 6″ and steps it up a bit. When compared to the original TRP 10mm, the addition of a Trijicon RMR®(Ruggedized Miniature Reflex) sight along with back-up tritium sights immediately stands out.
Similar to the existing TRP 10mm 6″, this new pistol uses a stainless steel match-grade bull-barrel with fully supported chamber, as well as a long recoil spring plug that allows for the use of standard government-length recoil springs. No special long-slide recoil springs needed.
However, what I think is the most notable change for this gun is the long, full-profile, heavy dust-cover on the frame, as it puts more weight low and forward on the pistol, but more on that later.
So, applying the "accuracy, power, speed" maxim, how does Springfield's TRP 10mm RMR 6″ measure up?