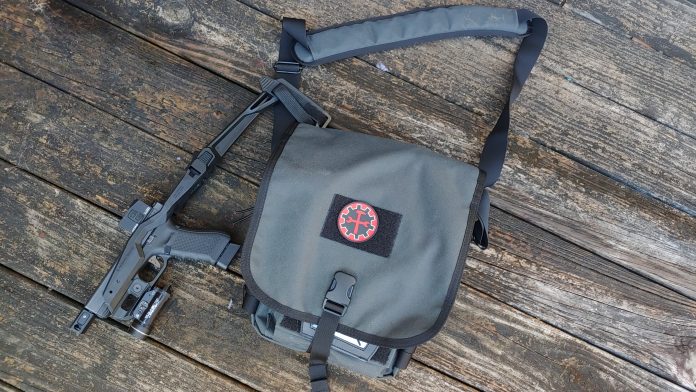 Sneaky Bags is a company that famously produces discreet weapon cases. These are not diversion bags designed to look like something else, but simple weapon cases that are rather plain and untactical. The outside of the bags lack MOLLE, Viking symbolism, or any other dead giveaways when it comes to identifying what the bag carries. Sneaky Bags also produces the Shoulder Utility Bag, aka the SUB. 
The SUB comes in three sizes, and predictably those sizes are large, medium, and small. The bag we have today is the medium SUB. The medium SUB would make Subway proud with its foot-long width. The SUB is also ten inches long and five inches deep. It's a relatively moderate-sized shoulder bag with four separate compartments. The bag has an adjustable shoulder strap that makes it quick to don and easy to take off. 
The SUB – Stay Discreet
The bag looks plain. Super plain. The outside has a Velcro area for patches, name tapes, or whatever. When closed, it looks like an oddly shaped laptop bag. There is no visible MOLLE or tactical tags that let you flex your Gucci brand. On the left and right side of the back is a series of webbing that's relatively invisible.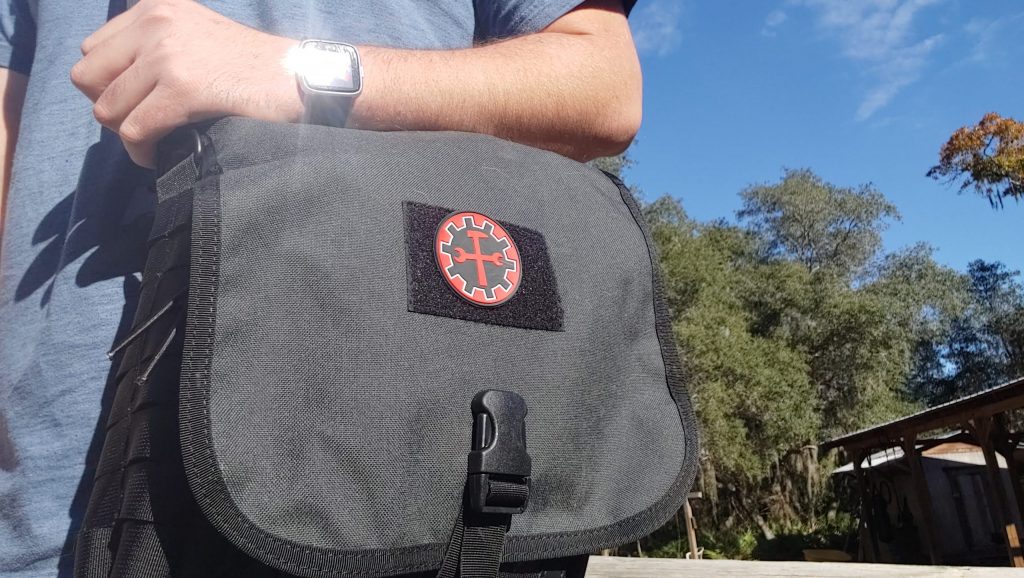 The straps are so close together they blend in but still allow for the attachment of standard MOLLE based pouches. Like any other Sneaky Bag, the SUB is designed to be disguised. It doesn't stick out but allows you to carry a whole lotta gear well organized and discreetly.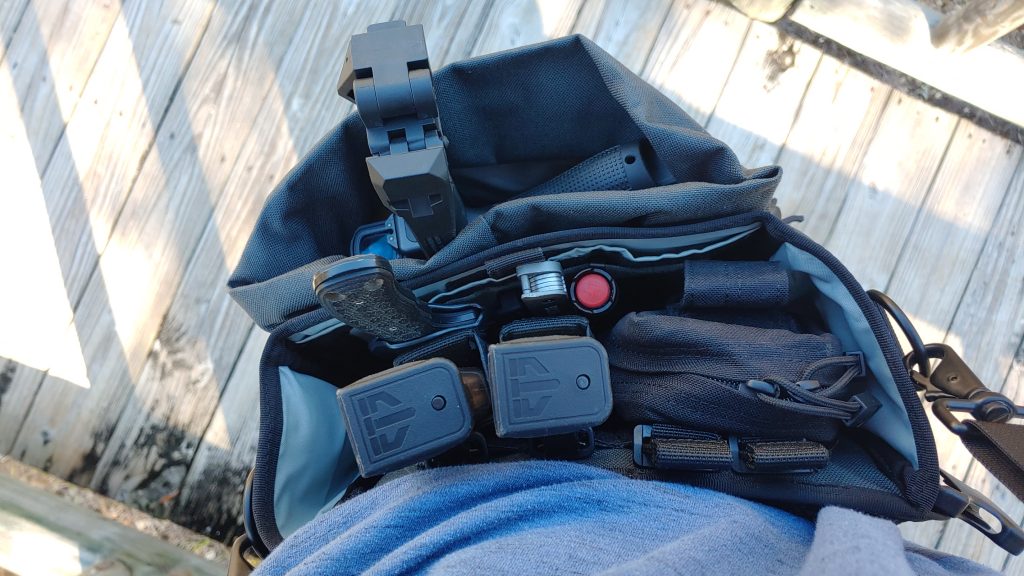 The rear of the bag has four buckles for a stabilizing strap to secure the bag to your leg when moving fast and hard. This keeps the bag in one place and doesn't let it slide or flop around. The rear also features crisscrossed bungee straps that would make stashing an outer layer to the bag easy and convenient. 
Purpose 
The SUB is designed to replace an overt fighting carrier like a chest rig. With the SUB, you carry all the necessary gear to get into trouble and fight your way out of it without needing to slap on a chest rig. The SUB is designed so armed professionals can remain discreet but could be adapted into civilian use in several ways.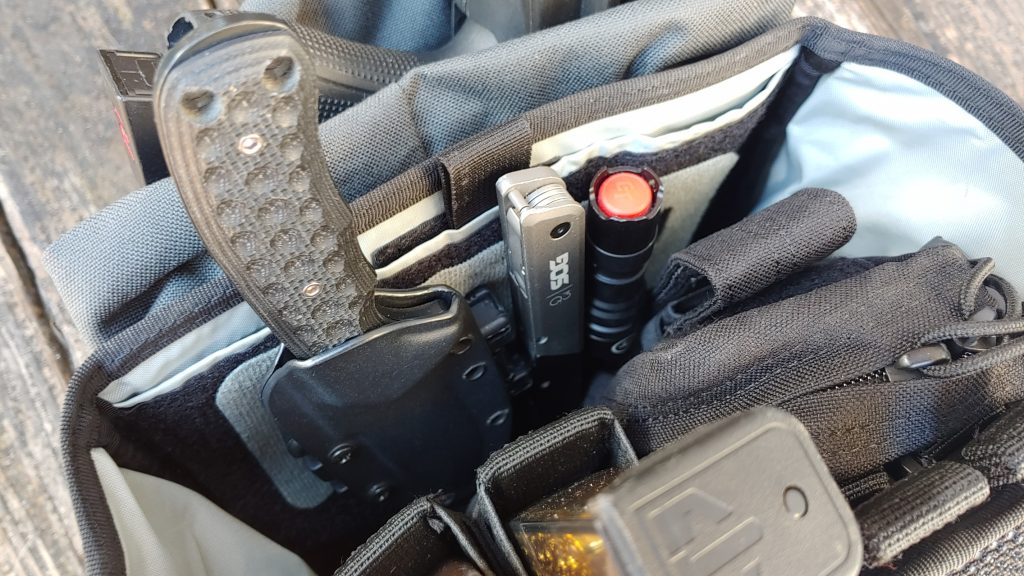 Bugging out is the perfect task for the SUB. This could be your gun bug out bag. You have a bag loaded with clothes, food, water, etc. You load the SUB with a sidearm, ammo, and more.
I shoved a lot of different stuff in the bag, and mine is a pistol fighting load. The SUB could easily be converted to carry a load for a rifle, a shotgun, a team medic, communication gear, or anything else. The bag is endlessly adaptable and fits numerous mission profiles. 
Capacity and Design 
Once you pop the hood, you see the big main portion of the bag, followed by a small internal pocket, another moderately sized pocket, and finally a tiny pocket on the very front of the bag. The main pouch is outfitted with an inner layer of Velcro topped MOLLE. Across from the MOLLE/Velcro panel is a simple Velcro panel for more pouches and accessories.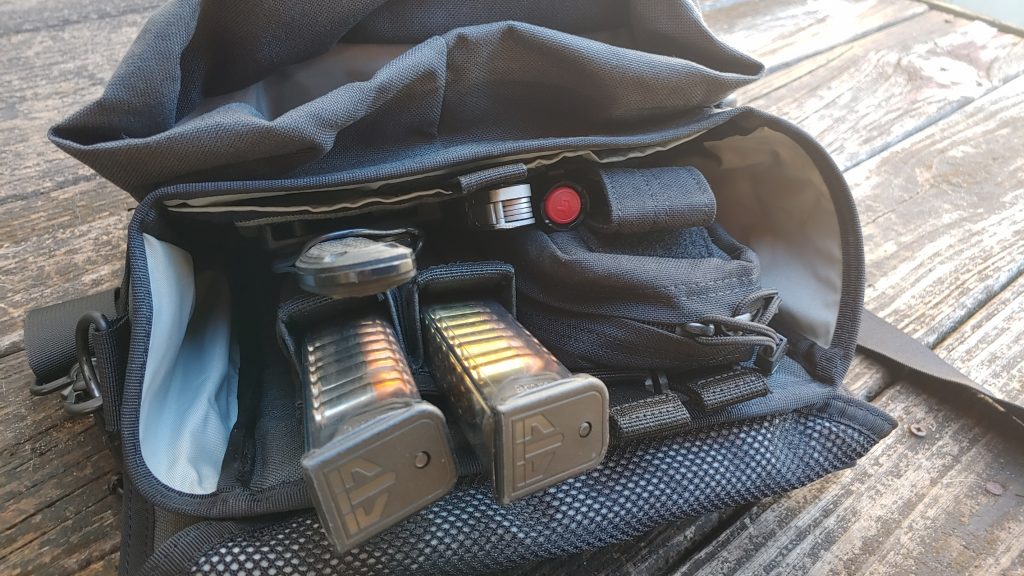 Inside that SUB main pouch is a Velcro closed pouch that acts as an easy separator for different gear. This is the perfect pouch for gear that needs to be quickly and easily removed. IFAKs are perfect for this pouch. You can grip, rip, and deploy an IFAK without it getting caught on anything on the way out.
In front of this main pouch is a dump pouch perfect for stashing magazines or other gear you don't have time to organize properly. Beyond that is an ultra-small pouch that's perfect for small electronics, mini-medical gear, or in my case, I shove a rolled-up poncho in there because it's Florida and always raining at random. 
What's In My SUB
Between these four pouches, you can shove a lot of gear in the medium-sized SUB. I went above and beyond to shove in two 31 round magazines,  an IFAK, an Emerson PUK, a small flashlight, a SOG multitool, and a Glock 17 in a Recover Tactical 20/20 brace complete with an Aimpoint Acro and TLR 1. The Glock is nearly the size of a small submachine gun and fits perfectly in the bag. Like a greedy gluttonous beast, it eats it all.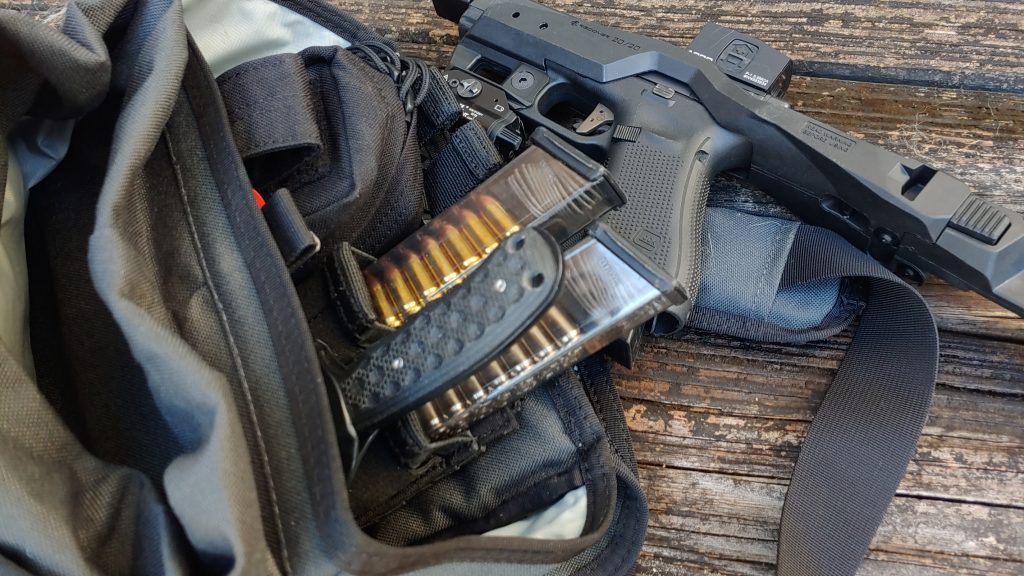 I was able to easily organize my mag pouch, IFAK, and a Vertx molle panel holding the knife, light, and multitool in the bag. Everything is easy to access and placed in an organized way for instant access. The dump pouch portion eats the RT 20/20 equipped Glock.
With nearly fifty rounds of ammo, a gun, and all this gear, the bag is rather heavy. The thick and well-padded shoulder strap makes it comfortable to carry. The strap refuses to dig into your shoulder and maintains a high level of comfort. 
A Foot Long
A single buckle secures the flap, so opening the bag is easy and quick. The flap also has a mesh compartment for small goods of all sorts. Mostly paper goods like maps, IDs, etc. The flap is oversized, making it easy to conceal the goods tucked inside an overstuffed SUB. 
The SUB's massive open mouth design and rigid structure allows everything to be easy to reach. The mouth sits open, giving you an easy means to grip your gear and get it into action.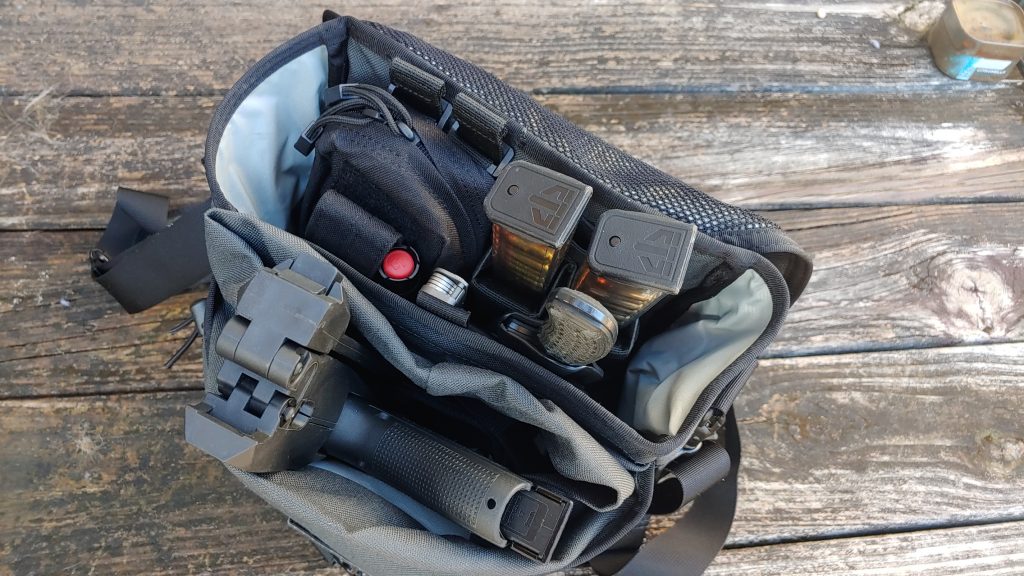 The SUB places your gear at waist level and allows for rapid access when worn correctly. You can naturally get fresh magazines into play and deposit used mags in the drop pouch. It's a smart design that prioritizes both discreet design and easy access. 
The Foot Long SUB
The Sneaky Bags SUB is a versatile bag that could be used as a tacticool dad bag like me or simply used to carry your laptop from class to class. Maybe you'll use it for fly fishing, or maybe you'll shove your bug out gear in it. Regardless of what you use it for, you have a sturdy, well-made bag that's easy to organize. The Sneaky Bag SUB allows you to loadout but blend in.